I kept seeing this bag, staring at it, and moving on. It didn't move me enough to say that I liked it or hated it. I can clearly say that it is not something I would spend $1,800 on, but I can also say that it would look great on some people and with some outfits. I just realized how much I tell you all that some bags may not be for me but clearly may work for other people. Ok, so I repeat myself and am annoying. But this is precisely why I love handbags. While one bag may not work for someone, it may be perfect for the next. That is why it is an accessory, it is there to add to your outfit and personality.
Off my side explanation and back to the bag. While very different, I am still reminded of the Diane von Furstenberg Stephanie because of the shape and metallic leather. This bag, however, is the Marc Jacobs Boho Woven Hobo with multi-tone leather fringe.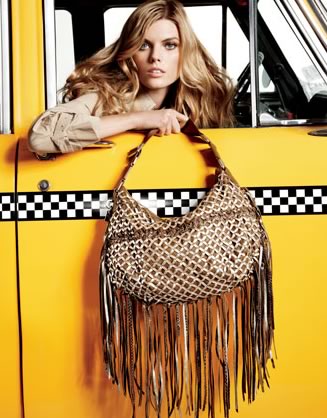 If you stuck around after the jump, I will also share with you that Amanda already covered this bag. Which makes this post repetitive and random. Apologies?? But I will finish up anyhow. So I like this bag. It is not for me unless it was about $300, but it is fun. The dark brown leather has embossed metallic basketweave overlay, which is that DvF look/touch that I see. If I were to have attended Cochella, I would have loved carrying this bag. It is young, hippie-esque, and neutral enough to wear often. Actually the more I look at it the more I find it fitting for a summer of outdoor fun. Buy via Bergdorf Goodman for $1,795.