A couple months ago, we welcomed a new team member who you'll be seeing much more of around these parts. It's only fitting that we give her a proper introduction, so when you see her around–whether it's posting or posing with a bag or showing you the latest collection in NYC–you know a bit more about our newest girl. We're super excited to have Kaitlin on our team, and she is already fitting in so well! I wanted you to get to know a little more about Kaitlin, so read on below! -Megs
Hi guys, Kaitlin here! I am excited to tell you all more about myself. I am your typical 26-year-old girl. I am not ashamed to tell you how much I love Instagram, drinking rosé, brunching with my friends and watching reality TV. (Shout out to all my Bravolebrities–love you!) You're probably not surprised to learn that I love fashion and shopping just as much as the next girl, but I like to believe my passion for this business is in my DNA. My Grandma Dora is the most fabulous 92-year-old I know, and I like to say that I get my passion for a good handbag from her. Not to mention my sass–but that's a whole other story!
At a very young age, I became obsessed with clothes and accessories. My mom's favorite story to tell is how, whenever I got dirty as a child and had to change my clothes, I always insisted she change my hair bows to match, too. When I found out there was a college that you could go to just to study fashion, I was in awe. From ten years old, it was my dream to attend The Fashion Institute of Technology in NYC, so when I got in as a senior in high school, I was thrilled. I am a Brand Marketing Associate here at PurseBlog, and I can honestly say that this is my dream job! I've always said that a job that combines fashion, writing and creativity is the perfect gig for me, and this is truly it.
You'll catch me carrying some pretty swoon-worthy handbags while drinking loads of caffeine over on our Instagram page, putting together fun restaurant reviews, scouring Instagram for the best handbags and attending industry events. Like most people, there is so much more to me than meets the eye, so Megs put together a fun little interview so that you guys can get to know me better.
Megs: Describe your personal style:
Kaitlin: My personal style is ever-changing, but I would best describe it as casual cool with a chic twist, and of course–like every New Yorker–I am a huge fan of black.
M: What's your favorite piece of clothing you own/owned?
K: Oh my goodness, this is a toughie! I am obsessed with my black leather jackets–I have two! I wear them with everything from jeans and sneakers to dresses and heels. However, this past summer, I fell in love with a black Zimmermann balconette dress that I wore to a friend's wedding. It is honestly the best dress I've ever worn, and I always say that I wish I could wear it everyday–that's how good it made me feel! Never underestimate the power of an amazing LBD.
M: Which designers do you love right now and why?
K: You might be able to guess this first one: GUCCI! I am so obsessed with everything happening with the brand right now, from its handbags to its logo tees–I need it all! Saint Laurent also speaks to the New Yorker in me, with its black leather pants and moto boots. Lastly, I will also always have a soft spot for Chloé's flowy, feminine aesthetic, and I wouldn't mind slipping into a little Chloé number on a hot summer day.
M: Websites you love to read daily:
K: I tend to read whatever pops up on my social media feeds, and that is usually content from The Cut, The Coveteur, Well + Good, The Huffington Post, Minimalist Baker (hello, foodporn!) and of course PurseBlog!
M: What is something that is considered a luxury, but you don't think you could live without?
K: I would have to say pricey mascara–drugstore brands just don't do it for me. My make-up routine is well on the minimal side, and a good mascara is key for my short, blonde lashes. My favorite is Dior's Diorshow Iconic Overcurl Waterproof Mascara. I've been using it for years!
M: If you could raid anyone's closet, who would it be and why?
K: Olivia Palermo, because she is always so chic and well put-together. Her personal style is amazing!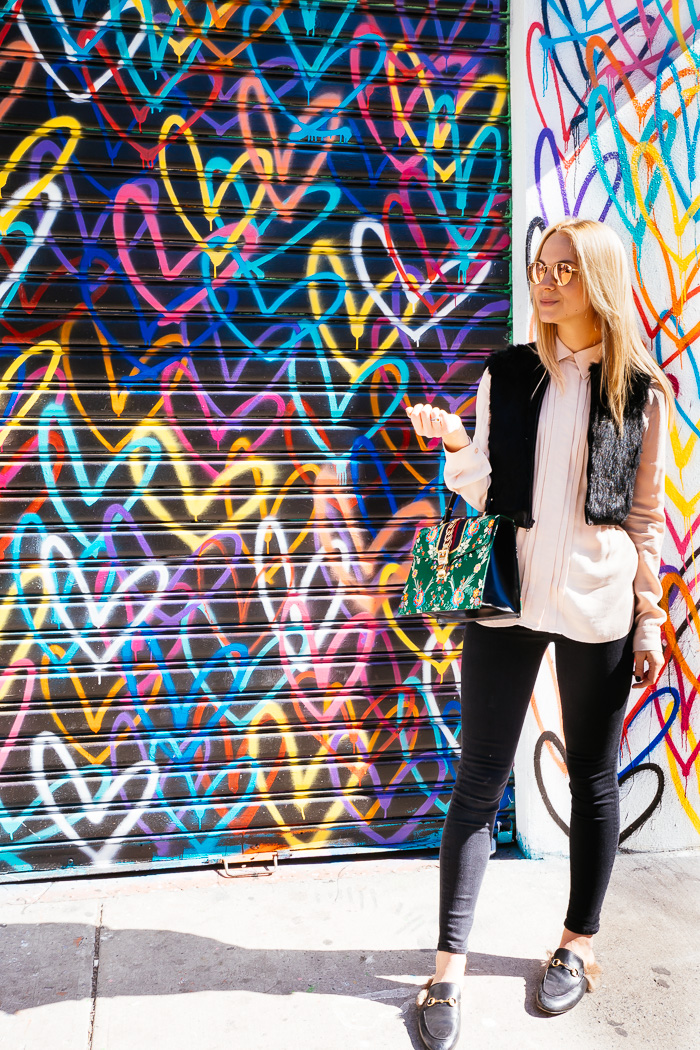 M: Best meal in NYC:
K: This is SO hard. My friends and I joke that our favorite thing to do is eat- we are constantly trying new places! However, a place that I have been to a ton of times is Bond ST. My cousin turned me on to it a few years ago–best sushi in NYC, and their jalapeño margaritas are killer. I want one right now!
M: How different was your life one year ago?
K: My life was the same in a lot of ways, but different in so many, too! I am still surrounded by the most amazing family and friends a girl could ask for. They are my greatest supporters and my biggest fans. However, a year ago I was still trying to find my place in the world and decide exactly where I fit in this crazy, but amazing industry I love! I spent my days being a nanny to my cousin's daughter Madison, who has since turned into my mini-me and a little fashionista! In my free time I was following my passions by blogging, writing and photographing on the side. Being a young twenty-something nowadays is not easy, but you should never be ashamed of your journey. I am so glad I waited to find the right fit for me. I couldn't be happier here at PurseBlog, and I truly believe that every hiccup in life is setting you up for something bigger and better!
M: Favorite social platform:
K: Instagram–duh!
M: What takes up too much of your time?
K: Mindless online shopping! I am embarrassed to admit how much time I spend scrolling through my favorite websites like Shopbop, Revolve and Bloomingdales. I call it mindless, because nine times out of ten, I fill up my imaginary shopping cart with an imaginary budget in mind.