Hermès is arguably best known for its leather goods, which are made with some of the finest leathers in the world. In any given season, the handbag metier will utilize 20 or 30 different leathers.
Each of these leathers has its own character and qualities; this can make deciding which leather is the right one a challenging task, even for the most knowledgeable of Hermès clients. For newer clients, it can be even more confusing. We're here to help.
Table of Contents
Jump to leather type:
---
Sourcing and Processing of Hermès Leathers
Most of Hermès Leathers are sourced and produced by different specialists in locations all over the world, including farms in Africa (Crocodile, Lizard, Ostrich), Australia (Crocodile), India (Chevre), Southeast Asia (Lizard) and the United States (Alligator). Numerous tanneries and processors are utilized, depending upon the skin and the source; one of the most well-known of the tanneries Hermès has partnered with over the years is Tanneries Haas.
More recently, Hermès has acquired several tanneries to produce their work in-house, including Tannery d'Annonay (acquired in 2013), which specializes in Exotic and Calf Leathers, and Tanneries du Puy  (acquired in 2015), which specializes in Box and Calf Leathers. For more information on the various tanning processes, you can refer to the tanneries' websites.
---
The Most Durable and Scratch-Resistant Leathers
The most scratch-resistant leathers are generally the grained leathers, such as Chevre, Clemence, Epsom, and Togo. Grained leathers also tend to take light scratches better, while smooth leathers tend to be more prone to showing scratches.
---
The Most Popular Hermès Leathers
All of the above leathers are either currently or very recently have been in production; this fluctuates regularly. However, certain leathers are usually available. The ones that have most frequently been in production over the last few years include Alligator, Barenia, Barenia Faubourg, Chevre, Clemence, Crocodile, Epsom, Grizzly, Negonda (Garden Party only), Novillo, Swift, Tadelakt, and Togo.
Leathers that were previously rested but have returned over the last few seasons include Boxcalf, Doblis, Lizard, Ostrich, and Vache Naturel.
Leathers that have somewhat or intermittently been in production include Butler, Evercolor, Evergrain, Jonathan, Madame, Maurice, Monsieur, Monsieur Grainee, and Volynka.
However, the most popular and easy-to-find leathers are generally Alligator, Chevre (for certain bags and Special Orders only), Clemence, Epsom, Swift, and Togo.
---
The Most Similar and Often-Confused Leathers
Togo and Clemence are the most often-confused regular leathers. They are made from the same animal: Togo is produced from the female and Clemence from the male, and they are both very durable and scratch resistant.
Togo is lighter, usually has veins, is generally thinner, and will only slouch a bit over time; Clemence is heavier, has no veins, is more substantial, and will be more slouchy.
Alligator and Crocodile are also frequently confused due to their very similar appearance; often, they can only be distinguished by the appearance of the pore in the center of each Crocodile scale.
There are a number of leathers that have been confused with Boxcalf, including Evercalf, Monsieur and Tadelakt, but each has distinguishable differences from Box as described above.
---
The Current 2023 Hermès Leathers
Hermès currently or has recently produced approximately 40 different leathers, which are cataloged below; included are links to relevant PurseForum threads, photos and notes on history, texture, weight, and durability when available, and additional information. If a leather is missing, please let us know in the comments.
Note: the terms "Vache" refers to adult cow leather and "Veau" refers to calf; the leathers are alphabetized by their more commonly-used name (e.g., Clemence as opposed to Taurillon Clemence or Veau Taurillon Clemence, but Vache Naturel). We posted a comprehensive article on Hermès blindstamps for your reference.
---
Barenia Calfskin
Originally used for Hermès saddles, Barenia is a smooth calfskin with a slight sheen that is resistant to both scratches and rain. First used for handbags in the 1970s, Barenia is a Heritage leather that develops a patina and darkens over time. From the Hermès website, its notes about Barenia state:
Originally, this leather was tanned near the village of Barr in Alsace, hence its name. Emblematic of Hermes, it is often described as 'magic' because it absorbs marks and light scratches when rubbed.
The tanning process for Barenia includes the leather first being double-tanned in chrome and vegetable dyes; then saturated in a mix of oils over several weeks, causing the leather to soak up all the oils, which creates that "magic" scratch resistance (raindrops will also eventually evaporate). The leather may appear mottled or streaked. Barenia bags have an unfoiled blindstamp.
While Barenia is most well-known for the natural color which is produced with white contrast stitching, it is also produced in black, ebene, olive and indigo. Beloved for its history, its lush thickness, the way it changes with time, and its distinctive scent (more than one aficionado has been known to stick their head inside their bag just for the Barenia smell), Barenia is extremely popular with longtime collectors.
PurseForum Links: Ode to Barenia, Barenia vs Vache Naturel Pros and Cons, Barenia and Vache Naturel Photos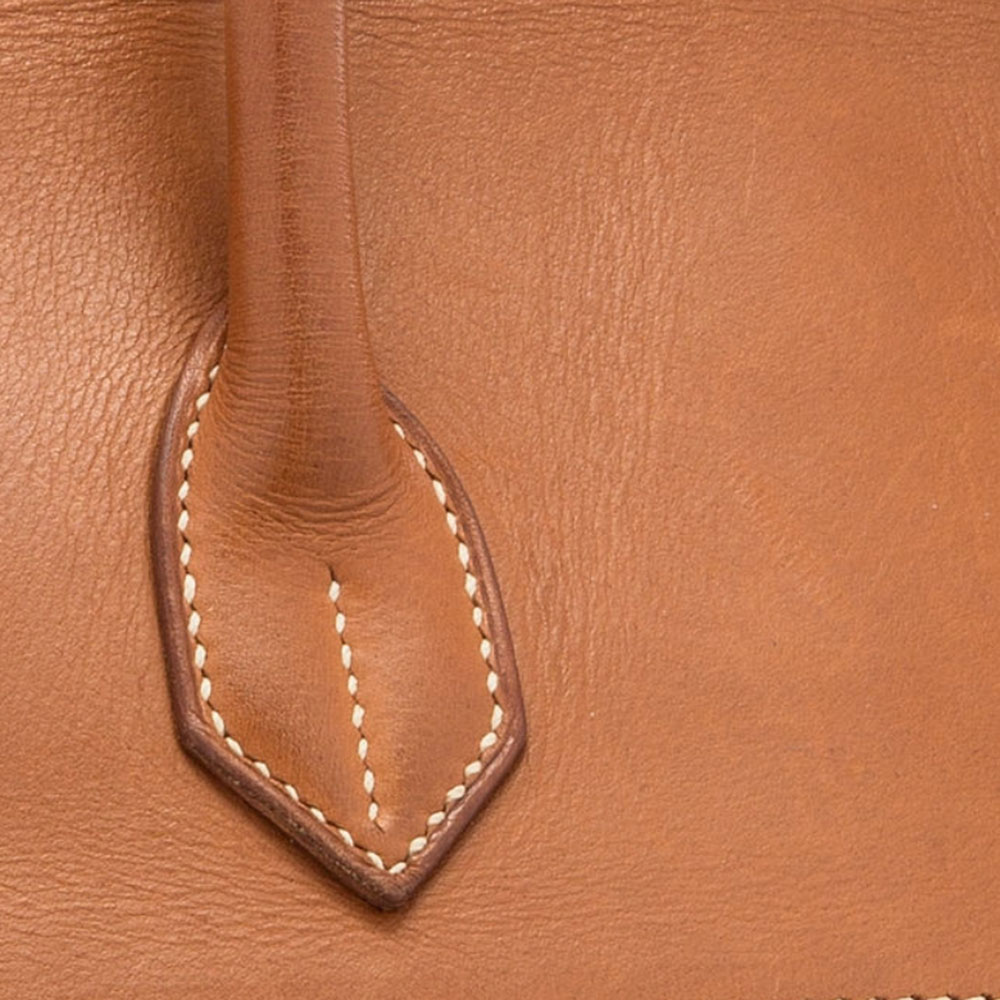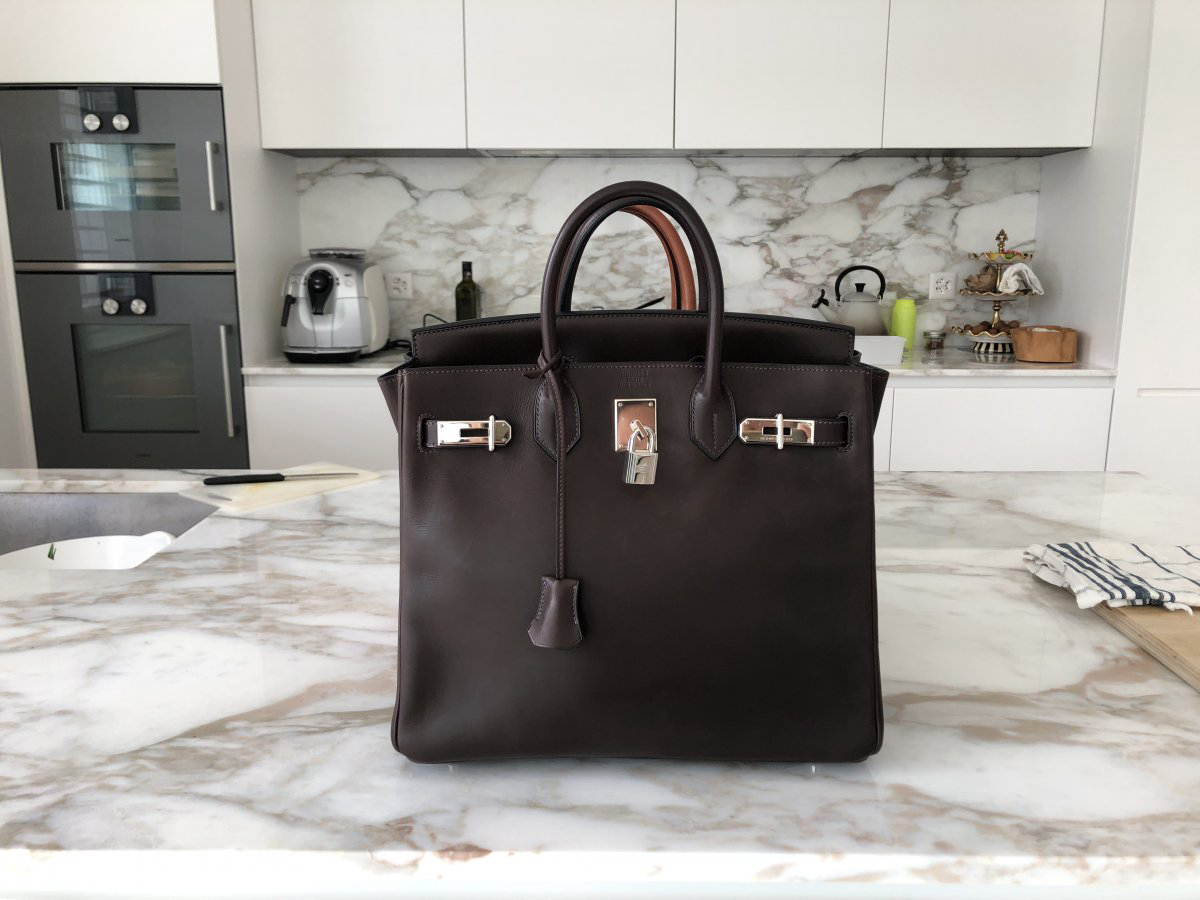 ---
Barenia Faubourg (Heritage)
Although Barenia Faubourg is designated as a Heritage Leather, it was only introduced in 2016. Considered by Hermès a "reinterpretation of Barenia calfskin", it has a similar relaxed look and acquires a patina and darkens like Barenia, although it is more supple (flexible, bendable) than Barenia, is more stain- and scratch-resistant, and has a small printed grain.
PurseForum Link: Everything Barenia Faubourg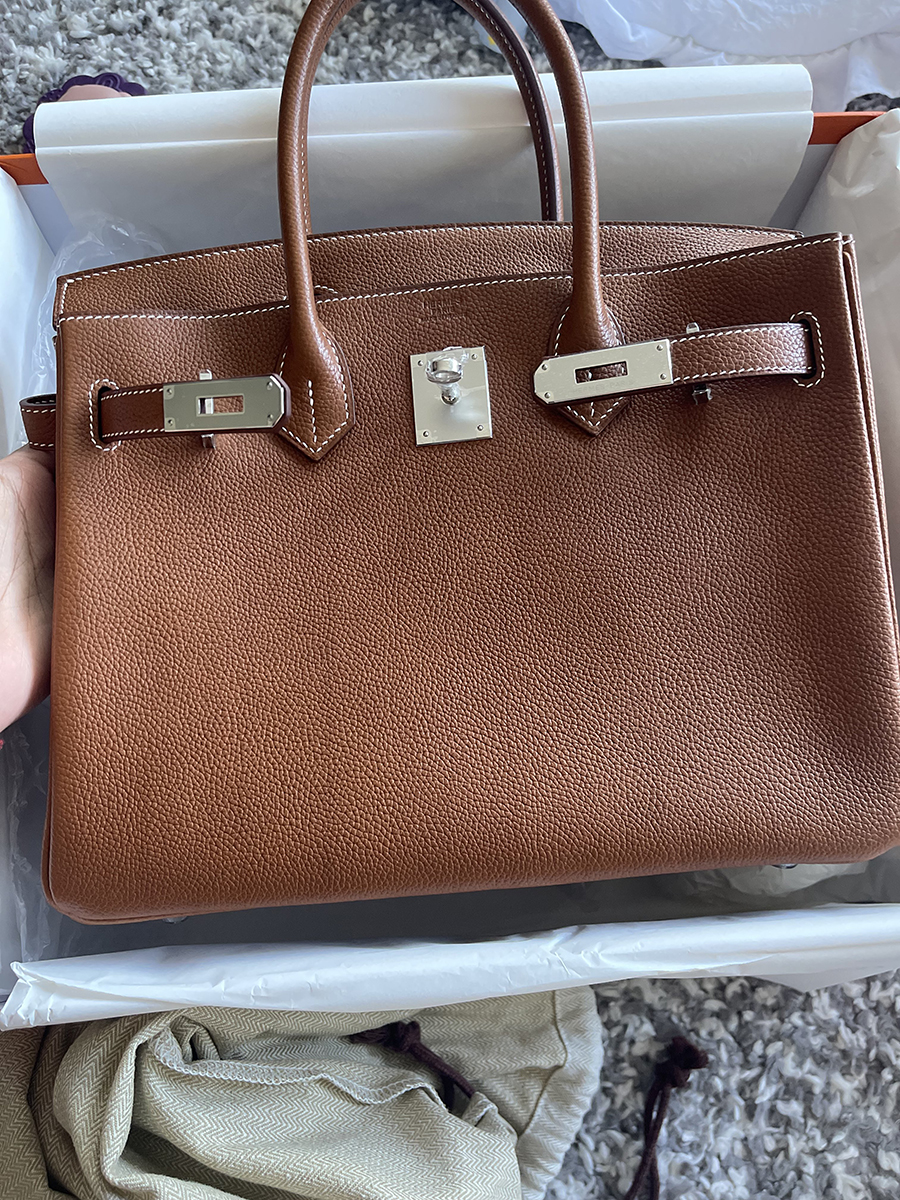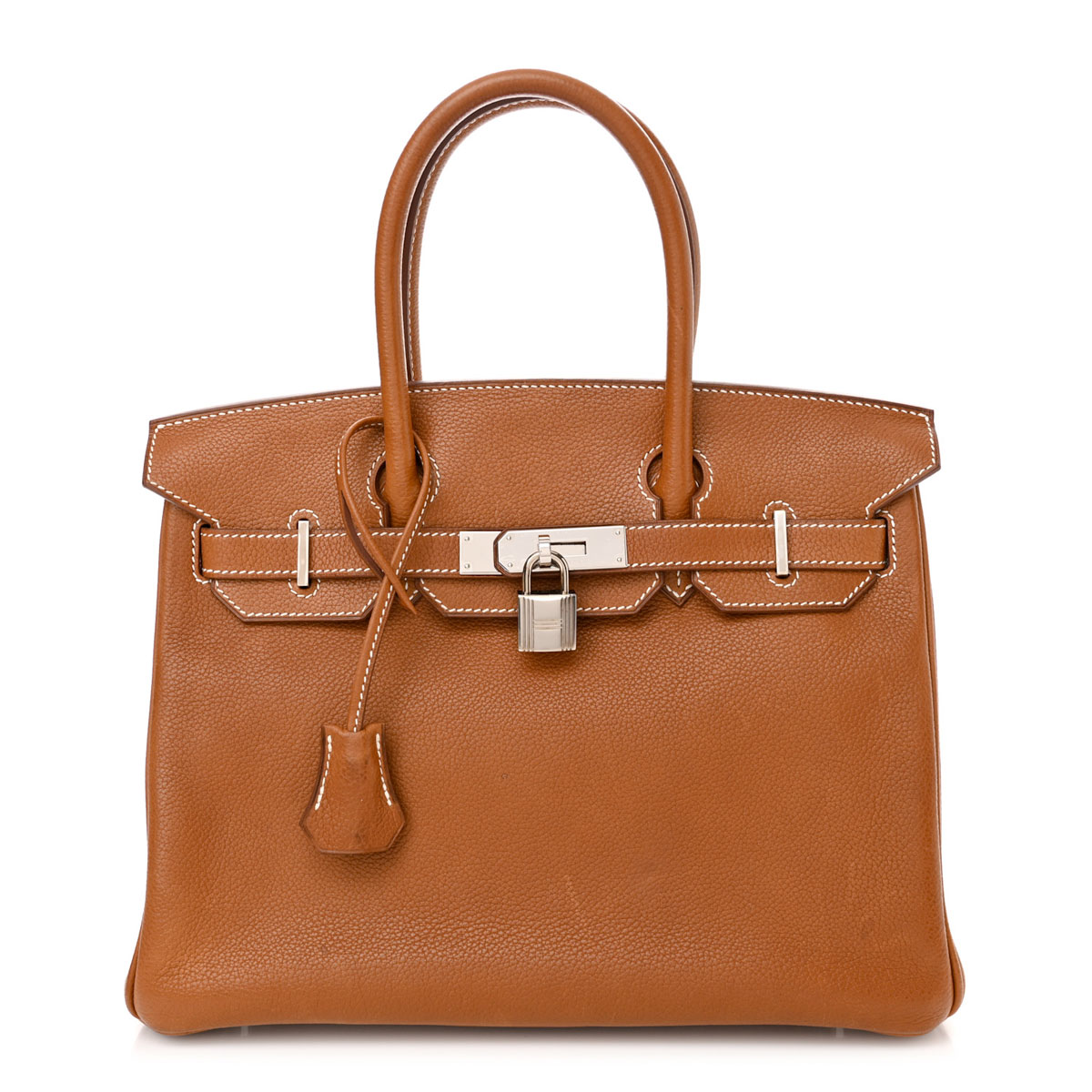 ---
Boxcalf (Heritage)
Boxcalf, often just called Box, is the oldest and most enduring of the Hermès leathers. Named after the 19th Century English shoemaker Joseph Box, it is smooth and glossy and it is very easily scratched, although that scratching is part of Boxcalf's allure: over time, the scratches blend, smooth and patinate into the glossy finish that is associated with beloved Box.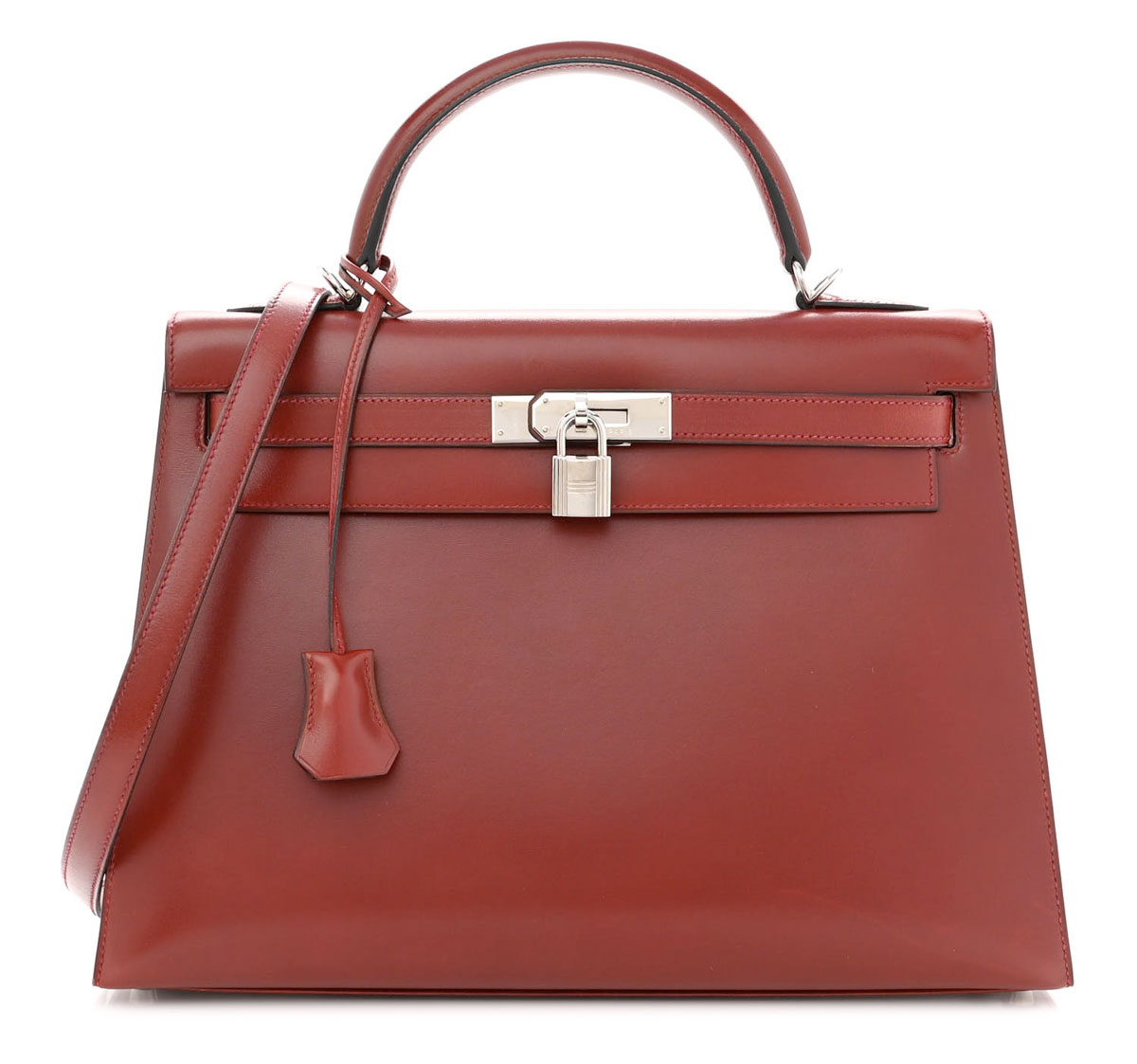 Box tends to be stiff and holds its shape very well; it is often found on vintage Hermès bags, especially Sellier Kelly bags. Box has been produced on and off over the last few years and most commonly is made in neutral, non-seasonal colors; the colors currently in production are Black, Bleu Saphir, Rouge H, Rouge Piment, Brique, and Vert Fonce, in the smaller-sized bags. Boxcalf cannot get wet; the leather will blister if it is not immediately dried.
PurseForum Links: Ode to Boxcalf, Box and Chamonix photos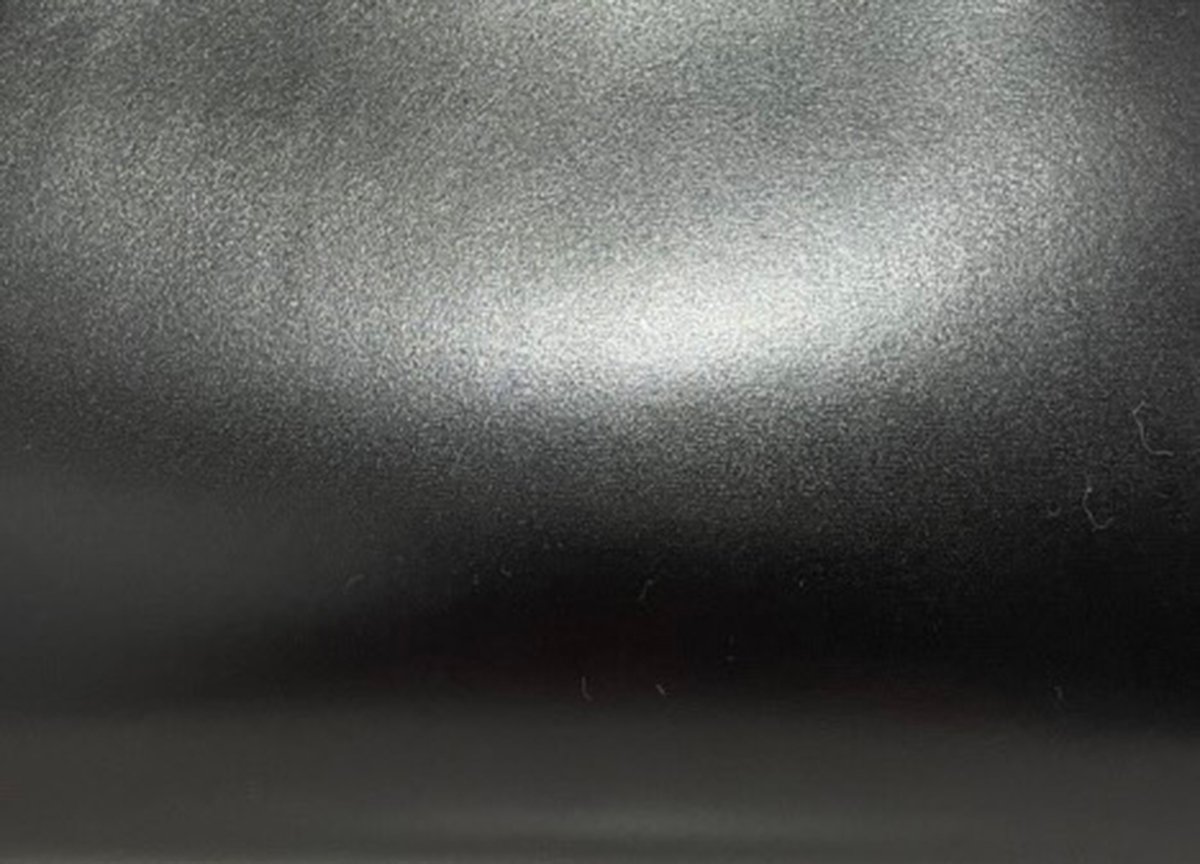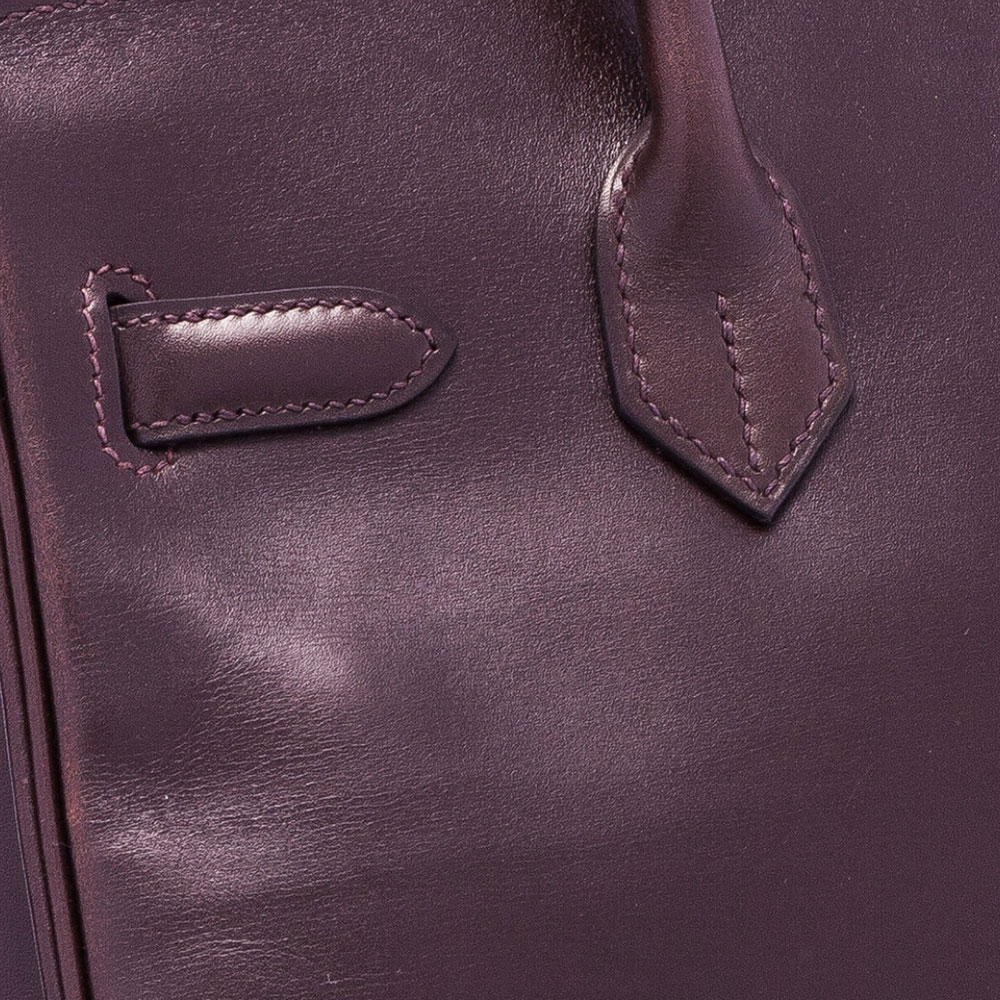 ---
Butler (Veau Butler)
Butler, which is also a Heritage Leather, is very smooth, substantial, soft, and has a mottled appearance. It is a natural leather and it is very prone to scratches, which can be rubbed out with your finger.
It was first produced in 2012. Like Barenia and Box, Butler will develop a patina over time. Owners of Butler bags state that it does fine with water. It has been produced in very few, neutral colors, and so far only in bags with Palladium Hardware, and it is difficult for the Hermès Artisans to refurbish it. Very few items are currently produced in Butler leather.
PurseForum Link: Butler Leather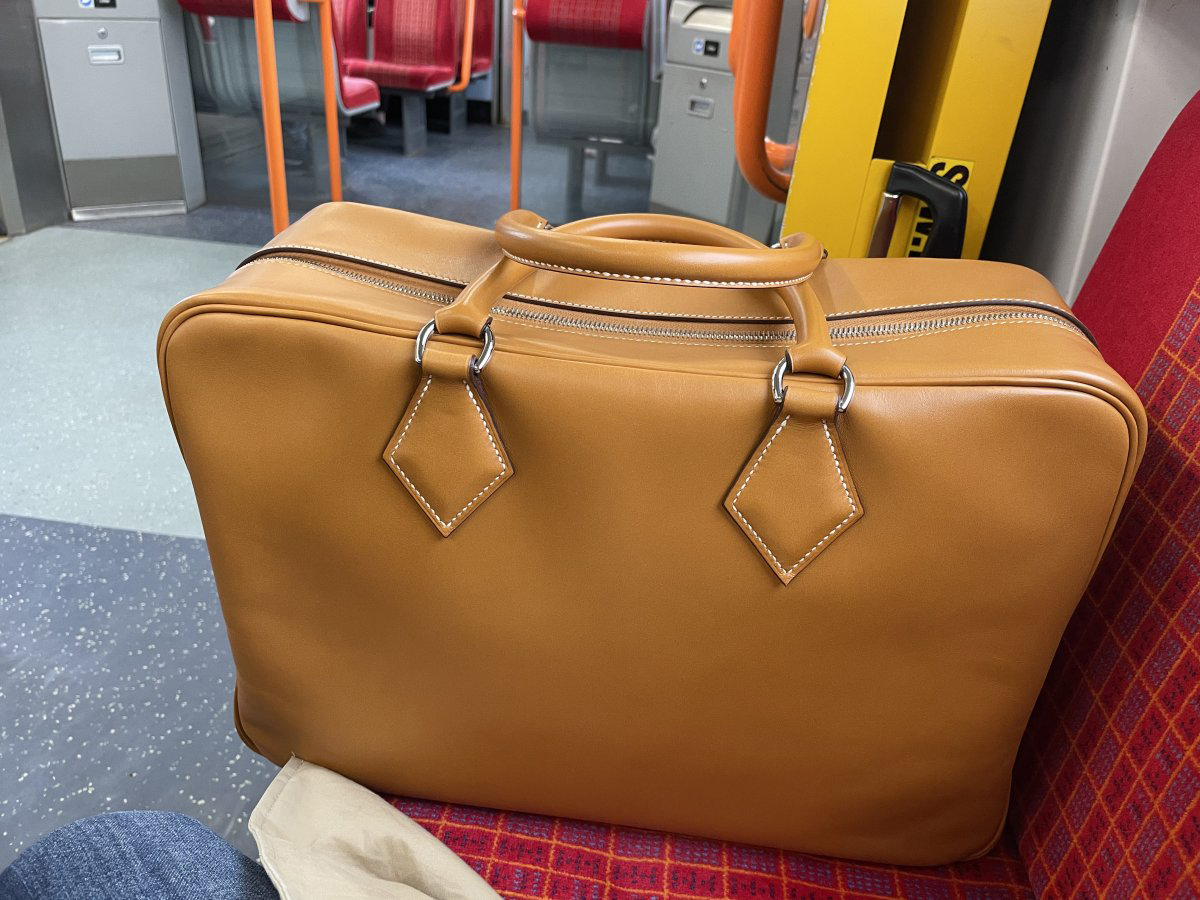 Hermès Chevre Leathers
Hermès' Chevre leathers, all of which come from India, are distinguishable by their unique grain, which is obtained by rolling the leather against itself in a technique called Boarding, and the visibility of a spine in the center of the bag. Chevre leathers take colors very well.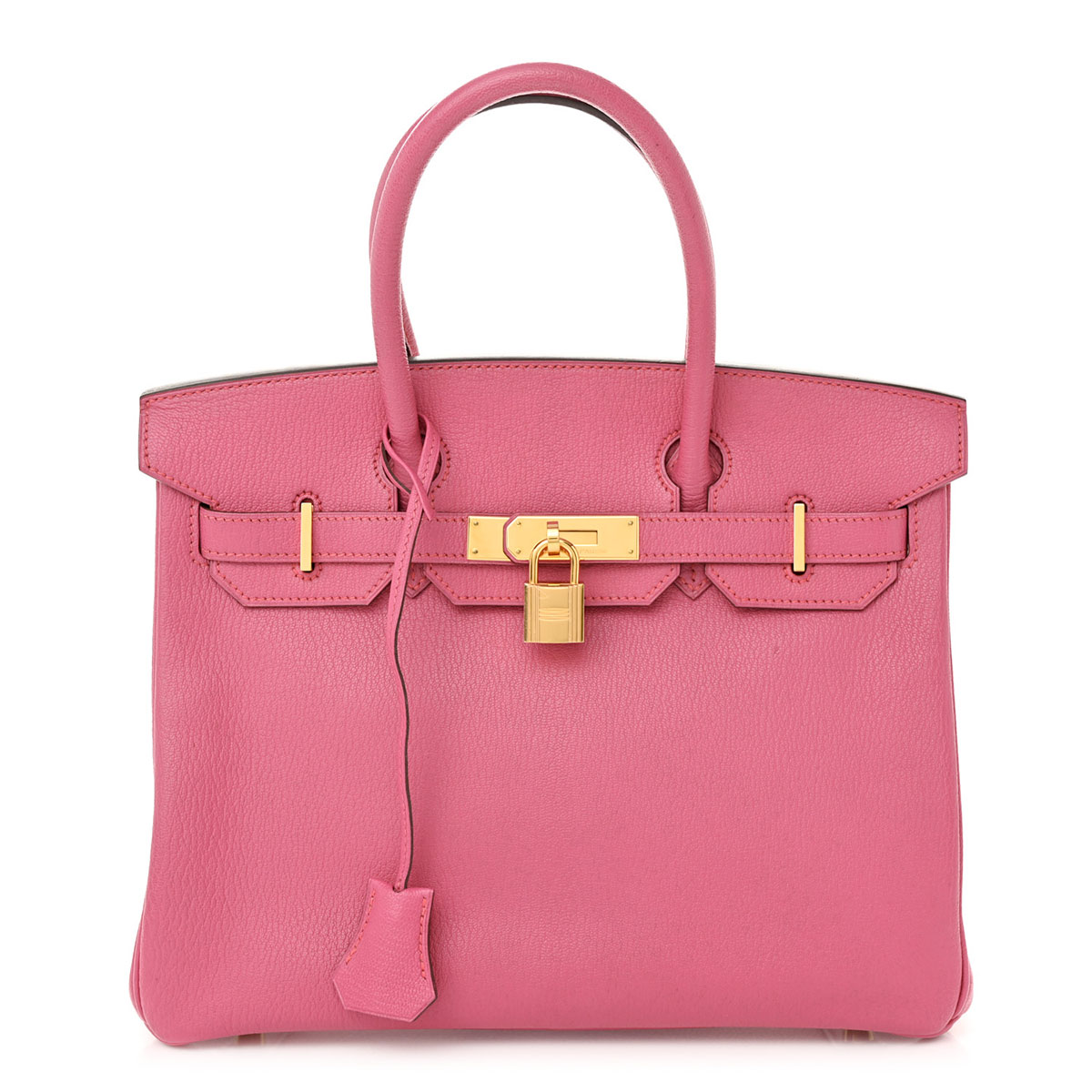 Although it is supple, Chevre is one of the few non-exotic leathers used to produce Kelly Sellier bags, as it tends to hold its shape very well, and only softens slightly over time. Chevre is shiny, lightweight, and scratch-resistant, which makes it very popular; unfortunately, most Chevre bags are only produced via Special Order, and even then the Chevre options are usually limited to the smaller bags.
PurseForum Links: Ode to Chevre, All Forms of Chevre Photos
Chevre Chamkila
One of several Chevre, or Goat, leathers currently being utilized by Hermès, Chamkila was first produced in 2018. It is a firm leather; Hermès notes that the name Chamkila means "shiny" in Hindi, and refers to the leather's grain, which is small, smooth and also very shiny. Chamkila's spine is less visible than in Mysore, and may even be less visible than in Chandra.
PurseForum Link: Chevre Chamkila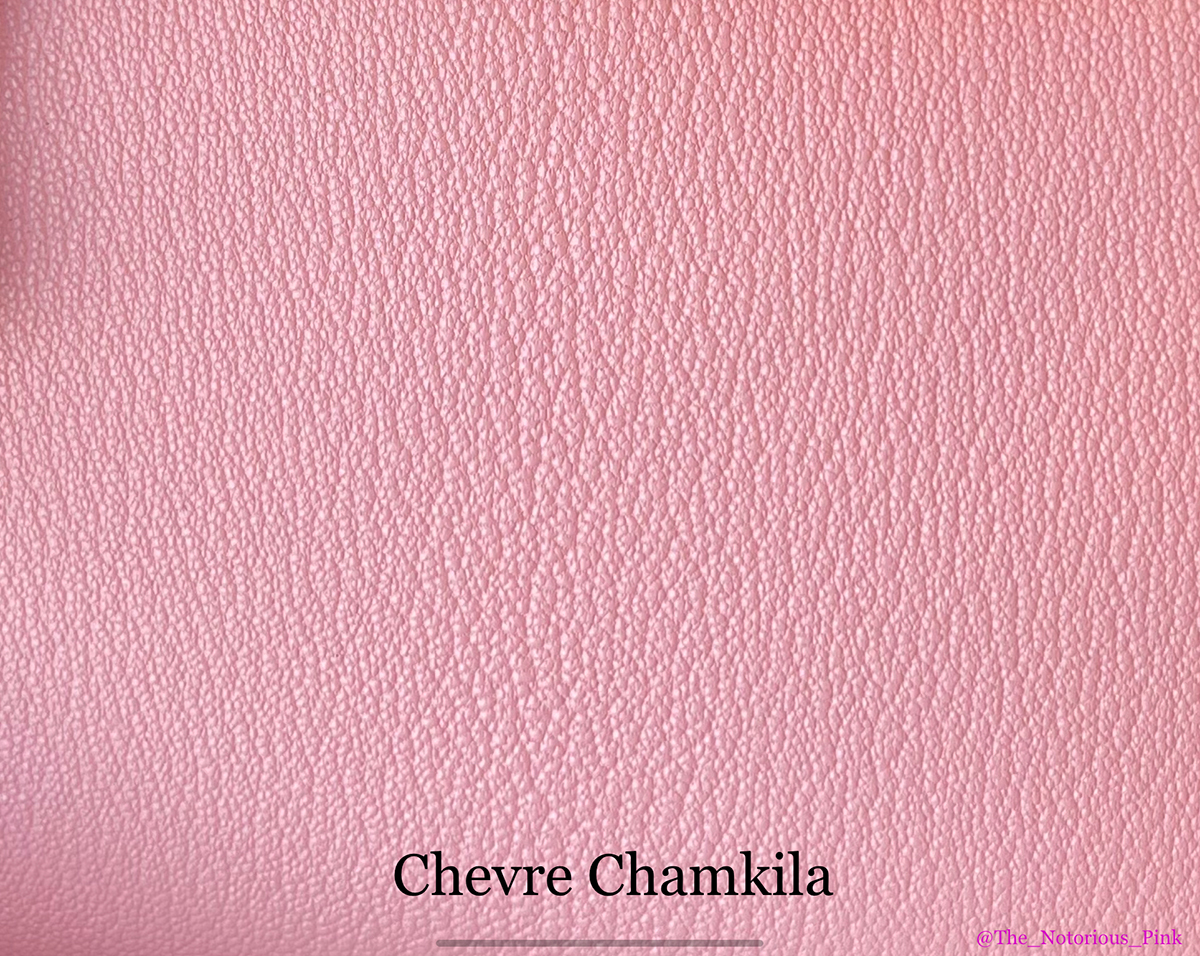 Chevre Chandra
Another of the chevre leathers currently produced by Hermès. The spine of Chamkila is less pronounced than in Mysore, but in person is more visible than in Chandra.
PurseForum Link: Chevre Chandra Leather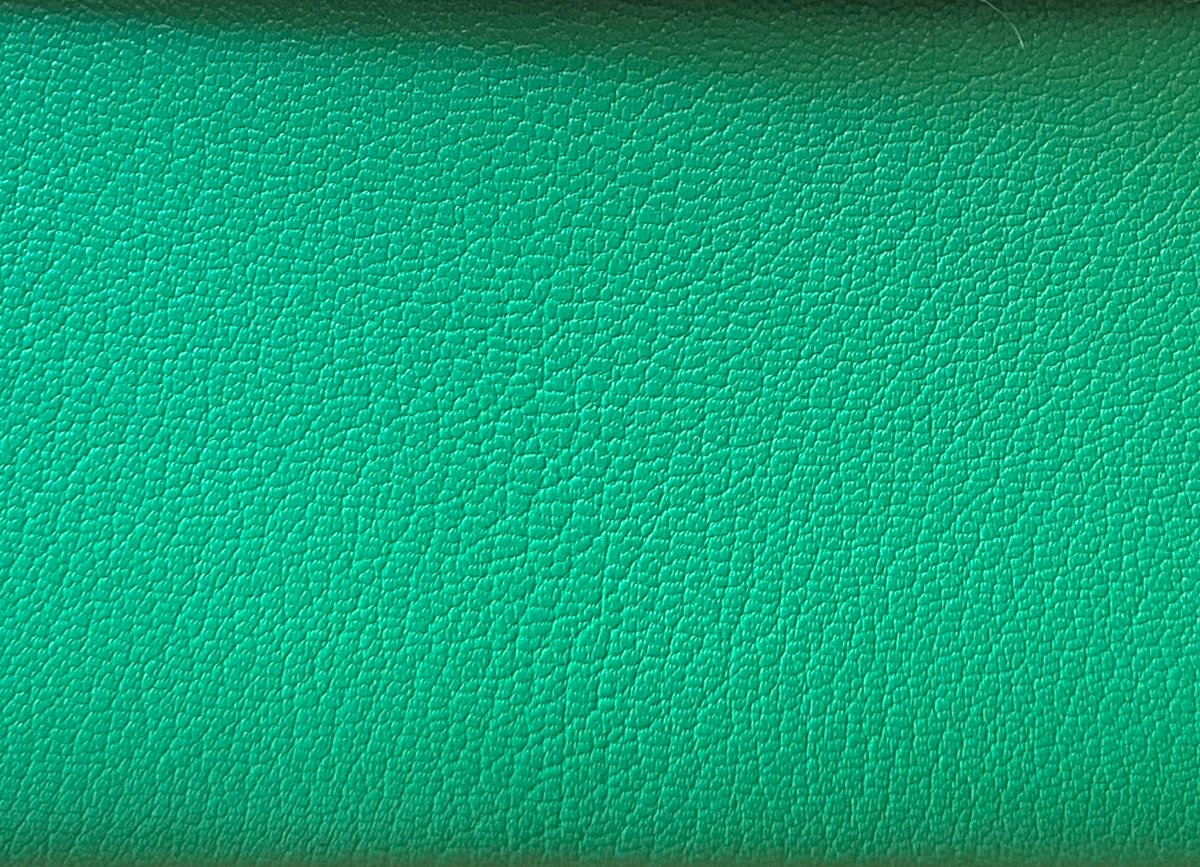 Chevre Mysore
Chevre Mysore, named after the Indian city, is currently Hermès' most commonly-used Goat leather. Due to its durability and scratch-resistance, Chevre Mysore is very frequently used as the interior leather to line bags. It replaced Chevre de Coromandel, which had a slightly larger grain and more pronounced spine.
PurseForum Link: Let's Talk Chevre Mysore!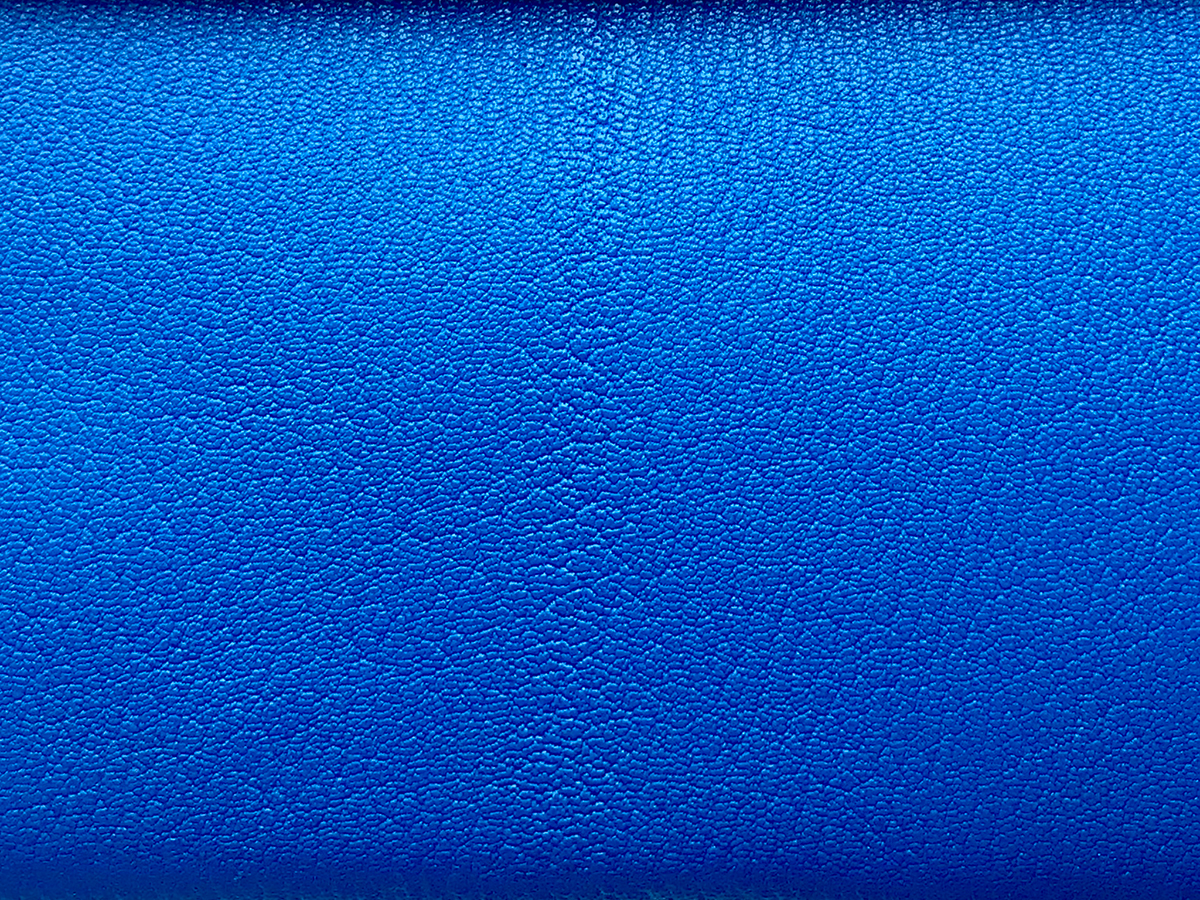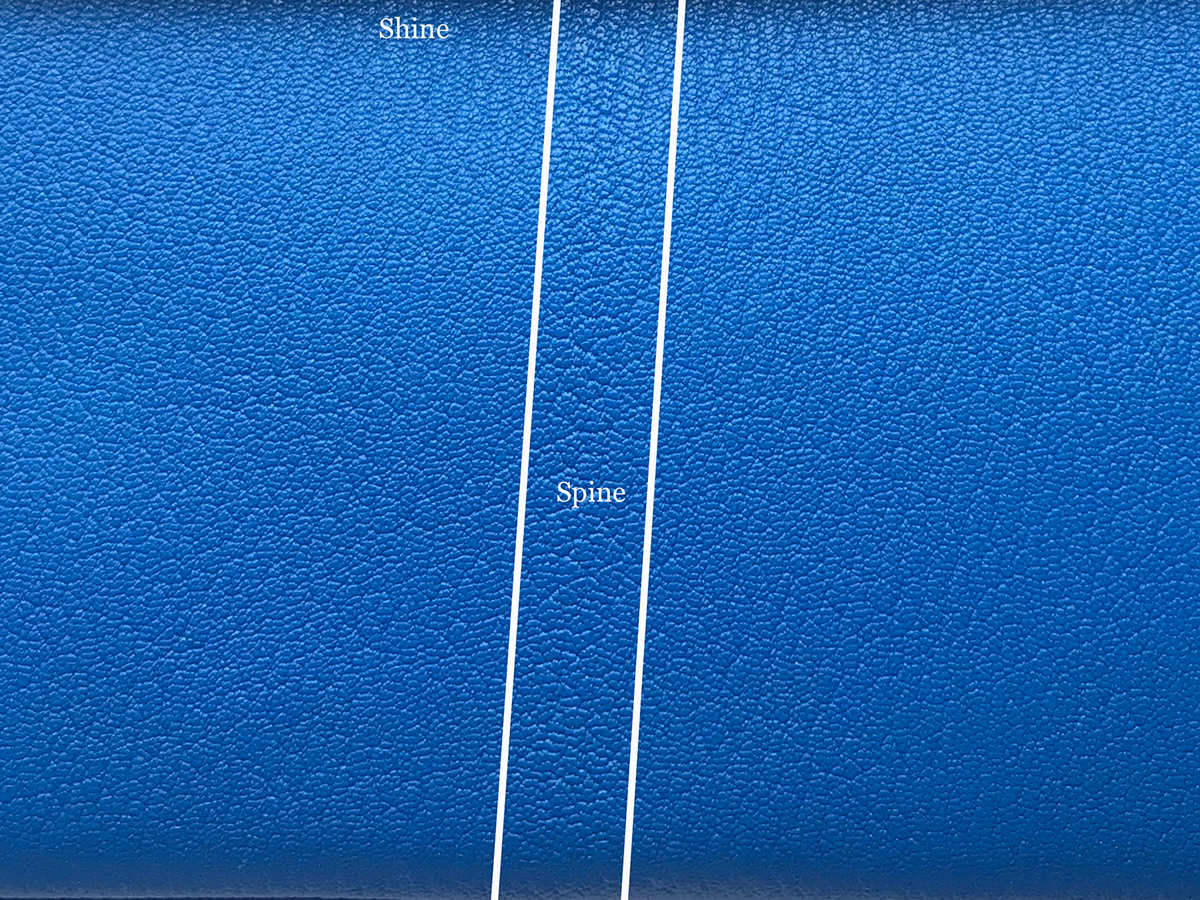 Comparing the Chevre Spines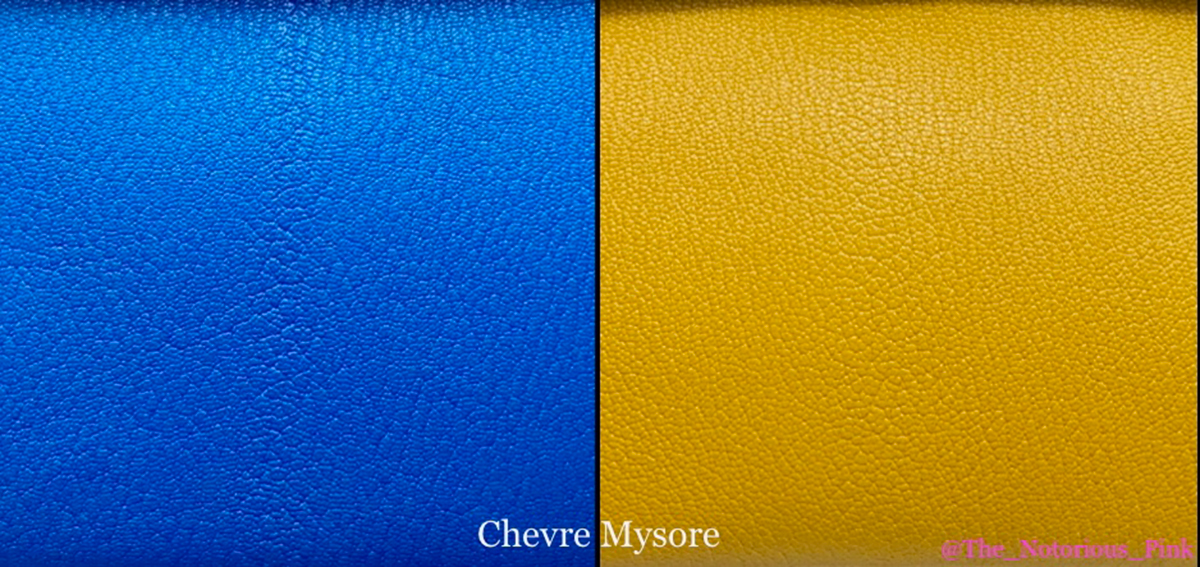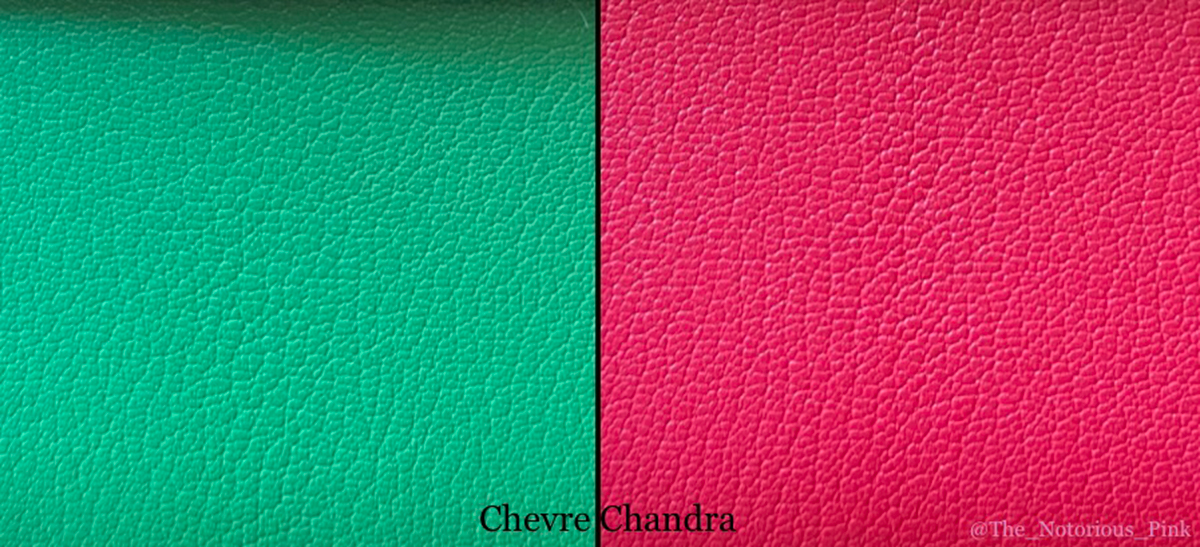 ---
Clemence (Veau Taurillon Clemence)
Clemence, one of Hermès's most popular leathers, is a large-grained skin that was originally created for luggage and first appeared in Hermès' collections in 1992. The technique that produces this large grain is called Drumming, which softens the skin.
Clemence, named for the daughter of the designer who introduced it into Hermès' collections, is very similar to Togo. Both are very popular; Clemence is made from the male calf and Togo is made from the female.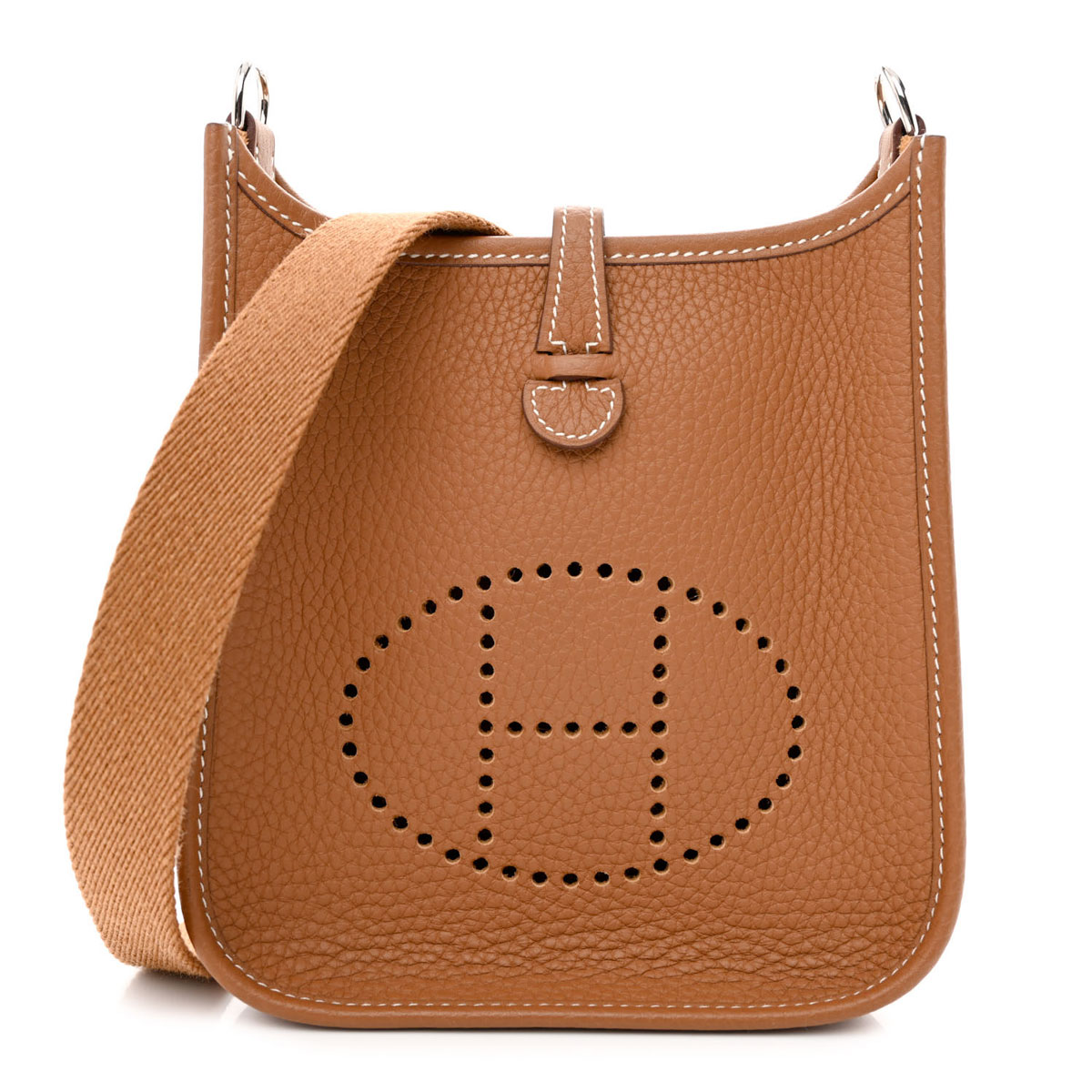 Clemence has a matte appearance, and the leather is soft and heavy; bags in this leather tend to be less structured than others, and Clemence tends to get slouchier over time. While Clemence is possibly the slouchiest and heaviest of Hermès' leathers, it is also very durable, scratch-resistant, and can be refurbished.
PurseForum Link: Confidence in Clemence. Togo, Clemence and Fjord photos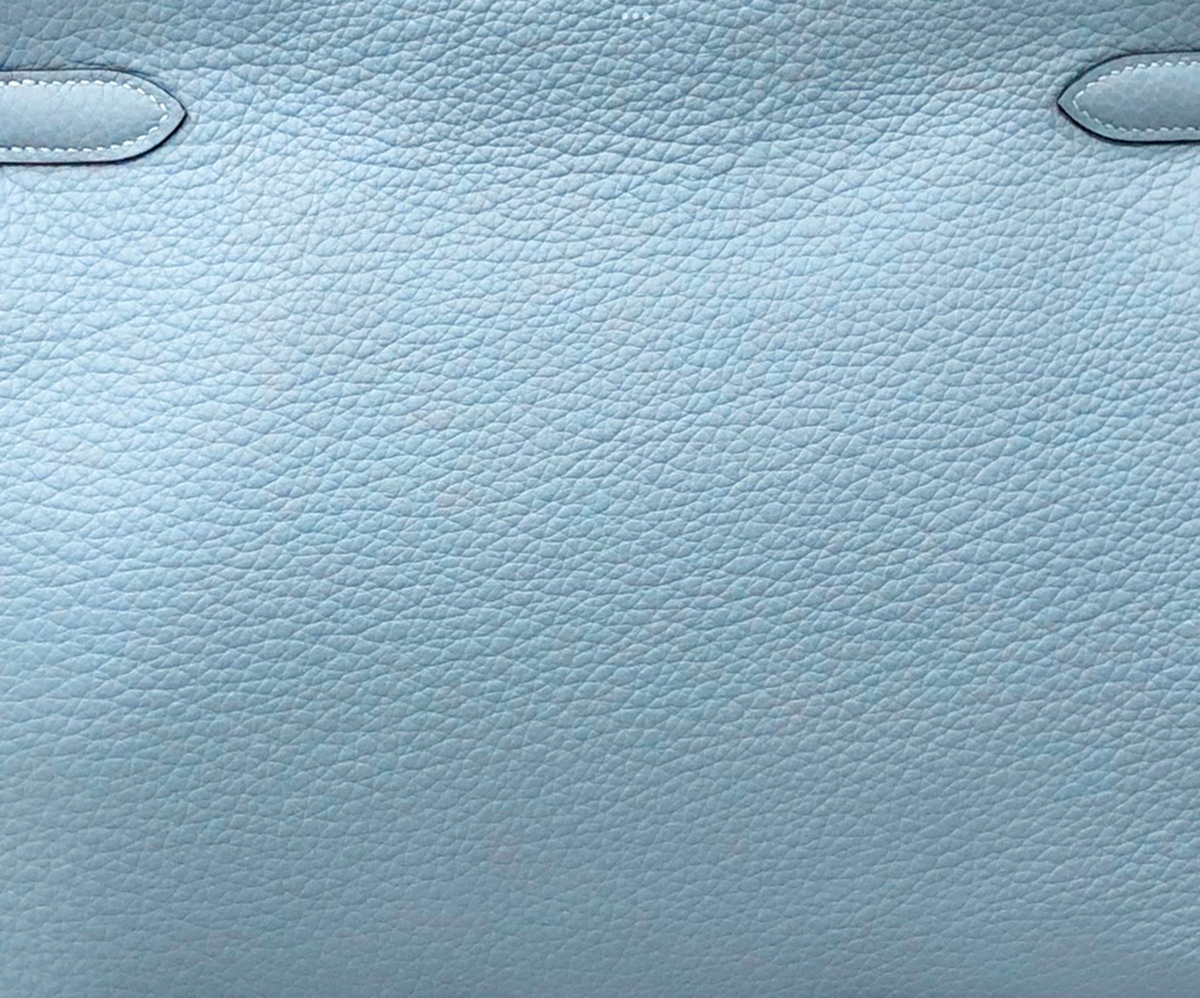 ---
Doblis (Veau Doblis)
Doblis is Hermès' version of suede. First utilized for bags in the 1930s, it is generally limited to small bags and clutches. Doblis is very soft and supple; while scratches can be buffed out, as with all suede it cannot get wet, and it will get shiny in the areas where it is most handled.
PurseForum Links: Doblis (Search), Veau Doblis and Troika photos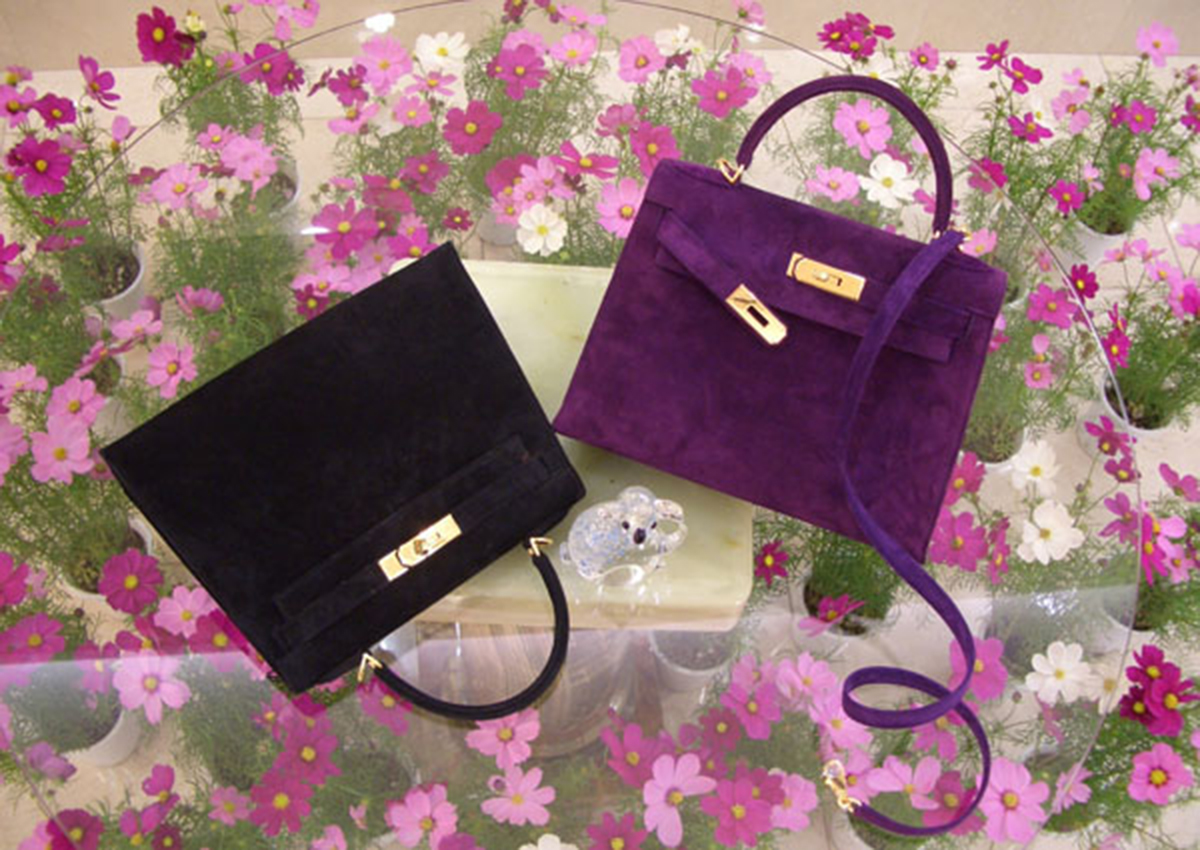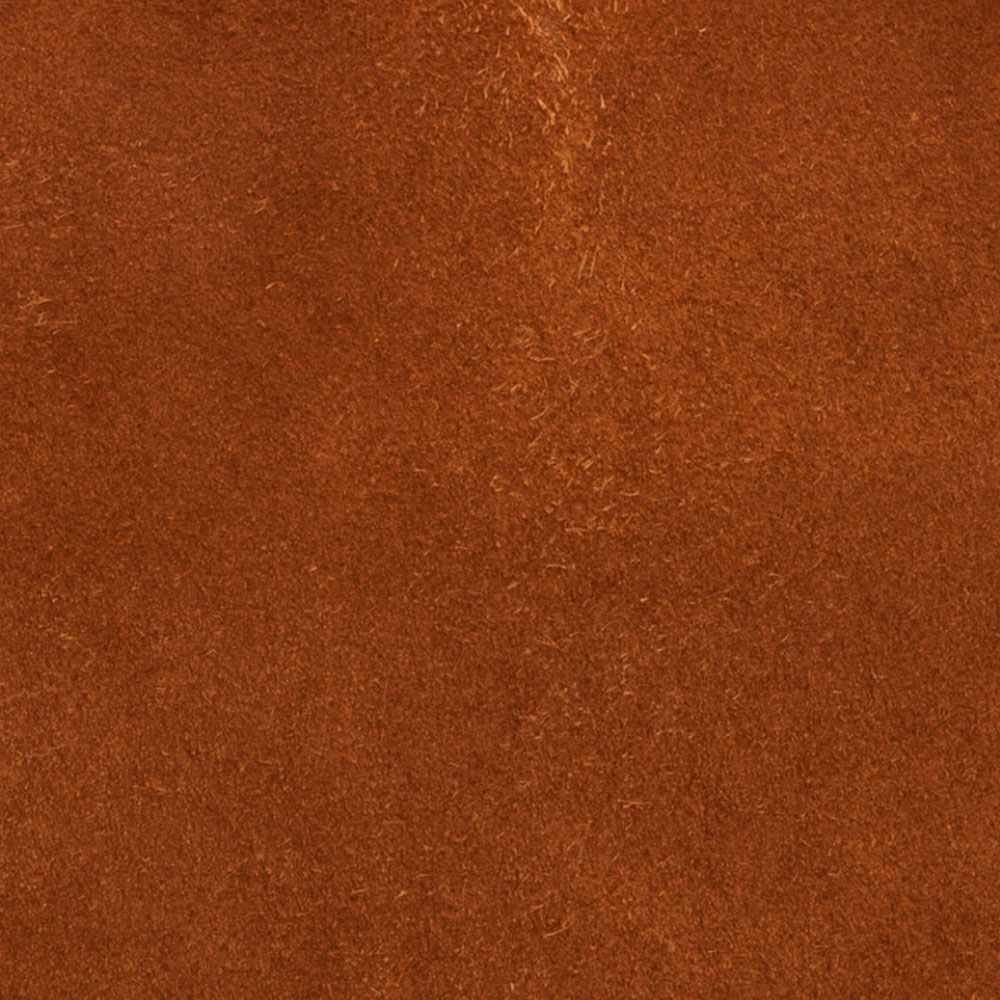 ---
Epsom (Veau Epsom)
Epsom is a heat-printed leather; the printing (embossing) process produces a small, even grain and makes the leather more rigid. It is lightweight, scratch-resistant, takes colors very well, keeps its shape and can be wiped with a damp cloth, making it easy to care for.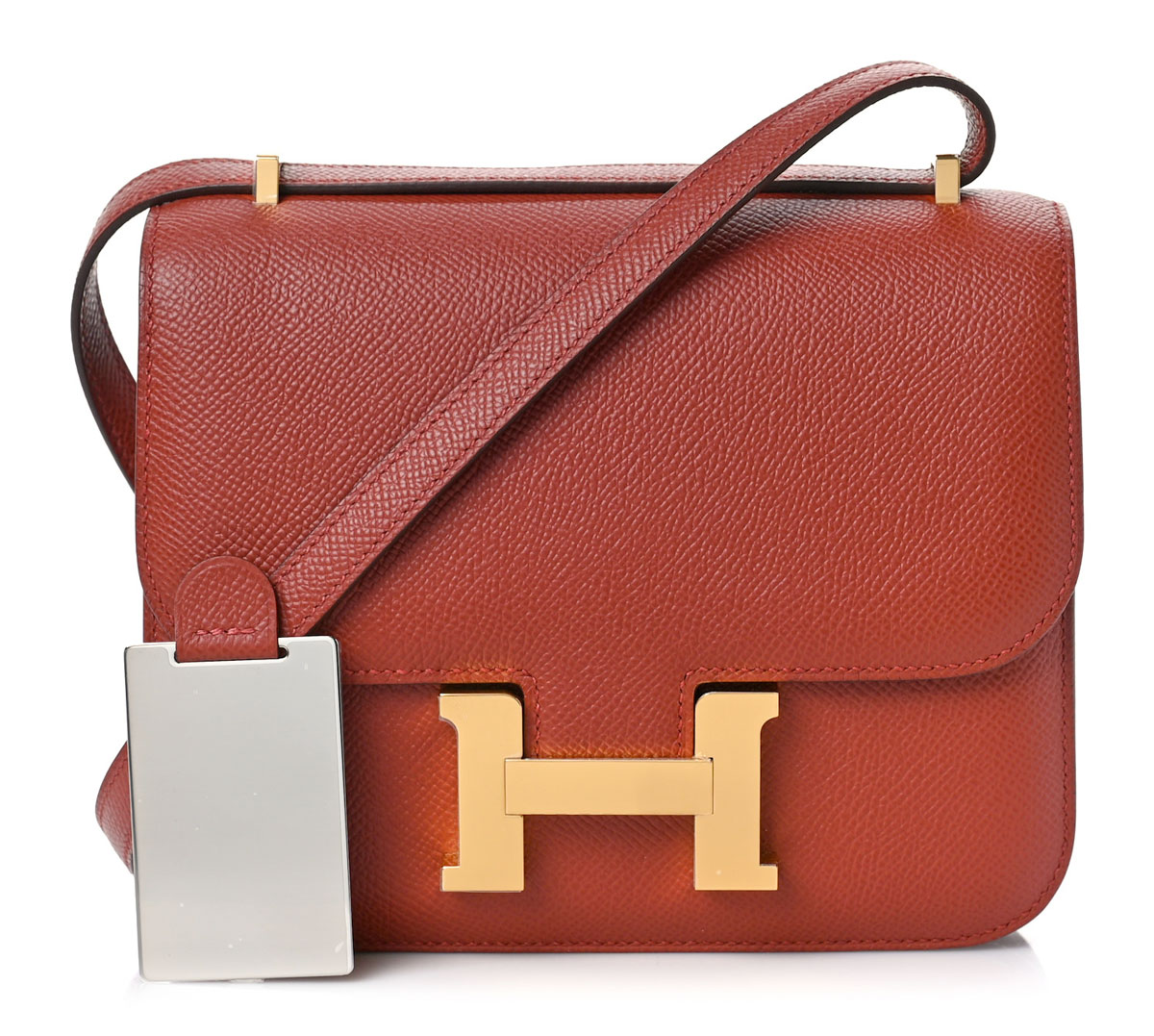 Introduced in 2004 to replace Courchevel, this leather is most often used for bother Sellier Kellys and Sellier Birkins. However, because the grain is stamped, it can wear away at points of contact, and those wear points cannot be refurbished.
PurseForum Links: Epsom Lovers, Epsom Care, Ode to Epsom, Epsom, Veau Grain Lisse and Courchevel photos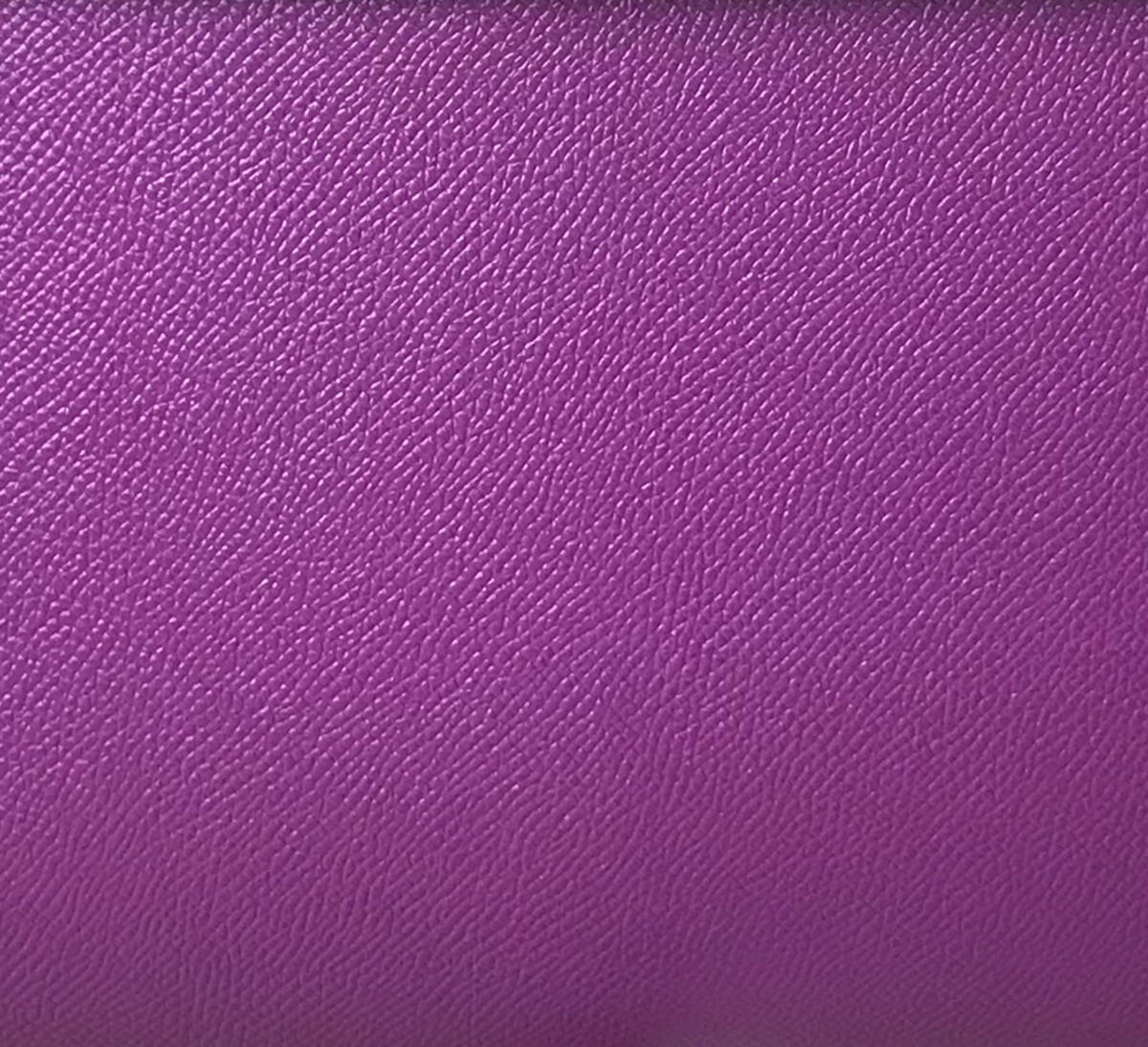 ---
Evercalf (Veau Evercalf)
Evercalf is very similar in appearance to Boxcalf, but is softer, smoother and looks more matte. It is very smooth and rigid like Box, but it is also prone to scratches (though not quite as much as Box) and will develop a patina; however, unlike Box, the color on Evercalf can fade and this leather cannot be refurbished.
PurseForum Links: Caring for Evercalf, The Difference Between Evergrain and Evercalf, Evercalf, Eversoft and Amazonia photos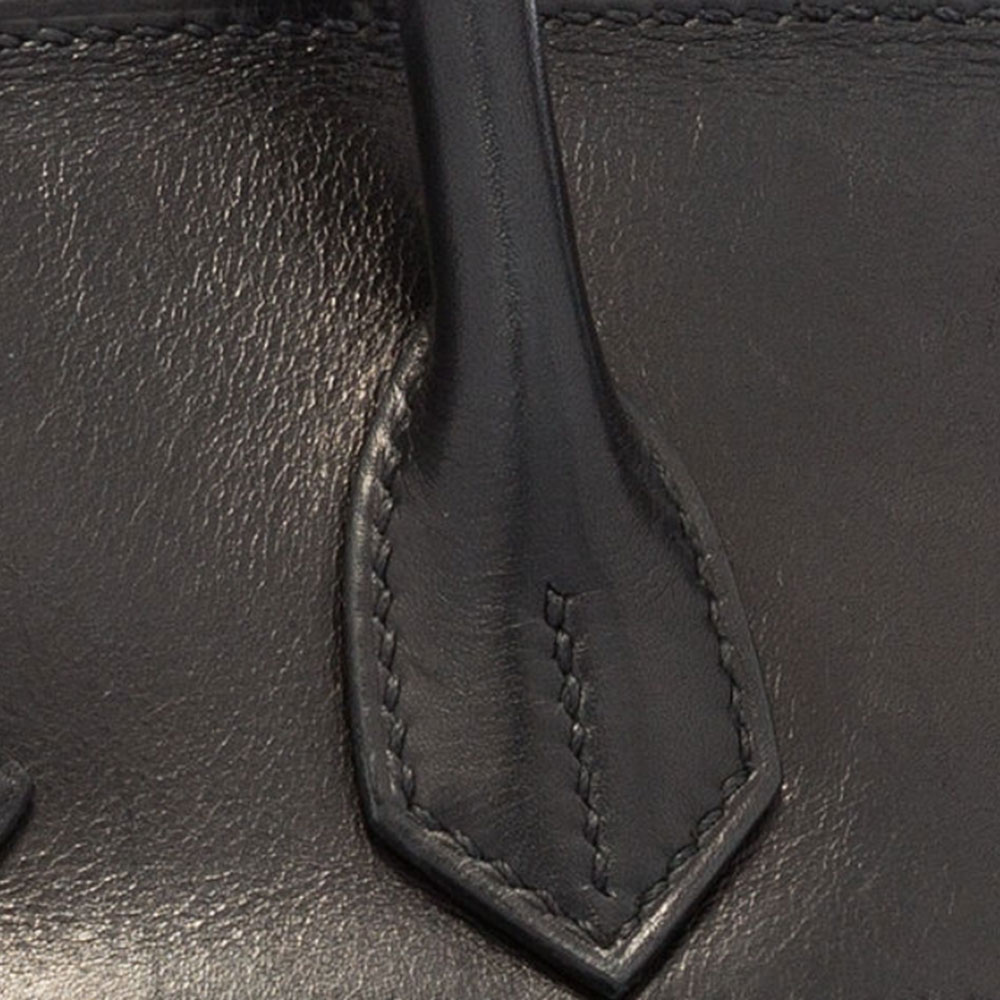 ---
Evercolor (Veau Evercolor)
Evercolor is soft and appears almost smooth but has a tiny, printed grain. Introduced in 2012 and related to – but more durable than – both Evercalf and Evergrain, Evercolor has a slight sheen and will soften over time.
PurseForum Links: Evercolor Leather, Evercolor for Daily Use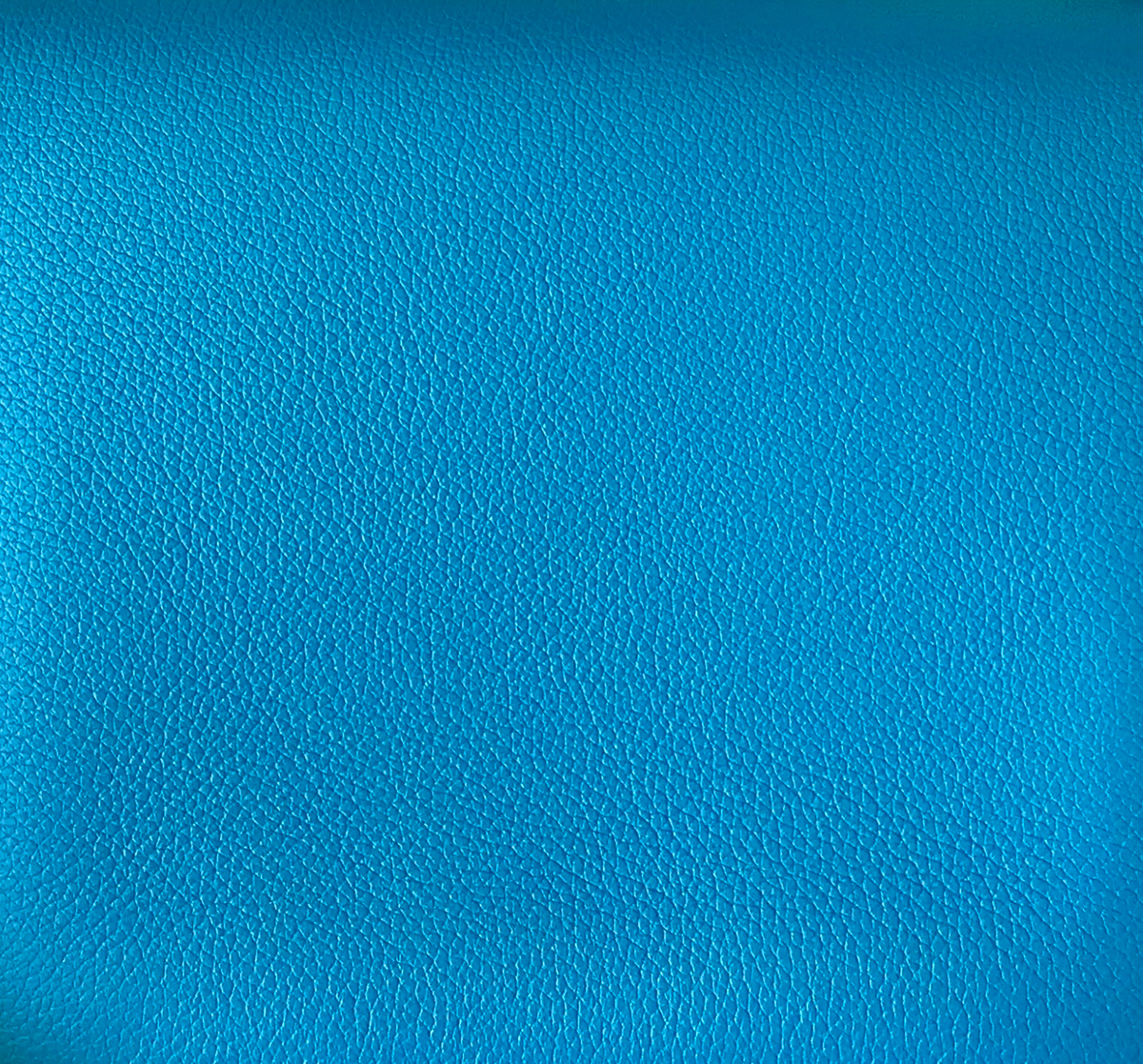 ---
Evergrain (Veau Evergrain)
Evergrain is essentially Evercalf with a tiny printed grain. Introduced in 2004, it is a soft leather, and therefore is very prone to scratches; small ones can be rubbed away, but the larger ones will need to be refurbished. Over time it will become shiny and softer.
PurseForum Links: What Do You Think of Evergrain Leather?, Swift, Gulliver and Evergrain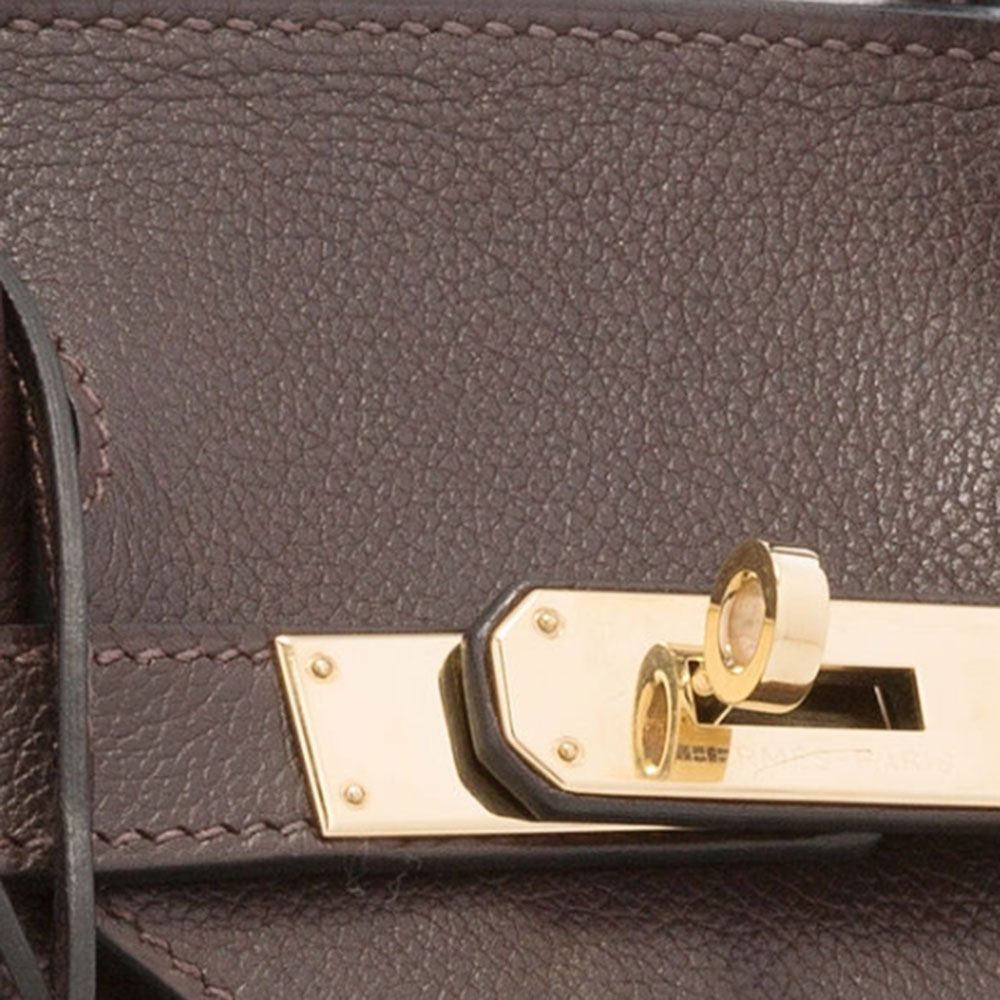 ---
Galop d'Hermès
Similar to the long-discontinued Ardennes leather, Galop d'Hermès is a recent addition and currently only available in a few, neutral colors (Noir, Indigo, Fauve, Ebene). It is relatively lightweight, matte and rigid, with a flat, variable grain. To date it has mostly been utilized for Men's and some small Women's Bags.
PurseForum Link: Galop d' Hermès Leather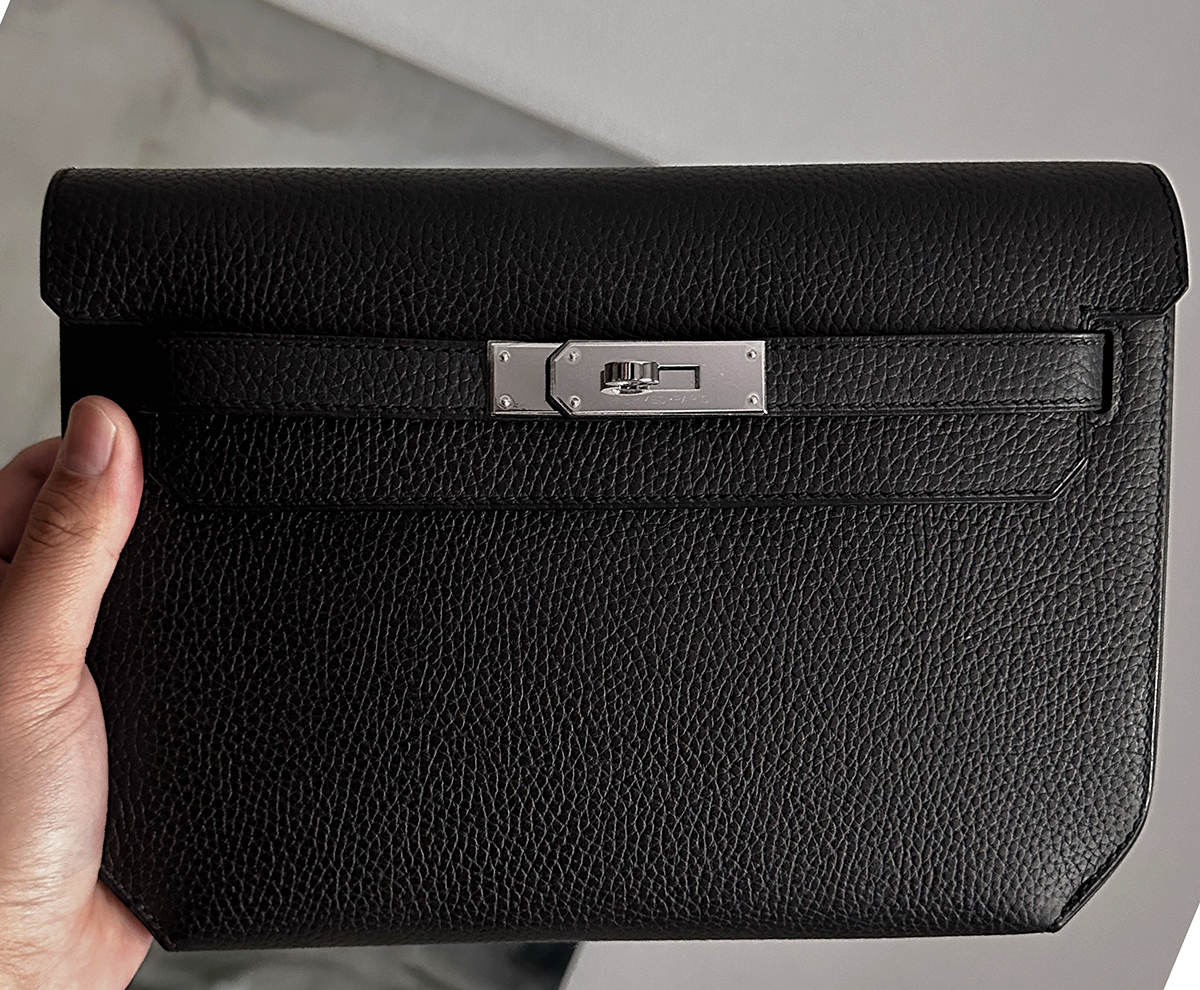 Grizzly (Veau Grizzly)
Grizzly is a calfskin suede leather first produced in 2010.  Soft and supple, it is distinguishable from Doblis, with a thicker texture (nap) and rougher looking appearance which is created by using large skins and sanding the leather. Like Doblis, Grizzly is also delicate; the corners will wear easily and the bag will develop a patina where frequently handled.
PurseForum Links: Veau Grizzl, To Grizzly Or Not To Grizzly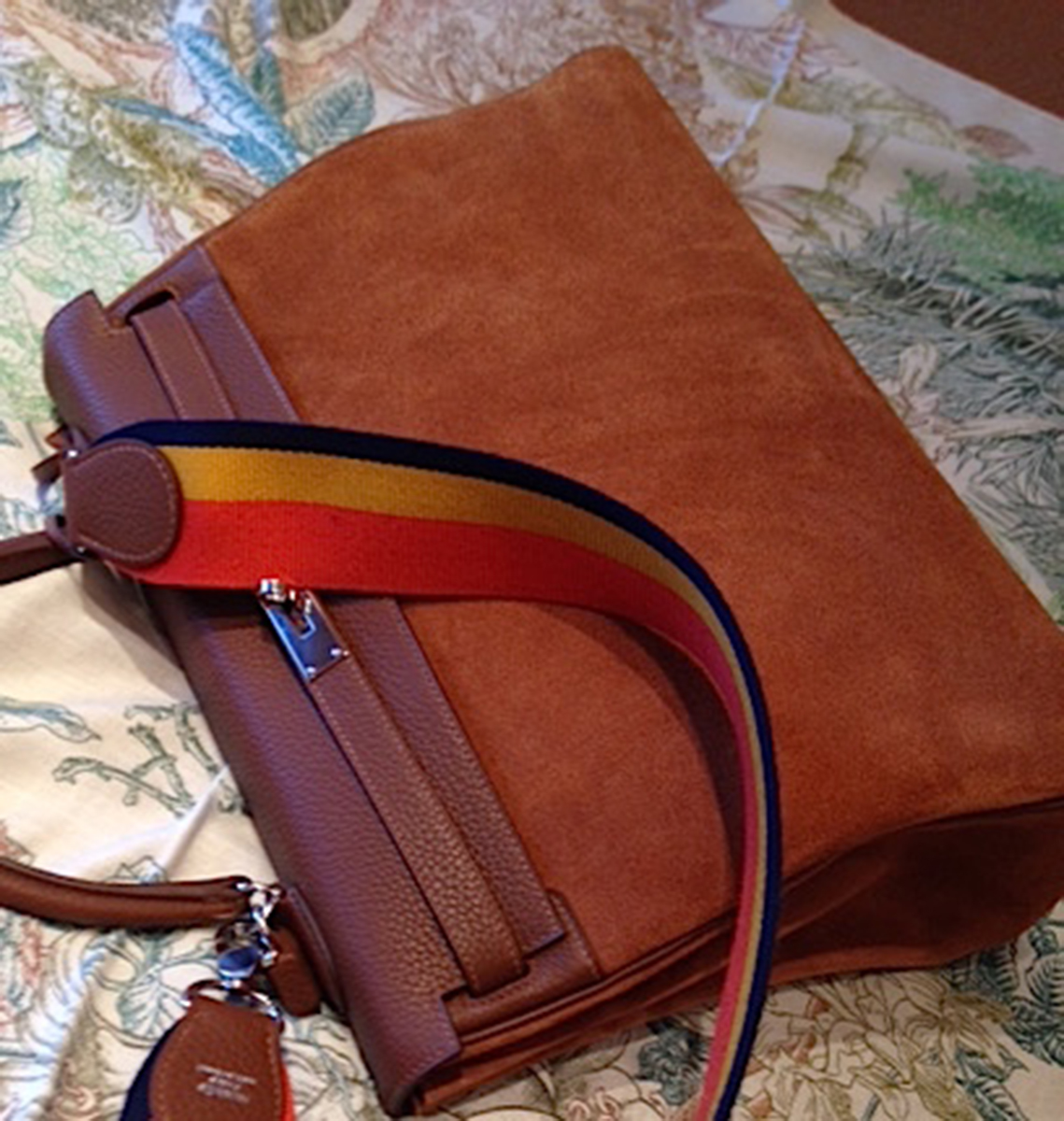 ---
Jonathan (Veau Jonathan)
Jonathan is very similar to Swift: smooth, soft, faintly mottled and with a very fine grain. However, Jonathan is a stiffer leather than Swift and retains its shape much better.
PurseForum Link: Veau Jonathan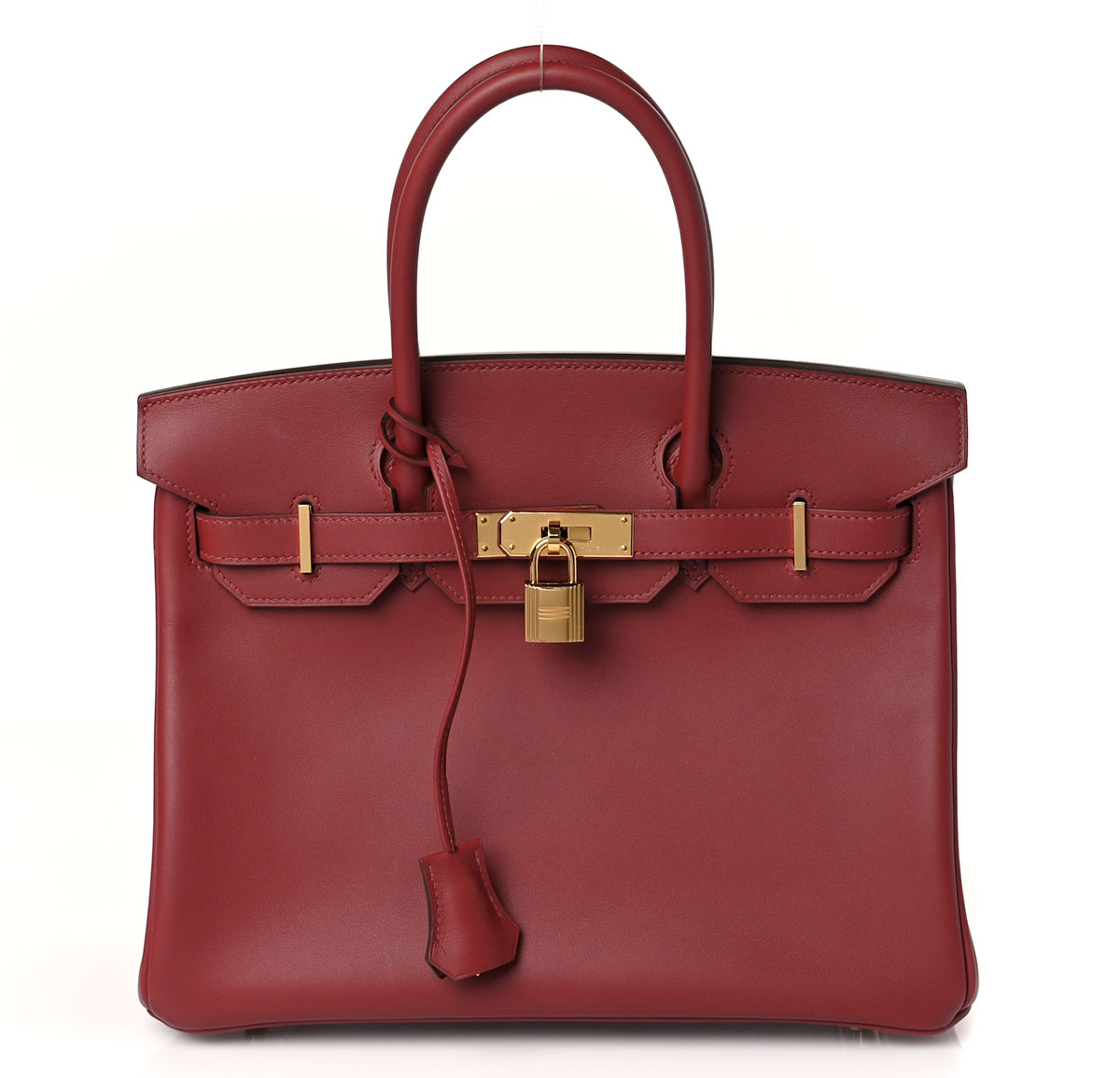 ---
Madame (Veau Madame)
Madame is a lightweight, stamped leather like Epsom, but has a softer feel, a much finer grain, and is less scratch-resistant. Introduced in 2019, Madame also has a slight sheen and maintains its shape well.
PurseForum Link: Madame Calfskin Leather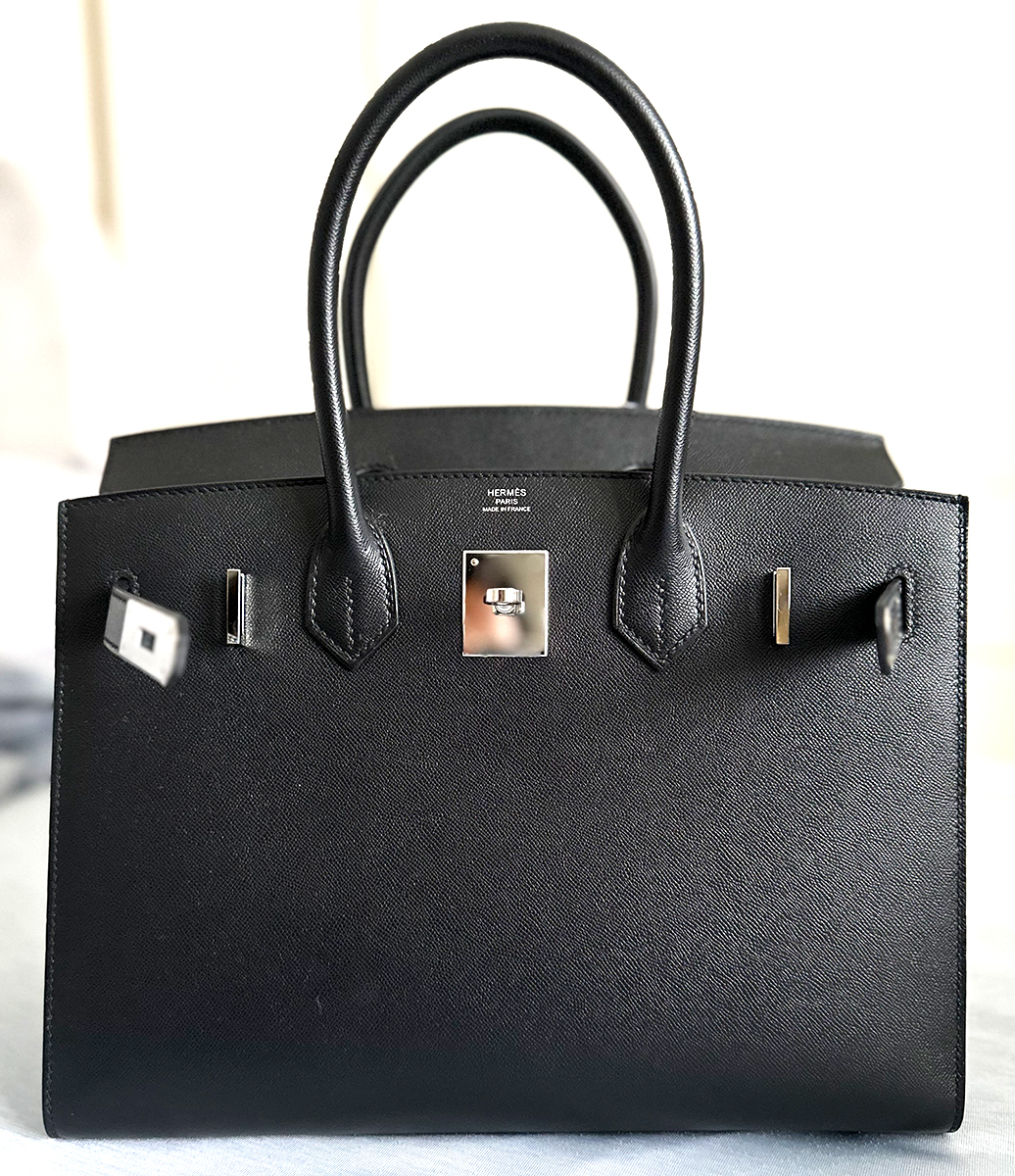 ---
Maurice (Veau Taurillon Maurice)
Introduced in 2017, Maurice is, like Clemence, produced from Bullcalf but has a small, even grain and slight luster which will become more pronounced over time. It is substantial, supple and takes colors very well.
PurseForum Link: Maurice vs Clemence Leather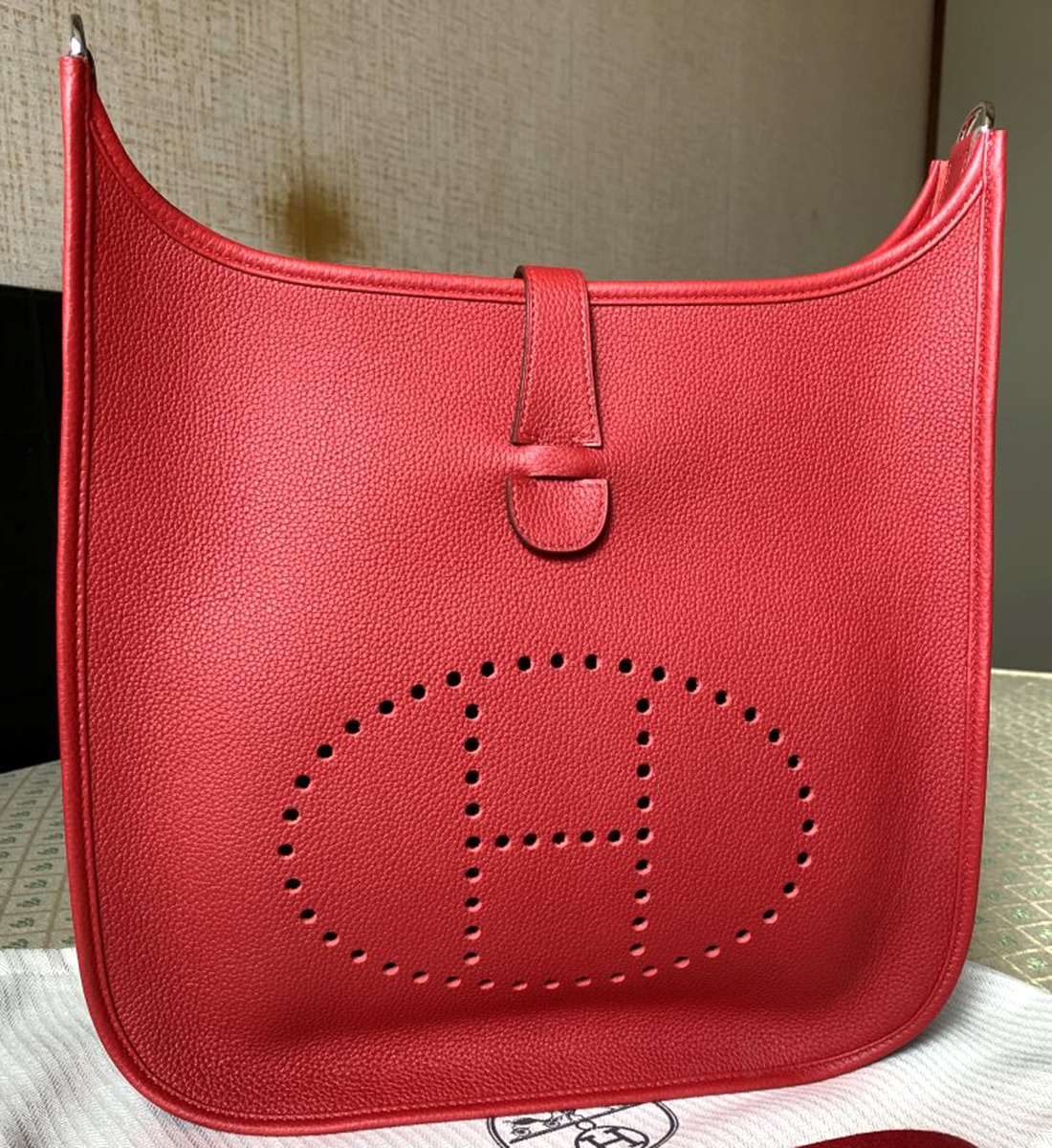 ---
Monsieur (Veau Monsieur)
Monsieur, a smooth, substantial leather with a subtle sheen, was inspired by Box. First produced in 2018, the name "Monsieur" refers to the title given to the King's younger brother during the Ancien Regime (the Kingdom of France from the late Middle Ages until the French Revolution); similarly, Monsieur is considered like a younger brother to Box, arguably the "King" of Hermès leathers.
Monsieur is said to generally keep its shape well over time, although it will take on a deeper sheen in the areas that are most frequently handled.
PurseForum Link: Veau Monsieur Leather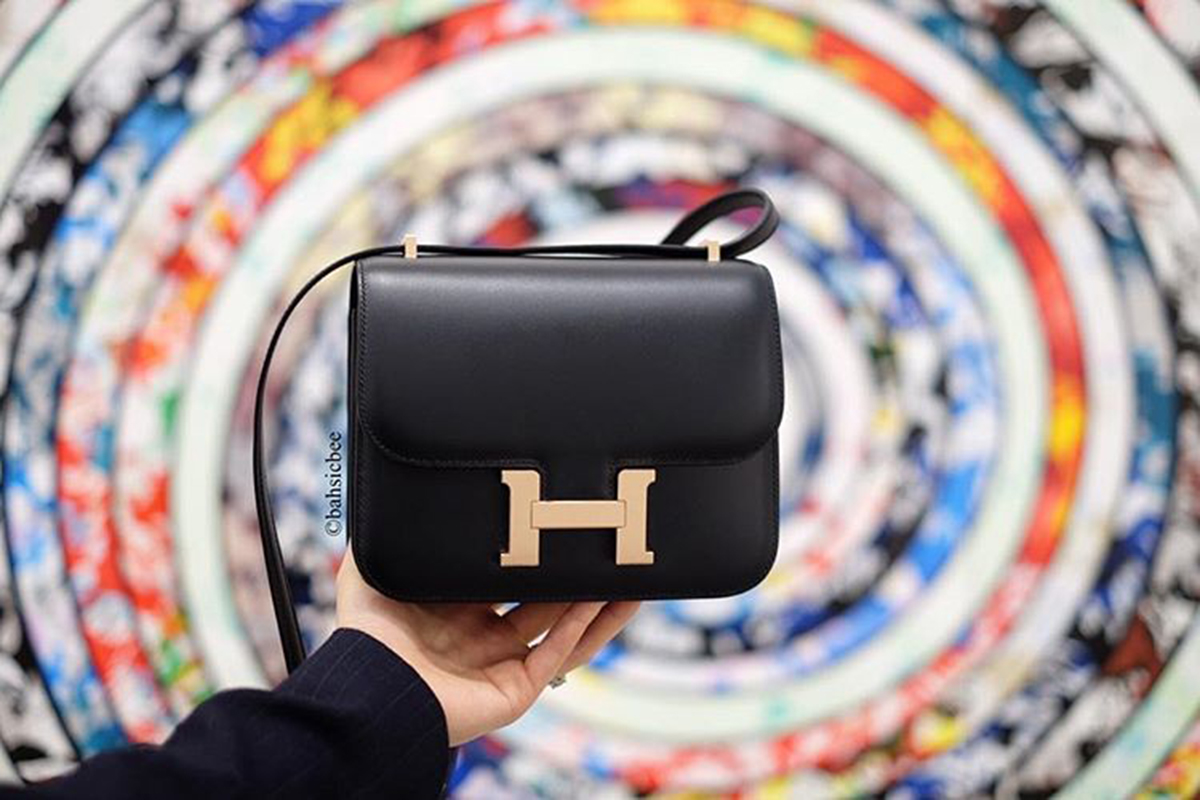 ---
Monsieur Grainee (Veau Monsieur Grainee)
Monsieur Grainee is a durable leather similar to Epsom in that it is rigid and firm but smoother, with a finer grain and a more natural feel and appearance.
PurseForum Link: Graine Monsieur Leather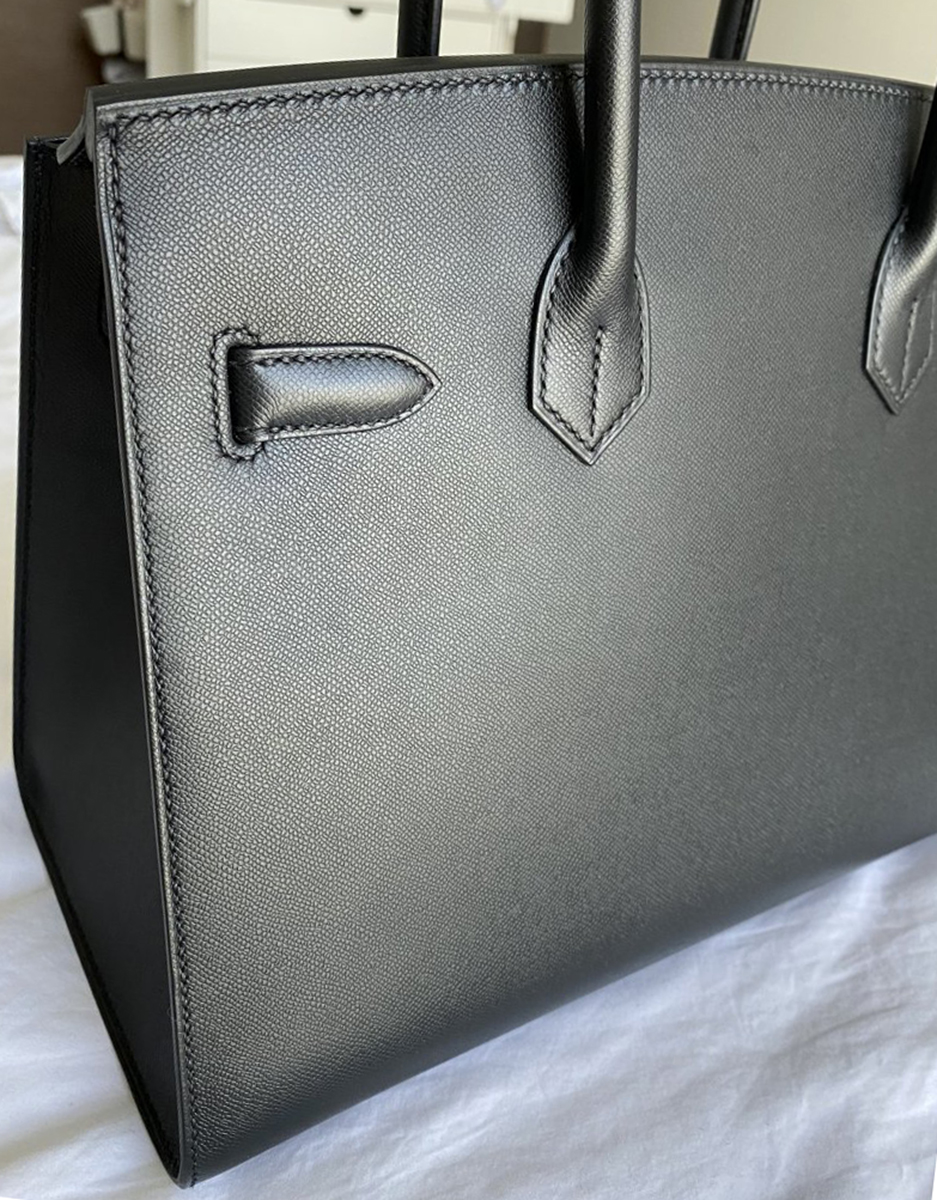 ---
Negonda (Veau Negonda)
Negonda is a large-grained leather which was first produced in 2007. Most often utilized for Garden Party bags, Negonda is soft, matte, water-resistant and durable.
PurseForum Link: Veau Negonda? What Is It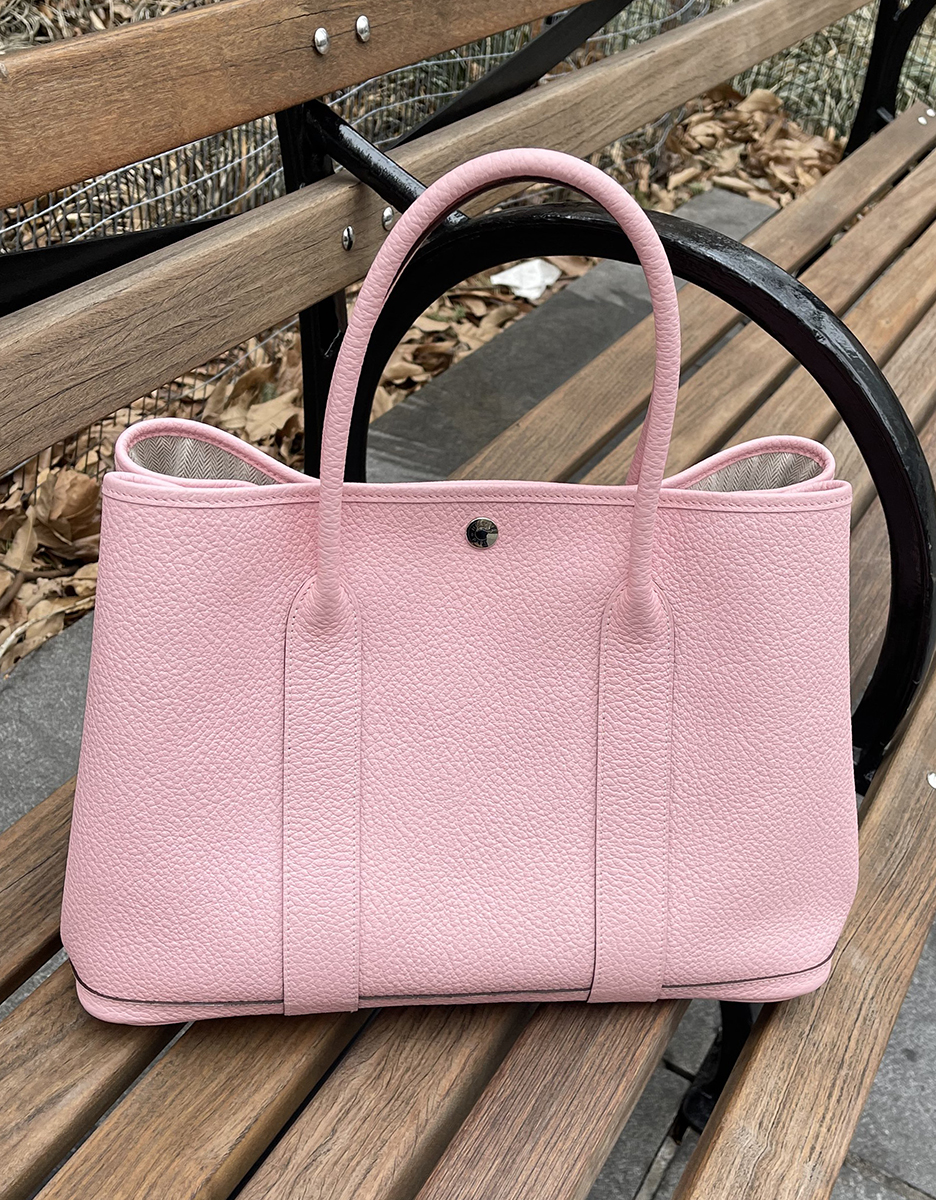 ---
Novillo (Veau Taurillon Novillo)
Novillo is supple and has a very small grain. Introduced in 2015, the texture of Novillo can resemble Togo or Evercolor, but it is less structured, more prone to scratches and takes color very well. Novillo has a substantial feel and becomes softer and develops a sheen over time.
PurseForum Link: Novillo Leather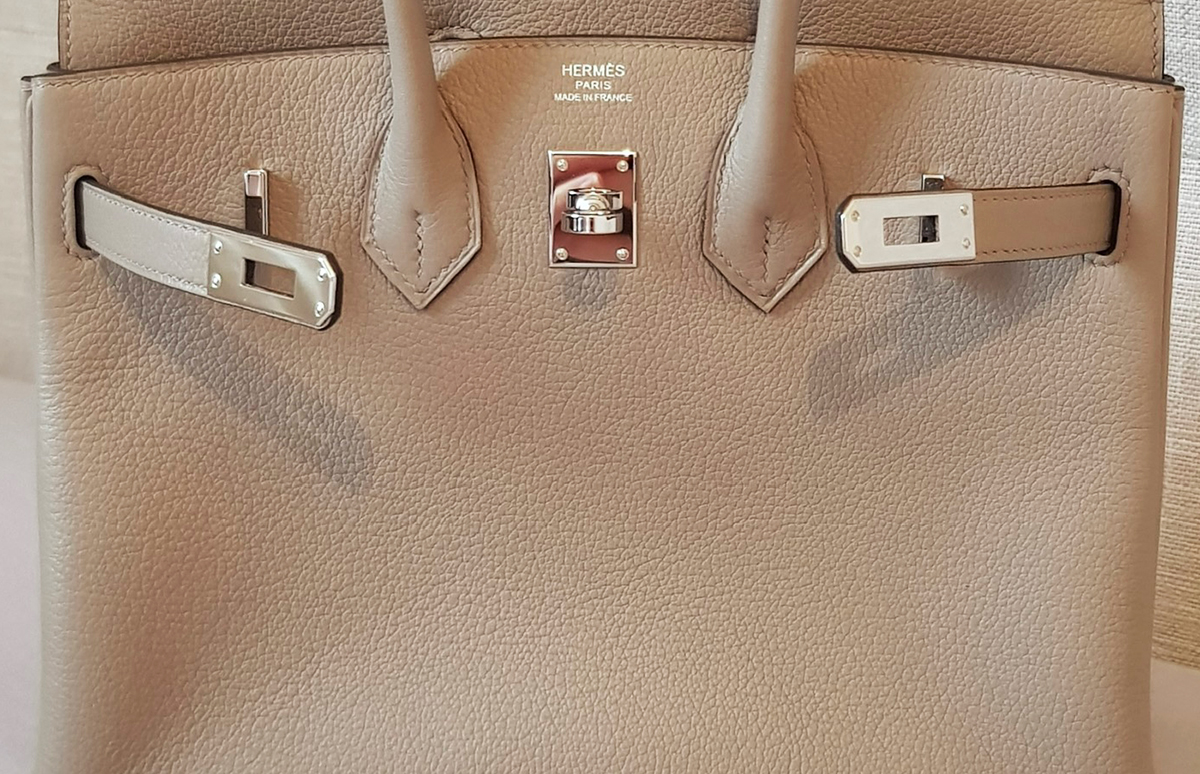 ---
Swift (Veau Swift; formerly Gulliver)
Swift, which was introduced in 2004 to replace Gulliver (Jonathan Swift wrote Gulliver's Travels), is a soft, matte leather with a very light grain which appears almost smooth. While it is light and takes color very well, it scratches easily and will slouch over time, although the scratches can be refurbished.
PurseForum Links: Ode to Swift, Swift, Gulliver and Evergrain photos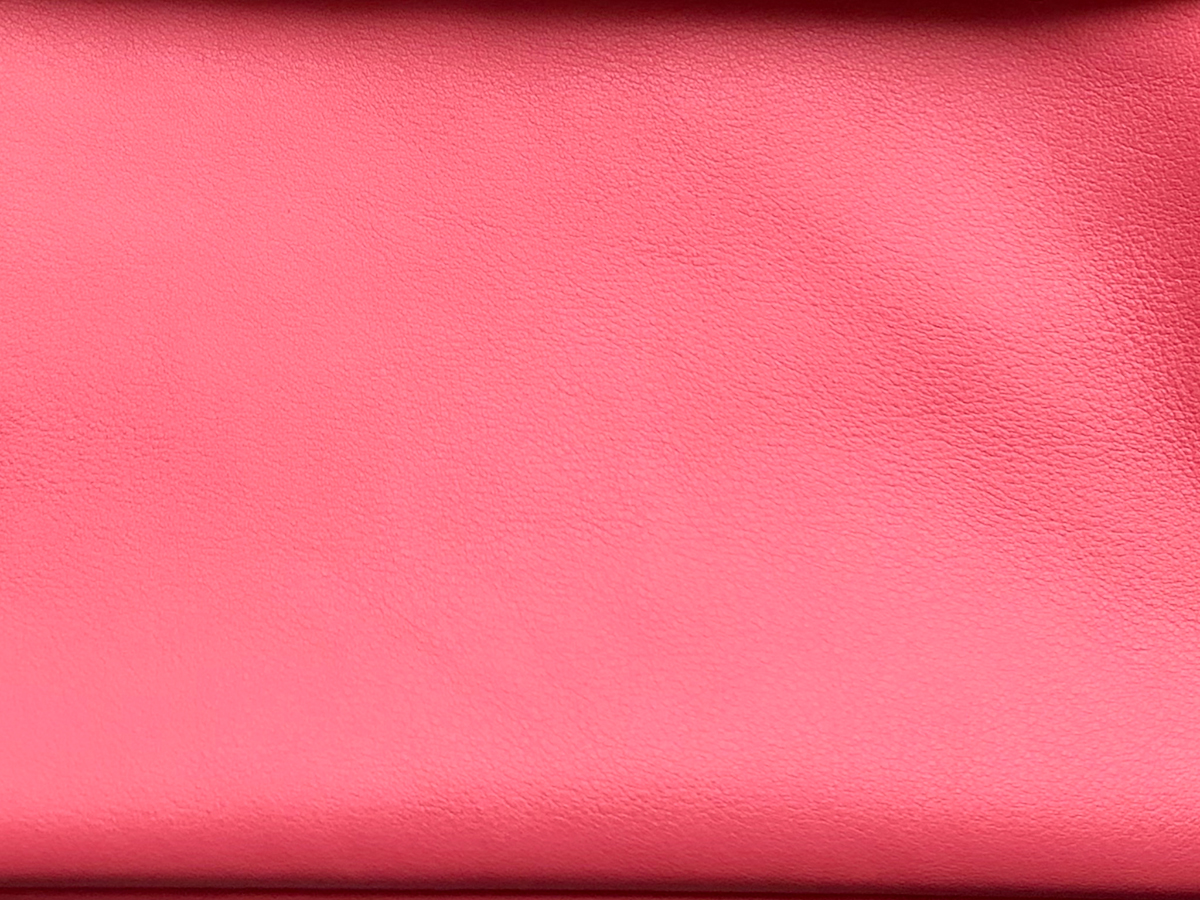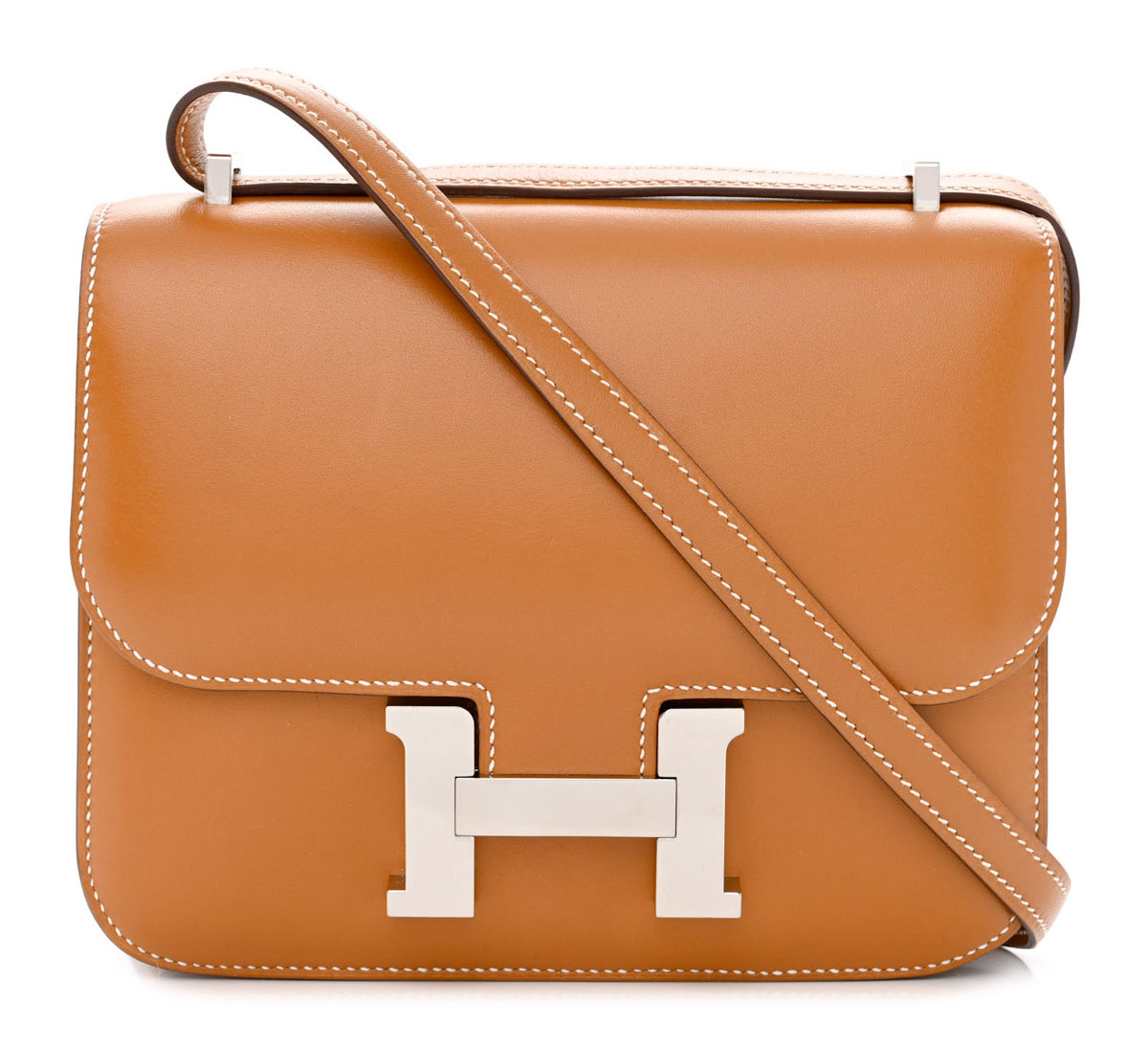 ---
Tadelakt (Veau Tadelakt; Heritage)
Tadelakt is a smooth, soft but structured leather, similar to Box. Introduced in 2007 and limited to small bags and leather goods, Tadelakt can appear mottled or very faintly streaked and may blister when wet; however, when used for bags Tadelakt is often produced in colors which the leather can showcase extremely well, taking on an iridescent sheen not seen in other Hermès leathers.
It will retain its shape over time and has been used for Kelly Sellier bags. Some have found Tadelakt to be prone to scratches, but no more so than Swift.
PurseForum Links: Tadelakt – A Deserved Bad Rap?, Tadelakt Leather, Talk to Me About TADELAKT!, Vache Hunter, Sikkim and Tadelakt photos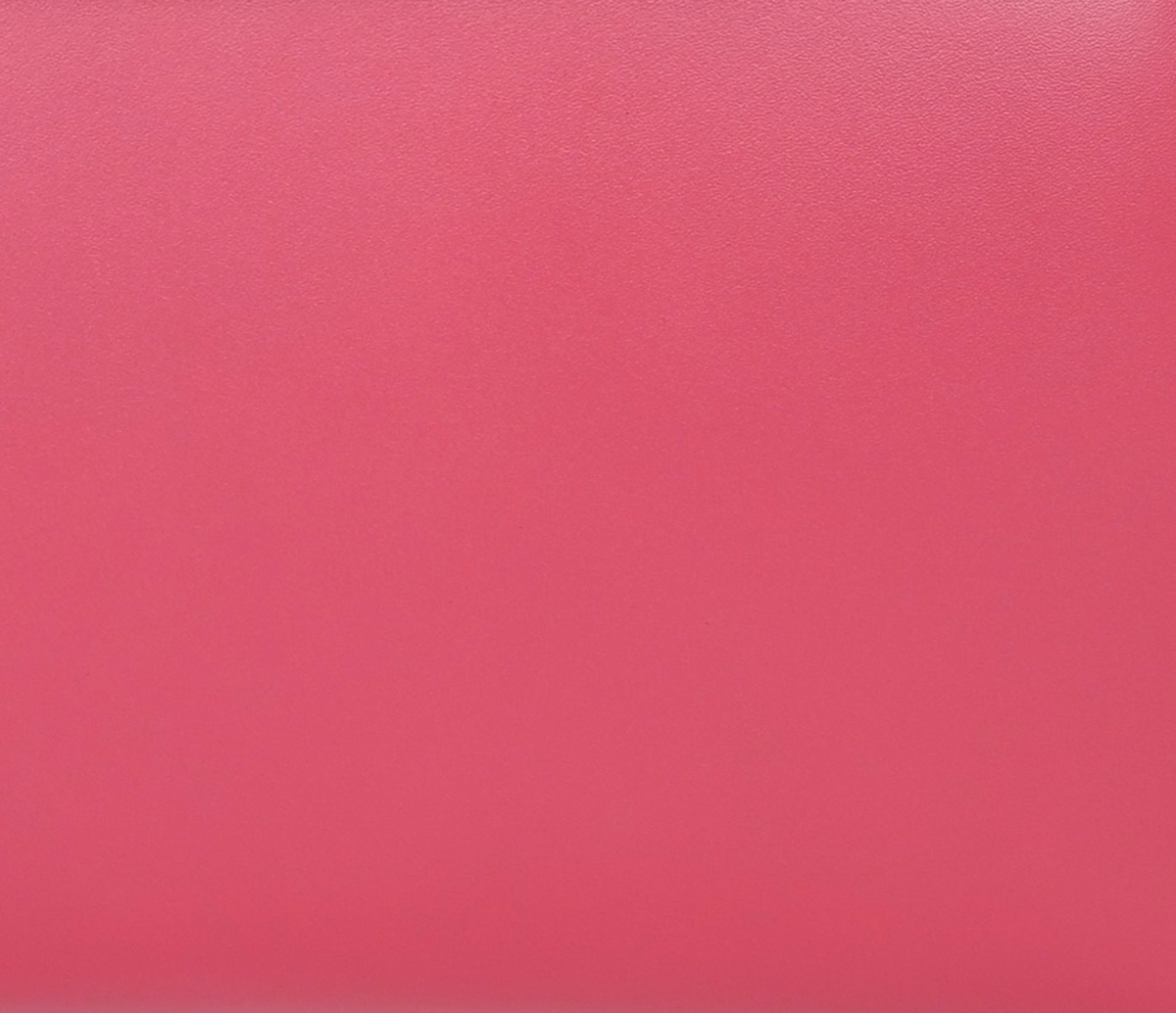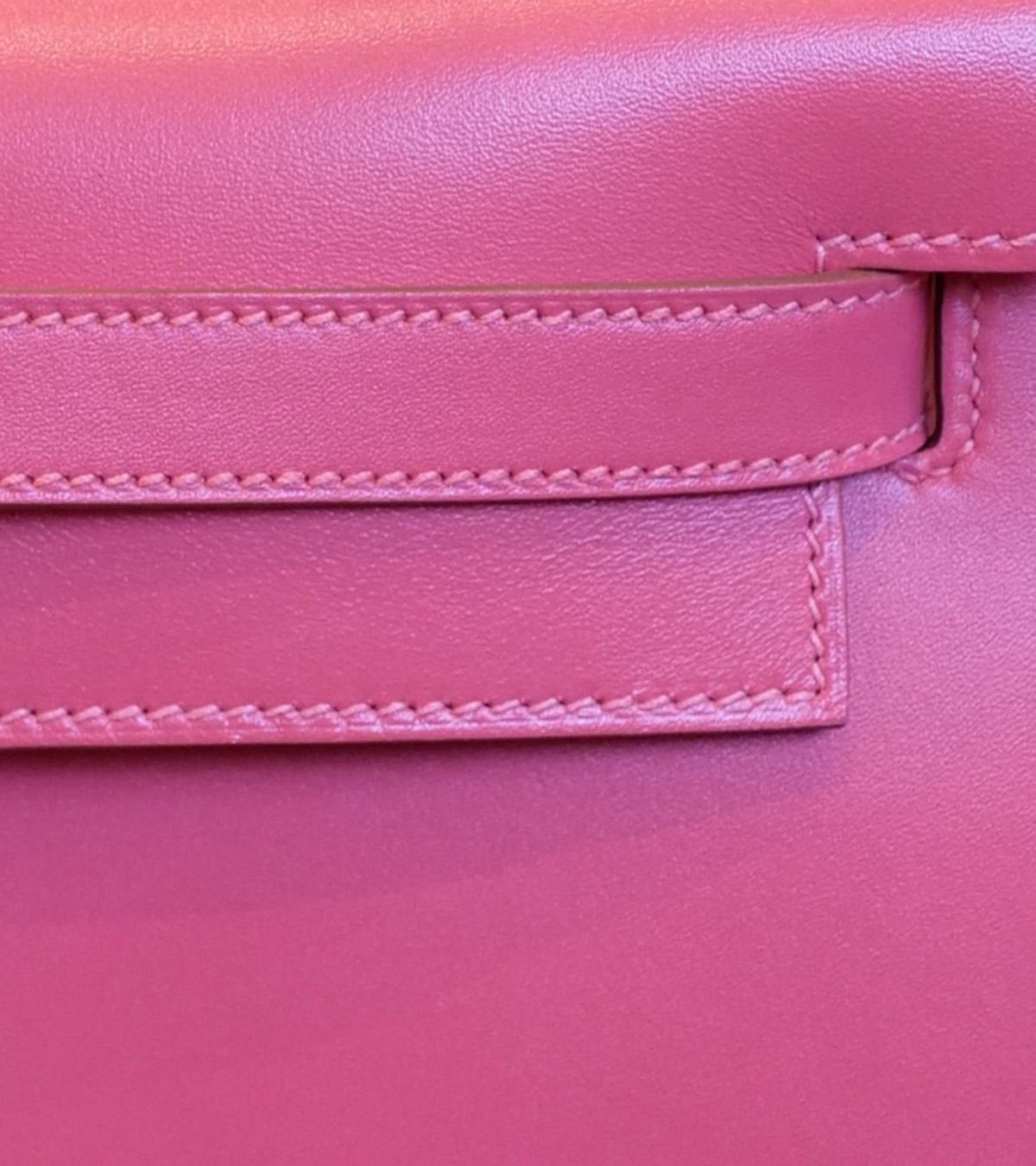 ---
Togo (Veau Togo)
Togo is probably the most popular leather for Hermès bags. Made from baby calfskin – the female version of Clemence – it has a fine grain, is scratch-resistant, easily refurbished and comparatively light, although sometimes people may find it a bit dry and/or thin.
It is easily distinguishable from Clemence by its smaller grain and the presence of veining, although not all Togo is veined. Togo may soften and slouch a bit over time, especially in a larger bag. Named after the African country Togo, and produced by a drumming process, it was initially introduced during Hermès' Year of Africa, 1997.
PurseForum Links: Togo Leather, How Do You Care For Togo Leather?, How Do Y'all Feel About Veining?, Togo, Clemence and Fjord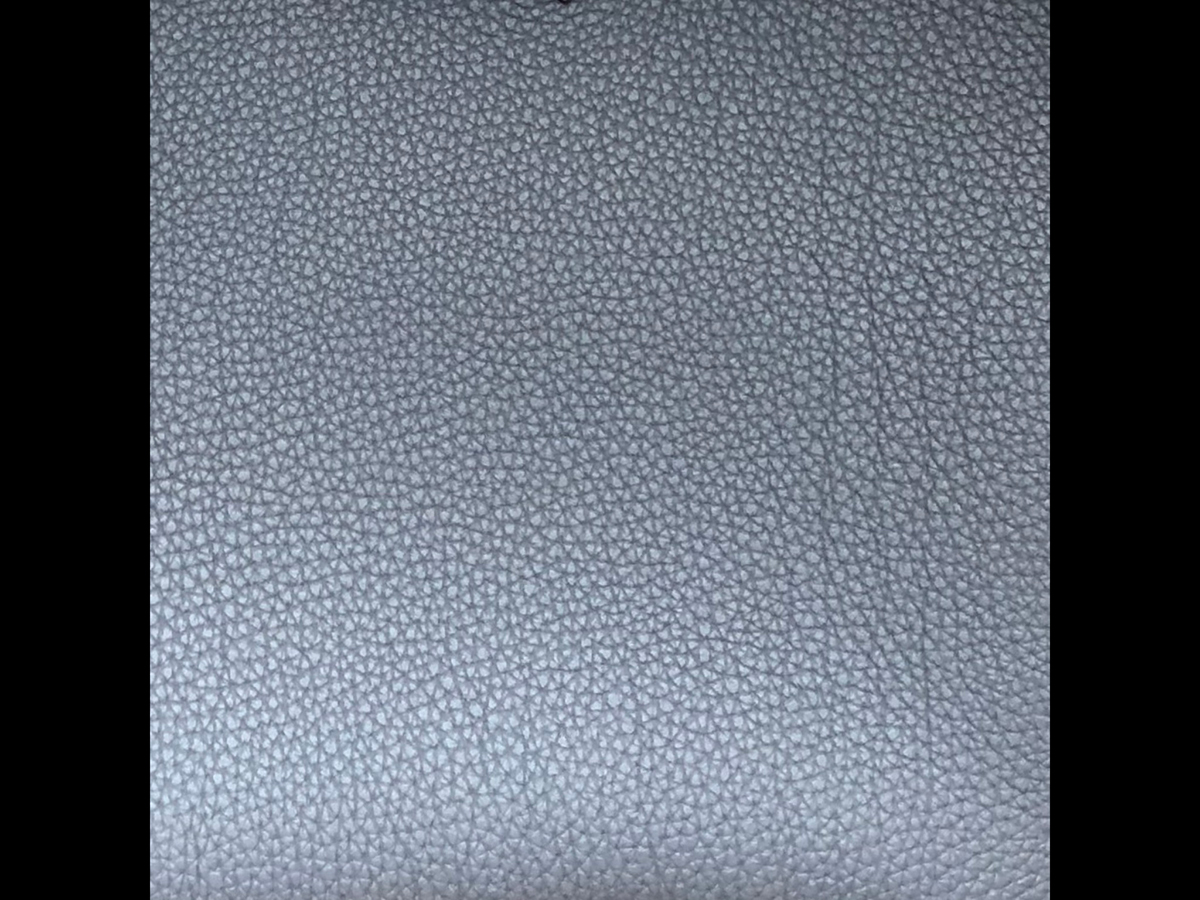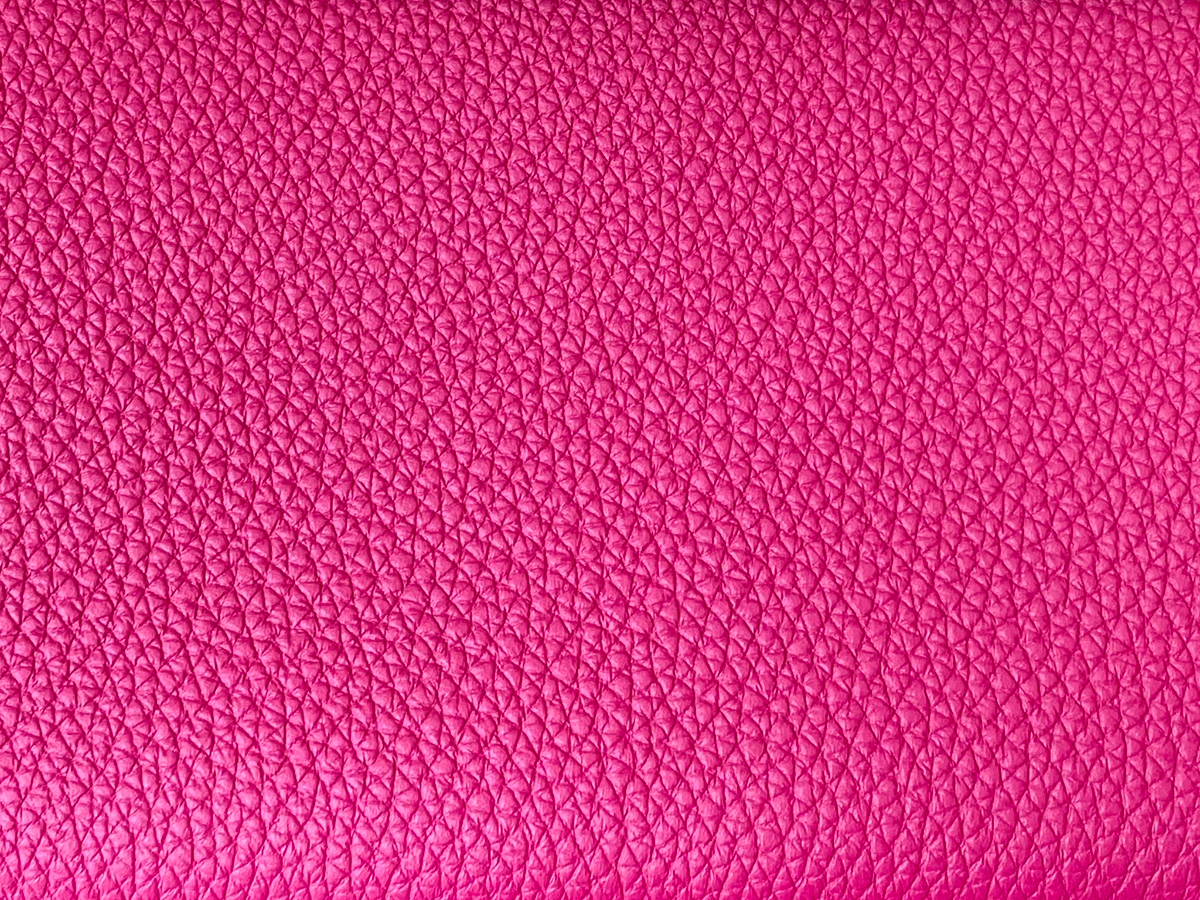 ---
Vache Country
Vache Country, introduced in 2014 is – like Negonda – mainly used for Garden Party bags. Also like Negonda, it is a soft, substantial leather with a large grain; its noticeable differences are that it is more structured than Negonda and a bit heavier.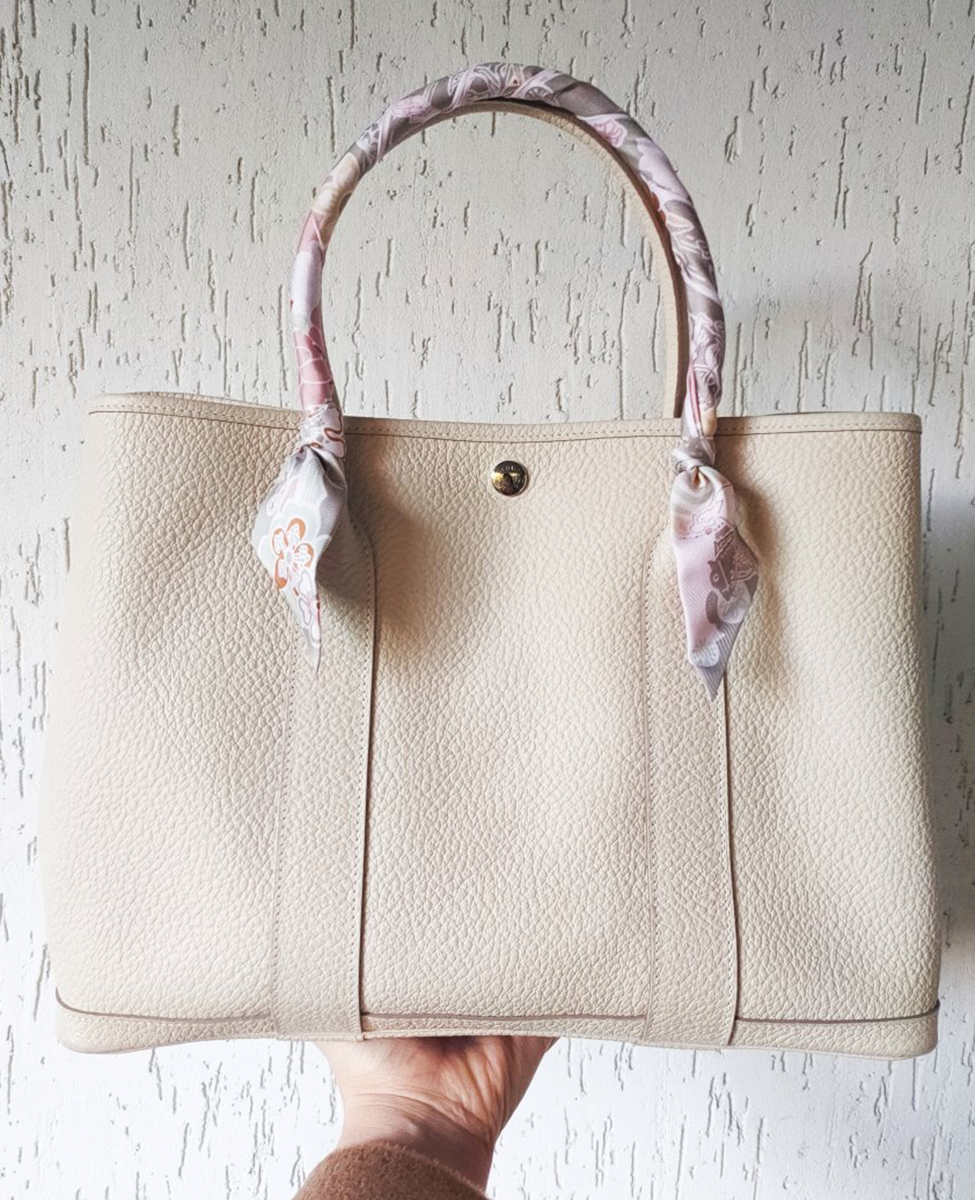 ---
Vache Naturel (Vache Naturelle, Heritage)
Vache Naturel is an untreated, smooth leather that is considered to be very delicate; easily stained and scratched, Vache Naturel will develop spots if it gets wet and the handles will darken with use; however, the leather will also develop a beautiful patina over time, and if cared for can last for several decades.
PurseForum Links: Natural Box, Natural Chamonix, VN, Loving Vache Naturel, Barenia vs Vache Naturel Pros and Cons, Barenia and Vache Naturel Photos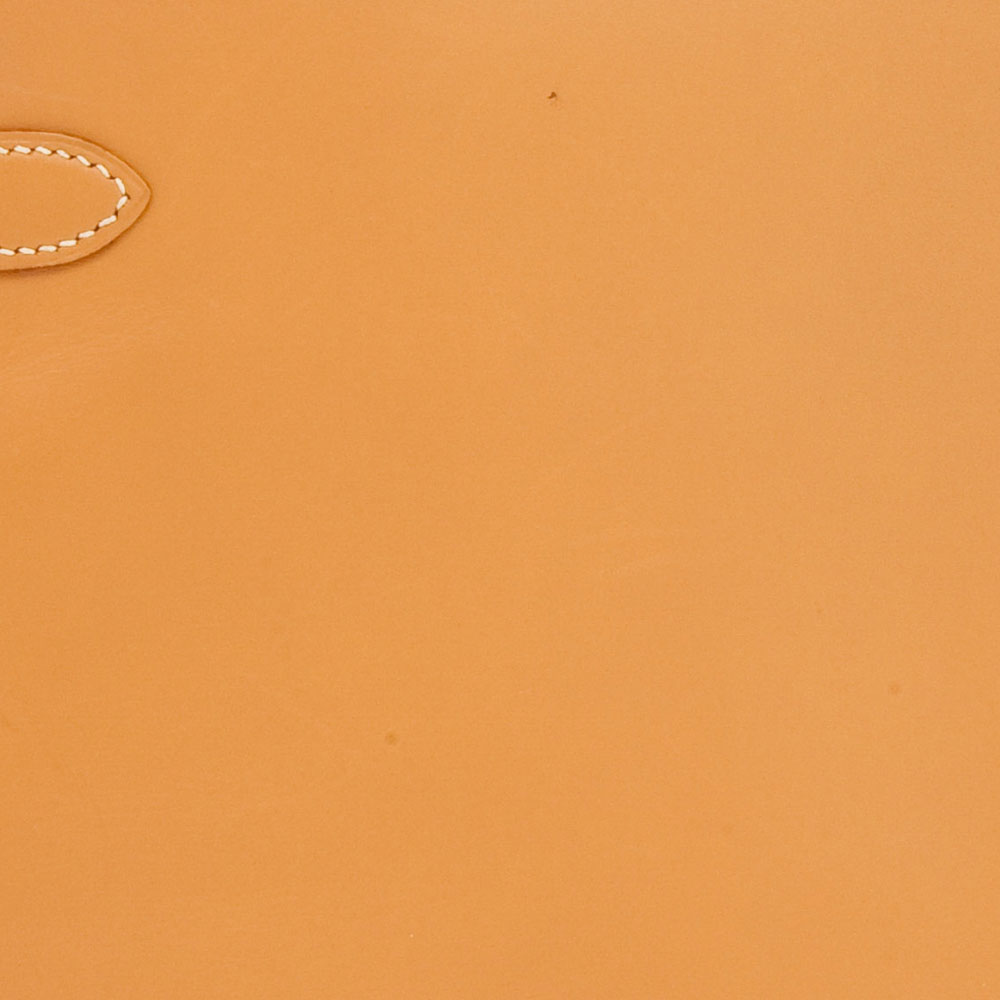 ---
Volynka (Veau Volynka)
Volynka was first produced in 2018 after Hermès spent years researching and reproducing a traditional Russian technique, which includes a very slow tanning process and a bath in a combination of certain barks and birch tar oil. Volynka is distinguishable by its unique reddish-brown color and diamond-shaped grain; it also has some irregular veining and a distinctive scent.
Each Volynka item comes with a brush to minimize the appearance of a thin white film (called "bloom") that develops when fats in the leather crystallize on the surface. Over time, Volynka will also develop a patina.
PurseForum Link: Volynka Russian Leather