Well, PurseForum Roundup readers, we have passed the mid-September mark and we're definitely seeing some signs of autumn, both on the PurseForum and out in the wild. This week, we spent some quality time in Handbags and Purses, the Jewelry Box, Chanel and more. We're glad you could join us, so come on along!
---
We visited the Wardrobe this week and spent some time in one of our favorite threads on the PurseForum: the Lets Talk Fashion, Glamour, Styling thread for women of a certain age. We found stylin' susieserb getting ready for a gathering in fine form.
Another favorite thread genre is the stylebook, and this summer bakeacookie got her stylebook "published" right here in this brilliant thread. Another conversation worth a look (or is it?) is the Totally Worth It, Totally Not Worth It thread, which makes for some very interesting reading.
---
In the Jewelry Box, the Ultimate Dream Piece of Jewelry thread was awakened from a long slumber, and wow, our PurseForum members really know how to dream! What's on your jewelry wish list? We also had a lovely romp in the How Do You Store Your Jewelry thread and found a colorful collection of Hermès enamels from doreenjoy. 
We also visited the Trollbead Addiction thread; it's always full of colorful and inspiring creations, including this pretty combination of glass beads and silver assembled by jeep317. There is so much going in the Jewelry Box and plenty of bling to go around!
---
This week in Handbags and Purses, we caught up with the Bag Showcase subforum, where our members post their bag families for the enjoyment of a very, very appreciative audience. We noticed that lilyyy's thread got a bump this week, thanks to the addition of a gorgeous jumbo Chanel Boy Bag. But the showstopper in her thread was from a while back; if you haven't caught this fantastic Versace, here is your chance. World of B opened up her handbag closet recently, too, and it is absolutely stunning!
Handbags and Purses is where we put everything that doesn't fit in the rest of our bag designer subforums. It's also where many of our designer forums get their start: Once a designer gains popularity–as evidenced by multiple threads in H&P–a dedicated subforum is not far behind. We have our eyes on Mansur Gavriel at the moment; are we seeing the stirrings of a future subforum? We found some great bags in the threads this week, including this pair of stunners from rdgly.
Don't miss JetSetGo's black bucket bag with a surprise interior, and FashBrat's classic tote with another surprise inside (this time, glittering gold)!
Also in Handbags and Purses, we wandered over to the Obscure Bags thread and found reckfly's pretty bags from Deadly Ponies, a line that looks to have a lot of fans already!
---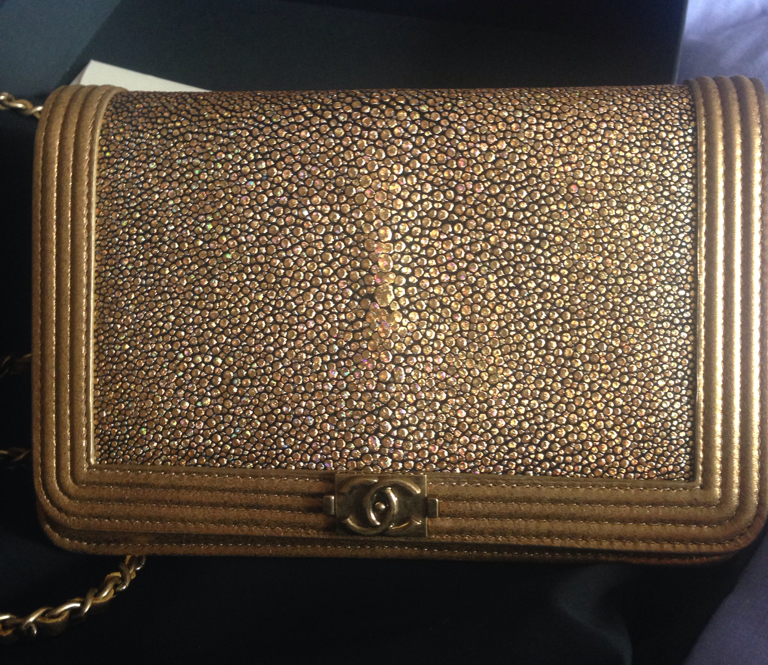 Chanel never disappoints, and this week we found the September purchases thread in full swing. This gold stingray Boy is certainly a teriffic find, and this new addition to drpn23's collection was appreciated by everyone. Lsm_906 had a first Chanel buyer's question about her bag, and dianar27rvi and luv2run41 each scored beautiful vintage bags that look as if they haven't aged a day.
---
One thing we love about the PurseForum is the surprises, and we found a fabulous one in Home and Garden, where a lamp installation caught our attention. Check out the final product in clu13's home! Another fun thread worth a visit is the Your Pet Now and Then, a new conversation just getting off the ground with plenty of cute furbabies to enjoy.
---
Thank you everyone for dropping by. We hope you have a great weekend and week ahead. We will be keeping our eyes on the PurseForum for you and be right back here next week for more reveals and conversations from our favorite fashion destination. See you soon!
P.S. Please consider supporting our small, bag-loving team by clicking our links before shopping or checking out at your favorite online retailers like Amazon, Neiman Marcus, Nordstrom, or any of the listed partners on our shop page. We truly appreciate your support!