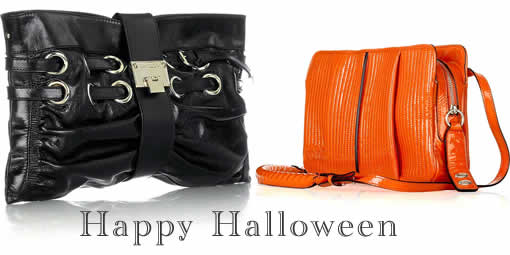 Posting has been light because Vlad and I are in New York City right now. We have been meeting with some fabulous designers (who you will all get to 'meet' soon!) and doing some major shopping. We will have great things to show you soon!!!
Spending Halloween in NYC is something else. We have seen a plethora of working folks on Wall Street in costume, and some people appeared to be in costume but it is most likely their everyday garb. Tonight we will be heading down to the East Village to check out the Halloween parade, which I hear is amazing and just like a scene out of Michael Jackson's Thriller video.
So as posting will remain light today, we will bring you two fabulous Halloween colored bags. If I had it my way, I would opt for a stunning Hermes Kelly in Orange Swift. Yet the Chloe Heloise Quilted Bag brings you a splash of orange for the festivities and the Jimmy Choo Rio Clutch brings the needed black. Honestly, orange is a color that you will see all around for spring, so grab yourself some orange! And black is always in, no matter how hot gray is, black will never go out. Buy the Orange Chloe Heloise Bag at NAP for $1225 and the Black Jimmy Choo Rio at NAP for $1395.
What are you all doing for Halloween?? :twisted: