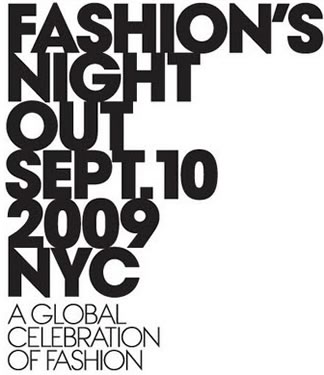 What is Fashion's Night Out, you ask? Bedlam. Chaos. Hundreds of people lining up to see Mary Kate and Ashley Olsen only to be yelled at by a security guard who said that the event was closed. He also added that we, as spectators, were a fire hazard and we were all shepherded back down the escalators. That, my fellow friends and purse lovers, is the essence of Fashion's Night Out.
Sure, the promoters say that it's all about making shopping fun again, and that it is. But between you and me, more "shoppers" were hounding celebs and snapping up shots on their digital cameras than were forking over the plastic. I think I saw transactions taking place about three times, and one doesn't count because my pal bought a Fashion's Night Out tee shirt. Which, by the way, is extremely soft and comfortable.
That's not to say that out night was a failure. Oh, it was quite the opposite. It was success, but a very different success than that which comes from receiving a good grade or finding the perfect pair of jeans. This was unexpected success- that satisfied feeling that comes after what you know has been a good, good night, even though you didn't get the perfect shot of Victoria Beckham (I only got three pictures: one dark and two blurry).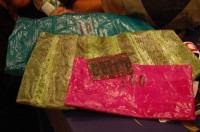 Our night began at Ann Taylor, where we stopped unexpectedly and caught a glimpse of Stacy London dispensing crucial fashion advice to a crowd of admirers. We then made our way to Bergdorf Goodman, where we promptly set off the escalators in search of MKA, but as you know, that did not quite go as planned. On the way out, we encountered a massive crowd. Let's call it a mob for simplicity's sake. The difficulty was that the mob was between us and the door, and what made it more difficult to get through was that the mob was attracted by the icy fashionista Victoria Beckham.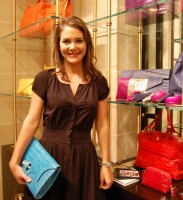 But then we moved on to greener pastures, in this case, Henri Bendel, where I was able to meet Rita Overzat, CEO and founder of Beirn, the purse brand known for their wonderfully simple snakeskin hobos as well as Adriana Castro (pictured here).
Berin was doing a very special thing in honor of the night's festivities: with any Beirn bag purchase, you could have your bag painted to suit your fancy by the brand's artisan, all while you wait. Initials, designs, hearts, starts, you name it. How cool is that?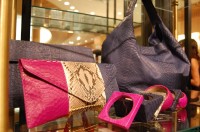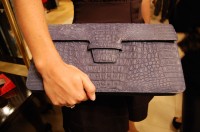 Upstairs I met with another name of exotic handbag fame, the beautiful Adriana Castro. She expressed her excitement at being in New York for this great event, and was featuring her newest venture of completely custom-made bags. Pick any style of bag she makes, then choose a skin and color and voilà ! Your bag is ready for you, in a few weeks of course. Adriana also showcased a new twist on a fan favorite: a larger version of the Modish Clutch in a unique blue-jean stone wash. My dad has a stone wash croc belt, and I'm consequently always in awe of this wonderfully unexpected combination- it's always understated yet sophisticated.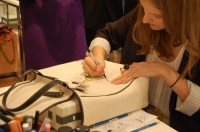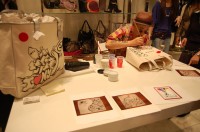 On to Coach on Madison, where awesome graffiti artist Pesu and Brooklyn illustrator Kiersten Essenpreis were installed to create one-of-a-kind designs on Coach's limited-edition Fashion's Night Out canvas tote. Pesu was doing some sedate but still splashy graffiti designs on his canvases, while Kiersten spun out dainty, whimsical designs reminiscent of those she has done for mags like Nylon and The New York Times Magazine.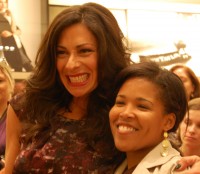 Last but not least, we headed over to Miu Miu half a block away, where we heard that Alexa Chung was spinning for the night. Surprisingly, there was no mob here, and I was able to talk to the Alexa quite easily. The MTV star, who DJ's a bit on the side, said that her favorite handbag brand was Mulberry– is that any surprise to any of us? She also mentioned an up-and-coming Mulberry Alexa bag, so I suppose we can look forward to that!
And that concluded our night. It was hours walking in painfully high wooden Costume National shoes, but it was completely worth it. Especially because we passed right by Leighton Meester coming out of Bergdorf's back entrance.
P.S. Please consider supporting our small, bag-loving team by clicking our links before shopping or checking out at your favorite online retailers like Amazon, Neiman Marcus, Nordstrom, or any of the listed partners on our shop page. We truly appreciate your support!