How to put this delicately...the fashion at Sunday night's 2012 Emmy Awards was mostly not great. A lot of it was fine, if you like sparkly, crowd-pleasing gowns or bright colors, but there were only a few wow moments to be found. Well, guess, what - we found 'em. And we made a little post out of 'em, as we are wont to do.
We know you've probably seen a few Emmys best-dressed lists now, but we like you guys, and we like talking about fashion with you, even when the photographers who covered the red carpet arrivals didn't bother to get us any close-up shots of anyone's handbags. So if you'll indulge us a bit, we'd like to do a rundown of our favorite Emmy looks, including a few that we're sure will be controversial. Join us, won't you?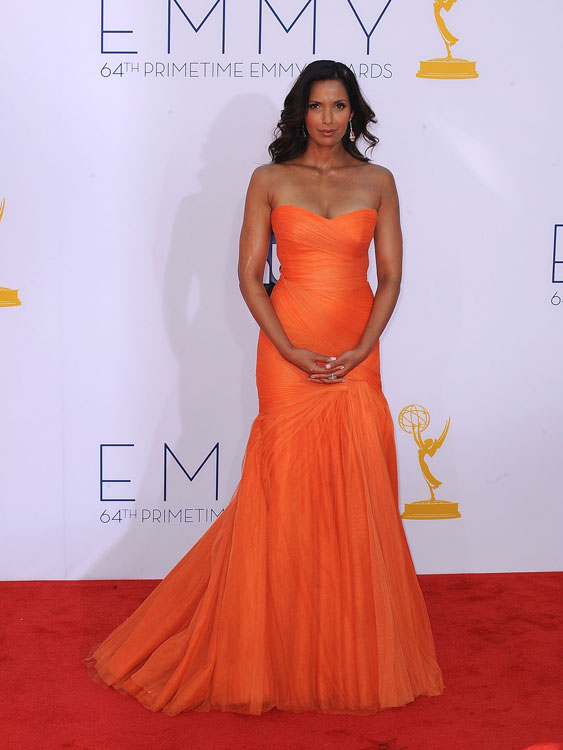 We'll start with a crowd-pleaser that I actually quite like - Top Chef host Padma Lakshmi in tangerine Monique Lhuillier. The material is delicate-looking and beautiful, and she wisely resisted the urge to over-accessorize a dress that makes a statement on its own with a wide swath of bright orange.
1 / 6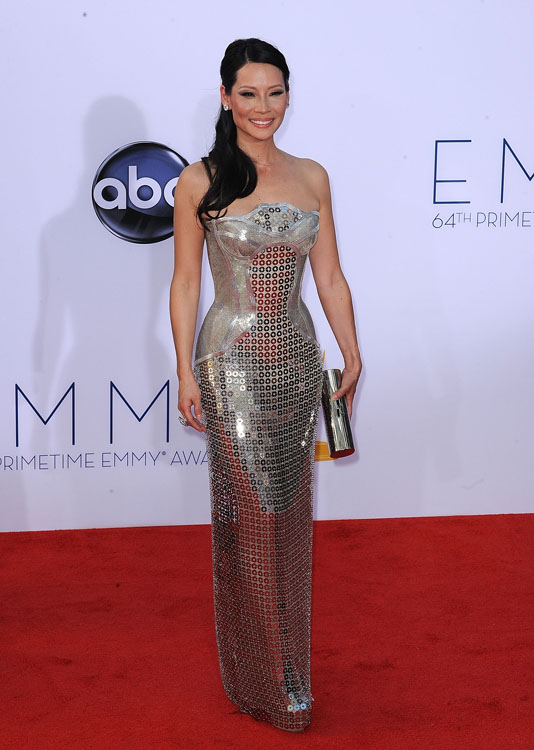 Lucy Liu's femme-warrior chain mail Versace number was my personal highlight of the evening. As much as I talk smack about Donatella's bags, the lady can werk when it comes to creating a stunning, architectural, thoroughly modern evening look. Also, Lucy Liu hasn't aged a single second since approximately 1998.
2 / 6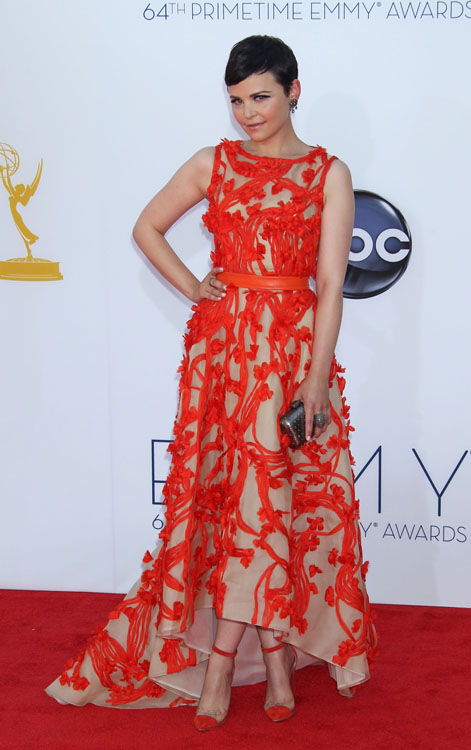 I don't know who Ginnifer Goodwin's stylist is, but she deserves a hefty bonus - Goodwin's almost always wearing something that looks both totally chic and totally her. This exceptionally detailed Monique Lhuillier gown has a brilliant little rise at the front of the skirt that both lightens the visual heft of wearing something so full and gives onlookers a peek at the beautiful shoe underneath - this time, a suede and clear vinyl Christian Louboutin pump that lends the whole look a bit of modernity.
3 / 6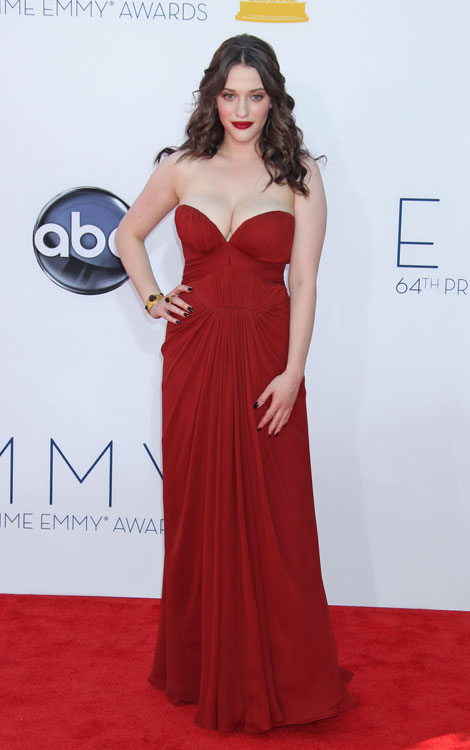 Now, time for some of that promised controversy! I think Kat Dennings looks incredible in this cleavage-tastic J. Mendel gown. The deep, dark lip, the porcelain skin that's never been sullied by a spray tan, the BOOBS. We're all so used to seeing pin-thin actresses with immobile bolt-ons that this particular variety of décolletage seems a bit scandalous, but that's why I like it. If I had Kat's figure, I'd never wear clothes at all, so to me, this dress seems positively restrained.
4 / 6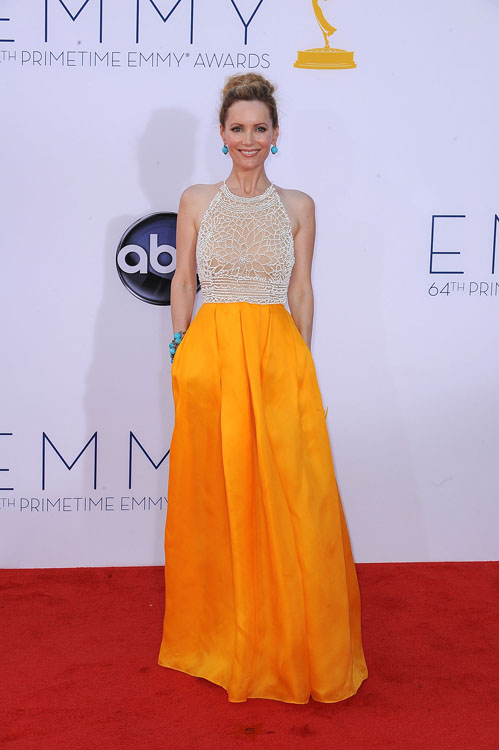 The contrast of the neutral, intricate bodice and loud, simple skirt of Leslie Mann's ripped-from-the-runway Naeem Khan's works for me. In a more crowded red carpet race, I don't think it would have made the top 10, but she benefited from a weak field at Sunday night's ceremonies. That being said, it's perfect lovely and very eye-catching.
5 / 6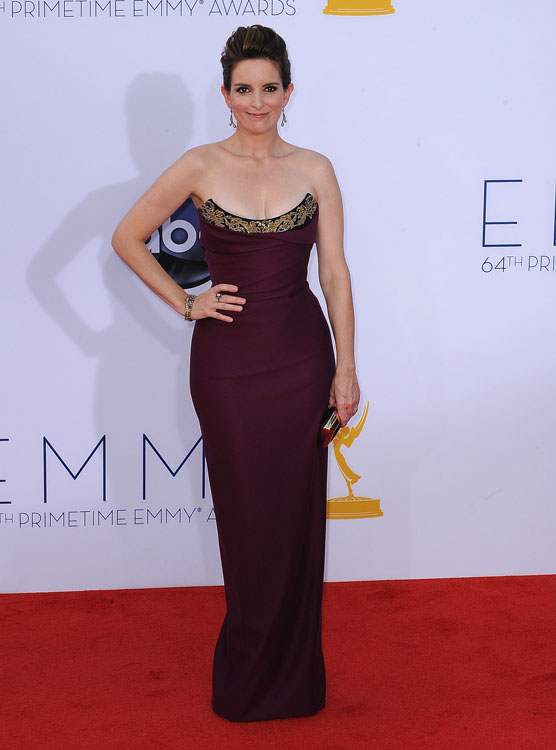 Tina Fey! It always makes me so happy when the ridiculously talented Ms. Fey picks something lovely; her red carpet choices tend to be a tad hit-or-miss. This figure-skimming Vivienne Westwood gown couldn't have been more perfect for her.
6 / 6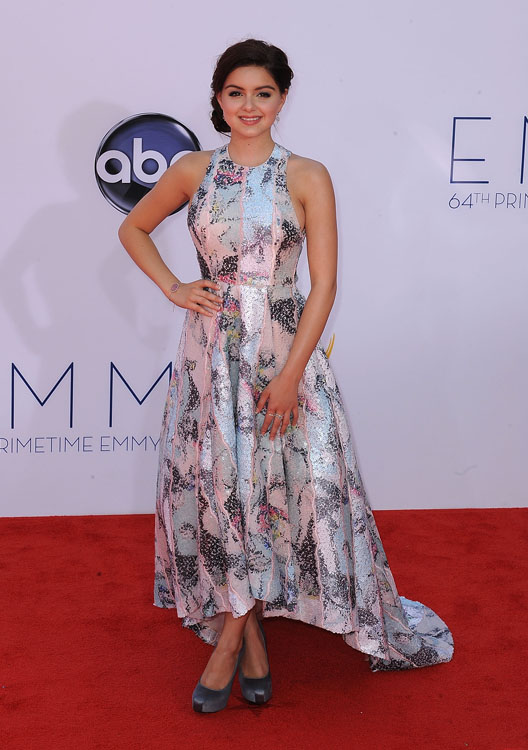 Modern Family's Ariel Winter is the youngest actress to make this list for her girlish-but-modern Katherine Kidd gown in an abstract floral print. I love a print on the red carpet, and too few people take the plunge. The shoes are a shame, though - I like the color, but the dress and occasion require something a tad more delicately shaped. (Think open-toe.) Still, I think the dress is a real winner for a teen actress.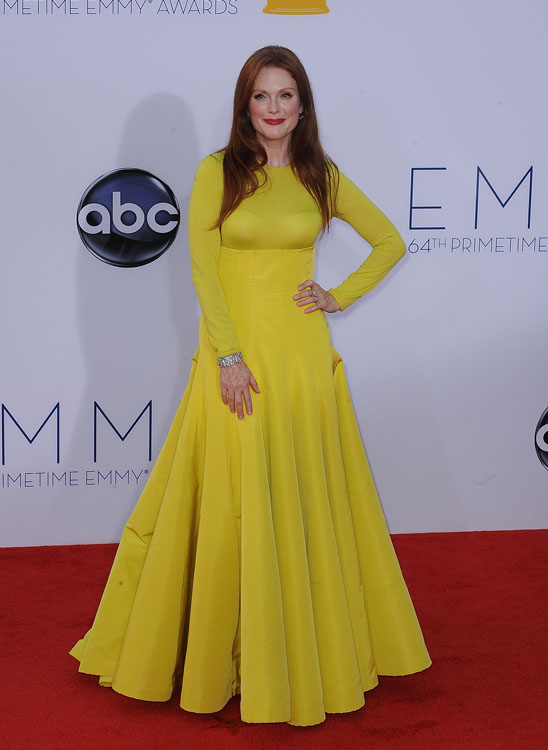 More controversy! I loved Julianne Moore's bold, covered-up citrine gown from Raf Simons' first Dior Haute Couture collection. It's such a ballsy pick: a difficult color, a gown with both a high neck and long sleeves, a fit that's tailored within an inch of its life, no ostentatious bling to interrupt the line. I live for this sort of red carpet risk, and so few people ever take it. The ones who do always seem like they're daring the Internet to tear them to pieces. I think they should be applauded for it, and I thought the dress was beautiful - strong, modern, but with just enough Dior history sewn into it.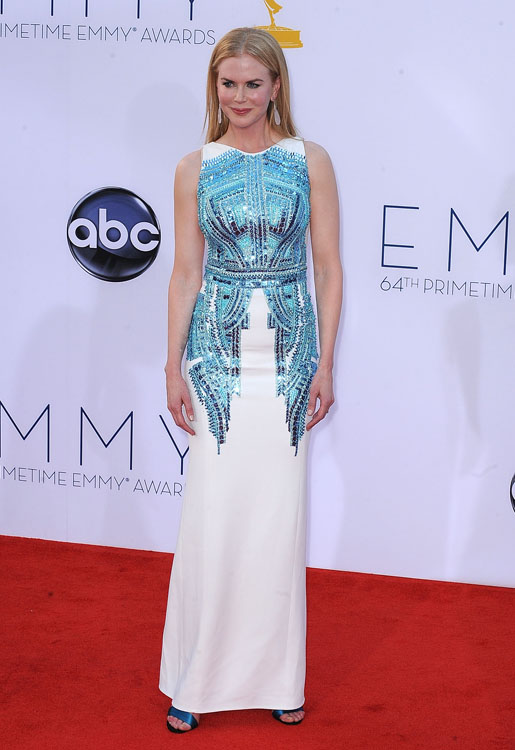 Nicole Kidman is a veteran of practically every best-dressed list known to man, and this blue beaded Antonio Berardi column looks wonderful on her. It'd also look pretty great as a knee-length cocktail dress.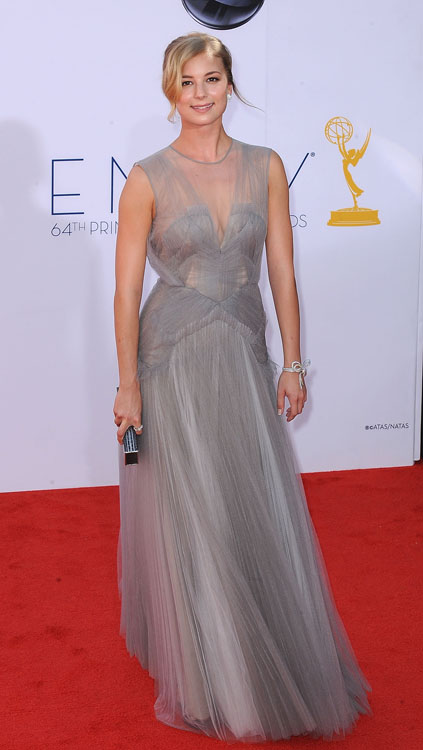 Last but not least, we have Revenge star Emily VanCamp in light-as-a-weather dove grey J. Mendel. This dress is much better in pictures than it was in the wonky lighting that the TV cameras had on the carpet. Grey that soft can be challenging, but it doesn't wash her out at all. This design would also make a great wedding dress for a non-traditional bride - it's pretty in a way that will translate for years to come.
P.S. Please consider supporting our small, bag-loving team by clicking our links before shopping or checking out at your favorite online retailers like Amazon, Neiman Marcus, Nordstrom, or any of the listed partners on our shop page. We truly appreciate your support!