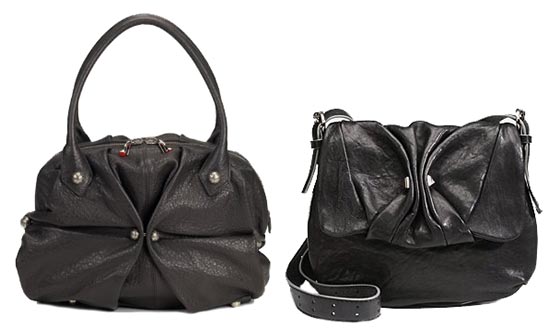 Usually with these Look for Less posts, one of the looks very clearly begat the other. The ultra-luxury brands come up with an idea, and then all of the mid-range brands rush to do their spin on the burgeoning trend to capture customers that might not have the cash on hand to splurge on the bag that technically came first. Surprisingly, that's not at all the case with the Christian Louboutin Maelita Bowler Bag (left) and the Marc by Marc Jacobs Tavi Piercing Shoulder Bag (right). In fact, the two bags showed up on the New Arrivals page at Saks on the exact same day.
Pierced leather seems to be something of a burgeoning beta trend, sort of like tie-dye, that flies below the radar of the most passive fashion fans and doesn't get the sort of press or attention that alpha trends like studs and mini crossbodies do, simply because they're not quite as omnipresent. A lot of editors and fashionistas seemed to be fans of Pucci's pierced bags at the most recent fashion weeks, but the gathered look that these two bags showcase is even more fun.
The hardware is relatively subtle and the gathering that it creates is a great showcase for good leather, which brings me to the somewhat odd conclusion: I like the cheaper one better. Louboutin's bag looks oddly proportioned with such large top-handles and the leather looks like it might be a bit thin in person. If the brand had chosen a more supple look with a bigger body and smaller top-handles, this bag could be great.
The Marc by Marc Jacob option, however, is great just how it is. The texture of the leather looks smooth, but not too smooth, and I like the slightly glazed look that it manages to have without looking stiff. Plus, in addition to this bag featuring a strong beta trend, the crossbody shape is one that everyone needs to have in her closet right now.
Christian Louboutin available via Saks for $2195.
Marc by Marc Jacobs available via Saks for $348.