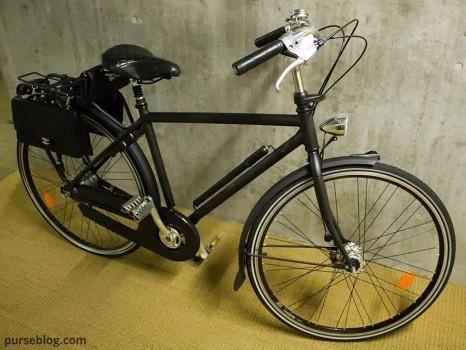 When I reported on the $3,500 Hermes bike two weeks ago, I had the feeling that we had not reached the pinnacle in cyclist decadence just yet. Karl Lagerfeld to the rescue! This Limited Edition Chanel Bike is the ultimate in two-wheeled novelty. With only 50 made and less than 20 available in the US, this creation retailed for $17,000, with reseller markups hitting $28,000 already.
At it was the case with the Hermes bike, it is thanks to our fantastic Purse Forum member vernilover that I can present some detailed snapshots of this exclusive piece to our readers.




The Chanel bike aims to impress with very fine detail, like the quilted leather handles, seat (made by the legendary Brooks Brothers), pant guard, even the bike pump is covered in Chanel's signature quilted leather. The bike also features two quilted flap bags and a jewelry roll behind the seat, all of which are detachable and can be used as individual shoulder bags.
My opinion? No, thank you. Ridiculously overpriced novelty item, reserved for a few selected collectors who do not know what to do with their disposable income. Still crazy for Chanel? Get a solid 8-speed city bike, buy three Chanel Classic Flaps and save thousands. A discussion thread on vernilover's Chanel bike is located here.