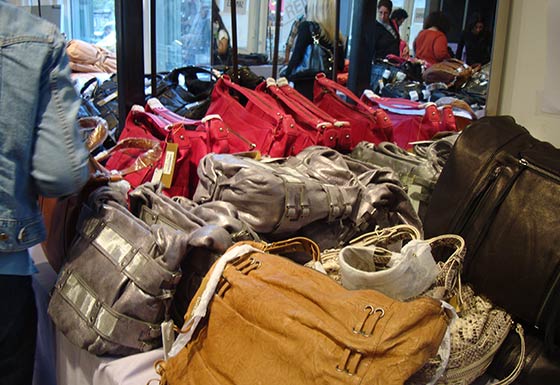 What better way to unwind after a long day of final exams than to go shopping? I know. It's hard to beat. I headed downtown to the Botkier Sample Sale to celebrate another year of college successfully finished. I had strict orders from my mother for what she wanted, and I also planned to get something for my grandmother, who's currently visiting from Mexico. As for me, I needed to purchase my first Botkier, and I was completely besotted with the Dion Satchel in chamois lambskin.

The sale itself wasn't mayhem, but there were plenty of women toting more than the four-bag limit, trying to decide which to get and usually going with all of them. The bags and shoes were marked down 50% to 70% off, making for some decidedly awesome deals. For example, the Venice Hobo and Venice Satchel were priced at $295, down from $595, and the Howard Street Crossbody Clutch was a mere $125 down from $375.
Of course, when I got there, there were many a bag and shoe that were already sold out, including the Liza sandal requested by my mom and my beloved Dion satchel in chamois. Luckily, I found a replacement shoe for my mom (but I can't reveal it here! She may read this post!) and an prim purse from seasons past for my grandmother (shh!). I left without the Botkier that I still want to be my first, but I got something much more important: first Botkiers for two women I love.