Have we had an episode of Real Housewives of Beverly Hills that actually took place in Beverly Hills yet? Most of the first episode featured Sacramento, then Palm Springs and now Las Vegas. Not that I'm complaining – these ladies travel so that we don't have to. Where do you think they'll head next? New York? Aspen? Hawaii?
Let's not focus too much on the future, though, when we have the recent past to discuss. This week, the housewives all pretended to know who Jay-Z was and wandered out to Las Vegas to see him, but really, the episode was more about their relationships with their husbands (or complete lack thereof) than any fun weekend trip. (more…)
To be fair, this is perhaps not the best picture ever taken of the Juicy Couture Flair Bow Clutch, so try not to judge it too harshly based off of only a stock image. Megs got a sneak peak at Juicy Couture's Holiday 2010 collection a few weeks ago, and this clutch looks a bit more appealing in her pictures (not to mention this bag's lovely blue counterpart).
Velvet was a big Fall 2010 runway trend that didn't come to fruition quite as fervently as many expected, but chilly weather (and lots of holiday parties) make winter the perfect time to accent your outfits with a bit of the lush fabric. Doing so in an unexpected, super-saturated shade of chartreuse is even better. (more…)
Looking at the Bottega Veneta Snakeskin and Papier Elongated Knot Clutch makes it exceptionally clear to me why I'm a writer instead of a designer. Not only would I have never thought to combine purple-navy snakeskin and metallic green foil on a single clutch, but if someone had suggested it to me, I probably would have told them to think harder and come up with a better idea. As it turns out, the combination already looks pretty great. (more…)
In fashion, sometimes the worst thing you can say about a design is that it's…fine. At least when a bag is cosmically awful, the designers tried a little bit of something. A chance was taken, a personality was exposed, and even if those kinds of adventures don't always work out, it's always encouraging to see a design who's willing to gamble.
The Gucci Madison Ostrich Tote isn't a bad bag by any stretch of imagination. I wouldn't hesitate to carry it and I'd be proud to own it if it somehow came to be mine without any money changing hands, but I couldn't imagine swiping a card to make this particular purse mine. The design doesn't have enough visual interest to be eye-catching and the lines aren't sharp enough to call it minimalist. It's just…fine. And "fine" isn't worth four grand. (more…)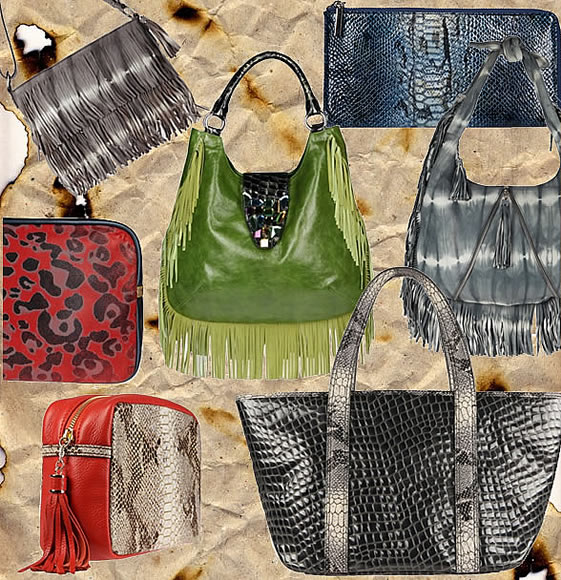 Happy Thursday! I have a special treat for you all: a new handbag line that offers premium leathers, funky designs, and super affordable prices. Welcome Vintage Reign Handbags, a line created by cousins Stacy Studnik and Cory Papunen. When I first discovered this line, I knew the selling factor would be seeing these bags in person. The great news is Vintage Reign lives up to what it promises, high quality designs. (more…)
Over the weekend, LVMH Moet Hennessy Louis Vuitton SA, the world's largest luxury goods conglomerate, announced that it would increase its share in family-owned leather giant Hermes 14.2%, to a total of 17.1% stock ownership.
LVMH, which owns such famous labels as Louis Vuitton, Marc Jacobs, Givenchy and Fendi, claims that it will not seek control of Hermes or board representation, but news of the sharp increase in the conglomerate's ownership of the brand has many wondering if that will remain true for long. Luxury isn't just a lifestyle, it's also big business, and Hermes has been among the most profitable properties on the high-end mass market through the recent economic downturn.
Part of the Hermes allure for many clients stems from the fact that the Hermes family still runs the company, even in this day of corporate fashion and massive conglomeration. LVMH doesn't just buy up shares of luxury brands for fun, and although owning a chunk of Hermes stock is certainly a strong bet in today's luxury market, one can't help but wonder about LVMH's larger goals. Although the company's spokespeople claim that LVMH merely has its sights on being a longterm Hermes stockholder, luxury watchers would be advised to take that with a proverbial grain of salt.
If LVMH purchased a controlling share in Hermes, would it change your feelings about or perception of either company?
Source: Business Week.
Do you like Rick Owens? Do you have the budget to buy Rick Owens? If you answered yes and no, respectively, to each of those questions, I'd like to introduce you to the Ted Baker Evening Hard Case Box Clutch.
Owens' hard-edged industrialist chic is beloved by all sorts of fashion lovers who used to be goths and punks in high school, but it doesn't come cheap. Thankfully, this little clutch does, but it doesn't sacrifice anything in the way of attitude in order to cut its price tag. (more…)
I don't even like coral. Not the crusty sea structures – I'm sure those are perfectly lovely – but the color, most often associated with bad lipstick choices and tropically located retirees. Anything in the peach and orange family tends to make me run and hide because of my skin tone, but for the right accessory, I can deal with almost anything. Luckily, the Lanvin Pillow Shopper is exactly the right accessory.
A good bag or piece of clothing can make even an odd color choice seem brilliant, and the ubersoft lambskin for which Lanvin is so well known takes this bag to the next level. My only regret is that I can't reach through the screen to touch it – I hope someone at Apple is working on that, Steve Jobs. Make sure to notify me when there's an app for that. (more…)
Lately, it seems as though Kate Spade is in on a mission to get me to buy a novelty handbag. First, she debuted her splendid bookcover clutches in some of my favorite classic titles, and now the Kate Spade All Typed Up Clyde Satchel has come to my attention, thanks to a Twitter friend.
Writers and the tools of their trade share an emotional bond on which I've touched before, and I know far too many people who collect old typewriters, even among my too-young-for-typewriters age group. For them and for me, this particular bag makes it seem like someone at Kate Spade is part of our inside joke. (more…)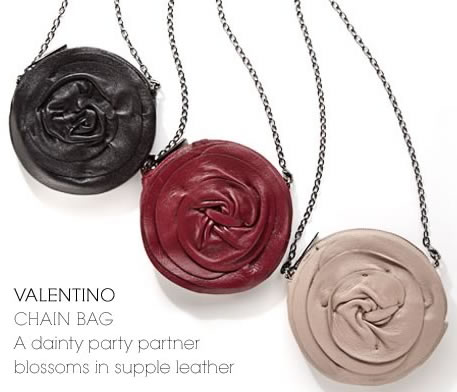 If you are like me and have been a long time fan of Valentino but have not splurged on one of their bags, this may be the item for you. Sure, the Valentino Petale Chain Strap Leather Mini Bag is entirely small, but the design packs a punch.
I was never entirely sold on mini bags, but I have come to appreciate their functionality in recent months. If you do not always have to carry around every last item you typically stuff into your bag, having an easily accessible mini bag is the perfect option. Lately I only leave the house with a couple credit cards, cash, lip gloss, phone, and my keys. (more…)