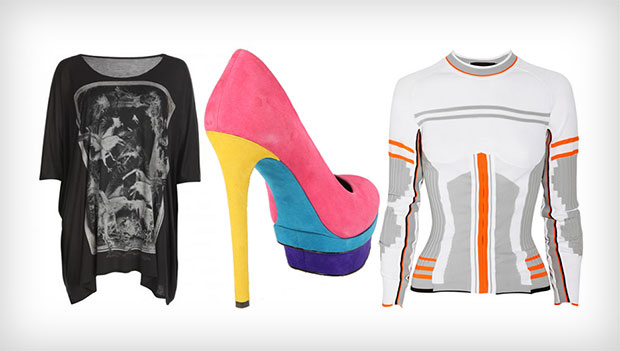 This week the PurseBlog team is itching to add a few new pieces to our spring wardrobes. Whether it be a seriously comfy All Saints graphic t-shirt or a pair of in-your-face colorblocked platform pumps, we all have a little something we want this week. So click below to see what Amanda, Hilary and I are coveting! (more…)
The PurseBlog team is growing! We recently hired a new Director of Marketing and Sales, Hilary. You will get to know Hilary more through PurseBlog posts (and follow her on Twitter too!). This week we are changing up Want it Wednesday by having Amanda, Hilary, and myself tell you each of our favorite things of the moment. From a funky floral pair of jeans to black and silver sandals to a great new bag, we are sharing with you our PurseBlog team wants this Wednesday. (more…)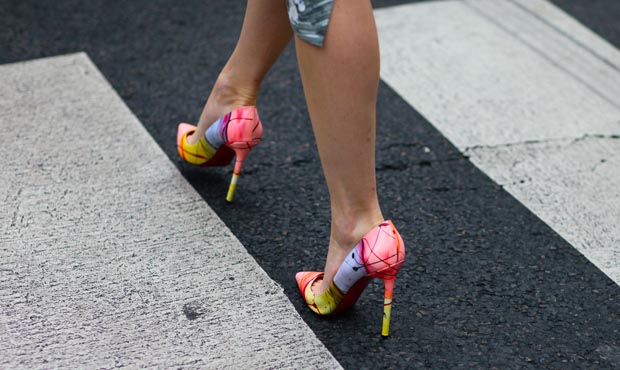 Looking through street style photos during Fashion Week is always fun and almost always makes me start doing mental budget math to see if I can maybe, possibly justify the purchase of, say, a giant feather-covered coat this month, but rarely do street style photos stop me in my tracks. Yesterday, while flipping through Phil Oh's shots for Vogue.com, that's exactly what happened. Holy shoes, you guys. I can't think of a single piece that more deserves to be the object of our Want It Wednesday affections than the Christian Louboutin Pigalle Pollock. (more…)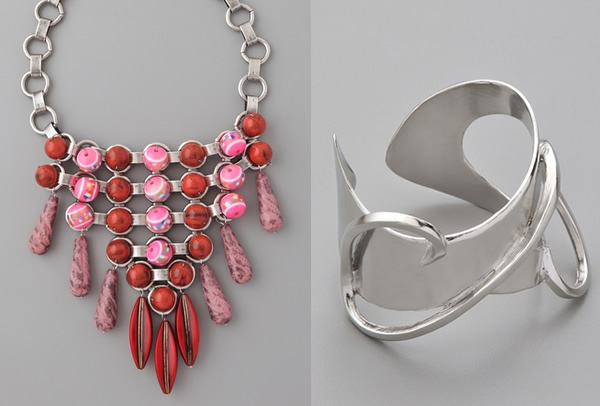 PurseBlog may be a site about designer handbags, but more importantly it is about the woman who loves designer handbags. She lives a certain lifestyle, she loves her jewelry, sunglasses, wallet, and clothing. She may style her outfit around her bag, but she is very aware of everything she is wearing. This woman is me. In fact, she is every handbag lover I know.
Recently I've been going gaga for jewelry. I blame it partially on Man Repeller and her Arm Party and partially on the fact that I simply love accessories. DANNIJO is a jewelry line designed by two very chic sisters that I adore for their funky, contemporary aesthetic, an aesthetic that is entirely me. (more…)

While all of us on the PurseBlog team love handbags, we also find ourselves constantly coveting a plethora of other items. We discuss a wide range of topics at the PurseBlog offices, from real estate to fur coats, and this week I can not stop staring at these three products in particular.
Beautiful skin, the perfect body-hugging dress, and a funky notebook are the items I find myself drawn to. From the highly decadent La Prairie Advanced Marine Biology Set to an ivory Alice + Olivia Victoria Peplum Dress to a quirky Lanvin notebook, these are three things I want this Wednesday. (more…)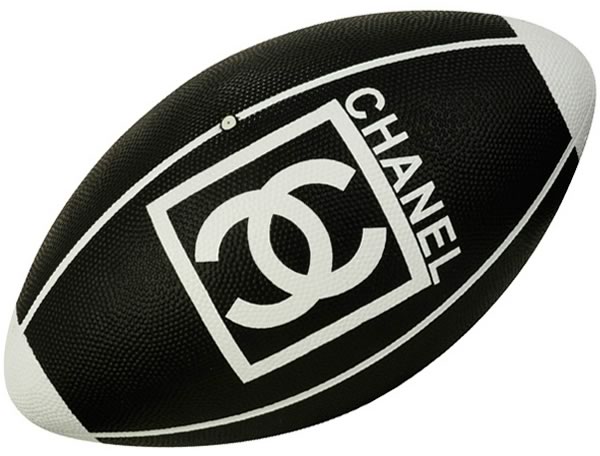 You wouldn't think the words Chanel and Sport would go together. Leave it to Chanel to make traditional sporty items incredibly chic by adding their luxury touches. While there are countless items in their sports category, it seems that none of these are currently available. I even searched on eBay and had no luck tracking down the amazing yet silly Chanel rugby football. (more…)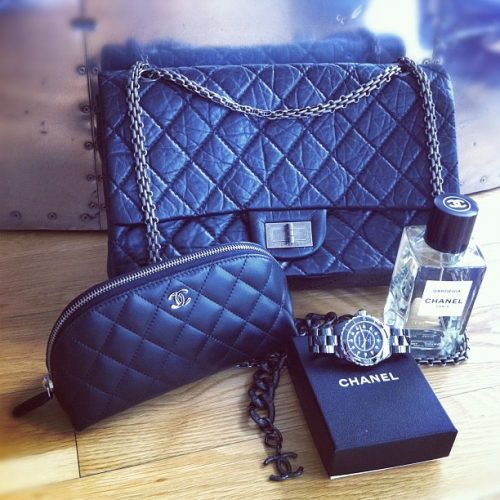 Some of my favorite Chanel items from my collection. Follow purseblog on Instagram
Typically for Want It Wednesday, I pick one thing that I am coveting greatly. But this week, all I want is Chanel. Chanel everything, from head to toe. From nail polish to makeup to bracelets to gloves to cosmetic cases to bags. This is one of those weeks where I am on a major Chanel kick and if I had it my way, I would pop into their store and buy one of everything. (more…)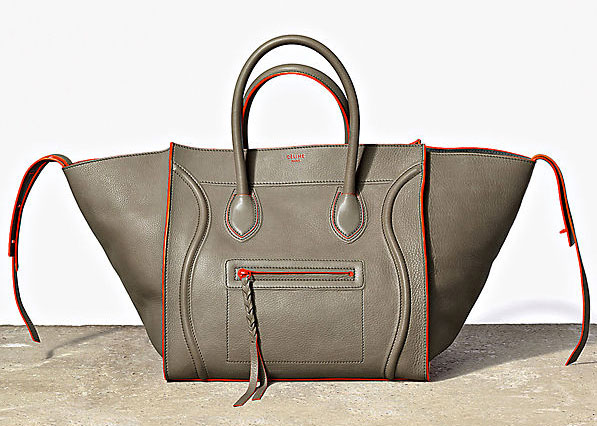 I've been on a Celine kick for quite some time, and just as I thought my obsession begins to subside, I found a bag that makes it flare back up. I've gone back and forth trying to decide if I like the Celine Phantom, which is the most recent hit from the brand, and I have finally decided I want it.
With the middle of the bag matching the Luggage Tote that we know, the Celine Phantom expands in size with a more spacious east/west finish. When you zip the bag up, the shape comes back closer to the Luggage Tote, but I really like the bag left larger. (more…)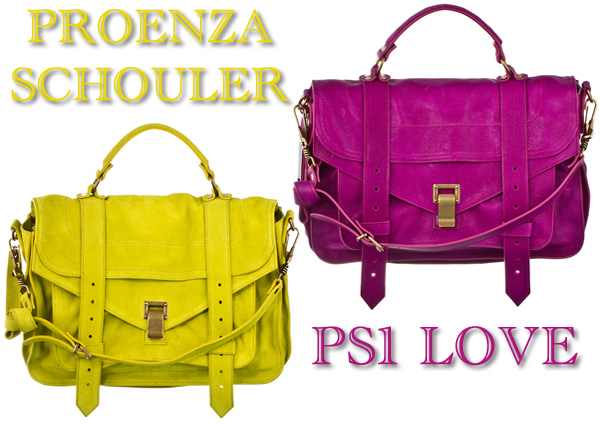 It is no secret that both Amanda and I are extreme Proenza Schouler fan-girls. Every time Jack and Lazaro grace us with a new version of the PS1, we swoon. Sometimes a little bit of pizzazz mixed with a lot of classic is just what I crave, and these two bags from Proenza Schouler's Holiday collection are calling my name.
From vibrant neon yellow suede to an eye-catching orchid pink hue, these two Proenza Schouler PS1 bags are precisely what I want this Wednesday. (more…)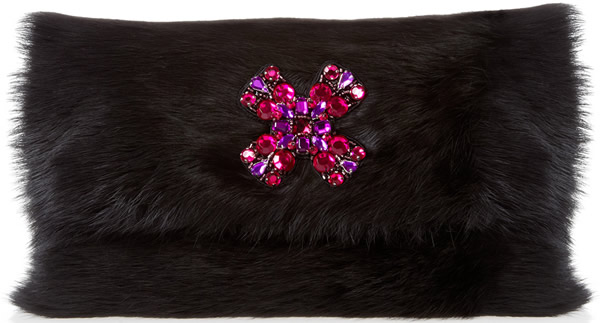 It's hard to find a perfect fur clutch, and we know that because so many well-known designers attempt to tackle fur and have absolutely no luck. This is where designer extraordinaire Oscar de la Renta comes in to soothe our eyes with a clutch that is both oh-so-Oscar and entirely magnificent.
Exclusive for his online store, the Oscar de la Renta Dyed Rabbit Fur Clutch doubles as a muff to keep your hands fashionably warm and your belongings meticulously stored. The crystal front embellishment in available in a wide variety of color-ways, but my favorite is the amethyst. (more…)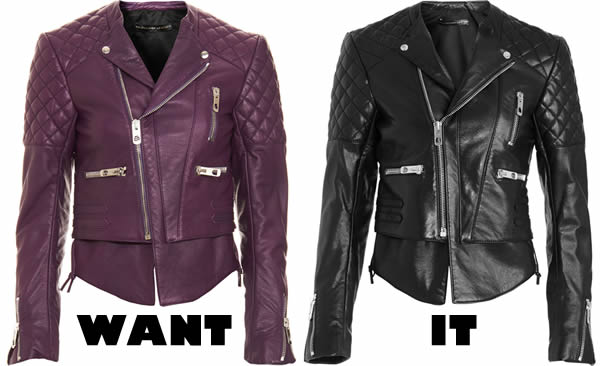 Balenciaga Motorcycle Jacket, $2,865 via Barneys
Wednesday has come and almost gone, but the only thing I have on my mind is how much I want this Balenciaga Motorcycle Jacket. I have always known of its existence and have always had a feeling I would like one myself, but this version of the jacket has my heart going boom boom boom.
And get this, I want the purple one. I don't know what is making me want a purple leather jacket other than the fact that Balenciaga perfects colors and the hue is just enough to make the jacket totally interesting while remaining wearable. Perfect to pair with skinny jeans, a dress, maxi skirt, or just about anything, a Balenciaga Motorcycle Jacket would become an instant wardrobe staple. And this dear readers is why I want it oh-so-badly. Buy via Barneys for $2865.