Lace tends to be synonymous with romance, and rightfully so. There is something entirely alluring about seeing beautiful lace work. But lace is very situational-occasion oriented. When most people think of lace they think of weddings. I fall into the category of most people. My wedding dress was made with a beautiful lace overlay, one that resembled a vintage design.
Just because I do not embrace wearing lace for day-to-day wear, does not mean I can not add some accent pieces into my wardrobe. And this is where Valentino comes into play. Valentino is known for their feminine and romantic accessories, and this pair of shoes and clutch do not fall short. (more…)
Drawstrings are totally the thing right now. It seems like every designer is trying to incorporate into their bags in some way, but let's be clear: just because drawstrings are trendy doesn't mean every bag needs one. Sometimes adding in a drawstring for no reason seriously screws up a bag's lines and structure, which looks to be the problem with the Valentino Sequined Satchel.
Normally, when you put the words "Valentino" and "sequins" in the same phrase, you can go ahead and sign me up for the bag – nine times out of ten, I'll love it. This particular bag, however, is that tenth time. The drawstring makes the design look oddly flat and circular, like it could be used as an enormous, luxurious frisbee if it were only a bit more rigid. What's worse is that the vortex pattern of the sequins (they claim it's a rose – looks like a vortex to me) seems to indicate that they intended the bag to look like that. (more…)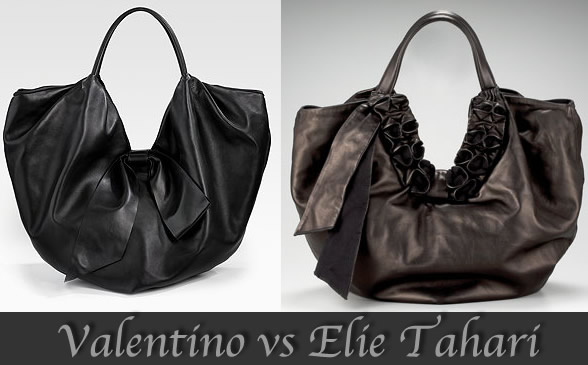 You know why I love finding handbag looks for less? Sometimes it is the less expensive bag that catches my attention and that is a double wow. I can't say that with today's Look for Less though. Valentino is a handbag favorite on the PurseBlog team. If you see their bags in person, it is easy to see why. The designs are feminine, sexy, and luxurious.
One of my favorite designs from Valentino lately is their 360 Handbag, which features feminine touches on a large slouchy body. But at $1,400, it is not the most affordable bag. And that is why I have found a look for less with the Elie Tahari Pebbled Melrose Tote. (more…)
First, thing first: Amanda's going to kill me for writing about this bag before she does. Ok, now that I've stated what you PurseBlog readers might already know, I can move on.
As soon as I saw this Valentino Raised-Rose Tote I knew I had to write about it. I mean, look at it! It is such a statement piece. Typically I consider evening bags to be more "statement piece-y" than larger bags. But this time, let's call a spade a spade and agree that it is a statement piece. If you reach into your closet and come out with this bag as the one you are going to carry, you know you are making a statement – a fashionable statement. (more…)
I've been trying to figure out for some time now exactly what it is that makes me love Valentino bags oh so much, particularly since Shannon called me out on it last week. It's not like no other designer has ever done ribbon and flower motifs – that, in and of itself, is not what sets the brand apart. And it's not the shapes or colors they use, either – the vast majority of their bags are traditional shapes like hobos and totes, decorated intricately but in usually neutral shades.
I've been trying to pinpoint why I like them so much for a while, and as best I can tell, it's because they feel like clothing to me. Instead of creating something that's tough and somewhat exterior to an ensemble, Valentino's accessory designers seem to put as much thought and detail into things like the Valentino Tulle Rosette Bag as they would into an evening gown destined for the red carpet. In a marketplace full of mass-produced bags, a lot of the bags that Valentino turns out still manage to feel and look special. (more…)
Alright, I am in the mood to be honest today. So, Amanda, when you read this, don't hate me too much. I don't always like Valentino bags. I guess, for me, some bags are just too feminine. In fact, I almost end up laughing a bit to myself when I read one of Amanda's glowing Valentino reviews because everything she is saying is spot on, yet, I still can't get myself to see the light.
However, today, well today is a very different story my friends. I am looking at so many things I typically would stay away from but today, I am gravitating towards. (more…)
Is there ever such a thing as too many sequins? That's probably a fashion question for the ages, and it's not one to which I can give you a definitive answer right now. Sequins are like chocolate – in some contexts, a little goes a long way; in others, too much is never enough. Now we just have to decide into which of those categories the Valentino Shiny Petale Tote falls.
I'm still a little undecided. On the one hand, the slightly-darker-than-champagne color is neutral enough to keep a bag like this elegant. On the other hand, the layered petals might be just a bit too much when covered in such a shiny material. Texture on top of texture is hard to do, and although this bag makes a valiant effort, it seems to fall a bit short. (more…)
Ladies and gentlemen, you might want to make sure there are no Valentino fanatics in the room when you look at this bag, because frankly, it is beyond appalling.
Similar to my view on people, I like to find the good in handbags. Even when a certain bag has missed the mark, I do my best to point out the positive features while making note and keeping in mind the flaws. However, I have very few positives to point out with this Valentino creation. But, like so many bad bags that could have been good, this one had potential; but any potential it had has been completely lost and forgotten with the hideous ruffles. You'll see what I am talking about after the jump, but, remember, I warned you! (more…)
I am in love. Valentino continues to make me a happy handbag fan. Yes, in the past, I've snubbed Valentino and thought that some bags were less than impressive. Today is not that kind of day. I am highly impressed with this Valentino Glam Tote. In fact, if I had some cash saved up, I would have bought it on the spot. (more…)
You know, when it comes to handbags and the reviews we do here on PurseBlog, we can be all over the place. Sometimes we (me, Megs, Amanda and Anna) can be in complete agreement and other times we don't see eye to eye at all. This all makes sense, of course, because, well, we all have different likes and dislikes. (I know, I am stating the obvious here, just bare with me.)
However, I feel as though we tend to be most polar on our view points with some of the big time designers, like Valentino. But, when it comes to Valentino, Amanda said it best in her review of the Valentino Laceland Tote when she said is not completely comfortable claiming she loves or hates a given Valentino creation. I feel the same exact way. (more…)
So this week (and in particular, this weekend) are all about red, right? Well, according to the people that have a vested interest in selling you (or, perhaps more accurately, your significant other) lots and lots of Valentine's Day swag, anyway. We'll have more on V-Day throughout the week, but for a moment, I'd like to celebrate something that's red that has blissfully little to do with anything other than good taste: the Valentino Premier Bow Hobo.
Everyone that reads this blog has probably picked up on the fact that I have a strong personal bias both the color red and almost anything made by the fine folks at Valentino, so of course I can't help but fall for this bag. (more…)