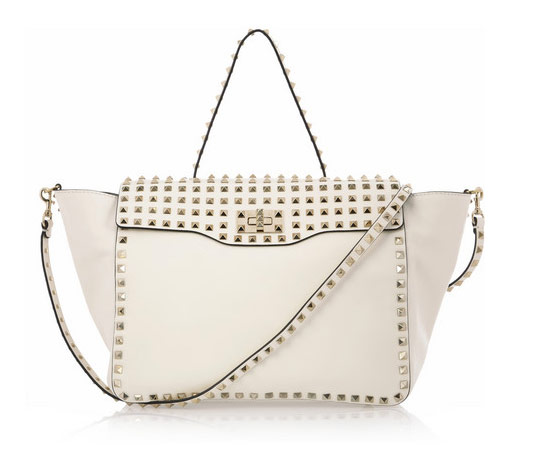 Every now and then, Megs and I will both get totally obsessed with the same designer or piece at the same time, but without really telling the other about it. At some point, we then realize that we've both been spontaneously lusting after the same stuff, and we spend several minutes gushing about how much we want something, quickly followed by much whining about how much it costs for us to make those dreams a reality.
The other day, that happened with the Valentino Rockstud Collection. And not even one bag in particular…the entire thing. Shoes, bags, whatever. Valentino came into the studs trend at the tail end, and since then, the brand has made the look into its own signature mix of edgy and ladylike. I didn't love these bags at first, but given enough time, they've grown on me in a huge way. My personal pick is the tote at top, which rings in at $2595 via Net-a-Porter, but we've got a whole selection for you to drool over after the jump. (more…)
As handbag lovers, we've been very lucky recently. Luxury brands are notoriously secretive about their behind-the-scenes processes, particularly their manufacturing, and anyone who knows anything about the counterfeit trade knows exactly why that is. Letting people behind the curtain not only risks trade secrets, but it also chances taking some off the luxurious mystique off of the final product. Don't be fooled, that mystique factors heavily into the prices that these brands are able to charge for their goods.
Last week, though, Chanel threw open its doors and let a bit of sun shine on the work that goes into a Chanel Classic Flap. This week, our interest goes to Valentino, which has released images to document the making of the lovely Valentino Rockstud Net Bag. You can check out all of the up-close-and-personal images after the jump or shop the design via Neiman Marcus for $3345. (more…)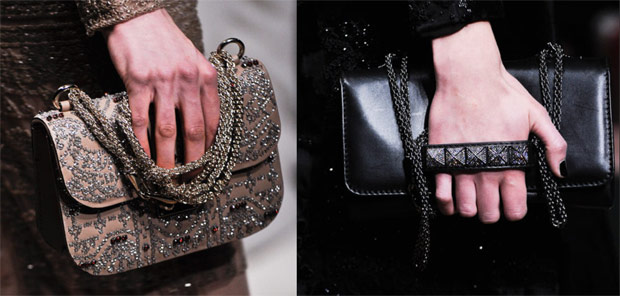 My affection for Valentino Fall 2012, a collection from a brand whose runway bags I often don't love, seems like part of a wider trend for the season. Specifically, if you're a bag lover, Fall 2012 is going to be chock full of beautiful things for you to lust after and a few that you may actually end up buying and carrying, either for the season for for years afterward. In the three years that I've been covering accessories for this site, I can't remember another season where I saw so many lovely handbag options on the runway.
Valentino, like countless other designers so far, made its handbag statement in black, first and foremost. Red and pale pink also popped up here and there, but most of the bags were shrouded in different textures of darkness, from intricate beading to soft pony hair. All of the usual Valentino suspects were there – big, roomy Rockstud Totes, little flap bags with the studs encrusted in tiny crystals – but somehow, the black made it all feel new again. (more…)
It's officially March (where has the year gone?), which means that we're inching closer and closer to wedding season and there's lots of wedding planning in full swing. Naturally, we're most interesting in what kinds of wedding bags people are choosing, and if you're gettin' hitched and have yet to decide on yours, we've got some good news. One of our favorite nuptial-appropriate clutches in recent memory, the Valentino Floral Applique Satin Clutch, is on sale on The Outnet for a full 70% OFF. Yep, you read that correctly.
That means that on your big day, you can carry a $2500 clutch for a little less than $800. Put the savings toward having an open bar; your guests will thank you. Buy through The Outnet for $748!
I've already got Fashion Week on my mind and one of my favorite things about Fashion Week is bag stalking. Come February, editors, buyers, and miscellaneous cool people alike will be hitting Lincoln Center both wearing and carrying their finest.
I have plenty of handbags in my arsenal, but sometimes an oddly different bag stands out and grabs my attention. This is precisely what this Valentino bag has done to me, lured me in and left me wanting more.
However, I realize not everyone loves the urban jungle feel of this panther-print calf hair tote with serious stud embellishments. Help us out and tell us what you think! Buy via Net-A-Porter for $2,995.
Fill in the Blank: The Valentino Rockstud Panther Print Calf Hair Tote is _______.