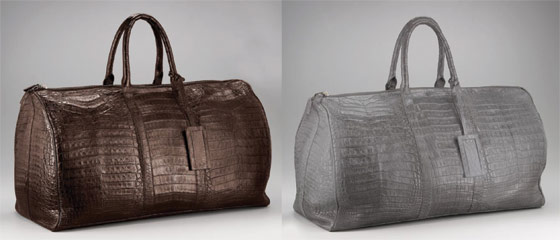 This is a tad embarrassing to admit, considering what I do for a living, but my luggage? It's kind of busted.
I don't travel all that frequently, maybe a couple of times a year at the most, and I generally prefer to use my money on things that I'll enjoy on a regular basis – bags, shoes, clothes, gadgets. Every time I go on a trip, though, I swear that I'll invest in some great luggage for the next one, but then the thought totally leaves my mind as I adjust back to my regular routine.
Now that I'm faced with the prospect of packing for a trip to New York City at the end of the week, I wish that I had remembered to buy some decent luggage. I also wish that I had the extra cash to go out and scoop up the Santiago Gonzalez Crocodile Duffel Bag – but would I choose grey or brown? (Ok, I'd choose grey, that wasn't even difficult.) (more…)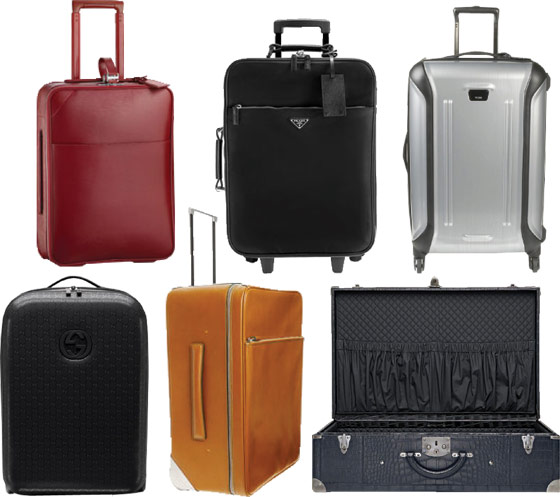 As I continue to read the endless Twitter details of all my friends' summer vacations (and then see the inescapable pictures on Facebook afterward), I can't help but turn my attentions to travel. I still make due with the same black Samsonsite suitcase that accompanied me on my first jaunts to New York City, Boston and Chicago as a teenager, but surely there are more interesting (and expensive) options out there for a traveler who wants the best suitcase on the luggage carousel.
With that curiosity in mind, we've picked some options for your perusal from Louis Vuitton to Bottega Veneta, spanning a price range from $500 to $50,000 (yes, that's the correct number of zeros) for a suitcase. Let us know which one you like best and what your current luggage of choice in the comments. (more…)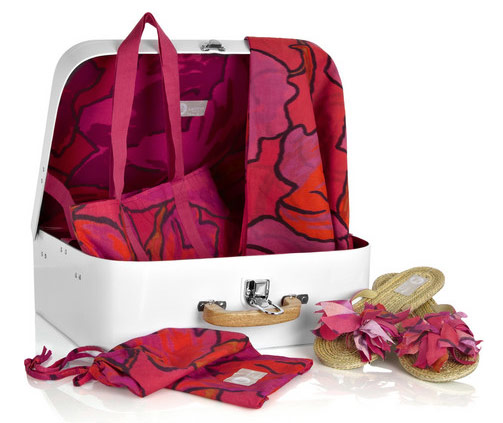 Megs and Vlad got back yesterday from a trip to the Bahamas, and I couldn't be more jealous of them if I tried. I just got done moving, and there's nothing I would love more than to spend a couple of days staring at the ocean in a rum punch stupor. Someone has to hold down the handbag fort, though, so here I am.
Instead of going on vacation, I'm just going to fantasize about toting the Lanvin Suitcase Honeymoon Set to an exotic locale with a hot man in tow. That's a suitable alternative to actually taking a trip, right? (more…)
It has now been above 60 degrees for two days in a row in Georgia, and the sunshine is giving me the travel itch something fierce. My fair skin has never ingratiated me to tropical vacations, but the advent of warm weather is making me wish that I were laying in a beach chair right now.
Perhaps spring makes you want to do something different – go hiking in Colorado or maybe (if you're lucky) shop for your summer wardrobe in New York City. Wherever you want to go, we've got some bright and cheery travel essentials that don't skimp on functionality to get you to your destination of choice. (more…)
If you're sick of losing your luggage in a sea of black Samsonite nylon on the luggage trolley at the airport, we may have an alternative for you. And no, we're not going to suggest that you put a brightly colored pipe cleaner on the handle – too many people have caught on to that trick, and where do you buy pipe cleaners, anyway? Like, what aisle are those on at Target?
If a more stylish option is your cup of tea, consider the Tumi Voyageur Python Avignon International Carry-on. (more…)
On the one hand, I think the JCrew Lugano Leather Suitcase is really pretty. It looks really well made, and J. Crew's website says that it's manufactured by some big-deal Italian manufacturer called Dell'Ga. I'm sure they're awesome, and I'm sure this is a wonderful suitcase. BUT IT'S BASICALLY WHITE! I know the color is called "stone," which implies that there's some grey to it, but still. Almost white. And a decent-sized suitcase seems like it would be the single most impractical thing in the world to manufacture in such a light color.
Airports are disgusting (at least to me) in pretty much every way imaginable, and I don't like putting my cheap duffel bag on the dirty conveyor belt to be checked, let alone a nearly $2000 piece of nearly white handcrafted luggage. It also doesn't have any little wheelies on it, meaning you're lugging it by yourself, and it weighs nearly nine pounds when completely empty. The price, the color, and the lack of functionality lead me to only one conclusion – these bags are made for those that have OTHERS that see to it that their luggage arrives safely at their destination. Buy through J.Crew for $1800.
If you have been reading this site for at least the past month, you will realize that I travel very regularly. Many times within the States, to NYC and Ohio to see family, but I am also an avid traveler abroad, mostly Europe. This trip to Spain has been amazing, providing us the most beautiful weather and eye opening experience. I always knew that many large European tourist cities have a plethora of tourist traps, but Barcelona and Madrid have seemed to show a little more this trip. I absolutely love both cities for different reasons. The art of Gaudi in Barcelona is absolutely stunning, the Madrid Royal Palace is breathtaking, but the cities are infested with those who can easily pick a tourist out of the crowd and lure them in. I am by no means calling myself perfect, but I have not been sucked in. Since Vlad and I are in Europe regularly, he has taught me the ropes of many of the different countries and cities and I am more 'street smart'. Even better is that most people think I am German rather than American. I can not tell you how many times someone asks me in German where I am from in Germany, it always makes me laugh. I suppose Vlad's growing up in Germany has rubbed off on me! The fact of the matter is in the big cities many people are looking for an easy rob; most of these people are not looking to hurt you, rather grab your wallet and run. Even better, grab your entire purse. I brought two bags on this trip, my Rebecca Minkoff Wine Matinee and my Bird Handbags Ostrich Lil Lady. Both have perks in navigating the crowded streets where people are looking to grab and go with your belongings. For the Rebecca Minkoff Matinee if someone wanted to unzip and steal something, that proves to be near impossible. I love every single extra added pocket, some even hidden! Becky has said that she would like to re-vamp the Matinee and remove some pockets, but having all of these hidden compartments has been nothing but a savior for me. Either way I still must carry this bag close to my body and hold tight. This way, if anyone is going to try to take it they will have to pull it out of my lifeless arms. The perk of the Bird Handbags Lil Lady is that it is worn across my shoulder, but I can hold it in front of my body very easily. The long strap allows the bag to have a large shoulder drop, making it simple to pull it forward and carry it close. A downside of this bag is the open top, which can be reached into, but when I hold it close to my body it is not an issue. So both of these bags are fairing well right now, as I interchange them. But the trend I see here, even with the locals, is that they all carry their bags in front of their bodies. This makes it more of a confrontation if someone is to try to steal the bag or the contents. I am by no means scared walking through the streets of Spain, but I am a tad more cautious. Then again, this could happen in any city in the US.
So my question is: what is the perfect travel bag for you? Do you take into account the area you are in?
Today I will be in the airport again, this time flying to Madrid, Spain. This trip is sans-Vlad and sans-work (hopefully!). My brother is doing a study abroad program and my mom and I will be sight-seeing with him for a week and a half before he gets started. First of all, I regret never doing a study abroad. The whole athletics thing clashed with being able to up and leave for more than two weeks a year, no joke. This is why after my swimming career ended, my traveling career began. My problem is always packing. Over-packers-anonymous? HERE!
[poll id="19″] (more…)
As we continue traveling, we continue shopping for a new travel bag. Vlad and I were tempted by a 50 cm Hermes Haut A Courroie (HAC), but it was just too big, yet his current messenger is just too small. We are like Goldilocks, we need something just right. I am waiting for a 40 cm Birkin, which will be the best option for me when it comes to a travel Birkin and Vlad is stumped. He needs a better carry-on bag for all of the traveling we do. We popped into Louis Vuitton Cologne and saw a great looking tote. For me, it was not a bag that I wanted him or I to leave with, but it is a great everyday bag nonetheless. The SA at Louis Vuitton said it is unisex, though I find it to be very masculine. The Louis Vuitton Utah Leather Kiowa Tote is designed with sturdy, yet supple hand-grained Utah calf leather and sports straps down the front of the bag. I am not blown away by this handbag, it is rather simple, but when it comes to giving a man a handbag, simple usually is the best route. The hardware is polished but is aged brass, so it is not too shiny for the man that does not care to draw attention to his man bag. It is always a plus to have a zip top closure, and the inside features a flat pocket and a cell phone pocket. Dimensions are still too small for a 17″ computer, but will fit the average laptop, 16.4″x 12.9″x 5.85″. I like it, I don't love it, and I am waiting for another Birkin :wink: Buy through eLuxury for $1,940.
It seems only fitting that I run into these travel bags. If you all have realized one thing about me by now, it is that I am ALWAYS! traveling. In the past two months, Vlad and I have not been in one place for more than two weeks. New York, to Ft. Lauderdale, to Kentucky, to Ohio. In a week and a half we are going to Germany and straight from there I will be going to Florida. And within in place I go, we are constantly on the move too. Sure, I love to travel but I am sick of living out of my suitcase. Wondering what to pack, did I pack enough, wrap the toiletries, figure out my carry on, unload my computer, keep shoes away from clothes… did I forget anything? Probably. So while it is not necessary, and can easily be done with an old pillow case from your house, the Bodas Travel Bags are a cute idea for the gal who travels. Each cotton bag is embroidered saying bikini, underwear and shoes. Measurements are 13″x21″. That will fit my bikini and underwear, but my shoes are a whole different story. Either way, this is just a fun little gift and will help organization when packing. Buy through Barneys for $25.
Three American brothers who have not spoken to each other in a year set off on a train voyage across India with a plan to find themselves and bond with each other — to become brothers again like they used to be. Their "spiritual quest", however, veers rapidly off-course (due to events involving over-the-counter pain killers, Indian cough syrup, and pepper spray), and they eventually find themselves stranded alone in the middle of the desert with eleven suitcases a printer, and a laminating machine. At this moment, a new, unplanned journey suddenly begins.
There are some special guest stars in The Darjeeling Limited. Eleven of them, in fact. An entire monogrammed luggage set, designed by Marc Jacobs for Louis Vuitton.
(more…)