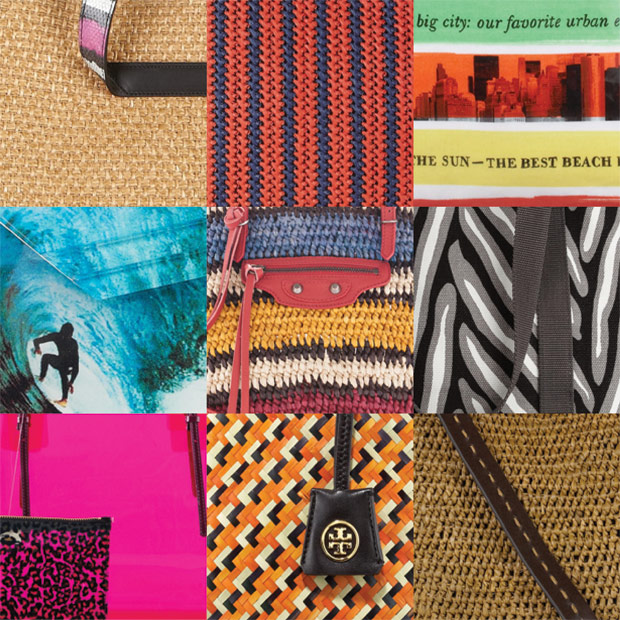 Winter seems to be playing hide-and-go-seek with those of us in New York; it was a balmy 67 degrees yesterday afternoon while today is back in the 50s, as if Mother Nature is actually toying with us. Once the calendar turns to April, though, my glee for spring can hardly be contained. If I will myself to believe it's warm outside, I don't actually need a jacket, right?
Soon enough, though, it will be warm, and it might even stay that way for several months at a time. (That's how this whole spring/summer thing works, right?) In anticipation of those months, or in generalized anticipation of someday taking a vacation (not holding me breath on that one), I'd like to present you with my favorite Spring 2012's Beach Bags. One caveat, though: I play a bit fast and loose with the definition of the term "beach bag." These aren't necessarily all vessels to tote your sunscreen and trashy novels out to the sand; instead, these are bags of many uses that I'd like to take on my next beach trip. (more…)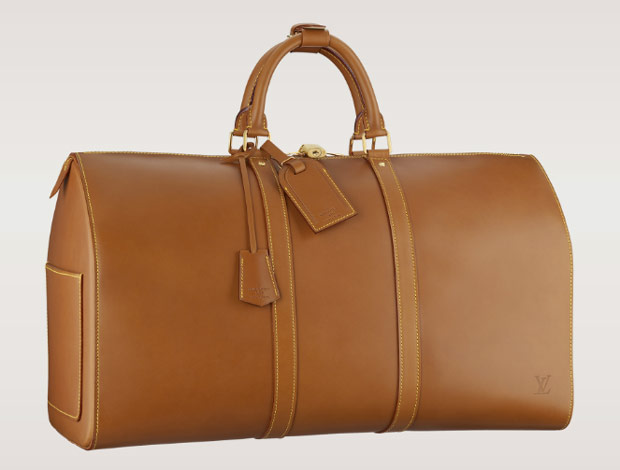 When the weather starts to get a little warmer, my mind always turns to one thing: ROADTRIP! Never mind the fact that I don't have a car because I live in New York, or the fact that it's not quite warm enough for a trip to any beach within driving distance to be enjoyable. My internal clock is still tuned to Spring Break, and I'm starting to get that itch to drive down to the Florida coast like we did every year in high school.
Unfortunately, Florida is a lot further from New York than it is from Atlanta, where I grew up, and it's not quite warm enough yet to make one of the beaches up North an enjoyable jaunt. I can still plan for that eventuality, though, and in a perfect world, I'd be packing my bathing suits and flip flops into a bag like the Louis Vuitton Keepall 50 Nomade. It may be the perfect weekender. (more…)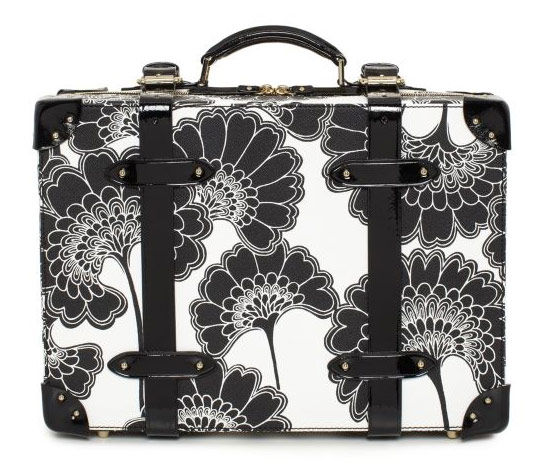 With stores everywhere filling up with the finest of Spring 2012's bright, cheerful offerings, it's hard not to have a getaway on the brain. When you combine that with unseasonably warm weather in New York this week, I'm feeling more impatient than ever for the arrival of spring, or simply the arrival of my next vacation.
Sadly, that'll have to wait until at least after Fashion Week, but right now, I'm mentally packing the Kate Spade Japanese Floral Medium Suitcase as my carry-on and jetsetting to, I don't know, Bali? Bali sounds about right, I think. It's my imagination, I can go wherever I want. (more…)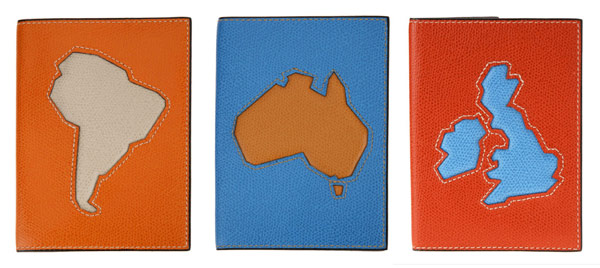 Sale season is starting to wind down, but if you're willing to look hard, there are still some great pieces to be had. The small accessories treasure trove is especially plentiful this time of year; during the milieu if discounts and bargains and coupon codes, most people look for big items like bags or shoes or coats. If you're so inclined, a new wallet or cosmetic bag can likely be yours right now for far under retail.
I've done some looking, and by far my favorite deal in small leather goods right now are the Valextra International Passport Holders. Even though the brand is known for being a little bit pricey (above and beyond the normal price levels for this industry), at more than 50% off via Barneys, I can assure you that you'll never misplace your passport again. (more…)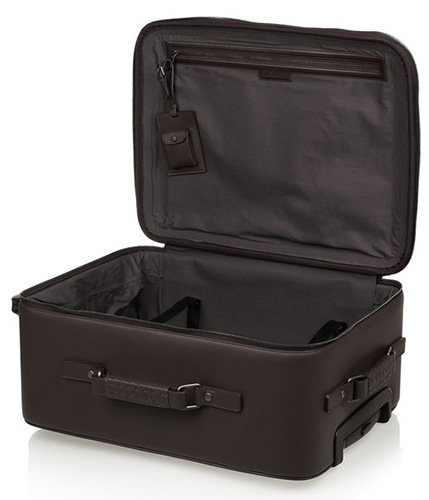 Thanks to Amanda for holding down the virtual PurseBlog fort while Vlad and I spent Christmas in Germany and the Czech Republic. I planned to do some work while abroad, but we spent every minute of every day exploring new cities and taking in the culture (and cuisine). For this reason, I took a straight eight days off work and it was glorious. But now I am back and Amanda will get a little downtime before 2012 begins.
I'm not the only person who spent the holidays traveling, as this is the season for millions to leave home. I have finally come along to the idea of having a more luxurious carry on bag, and the Bottega Veneta leather travel trolley is my latest want. (more…)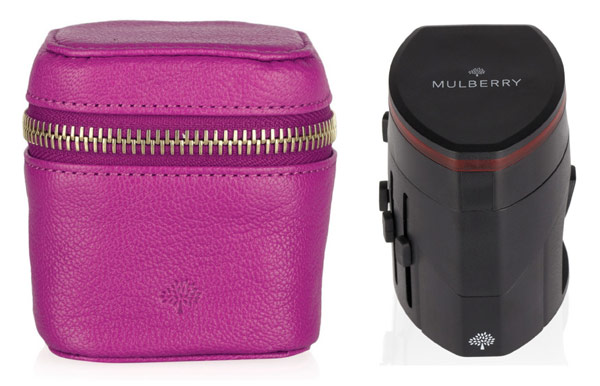 Mulberry Travel Adapter, $230 via Net-a-Porter
Luxury travel accessories usually fall into two categories: Pretty things that no one actually uses or needs and things that are pretty while also being surprisingly useful. The Mulberry Travel Adapter, complete with its bright pink leather carrying case, is one of the few that fits firmly in the latter designation.
For anyone left who doesn't know this, American plugs don't work in foreign outlets and vice versa, and some foreign plugs don't work in other foreign outlets. To make your flat iron work everywhere on the globe, it's necessary to take a converter with you when travelling overseas, because god knows you don't want a frizzy mane while on vacay. Now that Mulberry has stepped up to the plate, you can ensure electrical compatibility in chic pink leather. (more…)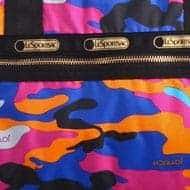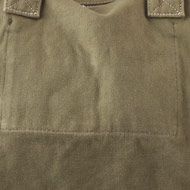 I just realized yesterday morning that I have to get on a plane this weekend and spend a week and a half away from New York, and although I've had these tickets booked for two months, the entire thing has caught me by surprise. I'm going home early because of a friend's wedding and staying late to avoid the Thanksgiving rush (and to get a slightly more reasonable ticket price), but if you're doing the traditional half-week stay, you still have plenty of time to think about travel accessories.
And really, what better way to perk yourself up for an unpleasant trip through a couple of airports during peak travel time than a new bag? We have three options in three different styles that all run less than $400 (and don't worry, they all have shoulder straps, even though they're not pictured). In fact, I bet at least two of these bags are less expensive than your plane ticket; they're definitely less expensive than mine. (more…)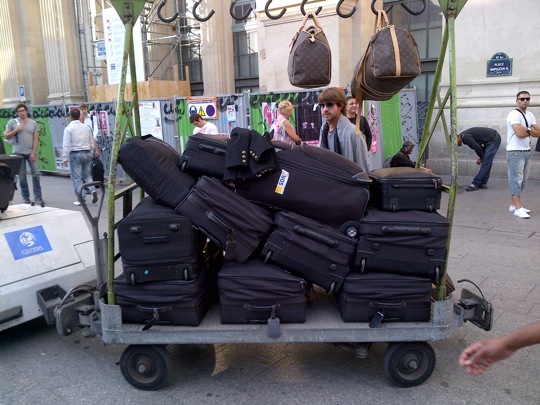 Photo via Fashionista.com
As if we ever expected anything less from superstylist and brand new mommy Rachel Zoe. That's eleven suitcases and two Louis Vuitton bags, for those of you who are keeping score at home. At first, this seemed like an outrageous amount of luggage when we saw the photo on Fashionista, but is it really? Let's do the math. (Also, take note: These are real suitcases, not fancy, flashy kind. Real travelers know when the utilitarian luggage is warranted.) (more…)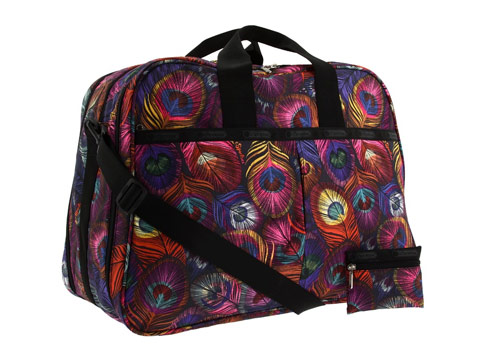 LeSportsac Soft Train Case, $144 via Zappos
So here's the deal, cats and kittens. As you guys know, Megs and I are based in New York City, but we both come from places that have had severe hurricanes in the past. With the warnings about Irene at the end of last week, we figured that discretion is indeed the greater part of valor and we got the heck out of the city. As a result, we're sitting in a hotel room in the Lehigh Valley right now, as we have been for a few days. That makes doing any meaningful amount of work tricky, so until we get back tomorrow night, things might be a little slower than normal around here. We appreciate the patience.
New York seems to have dodged the worst of the storm through nothing but sheer luck, but our little Pennsylvania adventure still brings up an interesting question: What do you bring when you've got a short-notice, high-pressure weather situation bearing down on you? In my case, I brought the LeSportsac Soft Train Case. Except I didn't take a train, I took a bus. Tangentially related: I really don't recommend ever going to the Port Authority Bus Terminal in New York if you can avoid it. (more…)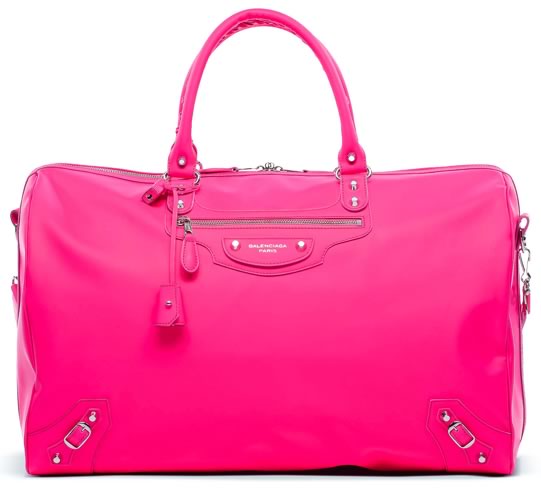 I know I've asked before, but seriously, where did summer go? School is no longer out for the summer; it's back in session and the month of August is nearly gone. I spent much of the season traveling on short weekend getaways, and each time I began packing I ran into the same problem: I don't have an overnight bag that I love. Large luggage with rolling wheels is in a very different category from spacious but efficient large duffel bags; one is much harder to find than the other.
Of course Balenciaga has an answer for my travel bag woes, and in a bright, eye-catching fluorescent color at that. With small details that are oh-so-Balenciaga, the Voyage 24H in Rose Fluo is a statement piece for every girl who loves a quick escape. (more…)