Not too long ago, I wrote about a neoprene Marc by Marc Jacobs handbag on PurseBlog Savvy that I absolutely love, and I explained exactly why I think that neoprene is a cool material bags. I still think that's absolutely true, and I still love the bag, but I just don't know if I can justify to myself spending $350 for a bag that's not leather.
The Gucci Techno Horsebit Large Tote, also made mostly out of neoprene, has put the price of the Marc by Marc Jacobs bag in stark perspective. And, in it's own way, it's made me more likely to spend money it. (more…)
Gucci bag without seeing it in person; I've seen enough of them in my life to be able to extrapolate information from those experiences. The same goes for Louis Vuitton.
Some bags aren't that hard to evaluate online – either they're pretty straightforward, or the brand does things similarly enough from season to season that there are rarely surprises in construction or materials. For instance, I feel comfortable passing judgment on a
Valentino, however, is one brand with which I'm not quite so comfortable making those same calls. Their bags are so intricate and tactile that their actual visages are often not faithful to handbag portraiture, and seeing and feeling them in person is always preferable. Thankfully, I've gotten the chance to do just that with the Valentino Laceland Tote. (more…)
Valentino, I want designers to show me what they can do with the material we're all so used to seeing.
I'm so in to texture right now. From pintucking, ruching and pleating all the way to leather flowers a la
I think that my current obsession makes sense, though. Texture requires creativity and vision, but its implementation in a design rarely makes a bag less functional or useful – it's the perfect added element to make a bag really special. Take the Agnona Pleated Leather Tote, for example: the weaving and pleating combine to make the bag more than just an average black tote. (more…)
Valentino bags, Dolce & Gabbana has a stark reminder for us: ruffles aren't easy, man. Not when leather is involved.
Lest we all had forgetten after seeing one too many soft, wonderful
The key to successful leather ruffles is to make them so light and airy that you forget that what you're looking at is a thick, hardy material out of which they also make car interiors. The illusion is what's important, and if the designer can't take the materials and make something greater than the sum of its parts, then the whole design doesn't work. Sadly, that's the situation we find ourselves in with the Dolce & Gabbana Miss Heather Shopper. (more…)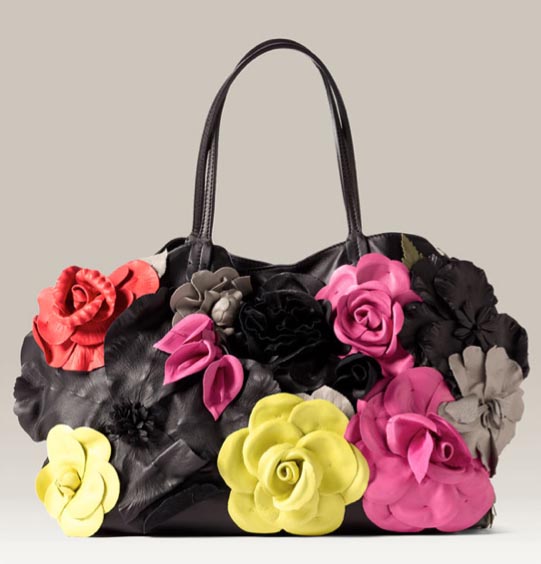 I've said it before and I'll say it again: Whether you like their bags or not, Valentino does the best detail work in the business. There's not a major designer that can touch them when it comes to taking regular (albeit extremely supple and wonderful) leather and turning it into something that is far more than the sum of its parts. Behold: the Valentino Fleurs Couture Tote. (more…)
Yves Saint Laurent Safety Pins Tote brings up all of those questions and more.
Ahh, the eternal handbag questions: how much should we, as consumers, be willing to pay for bags that aren't made out of leather? How about one made out of canvas? How about a really SIMPLE bag made out of canvas? Should it vary by brand? If it does, does that mean we've all fallen victim to someone's marketing scheme? For me, the
For what it is, I quite like this bag. But is the bag that it is worthy of the price that Yves Saint Laurent is asking? I suppose that depends on who you are and how much extra money is sitting in your bank account. (more…)
brought you news that friend-of-PurseBlog Carlos Falchi would be collaborating with his daughter on a new line of graffiti-inspired bags to debut in the coming months.
A few months ago, we
Well, the future is now: the bags are here! We already had some pictures of what they would look like, so that isn't much of a surprise, but it's nice to see something so unique and fun arrive in stores nonetheless. (more…)
Tod's. While I can see why some people would really like them, and I don't doubt that they're well-made, they're usually missing a certain something that makes a bag work for me. I like a bit of pizazz in my handbags, and Tod's keeps their look very, very low key.
I've never been an overwhelming fan of
I do very much like the Tod's Shade Tote, however. It's got that little certain something to it that makes me find it appealing, and I'm still not sure exactly what that is. The color? Shape? Maybe a combination of the two? (more…)
Ever see a bag and know immediately that it's one that you would use constantly and incorporate into your wardrobe effortlessly? Like its existence is just a little bit of handbag kismet that the Powers That Be most surely intended just for you? A match made in proverbial handbag heaven?
That's exactly what the Be&D Woodstock Shopper Bag is for me. Surely they didn't have me in mind when they designed it, but I'm going to satisfy my occasional delusions of grandeur and pretend that they did. And why not? They couldn't have done any better if they had tried. (more…)
YSL fangirl, but despite the brand's history of sleek, classic bags, even they make a misstep every once in a while. It's a forgivable thing to do, for sure, but that has never stopped me from calling a spade a spade, so to speak.
I'm normally something of a
Ladies and gentlemen, the Yves Saint Laurent Shopping Tote is a spade. Which is to say, of course, that it's a misstep, as are all the bags with this weird raised logo thing that YSL insists on doing. I don't like it and no one shall convince me otherwise. Probably because it reminds me of something… (more…)