Alexander Wang Diego Suede Bucket Bag and had to stop and look into it more. First of all, let me say, this bag is not something I'd probably rock, but I can think of countless friends who would love to have this bag slung over their shoulders. There is something edgy, funky and completely original about this bag. (more…)
First and foremost, I wish I had better pictures of this bag. Since I don't I will make the best of it. I came across this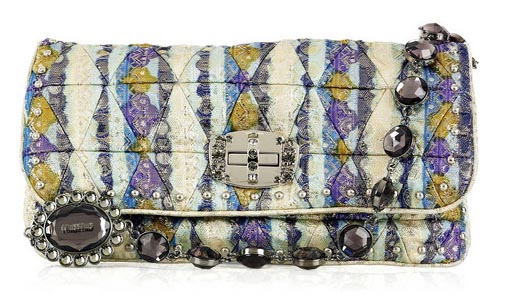 I have a hard time pinning down the Miu Miu handbag aesthetic. Their bags seem to roam freely between minimalist and intricate, taking a pit stop at every level in between. Since "brand cohesion" is probably only something that obtuse fashion people (like moi) ever think/care about, it doesn't necessarily seem to be a bad thing – it certainly brings them attention from a wide swath of stylish girls and women.
The Miu Miu Lurex Jeweled Shoulder Bag is the brand at its most intricate extreme. Based on how successful the bag is, maybe they should spend more time at that end of the spectrum. (more…)
Donna Karan, you have our attention. We are starting to find ourselves liking more of your bags and taking a better look at them. We know you are the Queen of clothing already, so you know what you are doing. The handbag world is tricky to enter, but welcome to it.
Ok
The last bag I was seriously digging from DK was the Eldridge, an uptown cool everyday bag. Now the bag that I find to be entirely simplistic yet beautiful is the Donna Karan Large Expandable Shoulder Bag. This bag is exclusive to Saks. The body of the bag is soft and slouchy, adding a slightly unexpected yet fun addition with the studded shoulder strap. The creamy leather is perfect for winter whites. The overall vibe is grown up with chic twist.
(more…)
Marni Leather Frame Bag, though, has managed to make me as alert as a puppy who's been lapping up coffee.
After having endured nine hours of final examinations in the past two days, there's little that could lure me out of my practically brain-dead state. This
I've long been a fan of Marni, what with their tendencies to add wonderfully quirky and eclectic touches and colors. This bag, though, has more of a sensible feel, though the black acetate ball clasp adds an unexpected dash of fun. The dark, dusty flesh color combined with the rustic brown strap make for a color combination that's both unique and flattering? And because I've been lugging books around campus all week, I can't help but add that the bag's size is perfect for spiral notebooks. (more…)
Coco duffle has been one of the most sought after bags of the season. Congrats to you if you can get your hands on one. It is sure to become a future classic. Wang's relaxed, clean lined modern style has set the ball in motion for more handbag designs such as this slouchy shoulder bag ($780 at Net-a-Porter). Exclusive to Net-a-Porter, this Alexander Wang handbag is perfect for those of you on the wall as to whether you covet the blue denim printed suede or black stamped leather. Now you can have the best of both worlds – black leather and blue suede denim in one handbag. I am also on the fence about this bag, in one sense it is over-sized and unstructured which I love. I also am excited about the dual straps which open on either side instead of a single strap. (more…)
Alexander Wang's
Dolce & Gabbana maybe not have as rabid or dedicated a following as some handbag brands, but that doesn't stop them from going confidently in the direction of their artistic vision season after season. As with any very specific point of view, the results are often mixed but they're always very obviously Dolce & Gabbana.
The Dolce & Gabbana Miss Rouche Ruffled Shoulder Bag is the continuation of an idea that we first saw in Fall 2009. Those bags were slightly more manic and ruffle-covered, but this hobo dials things back just a bit and gets it right. (more…)
Fendi bag that I not only like, but would also semi-seriously consider purchasing for myself? This is the second time in several days that I've found myself having these thoughts (the first time was about an ornate baguette that Vlad photographed at Design Miami), and it sort of makes me wonder – might Fendi be at the beginning of an accessories design upswing? (more…)
What is this that we have here? Do my eyes deceive me? Is this a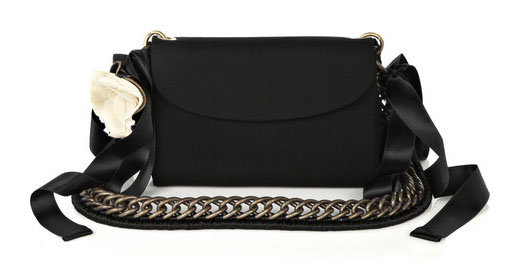 There's something so Parisian and ladylike about the Marni Small Crepe Shoulder Bag that I just can't help but be attracted to. The brand may be Italian, but what we have here looks so much like a cross between Lanvin and Chanel that you'd never know it from just this piece. Somehow, though, I like this bag even more – its lines are cleaner than on some of Chanel's fashion bags and the totality of the design seems more well-edited than the average Lanvin. (more…)
I've always been critical of Christian Louboutin handbags in the past, but I've seen a few that I don't hate in the past season. With all the design genius in that company, I knew they would pull together their handbag line sooner or later, and they appear to be slowly but surely turning out some purses that do justice to their drool-worthy shoes. The Christian Louboutin Lolita Montone Bag is surely a step in the right direction. (more…)
Simone Camille Handmade Vintage 2-Tier Handbag. Well, I suppose this particular bag isn't so obscure; Nicole Richie has been spotted wearing it multiple times, after all.
There isn't a massive amount of completely fabric, bohemian handbags out there. Being one of the few people who embrace this style of handbags, it's apparent why I was so drawn to this
The bag is made entirely by hand by famed stylist Simone Harouche, who's known for her singular ability to transform and style stars with looks they've never imagined; witness Christina Aguilera's Back to Basics Tour. But clearly she has a fun sense of color and whimsy, contributing to this boho gem. (more…)