Savvy
I've become a huge fan of Lockheart bags over the past few years and it's mostly due to the fact that these bags are unlike most others on the market. The bags are highly unique and boast amazing attention to detail. Ok, not to say that other handbags *don't* showcase attention to detail, but I think you follow what I am saying.
I am used to Lockheart bags being soft, feminine and a bit bohemian. Just as I began to expect this from this brand, they throw a complete curve-ball. While I was a bit shocked at first, I spent some serious time looking and the bag and began to appreciate it for everything that it is. (more…)
I wish there were more Lockheart bags available in retail stores. I've been thinking this for quite some time now, but, even more lately. I am back at home visiting the family and where I have my "office" set up, every time I glance up, I see my mom's gorgeous Lockheart Candice Hobo. Needless to say, I have Lockheart on my mind.
So, today, I didn't just come across a Lockheart bag, I actively went searching for one. More often than not, when searching for a specific designer bag, I am able to find something I like. And here we go again. (more…)
Lockheart design team in action a few weeks back and I was overwhelmed (in a good way) with all the leathers, the conversations and the absolute love for handbags this team has. It is clear that hours of time and thought go into each bag. So, coming across the Lockheart Victoria Jeweled Leather Hobo reminded me of all the detail that can easily be overlooked but shouldn't be. (more…)
Once again, Lockheart comes out with a handbag that is full of amazing detail work. I actually had a chance to see the
Are there still people out there in Handbagland that are unsure of the idea of brights as neutrals? If so, listen carefully: it's a really, really good idea. I promise. Have I ever lead you astray before? Oh, yeah, I forgot about that time. But this has nothing to do with shots of tequila, ok?
In fact, investing in a bag such as the Lockheart Iris Tote is an incredibly savvy fashion decision. Why spend so much money on a bag that will merely blend in with the clothes that you already have when you can have one that says something interesting about your personal style? (more…)
No matter how many of their designs I see, I just can't get over the lovely intricacies of Lockheart handbags. (more…)
Lockheart bags ever since I saw on in person a few months ago. The Candice Hobo was in our office and I loved so much about it. More than anything, I loved the way the cutouts looked all over the bag. This is the kind of detailing that has to be strategic so that it doesn't appear sloppy. Lockheart definitely nailed the look. Today, I have another bag where the detailing could certainly be hit or miss depending on how it is executed. (more…)
I've been infatuated with
When we introduced Lockheart on PurseBlog we realized you all were crushing on Lockheart as much as we were. We felt like we found a hidden gem, a designer that deserves so much notice but was just becoming known to us. (more…)
When we introduced Lockheart bags to our PurseBlog readers earlier this summer, the response was enormous – the brand has a lot more fans than even we had anticipated! And now that they've gained a bit of an exposure through some major online retailers, we've gotten to see more and more of their quirky, intricate designs. I, for one, couldn't be happier about it, and I'm very happy about the Lockheart Holly Shoulder Bag in particular.
The puffy, pillow-like texture created by the soft pleats and smooshy leather remind me a bit of the Louis Vuitton Cloud bags from a few seasons ago, except slightly less conceptual and a lot less expensive. The leather looks slouchy, soft and wonderful and the tonal studs at the intersections of the quilt seams is just enough to give it a slightly trendy look for fall. My favorite detail, though, is probably the thick knotting that forms the handle attachments. And of course, as we've mentioned before, grey is one of the colors that you need to be adding to your wardrobe right now. All things considered, you can't go wrong here.
I'm stuck somewhere in between thinking that the Lockheart In The Loop Hobo is pleasantly intricate and way too busy. It definitely has quite a bit going on, and all of it fits into the 'loop' theme that's implied by the name of the bag. They definitely stuck to their idea, something for which I give them points, but I'm still trying to decide if the idea works.
I'm almost inclined to say that it does because I recently saw one of Lockheart's more intricate and over-the-top bags in the wild and thought it was absolutely gorgeous. Because the color and shape are muted, the plethora of small details create something that you can't stop looking at, and everyplace you look you find something new that the designer did that you hadn't seen or noticed before. It's a veritable "Choose Your Own Adventure" of a handbag that gives your eyes a million different ways to go. Rock it with confidence and it won't overwhelm you. Buy through Nordstrom for $595.
So I'm not too familiar with this Lockheart brand, but their Giselle Foldover Bag looks so versatile that it's got me interested. Normally, I don't like extra straps. I'm of the mind that a bag should be designed to be carried in one way, and if you can't stick to a way, then the designer has not been effective in finishing the design. For some reason, this bag is keeping my interest, though. From what I can see, it can be carried in three ways – by its top handles, as a hobo, or as a crossbody bag. I like the zipper details, but something about it might be a bit masculine for me. The leather looks nice, but…is anyone else seeing a laptop briefcase with some fashionable details?
If you're a professional woman and that's exactly what you need, then this would probably be a great bag for you to still be stylish but subtle at work. As an everyday bag for a woman that doesn't need to schlep a laptop or a lot of files, I'm not sure this is the direction that I would advise you to go in. It's not terrible, and maybe I'm not judging it in the right mindframe, but I'm not on board. I'm interested to see more, though, because although this bag isn't my style, I think it's well-executed for what it is. Buy through Saks for $625.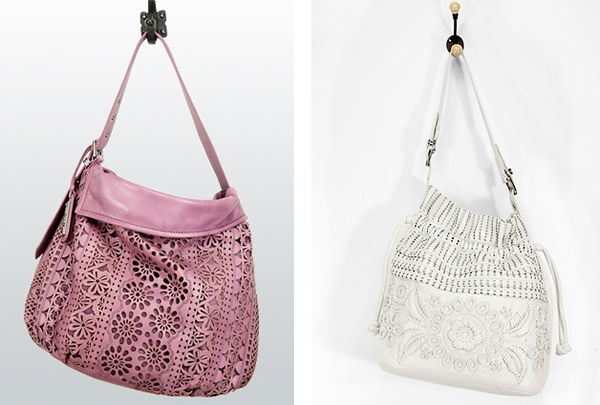 It has been a little while since we covered Lockheart on PurseBlog. I almost forgot about them, almost. But almost doesn't count and when I peeked at the brand's website this week, I found many bags that brought me right back in. One of my favorite bags I have ever used and reused day after day, week after week, is my Lockheart Candice bag. The leather was far more supple than expected and the quality was superb. My Candice is still in great shape and I include her in my bag rotation.
I've seen a few other Lockheart bags that are gorgeous, but the Lockheart Laser Tag Tess and Getting Punchy Avery have renewed my love for the brand. Both feature stunning attention to detail with the California cool vibe that I expect from the brand.
I'm having a really hard time deciding which bag I love more, maybe I just need both? (more…)