Savvy
58 results for
alexander wang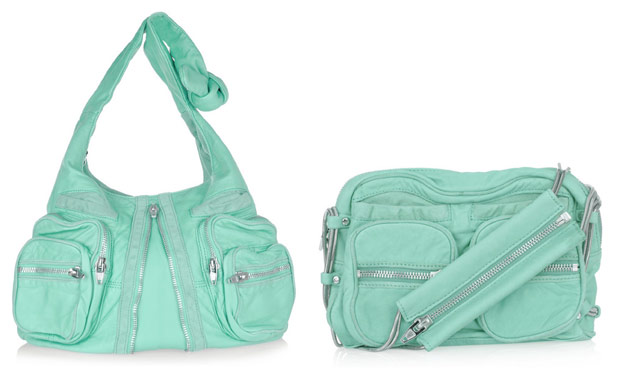 When Spring 2012's shows were done and it had become clear that pastels were one of the biggest trends in accessories that the season had to offer, I was somewhat disappointed. Pastels just didn't feel as exciting or vibrant as spring trends usually are, and back then, I made a mental note not to buy in when it came time to make my purchases for the season. And then I saw the Alexander Wang Donna and Brenda Bags in mint leather, and my mind changed entirely. Who would have guessed that prince of darkness Alexander Wang would bring me over to the light side? (more…)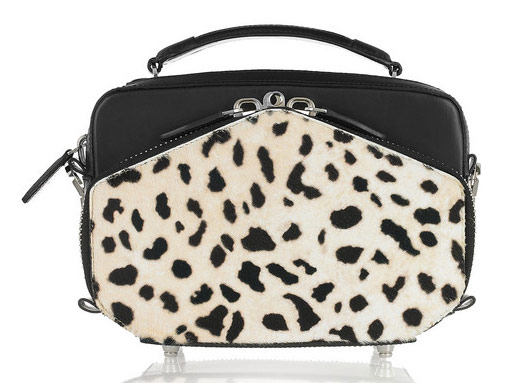 Happy Chinese New Year and welcome to the Year of the Dragon, everyone! Since our cultural knowledge of the traditions of Chinese New Year is admittedly somewhat limited, we thought that the best way we could join in on the festivities would be by highlighting the work of one very talented Chinese American designer – Alexander Wang. After all, what better way to celebrate a culture than by appreciating the contributions of its people?
Wang's bags are likely familiar to most of you already, but he's done something a little different for Resort and Spring 2012 – he used color. The man known for black and grey did an admirable job of brightening things up and even incorporating a print or two for the new season, and today seemed like a perfect day to feature several of our favorites. Take a look after the jump and let us know how you're celebrating in the comments. (more…)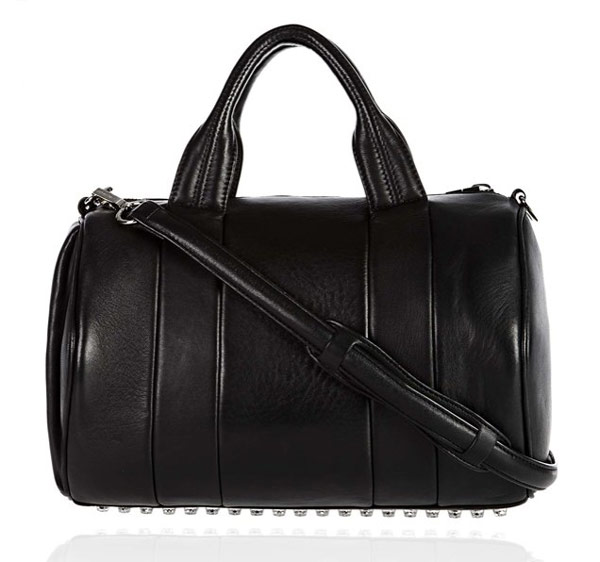 Alexander Wang Neoprene and Resin Rocco, $770 via Alexander Wang
Anyone who's ever picked up an Alexander Wang Rocco Bag knows one thing for sure – IT'S HEAVY. As tempting as the bag might be for a certain subset of customers, weight is always a surefire way to dissuade a large portion of handbag lovers from considering a particular design as a viable option. It looks like Alexander Wang has heard that message loud and clear, because he's promising that the Alexander Wang Neoprene and Resin Rocco is the lightest version of the bag yet. So how exactly did he accomplish that? (more…)
We started the week with a discussion of an Alexander Wang bag that literally did not work at all, so it's only fitting that we end the week with one of Wang's bags the works on almost every level – the Alexander Wang Marion Mini Flap Bag. I got a chance to play with this bag during the same trip to Barneys as the ill-fated Jade clutch, and the results were much more satisfying.
If this bag looks familiar, it's because Bergdorf's Twitter girl Cannon featured hers in last week's What's in Her Bag post, but this little shoulder bag is cool enough to merit its own, separate review. And this time, I couldn't find a single problem. (more…)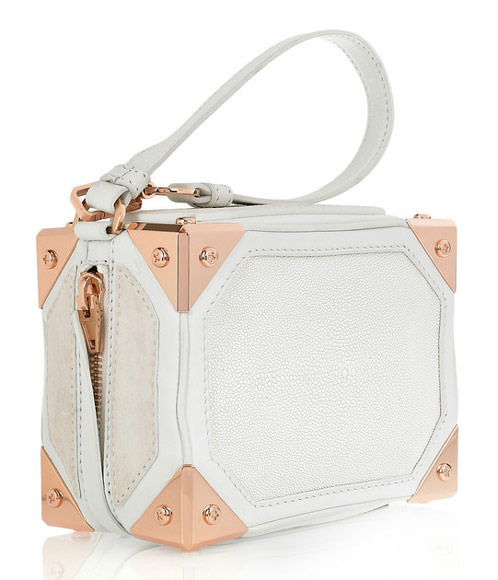 Alexander Wang Jade Stingray and Suede Clutch, $795 via Net-a-Porter
If you're a regular visitor to these parts, you might remember that back when I did my Alexander Wang Spring 2011 preview, I more or less drooled all over the Alexander Wang Jade Stingray and Suede Clutch. The stingray version of this design comes in both ivory with rose gold and black with matte black hardware, and I would have gleefully forked over the required cash for both options. A roomy wristlet clutch with exceptionally cool hardware and panels of exotic leather? That's like asking me whether or not I'd like to have pizza for dinner: The answer is always "yes." But unfortunately, reality isn't quite as good as my dreams, and the clutch has one very important design flaw. (more…)
As an unapologetic Alexander Wang fangirl, I can't help but be interested by the Alexander Wang Walker Doodle Print Backpack. It's not a particularly functional wardrobe piece, nor is it really special enough to be a collector's item, but it makes me smile and consider going down to the craft store to get some fabric markers. I guess that makes this bag somewhat inspirational, right?
My interests have always skewed toward urban and industrialist style, so anything vaguely graffiti-inspired grabs my intention immediately. This design is somewhere between graffiti and a heavily doodled-upon notebook, and I bet that I could recreate it on an inexpensive bag of my own. Come to think of it, that might be kind of a fun weekend art project. (more…)
Is anyone here experiencing Rocco fatigue yet? I'm not over the style since Alexander Wang's designs work so well with my personal aesthetic, but I'm assuming that some people out there have to be. The Alexander Wang Rocco Bag is entering its third season of production, and to keep things interesting, Wang has introduced a few new colors for this season. For me, the one that stands out the most is what he calls "mustard."
The actual shade is perhaps too green to really deserve its moniker, but I find it interesting nonetheless. Chartreuse and its many variations have seeped into the fashion industry's color palette as of late, and I think that this version of "grellow" belongs in that family. The color would pop against a black outfit but it still has enough of a tan undertone to play neutral, so I'm cautiously optimistic about this shade's fashion opportunities. It's certainly not something everyone will want to carry, though. Larger picture and price information, after the jump. (more…)
For a moment, I'm going to totally ignore the fact that Yves Saint Laurent made a substantially similar (and markedly less expensive) bag last season – the Alexander Wang Amber Spiral Notebook Clutch shamelessly appeals to the part of me that has wanted to be a writer since I was a little girl, and I simply cannot ignore that.
I don't know if the attraction would be the same for everyone, but I used to carry around a notebook constantly as a little girl, and I would love the opportunity to carry a chicer, more fashionable approximation as an adult. Since I missed out on the YSL bag, this one is sort of calling my name. (more…)
Oh, Alexander Wang. How I love thee, let me count the ways. Ok, so, I'm not literally going to count them – not only would that take too long, but it would be kind of boring. Let's suffice it to say that I really love Wang's aesthetic, even when I'm not sure that I love a particular bag. Luckily, the Alexander Wang Jena Clutch doesn't give me any deep internal conflict.
Nope! I'm sure that this clutch is in my future. Not only does it have the brand's signature pebbled black leather, but it's a perfect size and shape for a take-anywhere black clutch. If you like a little bit of edge in your bags, then welcome to your new nighttime staple. (more…)
Embracing the Alexander Wang aesthetic is easy in winter – you add in some black, and then some more black, and maybe a little black as a finishing touch. It also has to be sort of minimalist, but in a really non-minimalist way. Ta-da! There you go. But when weather gets warmer, sometimes people want to wear a color other than black (although I don't know why anyone would want to do that, black's great!), and then channeling Wang's of-the-moment looks gets a little harder, particularly in the bag department.
Fret not, however, because the brand's fashion mavens have created the much-loved Alexander Wang Donna Hobo in a faded, mossy green that will actually work with the boho colors and fabrics of summer without losing any of the bag's signature edge. A Wang bag that you could wear with linen – mon dieu! (more…)