Savvy
64 results for
Diane von Furstenberg
Diane von Furstenberg transitioned so flawlessly into the world of handbags that every designer trying to follow suit should take note. Not only did DvF bags quickly gather attention from department stores and shoppers alike, but they're also easy to spot on the streets of New York. The latter part is the most important; a designer not only wants his or her designs to be recognized, but also to be worn.
I have professed my love for my two DvF Stephanie Hobos countless times (here here here) and now my DvF love is being geared toward the Elaine line of bags. Amanda already covered the Shoulder Bag, and today I want to share the DvF Elaine Festival Crossbody with you. (more…)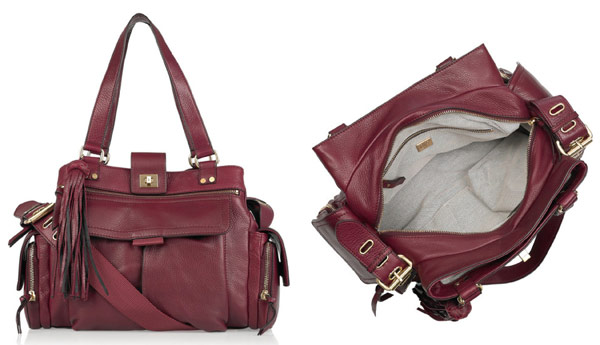 Diane von Furstenberg Elaine Shoulder Bag, $650 via Net-a-Porter.
When we talk about bags around here, we usually show one shot: The exterior. That's what attracts almost everyone to a bag in the first place, not to mention that most retailers aren't as thorough as our beloved Net-a-Porter when it comes to photographing a bag's ever facet. But in the case of the Diane von Furstenberg Elaine Shoulder Bag, we just couldn't restrain ourselves from giving you both shots. After all, when you're going to be carrying a bag for your daily activities, the structure matters a great deal. And in this particular case, the bag's interior setup is just as good as its exterior aesthetics. (more…)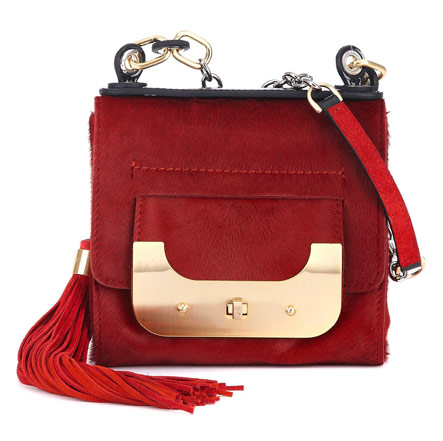 I've already explained how much I love Diane von Furstenberg's Fall 2011 Handbags, but with the advent of some more detailed stock photos to add to the conversation, I feel like it bears repeating: These bags (and the huge selection of clutches in particular) are genuinely quite good, and at a more reasonable price point than many brands with such a well-known name offer. From embellished box clutches to big everyday bags, DVF has something in a color and texture that could suit nearly anyone's taste.
And that's probably what draws me to this line – instead of just a group of nice bags, it feels like a complete accessories wardrobe for the quintessential DVF girl. That takes a good bit of thought and planning on the part of a design team, which usually means that the individual pieces were also carefully considered and created with an aesthetic purpose in mind. But enough about that nonsense, which is probably the type of thing that only fashion writers care about. Most of these bags are really cute. Enough said. (more…)
It takes any handbag line a couple of seasons after launch to find its true voice, but being the industry veteran that she is, Diane von Furstenberg's accessories collection seems to have found its niche in record time. The brand had a breakout hit with the Stephanie in its first season and has continued to produce well-priced favorites since then, but of all the choices, DVF's Harper bags have always been my favorites. The addition of a tote to the line only further cements that feeling.
The Diane von Furstenberg Harper Leather Satchel is the kind of bag that we routinely praise around here: Functional, neutral, but with enough interesting details so that it doesn't fade into that background as another purse that sacrificed aesthetics for utility. This is a Fall 2011 bag, so you'll have to wait until July for delivery, but take it from someone who knows about waiting for a pre-order all too well: When your perfect new bag arrives one day, it'll all be worth it. (more…)
It's an exciting time to be interested in fashion. Most sartorial rules have been relaxed to the point of nonexistence, and as long as you look confident and cool in whatever you're wearing, someone out there will think it's brilliant. Perhaps one of the only exceptions that I can think of is wearing stark white in winter – ivory or winter white is fine, but graphic white is still left almost exclusively for warmer climates.
Because of that, seeing a bag like the Diane Von Furstenberg Penny Leather Bag still makes me giddy for the advent of spring and all of the sartorial cues that come with the season. Wouldn't this bag look amazing with a colorful sundress and some wedges? (more…)
Diane Von Furstenberg's handbag lines tend to be very taste-specific, which is something I can appreciate, even if it means I don't love every handbag that the company produces. Many contemporary lines choose to err on the side of blandness in order to appeal to a broader audience and grow their business, but since DVF is already an extremely well-known label, it can produce risker options like the Diane Von Furstenberg Harper Cube Day bag.
Going with more than one leather color in a single bag is always a bit of a risk, and doing so in bold geometric patterns is even more so. White and tan aren't necessarily the colors I would have picked for my ideal version of this bag, but I think I like where this design is headed. Sure, it's a little busy, but it kind of works. (more…)
The more Diane Von Furstenberg gets used to the handbag game, the better the brand's collection gets. We've only seen a handful of accessories collections from DVF, but with bags like the Diane Von Furstenberg Harper Day Bag, Spring 2011 is set to be the best line yet.
Smaller, more ladylike bags have been in fashion for two or three seasons now, and the best ones are almost always made by brands who charge an arm and a leg. They require a great deal of precision and design confidence in order to execute correctly, which can sometimes be a problem for brands using less expensive materials or manufacturing processes. For DVF, this stuff doesn't seem to be an issue. (more…)