Remember how last week, I posted pictures of the Reed Krakoff Atlantique and whined about how badly I wanted one to carry for Fashion Week? Well, never mind that post. Disregard it! Pretend it didn't happen! I still want one of the bags, of course, but my object of desire has changed a bit. Right now, the Reed Krakoff Extra Large Solar Print Atlantique is on my mind first and foremost. I really should have waited a few days to write that last post, but I didn't think anything would top the cobalt python. First, though, I have a caveat. (more…)

Judging by the date on the calendar and the state of my email inbox, New York Fashion Week is upon us. Like everyone else in the industry, this is about the time when I look at my wardrobe and whine pathetically about how you guys, I just don't have anything to wear. While my lack of sartorial options is objectively not true, not even a little bit, it sure does feel that way when you're staring down the barrel of a week of nonstop industry events.
Given the part of the industry that we focus on over here, having good accessories is always the first priority on my list when planning an ensemble, particularly for a fashionable occasion. I'm more satisfied with my bag collection than any other part of my wardrobe, but that doesn't mean I wouldn't love a new bag, particularly a Reed Krakoff Atlantique, to debut at Lincoln Center in February. (more…)
Hey, handbag designers! We need to talk. Huddle up, it's time for a chit chat.
I know that relatively inexpensive canvas totes probably sell well for you guys. They're extremely low-margin compared to leather bags (which are already pretty low-margin compared to lots of consumer products), and having a strong brand name means you get to mark them up like crazy. I get it! I just don't like it.
Take the Reed Krakoff Leather-Trimmed Canvas Tote, for example. When I first saw it, I got that little sparkly feeling in the back of my brain that happens as soon as I set eyes on something that I really like. Printed bags are under-appreciated, and this graphic python print in particular is quite nice. For a moment, I had hope that the bag was leather. Those hopes were quickly dashed. (more…)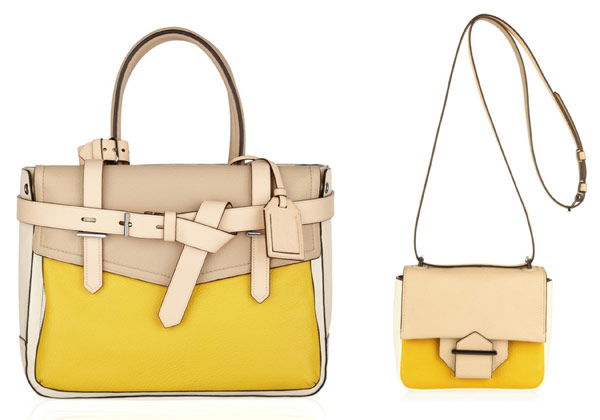 Reed Krakoff Boxer Satchel, $990 or Reed Krakoff Standard Mini Shoulder Bag, $525. Both via Net-a-Porter.
Although I'm something of a switch-hitter and can change back and forth between large and small day bags with relatively little thought (mostly because I work from home), it seems clear that most women either prefer something large and spacious or something smaller and easy to carry. Reed Krakoff, being a master of all things handbag-related, clearly wants to appeal to both groups with the Reed Krakoff Boxer Bag and Reed Krakoff Standard Mini Shoulder Bag, both in the same color palette of spring-friendly neutrals and brights. With both falling into the under-$1000 price bracket, which would you pick for yourself? (more…)