Proenza Schouler
Page 7
Images via Vogue.com
Proenza Schouler's runway bags have always been a horse of a different color. While designs like the PS1 and PS11 are act as aesthetic pillar's of the brand's identity no matter the season, the bags that show up on Proenza's runway are meant to be accents to a particular collection's visual mood. They often have limited functional or retail potential, but they tell you a lot about where Jack and Lazaro's heads were when creating the entire collection.
That was all true for Proenza Schouler Spring 2012 Handbags, but to a lesser extent, which I don't think is just a happy accident. Bringing seasonal runway accessories a bit more in line with consumer expectations will a long way toward continuing the booming growth that Proenza has experienced, and the collection's cute structured canteen bags and boxy satchels could go a long way toward bringing the runway ideal and the retail reality into harmony. As with every Proenza Schouler collection, there's a lot to be excited about here. (more…)
Handbag world, we have a problem. I placed myself on a bag ban because of my recent Celine and Chanel bag hauls (reviews of all to come soon). I even stated out loud to myself and Vlad that I would not be buying another bag for quite some time. Then Proenza Schouler repeated what they did last season: They offered exclusive pre-orders on upcoming bags to coincide with their fashion show and the Proenza Schouler Spring 2012 Floral PS1 is calling my name so insanely. (more…)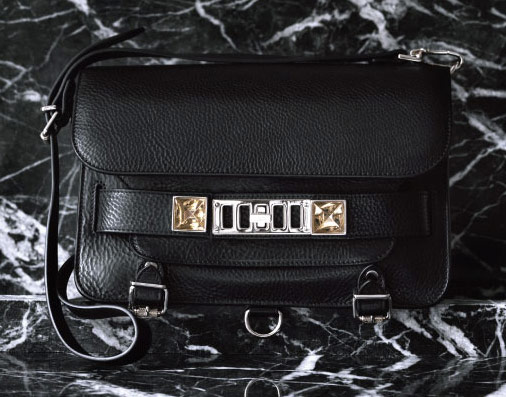 Proenza Schouler PS11, $1850 via ProenzaSchouler.com
Nothing makes me happier than stalking my next purchase. With most things in life, I'm an impulse-buyer, but when it comes to handbags, I like to take it slow. Let the romance develop. Whisper sweet nothing to my new bag over candlelight before I make it mine.
Ok, this is getting weird quickly. I apologize. Pretend I didn't say that awkward stuff about the candles. ANYWAY. I like to plot my purchases, and I often do it with Megs, because she understands this whole weird bag thing better than basically anyone else on the face of the planet. She and I were talking the other day, and I think my next bag is going to be from Proenza Schouler. The Proenza Schouler PS11, to be specific. (more…)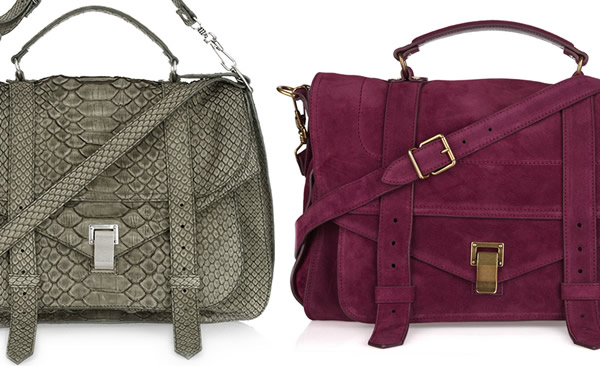 Shop Proenza Schouler via Net-A-Porter
Today Vlad and I traveled down to South Florida for a much-needed vacation. We plan to spend this time flopping from the pool to the beach with drinks in our hands, but I couldn't go to bed without sharing a sneak peek I received in my email today. Our friends at Net-A-Porter know how much we love Proenza Schouler bags and decided to give our readers an exclusive look at two new PS1 bags hitting their virtual store today.
From a gorgeous wine hued suede to a luxurious brushed python, I find myself yearning for each of these bags. (more…)
I just checked the calendar and realized we are midway through summer. How exactly did that happen? One minute I remember dreaming of warm weather with you and now I am stuck in heavy heat and humidity. While countless New Yorkers plan weekends in the Hamptons, I am excited for a trip down to Florida and the Caribbean next week.
When I booked our vacation, Net-A-Porter must have been alerted, because the teal Proenza Schouler PS1 popped up on the site that day. The color is perfectly reminiscent of the Carribean seas, into which I'll be dipping my toes any day now. (more…)
This one doesn't take much explanation: We love the Proenza Schouler PS1 and always have, and the excitement is palpable around here when new PS1s surface. We've been thinking for a while that the bag could use a few new shades, and it looks as though the Proenza team was right there with us. Now in tangerine, viola, raspberry suede and teal, you have four more ways to enjoy the It Bag that just won't quit. All can be had for $1595 via ProenzaSchouler.com.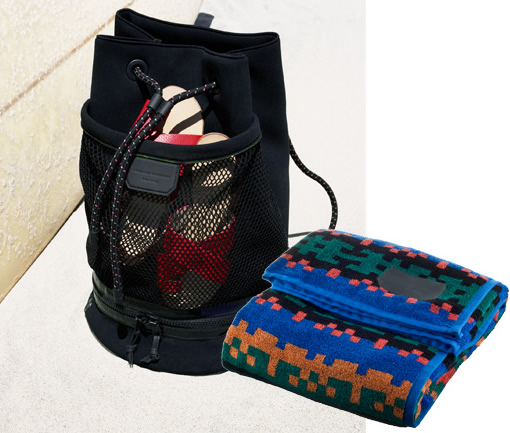 If you are in the Northeast, then you are part of this intense heat wave we are all experiencing. I may be from South Florida, but there is something about the heat radiating off the buildings and through this concrete jungle that intensifies the temperature in a way I can not describe. Oh, and the heat cooks the smells that are notoriously part of the city's allure into a rather unalluring mixture of garbage and sweat. If you're going to visit, wait until fall.
Here is the good news: With summer knocking at the door, the duo behind Proenza Schouler created a beach bag and patterned towel to make all of these hot days worth a trip to the shore in style. I used to think splurging on beach goods was silly, but with so many fashionable options at a variety of price points, we should all put a bit of thought into our beach wear. (more…)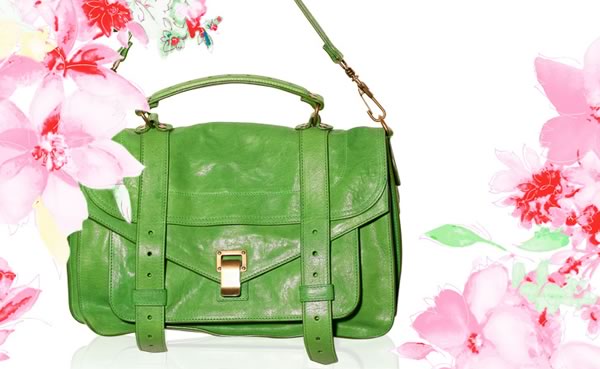 Proenza Schouler Green PS1, $1,595 via NAP
The craze over the Proenza Schouler PS1 has not died down and frankly, I do not want it to. I still love this bag and for spring I crave bright pops of color being incorporated into my wardrobe. (more…)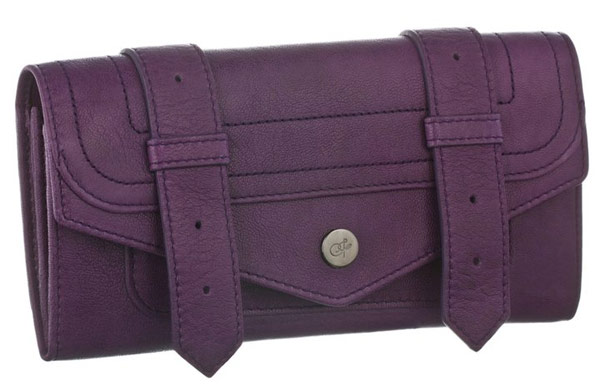 Proenza Schouler PS1 Continental Wallet, $585 via ProenzaSchouler.com.
I didn't think I'd ever see the day where I'd write two excited posts in one week about a wallet, of all things, but the boys at Proenza Schouler know how to get to me. Including the standout kelly green color in their first round of press photos for the Proenza Schouler PS1 Continental Wallet was enough to make me bite the first time around, but saving this delicious purple color until a few days later to squeeze another post out of me was truly a stroke of genius. What? They didn't do this purely to manipulate my emotions? Are you sure?
Well, either way, now I want a purple one. If that doesn't tickle your fancy, I have a picture of another brand new color, military, after the jump. Neither is on the brand's website quite yet, but when they are, you'll be able you buy them via ProenzaSchouler.com for $585. (more…)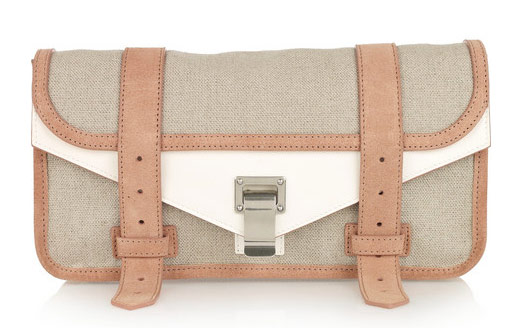 Proenza Schouler PS1 Linen and Leather Clutch via Net-a-Porter for $735.
This may sound crazy, but I swear that when I first laid eyes on the Proenza Schouler PS1 Linen and Leather Clutch, the room immediately felt a few degrees cooler. Things are starting to heat up in Atlanta, as always happens so quickly after we get those first few perfect spring days, and ceiling fans and air conditioners are working overtime to keep everyone below the Mason-Dixon Line from going outside, lying facedown in the grass and falling asleep in the sun. This clutch, though, made me feel like I was standing right under a vent with the temperature turned all the way down. (more…)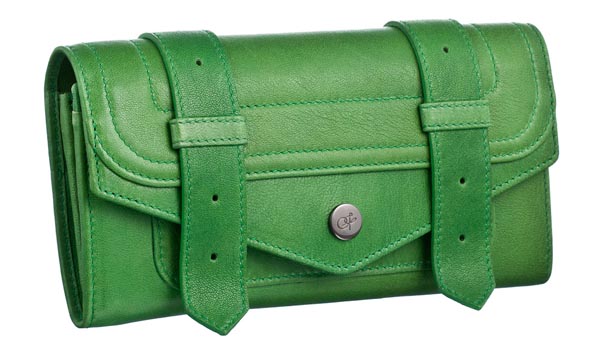 I don't know if I've ever heard or read so much buzz over a wallet; the gentlemen at Proenza Schouler sure do know how to work the fashion hype machine for maximum effect. On Friday came an exclusive tidbit via Vogue.com that Jack and Lazaro would be releasing a new wallet on the company's website Monday, along with a single stock photo and conspicuously lacking price information to make us all salivate over the weekend. It certainly worked on me; as whispers and excitement spread across the fashion internet after the initial announcement, my impatience grew. I couldn't wait to see all the colors or find out how much I would need to dish out to get one.
The PS1 Continental Wallet is like the older sister to Proenza's original wallet, which was more like a billfold because of its single interior compartment. This one, though, is a full-fledged iteration with compartments for coins and cards as well as your standard cash slot. The first run will come in five colors, all of which you can see after the jump, and retail for $585 via ProenzaSchouler.com. (more…)