Proenza Schouler
Page 10
Proenza Schouler may still be a relatively small company, but their clothes and accessories are making some enormous waves. I could wax poetic for paragraph upon paragraph about how much I love the acid yellow and black tie-dye that they did for Spring/Summer 2010, but I'm going to try very hard to stay on topic in this post. Bear with me.
Proenza Schouler just released images of their Pre Fall 2010 accessories on their website on Wednesday, and I'm kind of in love. My favorite is the black PS1 Tote that you see to the right, but the leather take on a brown grocery bag is pretty clever as well. The line also includes an alpine knit PS1 Clutch, which mirrors several sweaters from the brand's Pre-Fall Ready-to-Wear collection. Pictures of all three bags are after the jump – which is your favorite? (more…)
In the grand scheme of prices, $14,500 for an entire crocodile bag is not that bad. I am not too daft to recognize that it is an exorbitant price tag, but when you look at expensive designer bags all day long your sense of what is truly expensive versus what is not changes. And here I am telling you that $14,500 is not incredibly expensive. Let me make sure to state that it is expensive, just not relatively speaking. And I love the Proenza Schouler PS1, which makes me more apt to justify the price tag.
We have already covered the crocodile PS1 and I loved it then. But now I have three more reasons to love the Proenza Schouler Crocodile PS1 and it has to do with color. Vibrant coral, ocean blue, and bottle green to be exact. (more…)
My love and admiration for the Proenza Schouler PS1 has not ceased. In fact, it is going strong. So strong that there is a thread with over 1,000 responses on the PS1 on the PurseForum. But really, how could you not adore this laid-back chic school-style bag? It strays from the structure that so many bags bring and gives an everyday wearable vibe that is at the height of the want-it list. (more…)
You can throw virtual tomatoes at your screen right now. Why would I show you images and ramble on about a bag that is sold out? Well, it is gorgeous. And while it is unfair to anyone who wants to buy this bag, I would like you to cross your fingers and hope Net A Porter will re-stock this color of the PS1.
The Proenza Schouler PS1 continues to garner attention, being loved for its casual chic and everyday wearable vibe. The only difference we can start to see is in the material and colors being produced. That is the same thing we look forward to from other brands like Balenciaga, that continue to release the exact same design just in new colors each season. Proenza Schouler has been implementing the same idea as Balenciaga, producing a bag that is highly loved in new colors. We love this idea; creating a classic and only re-inventing the colors. The color of choice today is sea-blue. (more…)
The duo behind Proenza Schouler, Lazaro Hernandez and Jack McCollough, just finished their Fall/Winter 2010 show in New York City Fashion Week. They joined many other designers in live-streaming their show, which was crisp, brought us close-up views, with the only downside being that it started 26 minutes behind schedule.
What did Proenza Schouler have in store for us from their Fall/Winter 2010 collection? We saw graffiti high waist skinny jeans, which were created in collaboration with J Brand. The toggle coats are sensational, completely wearable and calling out to everyone who was at the show. The color palette was dark and lustrous with touches of blues. Dimension was added with fur. (more…)
One of the hottest tickets at New York Fashion Week is for Proenza Schouler, which will be showing tonight. Proenza Schouler Bags have not only hit the scene but they have become highly sought after. The PS1 is now a part of many PurseBloggers handbag vocabulary.
While it will not include PS1's, as the PS1 is not part of the runway show as they are separate from the seasonal bag collection, the handbags from the Fall/Winter 2010 Proenza Schouler show will be available on ProenzaSchouler.com for 24 following the show. Also, you can watch the show live tonight at 8 PM EST also at their website.
Check out the show tonight and make sure to check back to see if any of the runway bags are calling your name! (more…)
One of our favorite handbag styles at the moment, the Proenza Schouler PS1, is now available on their website. This bag has continued to catch our attention, with its schoolgirl appeal and masculine yet ladylike vibe. I will continue to applaud the boys behind PS, who have made Proenza Schouler bags become part of our handbag vocabulary.
In December we first got news that Proenza Schouler would open up their online sales and were selling web exclusives. After we posted this, all of you helped sell out their limited edition wallets. (more…)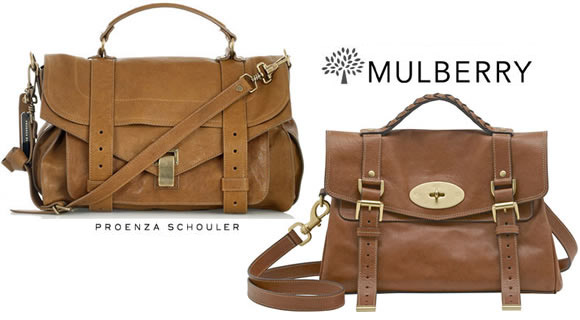 [poll id="57″]
Back in September when the first sighting of Alexa Chung with her namesake bag, the Mulberry Alexa, surfaced, Purse Forum members began discussing the similarity between it and the Proenza Schouler PS1. It makes sense that they did, because there are definite similarities in the design. In fact, once the Mulberry Alexa started to show up online, the main buzz surrounded the likeness between the two.
Let's take a closer look to see what the two bags have in common and what is different, shall we? (more…)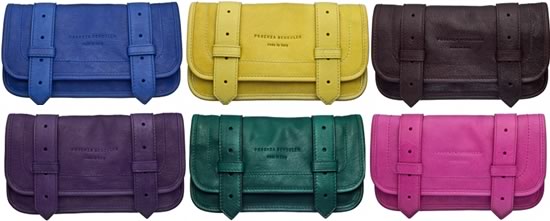 Proenza Schouler has opened up its online gates to include e-shopping. With the start of this, they have also released exclusive items you can buy through the online shop. Right now the number of exclusives are small and include a leather wallet, key chain, and novelty bag. Our pick goes to the wallets, which cost $165 each. The wallets have a leather flap front with a snap closure and are available in 6 rich colors. (more…)
Now, look at what we have here. We've been covering Proenza Schouler bags for quite some time now. This is nothing new. But, I feel the need to hash out the Proenza Schouler clutch again. I was reminded of this when I came across the Proenza Schouler Patent Double Strap Clutch today. It was as if someone snapped their fingers in front of me and said, "helllloooooo, you should have written about this already, what are you waiting for?" So here I am, awakened and loving what I see. Amanda wrote about the clutch in a yellow shade a while ago, but I am loving the dark green and feel as though it deserves some more attention. (more…)
I DIE! Bananas! Shutting it down! It is not that the design is new to us, as we have looked at the Proenza Schouler PS1 many times before. It is this version, with the most luscious, vivacious deep purple python skin, that is killer.
I want to scream out all sorts of Rachel Zoe-isms at this stunning handbag.
This is my favorite of all Proenza Schouler Bags, mixing downtown edgy with uptown sophistication. I would love to see the Proenza Schouler Purple Python PS1 in person. (more…)