In The Press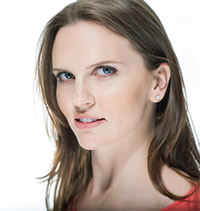 I love Barneys and when the store approached me to be featured in The Window, I was thrilled. Alongside other fashion insiders and great fashion stories, The Window is one of the best behind-the-scenes sites by a retailer I have seen.
I sat down with Barneys to share everything from why I started PurseBlog, to my favorite bags for spring, to the items I would be caught with after a night locked in the store. Don't miss my feature, and after you read it, I'm sure you will get lost on the Barneys website like I always do. [Read my interview on The Window]

It is time for us to rally the troops! We love bloglovin' and seeing that they nominated us as a contender for the Blogger Business of the Year is an honor, especially with the great company in which we find ourselves.
We would love and appreciate your support, so please take a moment to vote for us. In order to vote, you must nominate a blog of the year and choose someone for every category. Thanks to bloglovin' for including us and good luck to everyone nominated!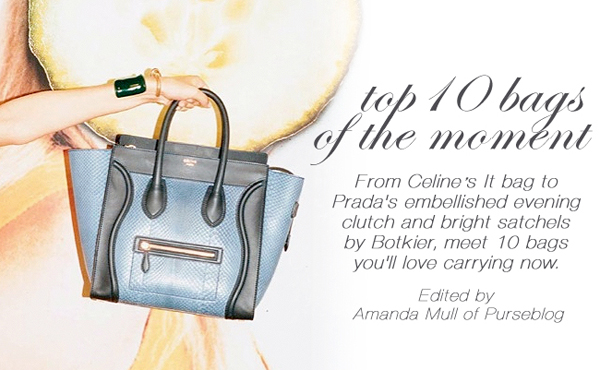 When our friends over at lovely fashion and lifestyle site StyledOn asked me to pick my ten favorite bags of the moment for their readers, I was more than happy to oblige – I look at it as part of my PurseBlog duty to spread the handbag gospel far and wide. The site did a lovely job putting together the list for me, and I'd like to hear your feedback – if you were to pick your must-haves right now, how would you fill out your list?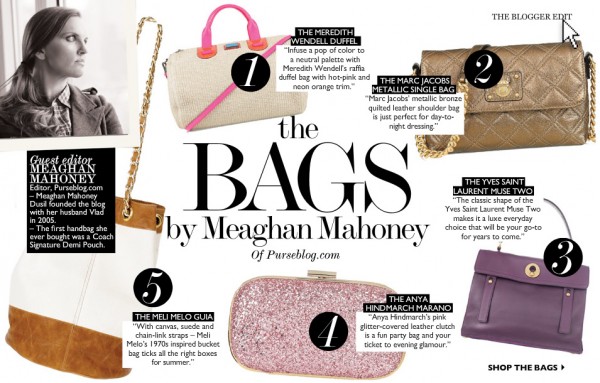 Shop the Net-A-Porter Bags Selection
Net-A-Porter always updates their site with the best magazine issues. This week's issue focused on Bloggers, spotlighting the top (street) style bloggers and has a few bloggers guest editing their favorite picks.
I was delighted to be asked to share my bag picks with Net-A-Porter and had a lot of fun selecting a range of bags and giving reasons why. From Marc Jacobs to Anya Hindmarch, from Yves Saint Laurent and Meredith Wendell to Meli Melo, check out my picks and why I think they are perfect bags for the season.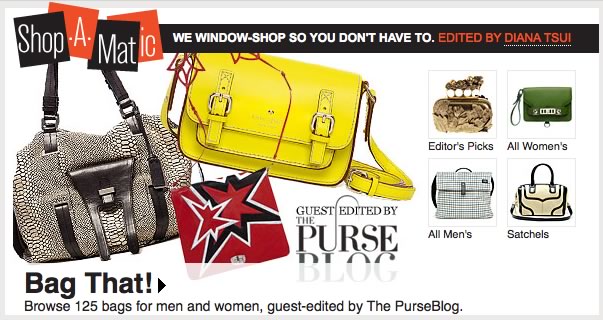 A daily must-read, New York Magazine, asked us to guest-edit their Shop-A-Matic section with Spring 2011 handbags for men and women that you won't want to miss. With 125 bags to look at, 25 of them being my favorite picks, you can see a wide array of options for Spring. From the affordable to the exorbitant, we have a wide variety of options that will make your spring accessory shopping much easier.
StyleRepublic have a fun feature they run every Friday that involves people they love to follow on Twitter and last Friday it was my turn! My Twitter friend Brittany who runs the StyleRepublic magazine had the idea to do this fun Q&A. The extra fun part in filling out the form was that I didn't type it, I hand-wrote. Handwriting is such a lost art these days, so I loved this additional touch.
Our friends at
In fact, starting tomorrow we will run a similar new feature that will integrate handwriting as well. The original idea came from Style Republic, so I must give credit where credit is due!
Check out my Q&A on Style Republic in which I tell you my favorite accessory, favorite vacation spot, favorite drink, and much more! Read my feature HERE.
And follow PurseBlog on Twitter! (more…)

Coach is kicking off their Guest Blogger Series with PurseBlog! In the beginning of September we asked for your opinion on the new Coach Madison collection. I wanted to integrate your votes and thoughts into my guest blogger article since your opinions matter both to us and Coach.
With the Coach Sophia Satchel garnering the most votes, it ended up being the bag we are partnering with Coach to give away (make sure to enter our giveaway to win a Coach Sophia Satchel!). As I shared in my guest blog, this collection has a bag for everyone and every item is completely wearable. From a bright pop of color to the embossed python look to added dimensionality from quilted leather, this Coach collection suits everyone.
Thank you to Coach for choosing me to be the first blogger for their new series!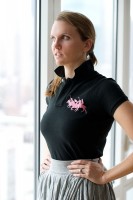 Many people associate October with the beginning of fall and Halloween. More importantly, it is also Breast Cancer Awareness Month. This year celebrates the 10th Anniversary of the Pink Pony Fund, part of the Polo Ralph Lauren Foundation. Ralph Lauren and Polo Ralph Lauren have been strongly dedicated to the fight against breast cancer for over 20 years and his very own version of the famous pink ribbon is designating his polo player icon to the Pink Pony Campaign.
I came together with 100 Bloggers to raise awareness and support the cause. Breast cancer awareness is near and dear to my heart and most everyone's hearts. This campaign also features an auction that will run on CharityBuzz.com from October 1st to October 21st, in which 100% of the proceeds will benefit the Pink Pony Fund. You can also join the initiative by texting PINKPONY to 501501 to automatically donate $10. You can also buy items from Pink Pony at Ralph Lauren online.
I was very happy to be part of the 100 Bloggers included in this campaign! Make sure to check out all 100 bloggers in the campaign!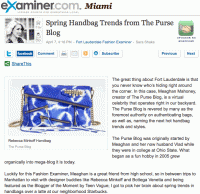 Last week I not only had a fun interview at Starbucks about PurseBlog and Spring Trends, but also the interview happened to be with a high school friend. No need for nerves, it was so nice to sit down and chat with an old friend I haven't seen since AP Literature (6th period senior year). Even with all of our catching up, Sara was able to sneak in her interview questions. We talked about Spring Trends, which in handbags are still tie-dye, perforated leather, and denim. Thanks Sara and Examiner.com!
Read the full article HERE on Examiner.com.

A couple of weeks ago I had the pleasure of speaking with Phillip Picardi from Teen Vogue. Teen Vogue has named PurseBlog their Blogger of the Moment, and we could not be more honored or thrilled!
The interview will give you a look into why we started PurseBlog, how we started PurseBlog, and what our site is about. Teen Vogue has been a favorite magazine and website of mine for years, so being featured on their site has been nothing short of amazing. I also shared some of my favorite Savvy picks with Teen Vogue, including a good everyday bag, spring floral trend, bright color, and studded infusion.
Thank you to Teen Vogue for featuring us on your website and the interview! We will always be loyal fans. Make sure to read the article and comment on their post with your thoughts.
Full article is found at TeenVogue.com here!