Prada
Page 8
If you were hoping that military chic was going to go the way of the dodo bird sometime soon, well, prepare to be disappointed. Prada's fall collection just started trickling out to online retailers, and the most obvious element of the line so far is its use of camouflage. Whether this is good or bad probably depends on your feelings about military chic, but despite being a fan of the trend, I'm not entirely convinced.
I've always been of the opinion that camouflage is best left for actual troops and No Limit Soldiers only (ok, I admit that joke would have been funnier a few years ago, but I've been waiting forever for the right opportunity to use it and the waning cultural relevance of a particular hip hop crew is not going to stop me now) and I like my military-inspired looks to be more vintage-inspired than Iraq-inspired. With the Prada Large Saffiano Camouflage Tote, it appears that Miuccia does not agree with me. (more…)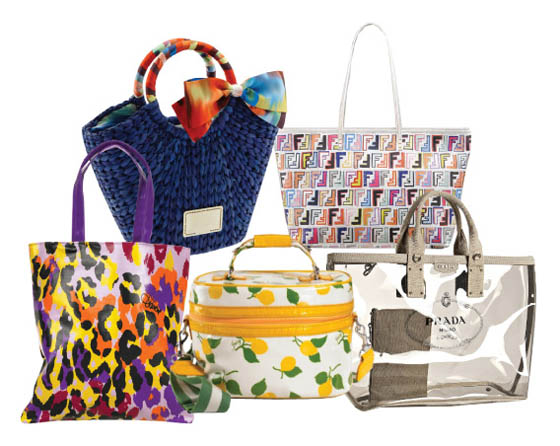 Ok, so, that's probably a false promise. But these are five beach bags that we really like for five different budgets and personal styles. (more…)
I'll be the first to admit that fashion bloggers are often working with a somewhat limited medium. The industry's recently increased presence on the internet, both in retail and editorial sectors, has given people like me a great deal of material to work with when writing criticism and making sartorial recommendations, but there's just nothing like the real thing.
We make our best educated guesses about what a bag will look and feel like in person based on what we know of the brand's construction standards in the past and the pictures we see on the internet, which are often quite good, depending on the website that they come from. Sometimes, however, a bag just doesn't make sense until you see it in person, for whatever reason. That's exactly what happened yesterday when I saw the Prada Saffiano Printo Tote – I had seen pictures of the bag before and wasn't terribly interested, but in person, it was love at first sight. (more…)
It has been a long time since we covered an ostrich skin bag on PurseBlog. I just realized that. We spoke about some ostrich bags seen in Fall/Winter 2010 runway shows, but before that we hadn't shown one since December. And while many of you do not like the look or idea of ostrich skin, I always had an affinity to certain ostrich skin bags. Maybe not so much anymore? Because as I sit here looking at the Prada Struzzo Executive Tote I am totally underwhelmed. And underwhelmed by both the skin and the design. Actually, Prada in general continues to let me down.
I popped into the Prada boutique last weekend with a couple of friends and made my way around the store quicker than any other store we went into. The collection was part odd part lackluster. And all I kept thinking is what happened? I used to find joy in so many Prada designs and used to look to Prada each season with anticipation. (more…)
First of all: oops. I goofed. Between having surgery and trying to keep up with the various global Fashion Weeks for a month, I forgot to write about one of the biggest handbag brands in the world, Prada. My bad. So let's pretend like we're still in the thick of Milan Fashion Week and discuss went went on at the Prada show, ok? Please, no one tell Miuccia that we're late.
I'm always relatively down on Prada bags, mostly because I think that the brand makes enough money and has enough creative ability to do way better. They make great basics, but beyond that, things tend to go a little off the rails. I'd link you to some of those examples, but you probably already know what I'm talking about all too well. Well, it looks like I'm going to be a lot happier with the brand in six months' time, and hopefully that means that you all will be too.
Instead of the transparent vinyl and questionably bedazzled closures that we saw from the brand's last major collection, this line of bags was much more subdued and mature. There were three types on display: first, a small shoulder bag in patent leather with contrasting trim at the strap and closure, with lines that were reminiscent of the 60s aesthetic that we saw throughout most of the major collections. Then there were a few non-leather satchels in muted multicolor prints. Finally, the best bags of the show were hewn of sumptuous woven leather, proving once and for all that it's possible to do high-end weaving without aping Bottega Veneta. Sign me up for one of those immediately, if not sooner.
Alright, feel free to go back to remembering that Milan Fashion Week ended like two weeks ago. (more…)
I say a lot more negative things about Prada bags than I say positive, but I promise that I don't have anything particular against the brand. In fact, my first "designer" bag was a Prada crossbody, and I still have fond memories of it.
They've been doing more wrong than right in most of their high-profile bags lately, but they still make some great stuff that doesn't grab as many headlines. I got a chance to examine a bunch of their bags up close this weekend, and I was particularly taken with the classic lines and superb construction of the Prada Saffiano Soft Frame Clutch. (more…)
After viewing Prada's Spring 2010 runway show, I couldn't help but think to myself, maybe the handbags were a joke after all. Maybe they won't produce them. Perhaps, if we're lucky, they'll ship the REAL bags to retail and we'll all be left with the daffy memory of those silly-looking bags that Prada so irreverently sent down the Milan runway.
Well, my wishful thinking was all for naut – the plasticky, rhinestoned monstrosities have landed. The Prada Spazzolato Tote might be the best of the bunch, and to say that's faint praise would be the understatement of the season. (more…)
Prada Saffiano Lux Tote today and let out a sigh of relief.
I love when Prada sticks to what it is good at: clean lines, great leather and fabulous color. I have to say, I came across the
Actually, I've seen this bag before, but I forgot about it. So, when I came across it again, all I can say is BRAVO Prada, BRAVO! Unfortunately, I've come across too many Prada bags that have missed the mark lately. In fact, they've missed the mark so much that I virtually stopped looking at them. Today folks, today is a different day. (more…)
You know, I've always secretly wanted to have an amazing, unbelievably amazing briefcase. This thought usually comes up when I pseudo dream of being some high powered executive perhaps working in a city like New York City.
You know how the movies portray things. Everyone walks fast, walks with a purpose, walks with power… oh and they all look fabulous. I was instantly reminded of this when I came across the Prada Ivory Saffiano Bi-Fold Zip Briefcase. (more…)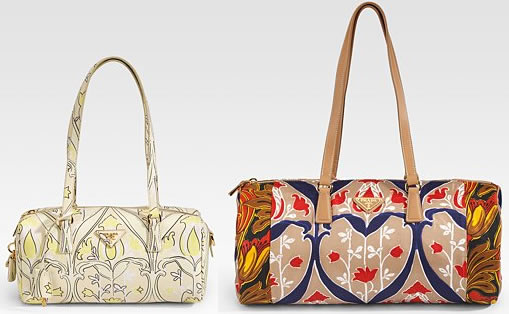 Prada's Spring 2008 Handbags caught worldwide attention when the Prada Fairy Bag was placed in the spotlight. The Fairy bag was whimsical, a departure from the norm, and highly coveted. In fact it was one of the first Prada bags in the past few years that garnered so much attention people were putting themselves on waitlists to try to get it. Since the Fairy Bag, Prada has not released another bag that created even a tenth of the buzz the Fairy bag did.
When I saw the new Prada Print Roll Bags it was evident that Prada is trying to find another hit. The question is do these print roll bags evoke the same response the Fairy Bag did? (more…)