Prada
Page 7
Prada's design aesthetic is very particular, in fact many of us could pick the Prada bags out of a handbag line-up in a jiffy. This Prada Cervo Satchel is no different. The reason I needed to share it with you is because its simplicity is striking. Sometimes that speaks volumes for a bag. There is a bit of urban meets sophisticated meets casual, which works entirely well for this bag.
Prada keeps slipping below our radar. Their bags easily become predictable, which doesn't always work well when we expect new and enthralling. Does this bag get the job done? (more…)
It's always disappointing when the handbags are the least impressive part of any collection, but with a line as inventive and exciting as Prada Spring 2011, I guess something had to get the short shrift. The collection's shoes (which you can check out over at TalkShoes) were the best of the season thus far, but the handbags left a bit to be desired for luxury lovers.
In keeping with the trends we've seen in Milan so far, Prada went for bright colors and multihued designs. Most of the stripes came on a canvas background, and I'll be interested to see if any of those bags are translated to leather for retail. In fact, if the bags had been made of leather from the outset instead of featuring so much canvas, my take on the collection would be lightyears more positive – I just can't get excited for high-priced cotton, even though I think the aesthetic ideas are strong and interesting. (more…)
After a successful first round in July, the good folks at RueLaLa are staging another irresistible Madison Avenue Couture event. The big sale launches tomorrow, September 9th and the selection of designer bags, shoes and accessories include brands like Gucci, Prada, Armani, Chanel, Louis Vuitton and many more. We can expect a vast variety of styles, with prices ranging from $200 to $2,000.
This is not one to miss. Grab an invite and make sure to hit the event early, as desired pieces vanish off the virtual racks in minutes.
Not long ago, Megs ran an informal poll of our wonderful Twitter followers to find out what trends they thought were so five minutes ago. Based on the responses I read, fringe was an overwhelming favorite (if you can legitimately refer to something everyone wishes would go away forever as a "favorite" in any context), but don't tell that to the fine folks at Prada.
I've been very up on the brand recently, as my previous posts about Prada's Fall/Winter 2010 collection would indicate, but the Prada Vitello Shine Fringe Satchel makes me feel like 2008 just came back and hit me in the face. (more…)
When you look at the camouflage, fur and fringe that dominate Prada's fall collection, it can be difficult to remember that Prada is a label whose bread and butter is basic, somewhat conservative leather bags. And yet, it's true – year after year, these bags fly under the fashion radar but are picked up by thousands of women of every conceivable age and lifestyle to add a note of sophistication and luxury to their wardrobes.
Bags like the Prada Soft Calf Tote probably won't be featured prominently in Vogue editorials or spotted on the arms of endless starlets, but they're the bags that make Prada a great source for accessories year after year. While half of the line chases trends, the other half looks like this – the kind of bag that most women would love to have in their closets. Or at least the kind of bag that I'd love to have in mine. (more…)

I remember a time when everyone wanted a little Prada backpack. I was in my senior year of high school, and girls in my affluent suburb were just starting to figure out the concept of accessories as status symbols. It was the early 2000s, so we couldn't have picked a better time to start lusting after logo bags. I was the first of my friends to embrace the trend (how fitting) with a Prada Nylon Messenger Bag, which I received as a graduation present from my cousin Deb.
I'm no longer in high school, so it's impossible to say if the seniors of 2010 want the same types of things that my class did, but Prada still continues to make the nylon bags that they've produced since 1985. The company is mum on how well they bags are selling compared to the style's heyday, but we wanted to do a little survey of our own:
[poll id="64″]
From left: Prada Nylon Pocket Tote, $550 via Saks; Prada Vela Backpack, $710 via Saks; Prada Vela Messenger Bag, $550 via Saks.
I grew up mostly living in parts of Florida. We may get a winter 'chill', but it is clearly nothing like a true northern winter. So when I choose The Ohio State University as my college of choice, I had no idea what I was in for. Note to any warm weather climate person about to embark on college somewhere with a true winter: anything you thought would be a winter jacket is not. You should have seen the 'jackets' I bought for the cold weather. They were glorified wind-breakers that kept me literally freezing. I did not understand what nature had in store for me. One of the coats I distinctly remember buying was actually rather ghastly to look at. And it also did not keep me warm enough (it was cheap). It was made with shearling.
Unfortunately for Prada, the Prada Shearling Hobo does nothing other than remind me of the shearling coat I owned in college. And that is not speaking in Prada's favor. (more…)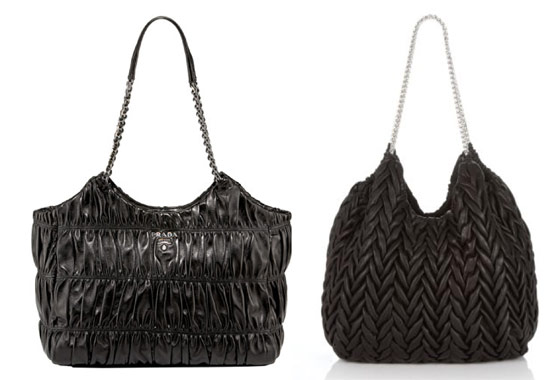 Now that Prada is bringing back its ruched leather Gaufré bags for fall, I'm sure that plenty of women will be looking for a way to get the look without paying nearly two grand for a bag like the Prada Napa Gaufré Tote.
Luckily, fashion has conspired to provide us with an exceedingly attractive, relatively inexpensive alternative. The Elie Tahari Beverly Tote is made of attention-grabbing soft braid-effect leather, and it'll set you back over a thousand dollars less than its Prada counterpart. (more…)
When I recently wrote about Prada's knitted leather clutches, two things were noticeably missing from the brand's website: the same material rendered as a tote and my favorite color scheme from the Fall 2010 show. Luckily, both have surfaced in the form of the Prada Knit Nappa Tote.
I still love this bag just as much as I did on the runway, and the knit technique is so much fun to look at that I can't wait to get my hands on one of these bags in person. The only thing that I find disappointing is the price: $4500 is a lot for any bag, particularly one with a very season-specific design that might look dated quickly. The all-black version would likely age more gracefully, if you're so inclined, and this bag will surely turn heads when cold weather arrives. Larger photo after the jump. Buy through Saks for $4500. (more…)

We first caught a glimpse of Prada's knitted leather during the brand's Fall/Winter 2010 runway show in March, and I've been hungrily awaiting their arrival at retail ever since. Well, they're here! Almost. Prada has close-up pictures of a few styles and colors on its website, and these Prada Knitted Leather Clutches in particular do not disappoint.
Sadly, my favorite color combination isn't pictured, but if you imagine the one on the right with red instead of tan, you get the idea. The main thing that I'm taking away from this first look, however, is that I'm surprised by how much I like the black version – you don't lose as much of the sense of texture as I had assumed when the design is rendered in a single, dark color. The clutch will retail for $2600 once it arrives in store. Larger pictures of both, after the jump. (more…)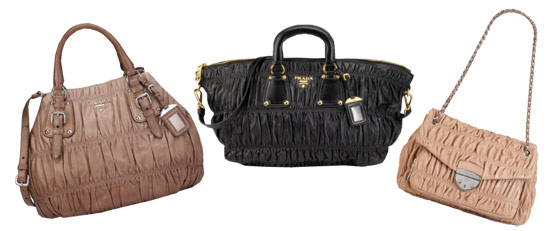 Back in 2006, Prada made lots of waves among handbag aficionados with their ruched Gaufré handbags. Rendered in super-supple lambskin, the design was a great example of how texture can be achieved through clever design, even within the sometimes austere Prada aesthetic. The bags were neutral but still interesting to look at, and the combination made them some of my favorites that the brand has ever produced.
Gaufré's initial production run was only a few season, but now they're back in new colors and shapes for Fall/Winter 2010. We've seen several "old favorites" from the past five years make a return to production in recent months, and this line is the only one whose return brings me any sort of genuine excitement. Are you excited for the Gaufré's return?
From left to right: Available via Saks for $2195, $2195 and $2100.