Prada
Page 6
Can you believe that we're already about halfway through August? I can't, but I walked past a store yesterday and saw a fall jacket that I liked so much that I bought it in two colors, realizing only afterward that I'd be able to wear them far sooner than I had originally thought.
This would probably be the place to say something profound about the inescapable march of time, but I'd much rather talk about the Prada Glace Calf Degradé Top Handle, a design for which my feelings are profound in an entirely different way. Carry this bag now, carry it in six months, it'll look good 365 days per year. (more…)
We've already explored the slightly more, uh, tactile elements of Prada Fall 2011, but what about the everyday bags that the brand does so well, year in and year out? Too many pre-orders have sprung up across the Internet for us to feature them all, but here's a selection of four bags of different styles and leathers that we heartily recommend for purchase in the upcoming months. (more…)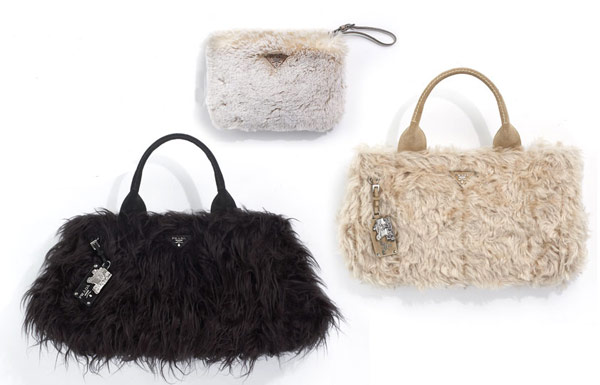 I've spent a lot of time and energy in this space complaining about how designers keep trying to make fur bags happen, and usually during those rants I also wonder about why more companies aren't using faux fur for their ill-advised fuzzy bags. Few designers hesitate to use stamped croc or python, so why not a little fake mink or chinchilla? The primary argument that I see people making for real fur in outerwear is the warmth that it provides, and my phone and keys certainly don't require my handbag to maintain any particular temperature.
It looks as though Prada has answered my prayers, as it so often does. The brand has debuted a line of faux fur bags for Fall 2011, and not only are the prices half that of most real fur bags, but no cute little critters had to give up their coats to make these designs happen. That's right, I still don't really love these bags, but I dislike them less than if they were real fur and twice the price. If that makes the sense. (more…)
I love a good ad campaign. Unlike magazine editorials, ads are often designed to show prospective buyers the things that really make money for brands: Bags and shoes. Which, coincidentally, are the things we like most! Fashionista.com got a little preview of Prada's Fall 2011 ad campaign and were so kind as to share it with the masses, so we thought we'd be so kind as to do the same. Two more photos (both with more bags) after the jump. (more…)
Prada Leather Shoulder Bag | $1995 via Neiman Marcus
We have disappointed some with our lack of Man Bag Monday features, and for that I apologize. However, we are back on track now and while Vlad covered a novelty idea earlier today I have a full on leather bag to share.
Right when I saw this pop up on Neiman Marcus I knew I would cover it. If you had to ask me what type of man bag I am drawn to, this Prada bag is it. I love the idea of masculine and rugged yet not overly structured bag. This bag has it all for me, does it have it for you? (more…)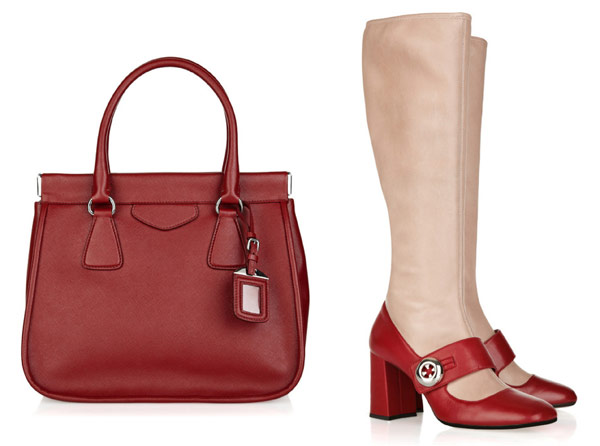 Over dinner a couple of weekends ago, a friend asked me if it ever felt silly to write about fashion in the wake of human and environmental disasters like the recent earthquake and tsunami in Japan. And, truth be told, it can feel a little bit silly at times, just as I imagine most people who work in non-public service jobs feel when confronted with such a devastating world event. Things like fashion churn on nonetheless, and sometimes (although probably not as often as we could), we even find a way to help the planet at large.
Net-a-Porter recently teamed up with Vogue and a slew of amazing designers to coordinate the Runway to Green project, which included a charity auction and fashion show on March 29 and also features a limited edition run of Fall 2011 pieces available on Net-a-Porter.com for a limited time, all of which benefit a number of environmental charities. Our favorite pieces? The Prada Textured Leather Tote and Prada Mary Jane Boots, of course. (more…)
While shopping at Walgreens today, I felt an intense sense of happiness over all of the Easter candy. Actually, any holiday-themed candy gets me giddy. I love Reese's Peanut Butter Cups, but I always love the tree, heart, and egg shape more. I guess it is my inner child.
Right when I laid eyes on the Prada Raso Pietre Clutch in Turchese my mind immediately thought candy (the jelly bean or Cadbury Mini Eggs variety). Do you see that too? (more…)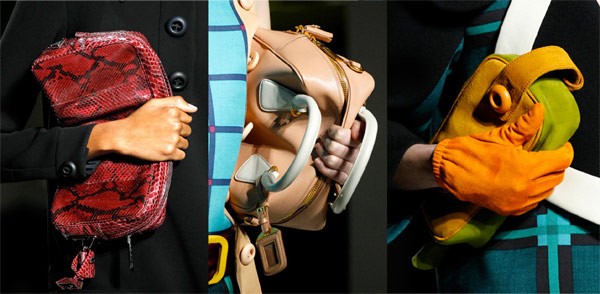 To fully judge the bags from Prada Fall 2011, I strongly urge you to look at the collection as a whole. If you like Prada's quirky retro-futurisim, you will love the 60s mod quasi-innocence of what Miuccia put together, and in the context of fall's Prada girl, the bags make perfect sense. The highly textured collection lends itself to simple, single-material bags; after all, if your ensemble already has fur, paillettes and a pair of glitter and python boots, you probably don't need a handbag that competes for attention.
That being said, I wonder how the bags will sell when removed from the spectacular clothing that provided them with a backdrop for them during the runway show. They're simple and luxurious, but they lose some of the magic of the mod look when considered on their own. Still, Prada's overall output for fall is easily my favorite of the season thus far, so I wouldn't worry too much for the company's coffers. (more…)
When you see a petite quilted flap bag with a chain strap that is intertwined with the same material as the bag itself, it's difficult not to think only of Chanel. The Prada Printed Chain Shoulder Bag didn't immediately cause that association in my head, though. Rather, my first thought was, "Ooh, nice print."
Whether or not you like this bag probably hinges largely on whether or not you like Prada's famous patterns, which are always sharp and interesting, as opposed to girly or traditionally pretty. I love them, no matter how difficult they may make it to fit a bag like this into a wardrobe. During warmer months, I think I could make it happen, though. (more…)
In a fashion landscape so varied and eccentric that the simultaneous embrace of leopard, lace, military-chic and minimalism doesn't seem all that far-fetched or contradictory in the least, sometimes we forget the charms of a simple, good thing. You know who doesn't forget that kind of stuff? Miuccia Prada. The Prada Saffiano Lux Tote is exactly the kind of bag I want to turn to when I'm feeling trend-weary. (more…)