Prada
Page 6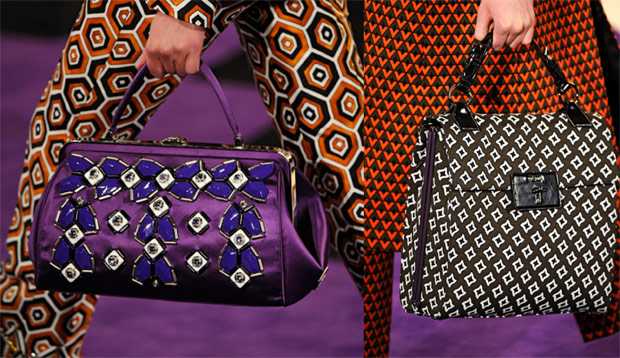 Images via Vogue.com
This may sound a tad odd, but I'm consistently impressed with Prada's dedication to designing quirky, intellectually rigorous, thoroughly modern runway collections that won't sell particularly well to anyone other than slavish fashion devotees. Few companies of a similar size are willing to put things as broadly inaccessible as Prada Fall 2012 down the runway, and that continued bravery is something that gives me a great deal of respect for Miuccia Prada as a creative force.
Whether you like these bags will hinge largely on whether or not you find Prada's signature retro-modernism enchanting. I do, so the loud 60s prints and even larger gemstone embellishments on trim, minimal bags were right up my alley. The tiny embellished minaudieres with leather shoulder straps were another odd highlight; I don't think I've ever seen bags with quite that combination of elements, which says a lot when you consider that I spend 40-60 hours per week looking at handbags. Another treat? Unlike most designers, Miuccia paired every single look in this show with a corresponding handbag. If only more brands would get on board with that idea. (more…)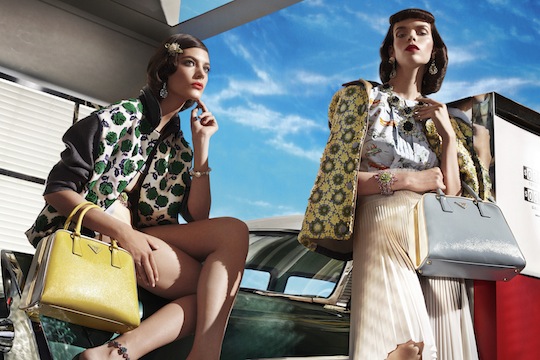 Images via Fashionista.com
We love a good ad campaign around these parts. Because most brands rely on accessories (as well as cosmetics and fragrance) to make ends meet, ads often put the bags and leather goods that we're most interested in seeing front and center in a way that the runway never does. Prada's ads are always reliably lovely, and the campaign for Prada Spring 2012 features my favorite of the collection's runway bags – the framed satchel!
You have two eyes, so I'm sure you can tell that these photos were shot at a service station as an homage to the 1950s greasers and car culture that inspired the clothes. Fashionista.com tells us that Steven Meisel shot five models for the campaign, most notably Natasha Poly, and the results are good, clean Americana fun. Check out two more shots after the jump. (more…)
Prada Raso Jeweled Clutch, $2100 via Neiman Marcus
With Prada, resort collections are always a good indication of what's coming when spring debuts, and the cutesy appliques on some of Prada's Resort 2012 bags certainly belie the flames and cars we saw on the Prada spring runway. Among those very style-specific bags, though, are a few that will likely have a much broader audience.
My favorite of the group is the Prada Raso Jeweled Clutch above, which follows in the footsteps of previous Prada evening bags and covers its entire front flap in shiny, sparkly goodness. We have a sampling of the collection's other distinctive bags after the jump, plus their price and purchase information. Not all of them have twee appliques, we promise. (Although we kind of like the lip bag? Maybe? A little bit?) (more…)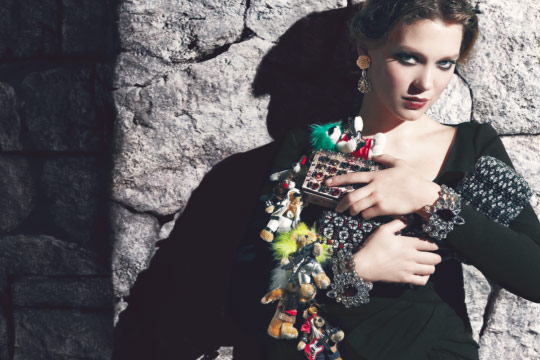 Images via Fashionista.com
Handbag lovers often get the shaft on the runway, but when it comes time to move some product and keep the company in the black (namely, ad season), brands are all about giving us lots of pretty pictures of exactly what we want to see. If you needed any convincing of that fact, just take a look at Prada's new Resort 2012 ads from the lovely ladies of Fashionista.com.
The shots, featuring model Lea Seydoux, at times literally feature more clutches than one person can hold. There's great variety among the bags too – bright exotics, ruched leather flap bags, bejeweled box clutches. If you don't look closely, you might miss a great piece, but don't stop at the bags. Prada's brand new jewelry line, launching next month, is also represented heavily. And are those a couple of Prada Bear Bag Tricks that I see? More photos and a behind-the-scenes video, after the jump. (more…)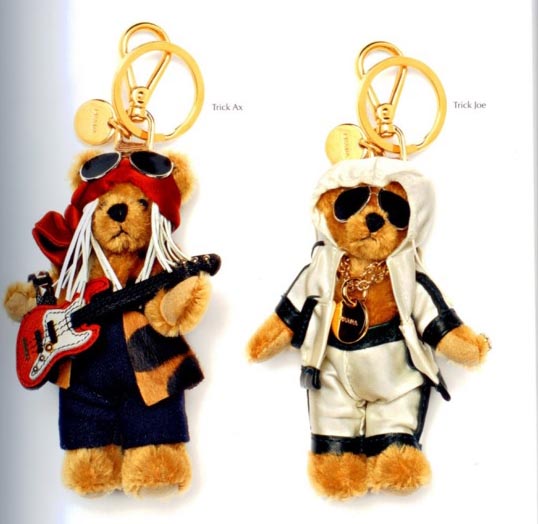 Images via Fashionista.com
You guys, it's Friday. May I repeat for everyone who's glazed over in front of the computer at work: IT'S FRIDAY. So it's time to have some fun, ok? Today, I'd like to do that with these images from our friends at Fashionista.com of the latest and greatest Prada Tricks, which is what the company calls its absolutely adorable bag charms, which are often ursine (Fancy word for bear-like, y'all. Haven't used that one since the SATs.) in nature.
Fashionista scanned these images out of the new Prada Gifts lookbook, which is why they're a tad wonky, but these little guys and gals are totally awesome nonetheless. From a thinly veiled take on Axl Rose to bears dressed as crystal-studded robots, these are the kind of whimsical, silly little things that I actually would hang from my bag with a great deal of joy. Fashionista estimates that they'll cost around $150, and we'll update you when they become available. Check out the rest of the Tricks in the gallery after the jump. (more…)
Images via Vogue.com
I have a few favorite days of the year: Christmas, Halloween, the first day of college football and New Prada Day. Luckily, New Prada Day comes twice a year (or four times, if you count Resort and Pre-Fall, which I do if I'm feeling desperate), and one of those days was yesterday! Naturally, Miuccia didn't disappoint – Prada Spring 2012 was playful, feminine and incredibly smart.
Prada's bags tend to ground her more fanciful and esoteric collections, and although this was an relatively accessible line that didn't need as much grounding as past seasons, the bags were still classic Miuccia. Glossy, structured satchels on a ladylike scale were given counterpart in crocodile clutches with elaborate midcentury hardware reminiscent of chrome automotive fixture from the era. If you'd rather go the extremely literal route, there are also a couple of clutches with leather cars stitched onto them. Check out the full gallery after the jump. (more…)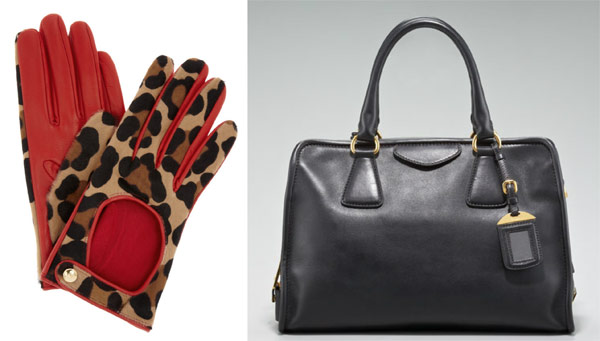 Agent Provocateur Leopard Print Calf Hair Driving Gloves, $500 via Net-a-Porter. Prada Calfskin Tote, $2500 via Neiman Marcus.
Good news: Megs and I have returned to Manhattan! Bad news: We're still getting back up to speed, so things will be a bit slow today and then totally back to normal tomorrow, and we hope that readers who were affected by the hurricane are also well on their way back to normalcy. For now, though, I'd like to spend a moment touching on my aversion to black bags.
Black, as a color, is one of my favorites. It always has been, even during childhood when most little girls fawned over pink; when everyone else in my first grade class had a pair of white Keds, I had black ones. But now, because I wear so much black clothing, wearing black accessories and shoes just feels really…dull. Even a black bag as beautiful and functional as the Prada Calfskin Tote can't make it into my wardrobe without a good game plan for spicing it up. I think that the Agent Provocateur Leopard Print Calf Hair Driving Gloves would do just the trick for fall. (more…)
Can you believe that we're already about halfway through August? I can't, but I walked past a store yesterday and saw a fall jacket that I liked so much that I bought it in two colors, realizing only afterward that I'd be able to wear them far sooner than I had originally thought.
This would probably be the place to say something profound about the inescapable march of time, but I'd much rather talk about the Prada Glace Calf Degradé Top Handle, a design for which my feelings are profound in an entirely different way. Carry this bag now, carry it in six months, it'll look good 365 days per year. (more…)