Pet Carriers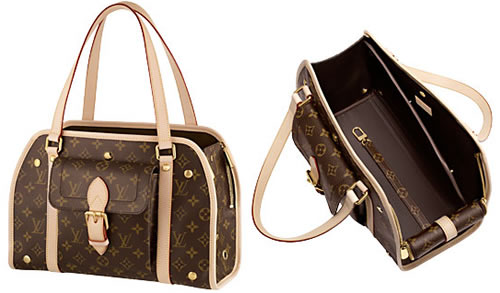 Louis Vuitton Monogram Canvas Sac Baxter PM
Am I the only one that immediately thinks of Anchorman when I hear of a dog named Baxter? Ok, so maybe you did not like the movie, maybe you did not see it, but those of you that did will understand how hard it is to hear Baxter and not think of Will Ferrell's trusty dog. I could not see Will carrying Baxter around in a pet carrier, but I know many people love to keep their pets with them at all times. Jessica Simpson has been one of the leading ladies seen carrying her pup Daisy in Louis Vuitton dog carrier. Now there is a new version released by Louis Vuitton, the Louis Vuitton Monogram Canvas Sac Baxter PM which is designed with monogram canvas and trimmed with natural cowhide. This dog carrier looks more like a handbag from the front, sporting a flapped pouch pocket with polished golden brass hardware. The side panel unzips, folds over, and secures with snaps to give the perfect luxury room away from home for your pet. Measurements are 13.8″x 10.4″x 6.5″. I have only had one dog in my life, and he is a black lab who can not fit in a dog carrier. I am not sure that if I had a small dog I would take him/her around with me everywhere, but this is a great option for the owner who loves luxury and their pup. Buy through eLuxury for $1360.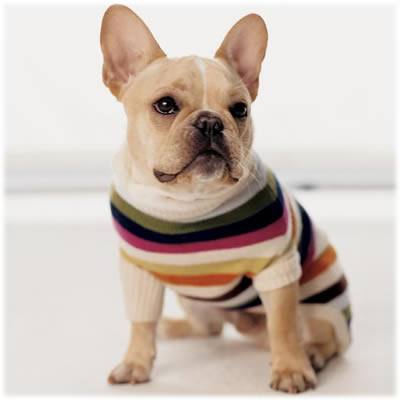 Dog is the man's best friend. Why a man's, why not a woman's? I have been from the West coast of the US to the middle of the US now am waiting to go to the East coast of the US then the South East coast of the US. Traveling with Vlad always made me smile, but this last trip he is not on me with and a dog would be the perfect companion. Now for me, if my dog were this adorable, it would be everywhere with me and wearing this perfectly fitting sweater. How cute! The Coach Legacy Stripe Dog Sweater is a multicolor-striped cashmere coat for your little pup. Available in S, M, and L, I can see myself buying this for my little pup; even if Vlad does not like it. Via Coach for $148. I wish cashmere for people was that cheap! What are the odds of me stretching the large to fit me?? Just kidding…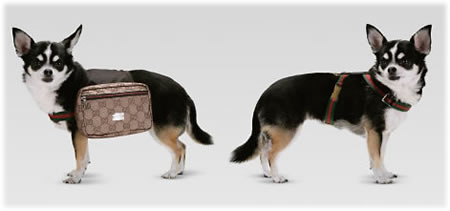 My dearest Gucci,
As the owner of a dog I must say that your little contraption, the Gucci Dog Backpack, is not only pointless but plain stupid. Last time I checked my dog has no accessories to carry around with him, rolls in dirt, slobbers, uses his tongue as a washcloth, and eats other dogs 'excretions' if you will. Why on Earth does he need a backpack? Let me think it through.
Option 1) to carry treats around you may argue. Well really? My dog will eat anything, I mean anything. Give him metal, he will eat it, glasses, excretions, asparagus, and his own vomit. So seeing that dogs have a very strong sense of smell, placing a backpack on him that carries threats would inevitably have him contort his body, roll around non stop, bite, bark, and squeal until he got that bag near his mouth. He would then proceed to eat the classic GG nylon fabric, brown leather trim, and side-zip pockets until he found the treat.
Option 2) To carry his own accessories in it. Ok I did not buy one of those cute huskies from 8 Below. My dog lies in the sun and walks around the neighborhood. Is there anything so important that he will need that for? I will go out on a limb here, but I bet my dog is like most others- he is not a working dog, he is a pet.
Option 3) To make him the trendiest dog on the block. Erhmm, does he even see color? Does he need to know that there is red and green webbing on his backpack that so perfectly rests on only one side of his body? Afraid not.
For $410 (via Gucci) I think I will pass because all of the options above for why this dog backpack was even needed to be made have failed to ring a bell in my mind.
Sincerely Yours,
Purse Blog
P.S. If you really think this is the best invention ever, can you at least make it to fit larger sized dogs? I would hate for Nitro to think you have excluded him.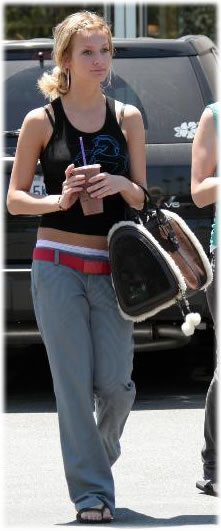 The phrase 'zoned out' can be personified with Ashlee Simpson. New nose, makes new face, makes new ego, makes new 'zoned out' empty Simpson sister. Ashlee does love her pet though and sports her pup in an UGG Dog Carrier. The UGG Dog Carrier is made of plush shearling and features rubber mesh on the front, back, and top for fresh air. Practical with tons of storage space and the option of two carrying handles or an adjustable shoulder strap, this pet carrier can keep your best friend riding in style. While Ashlee really does look empty in the picture, I must applaud her choice of pet carrier for not being too expensive for an animal that has the option to go potty in the bag. Buy it through Amazon for $260.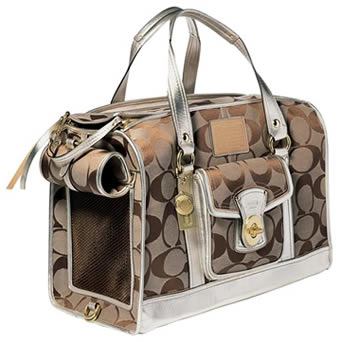 I am a dog lover, a big dog lover (literally). I am not sure why, but small dogs are not for me. It could be because I am 5'10 or the fact that I do not want to step on my animal. Either way, dog carriers would never fit a dog that I will own. A dog carrier that screams 'look at me, look at me' is even less my style. The Coach Dog Carrier is no doubt made with designer love but is over-logofied. The side mesh window with buckle closure is exactly where I would hide if I were being carried in this contraption.
The signature jacquard fabric with metallic leather trim will take away from your pup in my opinion. Measurements are 17 (L) x 12 (H) x 9 1/4 (W). Buy it via Coach for $398.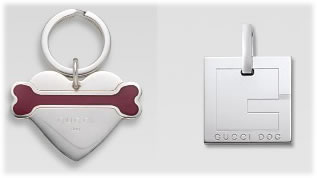 Finishing off the day of man and woman's best friend, is a pup accessory by high end designer Gucci. Gucci may be known for their designer bags, elegant gowns, and comfy shoes, but their pet department is growing. After visiting their boutique in NYC over the weekend, I realized they really do love pet accessories (many are so pointless- like a pet sun visor!). But different strokes for different folks. If you love it and you can afford it, why not. While pricey for a drooling animal that sniffs other's rears, the Gucci Dog Pendants are chic and shiny. On the left we have my favorite, the Gucci Heart and Dog Bone Pendant. This pendant is a heart shape made of nickel-plated brass and has a red (enamel) bone going through the middle. Buy it through Gucci for $90. And on the right we have the pendant that makes me laugh at the ridiculous engraving. The Gucci Square G Dog Pendant is made of sterling silver and has "Gucci dog" inscribed. Umm… that is soooo not me or my family or my dog or my great-great-grandchildren's dog. If someone lost their dog and it was wearing that tag and I found it, I would have to laugh for an insane amount of time. But maybe you dig it. If so it is available for a Gucci price for your indulged Gucci dog through Gucci for $185.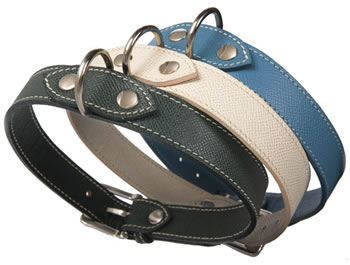 I am realizing one thing today; I am leaving out any animal that does not bark (with the exception of barking parrots, cats, fish, snakes, mice, ants, etc). So for all of you non-doggie animal owners: send me anything you would like me to cover for your precious pet! Some dog owners are not big into glitz, glam and costumes. Take my family for example and the recent Dog Star Nitro. Nitro is just a regular black lab. He fits into that typical American family, which many say we are. My family would never turn Nitro into Paris Hilton's Tinkerbell, rather keep him simple. He can be simply stylin' in a leather collar. The Barney's New York Palmellato Dog Collar is designed from grained leather and is available in a variety of colors. This way your simple pup can still show off his or her different moods. For example wear light orange on a sunshiny summer day or black when trying to be low key ;-). The collar measures 55 cm in length and is 2 1/2 cm wide. Choose from a variety of colors via Barney's New York for $35.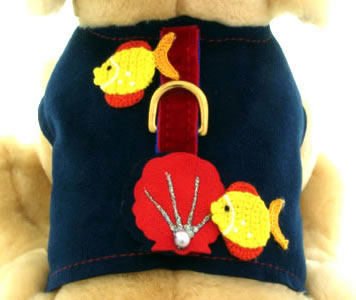 While summer is upon us (trust me, I feel it to the highest degree), there are still some nights that will be cool. And for those chilly nights, your little pup might need a bit of warmth. Because I equate summer with the ocean, the Aquatic Theme Dog Harness would be perfectly fitting for the season. The harness is designed of microsuede and fastens with Velcro. As far as sizing goes, there are 3 available sizes; 8″, 10″, and 12″. Unfortunately, my beloved Nitro is considered a 'heavier' breed so this is not suitable for him nor is it suitable for any 'aggressive pullers'- so that takes out my Aunt's Westie, Casper. But, some of you may have the perfect little pup that would look adorable in this harness. Buy it via Snooty Pets for $35.99.

After a hectic but amazing trip to NYC, I am back and ready to talk about… pets! It seems that we all love our animals so much. Nitro, my beloved Lab, has been getting quite the spotlight on the main page of the site lately. He is experiencing his 15 minutes of fame and enjoying it very much ;-) Since I am sick and feeling my animal loving side coming out today we have some exciting things for you all. First, some bags and accessories for your amazing animal. But the best part is we do have a contest that involves fashion and your animal coming up later today. Vlad will be posting what it is all about. Sit patiently and let the games begin!
To kick off today, how about a completely unnecessary designer water bowl. Ah, yes! The Goyard Pet Travelling Bowl is exactly what any posh pet needs on the family vacation. Goyard decided that your pet needs to travel and continue to experience an extravagant lifestyle, so there is a foldable easy to carry bowl. The bowl features the Goyard signature print on the outside and two metal bowls on the inside. Inquire more for your pet's posh traveling through Goyard.
So many owners of small dogs love carrying their itsty bitsy in pet carriers. But if you really want to accessorize your pooch, why not turn your dog into your bag. Sounds weird, I know, but it is do-able. Actually, the way that Pampered Puppy shows these puppy purses has me laughing. Your dog can be worn oh-so many ways, including around the waist as a fanny pack, like a messenger bag, a tote, or you can remove the straps. HAHAHA. Read on…
Shorten the straps and wear your PuppyPurse like a shoulder bag – perfect for a window-shopping excursion. Lengthen the straps to wear it across your chest for added comfort and stability on those longer walks or adventurous hikes. Readjust the straps and wear the PuppyPurse like a fanny pack – great for tandem power walking or if you just need to free up both arms. The straps are removable and every PuppyPurse comes with a set of tote handles for carrying your dog by hand. And should your pup actually want a break from all the pampering to get some exercise, you can also detach one end of the strap and use it as a leash!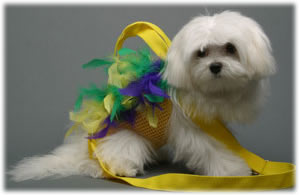 Since Mardi Gras is approaching quickly, why not deck your dog out in appropriate purse attire. The Mardi Woof Puppy Purse shows off color and flair with feathers and an aerated body. Buy it through Modern Tails for $59.95.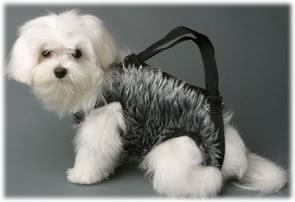 Next, if you are looking to make your furry dog look even furrier, there is the Yummy Yeti Puppy Purse. This shaggy, faux fur 'purse' seems so overly odd to me that I just laugh. Available for $79.95 through Modern Tails.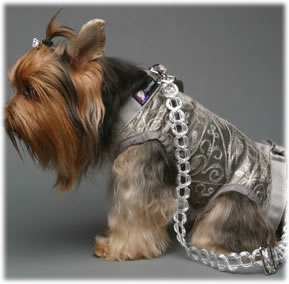 If you have the pup that needs to be the center of attention, why not take a look at the extravagant Ruffington Steele Puppy Purse. From the chain to the silver embroidery thread, this carrier just has me wondering if this is all real. Buy it via Modern Tails for $79.95.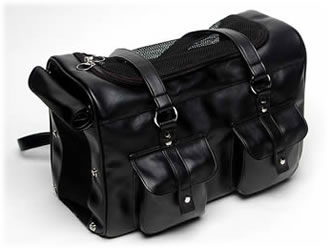 A dog is a man's best friend- or a woman's of course! That statement must be right. While my mom takes care of my puppy at home, I feel lost! He's the nicest dog you will ever meet. If I could, I would carry him by my side. But he is a black lab- which would make him a little silly to carry around. But if you are lucky enough to be able to tote around your puppy, looking for the perfect dog carrier is key. We have all seen some fashionable dog carriers, but how about a sleek and perfectly practical one? Jennifer from Bella Paris brought the Lucy bag to my attention and I had to pass on this chic design to you all! Jennifer explained to me that they have received "cool write ups and press due to the fact that our carrier is "low key" and unisex unlike most of the carriers you see these days. It's cute, functional, hip and comfy for your little pup".
The Bella Paris Lucy Dog Carrier is a luxurious and simple accessory that will be chic for both you and your pet. The list of features on this bag are endless. To touch on a few of them: U shaped dual-zipper mesh roof for easy access and view of your pet, a dual zipper mesh door on one side for easy entrance and exit for your pet, an additional outside large zipper pocket personal items, a roll down window cover if you'd like to hide your precious pup (as in if your a celeb and your pup is having a bad hair day), a stiff body to maintain the structure, and the bag is approved by most airlines for your carry on. This carrier measures 16"L x 10"H x 8" W. If you have been looking for a practical, sturdy, and chic pet carrier buy the Lucy carrier through Bella Paris for $110.
This is Nitro- my black lab. The pic is a little blurry, but he is still adorable!!!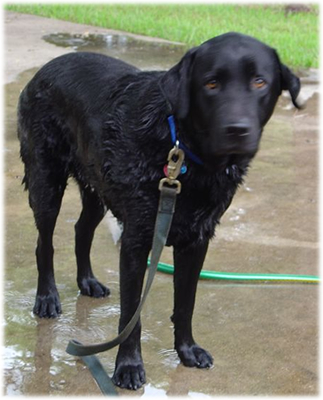 ** And since this post is devoted to our loves, let's all see your animals too!! Post 'em on the forum under my puppy! :-)