Personal Appearances
Economic conditions have been tough for a lot of luxury companies lately, but the brands that are weathering the recession the best seem to be the ones with the healthiest sense of history. Companies like Louis Vuitton and Gucci have both launched recent initiatives to link their storied pasts to their modern presents in the minds of customers, and it looks as though Chanel is dipping its perfectly manicured toes into similar waters.
Starting on May 8th, Chanel's New York flagship on 57th Street will host The Secrets of the Chanel Handbag, an exhibit demonstrating the construction and history of the company's iconic purses. Displays explaining how the bags are built and how they've evolved over the past half a century will be there, as well as a number of bags from the brand's Paris archives. This may be your only opportunity to see some of these pieces in person, so if you're in New York City, consider dropping by and having a look (and if you get pictures of anything, send them our way). The exhibit will run through May 16.
If you are in NYC today, stop by Bergdorf Goodman to meet Carlos Falchi and his daughter. Carlos Falchi is one of those inspiring people that truly loves what he does and puts every bit of passion into his work. And then there is Bergdorf Goodman, completely ubiquitous of NYC and one of the best shopping experiences in the world.
Stop by and say hi to our friend Carlos and his daughter today from 1-5 PM on the main floor of Bergdorf Goodman.
Tomorrow I have the pleasure of hosting a Be&D Trunk Show and Personal Appearance in South Miami with one of the founders, Steve Dumain. I met Steve previously and have been looking forward to having the chance to see him again. What better way than to spend time together talking about Be and D bags and meeting people.
If you are in South Florida, stop by. We will be at Capretto Shoes in South Miami from 11 am until 5 pm. Hope to see some of you there!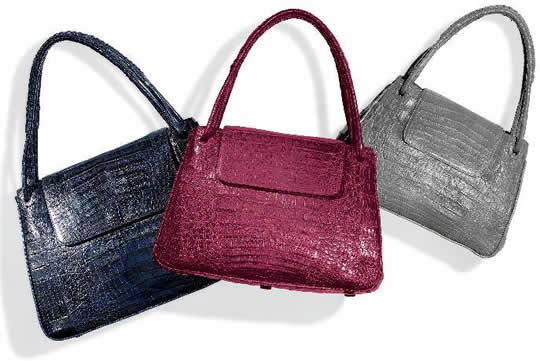 WHO: Nancy Gonzalez, designer of the renowned handbag collection, will make a personal appearance at Saks Fifth Avenue New York.
WHAT: Trunk Show and Personal Appearance by designer, Nancy Gonzalez. Just in time for Fall, she will be introducing a new handbag style exclusive to Saks Fifth Avenue. The handbag will come in three sizes and a variety of colors that are exclusive to Saks.
WHERE: Saks Fifth Avenue, New York. 611 5th Avenue
WHEN: Thursday, October 1, 2009 from 4:00 pm – 6:00 pm
If you are in NYC make sure to stop by Saks to check out the Fall 2009 handbag collection from Nancy Gonzalez. There will also be three styles designed exclusively for Saks Fifth Avenue New York.
Rebecca Minkoff will be making many personal appearances in the upcoming weeks. Kicking the chain of events off, Rebecca Minkoff will be at Zoey Bloom for a personal appearance and Trunk Show in Tampa, Florida tomorrow. If you in the Tampa area, this is an event you don't want to miss! Also, we have been told that many brand new, not yet in stores, merchandise will be at the Trunk Show for this event.
Meet & greet, Rebecca Minkoff and enjoy a glass of wine, snacks, friendly conversation with her at :

Zoey Bloom
1710 S. Dale Mabry Hwy
813.251.1706
Saturday, May 2
12pm to 6 pm
Hope some of you can attend!!
Yet again, another lucky day for all of you in the NYC area. Wednesday, April 29th head on over to Henri Bendel to meet the amazing Adriana Castro and enjoy a fabulous trunk show! Adriana will be there to greet customers and also to help customers custom make their bags. You can choose from signature styles, colors, skins; crocodile, lizard, python to name a few skins…and finishes; glazed, matte, metallic, stone wash…
And of course, if you can attend, make sure to come back and tell us all about it!
One of the most interesting men in the handbag industry we have met will be celebrating 30 years starting tomorrow. Carlos Falchi began his journey 30 years ago when he moved to NYC. Since then his designs have continued to be top contenders in the designer handbag world, finding their way into the arms of celebrities and handbag lovers alike.
Tomorrow at Bergdorf Goodman a retrospective exhibition will feature reproductions of Carlos Falchi's most beloved classics and his latest collection including one-of-a-kind designs inspired by his love of New York. The event will take place on the first floor of Bergdorf Goodman and go from 1 p.m. to 4 p.m.. We have been huge fans of Carlos Falchi handbags and while we can not make the event tomorrow, we are excited to see the one-of-a-kind bags for Bergdorf along with the line of bags dedicated to New York City that he comes up with!
If you are in the NYC area this is an event you won't want to miss. Carlos Falchi is one of the most interesting people to speak with, tell him we say hi!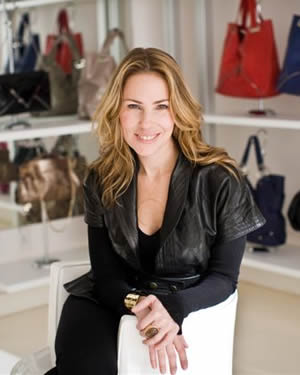 So, it's Monday, after a holiday weekend. I know many people made their weekend a long one, and could possibly be dragging their feet today. Well, the good news is we have an amazing opportunity to share with you, a bit of a Monday pick-me-up if you will. A little while back, Megs and Vlad had the chance to interview Kooba's Creative Director, Abbe Held. They had a great time meeting and getting to know Abbe a bit better. Well, today, if you happen to be in the NYC area, you too can meet Abbe! And for those of you who get a chance to go to this event, please come back and tell all of us about it. Since I can't make it, I'll have to be ok with living vicariously.
Who: Kooba Co-founder and Creative Director, Abbe Held
What: Henri Bendel Trunk Show and PA with Abbe Held
When: Monday, April 13, 2009, 4:30- 6:30PM
Where: 712 5th Ave New York, NY 10019 – (212) 245-8346
Why: Come to Henri Bendel's to see the Spring 2009 line and meet Abbe Held, co-founder and creative director of Kooba! Free Kooba make up pouch with purchase.
I am late on posting this, but this is a personal appearance that I would absolutely positively love to be at right now! Tomorrow this opportunity will still be going on, so make sure to stop by Bergdorf Goodman to not only meet Nancy Gonzalez, but also the fashion director of Bergdorf Goodman, Linda Fargo.
WHAT: Come Meet Designer Nancy Gonzalez and Bergdorf Goodman Fashion director Linda Fargo
WHERE: Bergdorf Goodman
WHEN: April 3rd and 4th. 2-4 pm
WHO: Nancy Gonzalez, synonymous for creating luxurious exotic-skin handbags introduces its first named handbag: "The Linda bag". This bag is available exclusively at specialty store Bergdorf Goodman, the bag is named after Linda Fargo, the retailer's Senior Vice President, Fashion Office & Store Presentation. The celebration of "The Linda Bag" will be at Bergdorf Goodman on April 3rd and 4th with the chance to meet Linda Fargo and Nancy Gonzalez on the 3rd from 2-4 pm. Clients will be given the rare opportunity to custom make a bag, choosing from over 30 colors and finishes, while receiving design help from both Linda Fargo and Nancy Gonzalez themselves. The Linda bag comes in three sizes and ranges in price from $2,950 to $5,000.
WHAT: Nancy Gonzalez Trunk Show and Personal Appearance by designer, Nancy Gonzalez
WHERE: Saks 5th Avenue, Bala Cynwyd , PA
WHEN: November 14th, 2008 from 11:00 am – 4:00 pm
Nancy Gonzalez bags have become highly coveted accessories, focusing on exotic materials and popping color palettes. Nancy's bags have graced the arms of handbag lovers worldwide who turn to her for a beautifully made bag, with a luxurious material, that sets an outfit apart from the rest. Her focus on color comes from her Colombian roots, as not only the culture affects her designs but so does the climate. "The 365 days a year of brilliant blue sky, the incredible plumage of birds, a green like nothing I have seen anywhere else – that is the beauty of Colombia," says Gonzalez. The collection is designed and produced in Colombia and is available at retailers including Harrod's of London, Aizel of Moscow, Isetan of Japan, Joyce of Hong Kong and Bergdorf Goodman, Neiman Marcus and Saks Fifth Avenue.
Unfortunately, this PA is not near us, so we can not attend. But those of you in PA should make sure to check it out, it is an opportunity you do not want to miss!
Carlos Falchi bags are known for their exotic skins and bright bold colors. Carlos Falchi is not afraid to experiment with colors, which is evident from the
patchwork East/West tote we reviewed earlier this summer. So if you would like to be able to meet Carlos Falchi or see his designs, make sure to check out his trunk show schedule!
Sept 4-5: Bergdorf NY Trunk Show and Personal Appearance 12-4
Sept 19: Neiman Marcus Houston Trunk Show and Personal Appearance 12-4
Sept 20: Neiman Marcus Northpark Trunk Show and Personal Appearance 12-4
Sept 25: Saks Boston Trunk Show only 12-4
Sept 26: Saks Chicago Trunk Show only 12-4