57 results for
colorblocking
At PurseBlog, we understand that spring's trend toward bright colorblocking can be intimidating, particularly when you decide to do it in a minimal way a la Jil Sander Spring 2011. In those kinds of ensembles, there's nothing to hide behind – it's just you and your colorful pants, out there for the world to see. Depending on your personality, that thought might either be exhilarating or terrifying. If it's the latter, consider throwing a bag like the Veda Ursala Bucket Bag in black leather or camel suede into the bright, shining mix. (more…)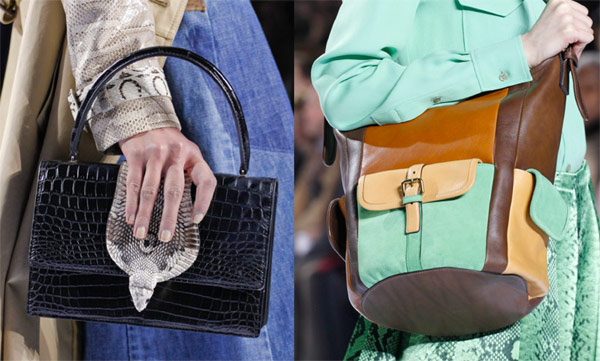 The more I look through the handbags from Chloe Fall 2011, the more I wonder who the Chloe girl is. I also wonder if Chloe's accessories designers know the answer to that question, or if they've chosen instead to hope that they can make everyone feel like a Chloe girl by creating a collection that eschews a unifying aesthetic in favor of encompassing a group of ideas that are seemingly not related.
If you like hard-lined, ladylike handbags in exotic materials (or bags with actual animal heads), Chloe has a bag for you. If you spent all of your childhood lusting after your mom's Coach bucket bags, well, there are plenty of designs that look like those as well. Are you a hippie who likes colorblocking and whipstitching? You're not left out, either. Of course, bags aren't sold as a collection; they're sold as individual pieces to individual women who probably don't care what the rest of the bags in the collection look like as long as they love the pieces that they're buying. Still, though, I can't shake the impression that this is a collection without an identity, and I'm not sure how you go about marketing that. (more…)
Many of my choices for our Want it Wednesday category are both exotic and rather pricey. That is part of the lust factor – we all love something and yearn for it a little more the more it is out of reach. And as much as I love a holy grail dream list, I prefer floating on clouds of reality.
Colorblocking is a huge trend for spring and will continue to be prevalent into next fall. With everyone talking about colorblocking, I was thrilled to see many design houses giving us handbag options that fit the trend ever so perfectly. Fendi is not always on my radar, but their Spring 2011 collection caught my attention early on.
And this Wednesday I am wanting to add the Fendi Silvana Flap Top Bag to my spring wardrobe. (more…)
The luxury accessories market is crowded with seasoned competitors all vying for consumer attention (and consumer dollars), which can often make it well nigh impossible for a new handbag line to turn heads, particularly the heads of people whose job it is to look at handbags all day. (Ahem, yours truly.) Somehow, the Reed Krakoff Inside Out Leather and Snakeskin Tote managed to not only make me take a second look, but it made me do so by being inventive in a way that's not only quite unique, but still totally subtle and functional at the same time. When being different usually also means rendering a piece unwearable or unusable to most of the buying public, that's quite a design feat indeed. (more…)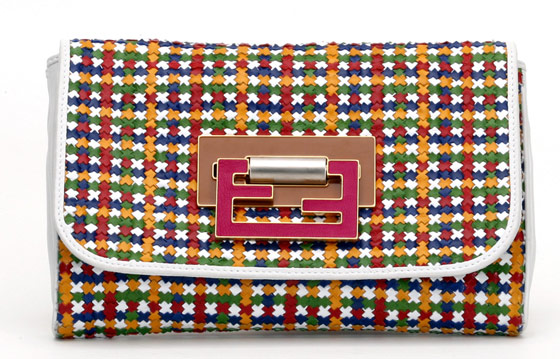 You may or may not have liked Fendi's Spring 2011 handbag collection, but you can't argue that it was what fashion industry people call "directional." Instead of merely designing safe, pretty accessories, Fendi's handbags gave us a new way to think about combining color, structure and texture.
Vogue.com chose this Fendi Multicolor Woven Clutch to illustrate spring's colorblocking trend in its Accessories Blackbook, but upon close examination, the design is interesting for more than just its use of color. (more…)
Last Thursday on the new episode of Project Runway, we got something that all fans of the show are well used to: a challenge where they pretend that the hair or the makeup totally matters so that they can have the Garnier or L'Oreal people on to shill for a minute or two, and then they completely ignore the hair or makeup unless it's an epic fail.
Luckily for us (and unluckily for one of our designers), we actually got an epic hair fail. Did it matter? Well, we'll talk about that.
Thankfully, the challenge also had another dimension – it had to be based on one of the four…elemental thingamabobs? What do you call them? I mean, I wasn't really a science wiz in school, but I'm fairly sure that "fire" isn't on the Periodic Table, so it's not an element…whatever, they all had to pick cards from the magic Deck o' Choices and design an outfit based on Earth, Wind and Fire…err, no, it was earth, air, fire or water. There. Challenge explained. (more…)
This week, dear readers, Project Runway had one of those oh-so-sublime "alternative materials" challenges. Our top ten (really, they were celebrating that? Top ten is not even making it halfway…) designers were sent to a hardware store by Princess Michael Kors and told to gather enough random objects to somehow make clothing, but then when judging came around, the judges couldn't decide if they really wanted the designers to turn something hard into something soft or not. Some designers got chastised for it, others were applauded.
Huge, annoying judging inconsistencies aside (but not too far aside – we'll get to them later), it was nice to see a non-fabric challenge, since those appear to be a fairly accurate bellwether of who will survive and who will eventually be auf'd. In the world of Project Runway, if you can't make a dress out of sheet metal, you shan't be long for this world. Likewise, it's the Tin Man catastrophes that we all enjoy the most, and it's not as fun when the designers are merely screwing up regular fabric. This episode was great because it separated the real contenders from the straight guys, and it was about time that that happened. (more…)
Yay, new Gryson! I feel like it's been a while since we've seen new bags from them, and although I haven't adored their previous collections, I think they have a ton of potential to innovate and make great things. And I think I was right, if the new iteration of the Gryson Lola Tote is any indication. Dark pink and black is one of my favorite color combinations, and the bold colorblocking on this tote (it almost looks like it'd hang like a hobo when worn…a tobo!) makes it wearable in more ways than if it had been combined as a pattern or in a more intricate way. When there's a pattern, it becomes difficult to match a bag to clothing with any kind of pattern, so I recommend bags with large swaths of color, if a bicolor bag is your think. The leather also looks pretty fantastic on this bag – soft, matte, thick. All the reviews I've read of Gryson bags in the past have said wonderful things about the materials that are used, and I can see why. When a big is going to by simple in design, such as this one, leather quality is an absolute and total necessity – it becomes to feature point of the bag. It's clear from the pictures that this company's designers understand that. Buy through Saks for $795.