57 results for
colorblocking
Marc Jacobs Python Contrast Tote, $3795 via Bergdorf Goodman
Although I wasn't a huge fan of Marc Jacobs' Spring 2012 runway bags, his Resort 2012 collection has been on my radar for months. The mid-season line has some of Jacobs' chicest designs in quite a while, mostly because the bags are without gimmicks. Instead, what you'll find is clean lines and supple leather in the kinds of color combinations that feel very current.
The other notable thing about these bags is the return of the Marc Jacobs Venetia, but in an altered state. Back in the mid-2000s, the Venetia and its iconic buckled pockets were a staple of Marc's in-demand accessories line, and now the shape is back, without its pockets, for a second tour of duty through the handbag wars. Check out more of the bags after the jump and let us know if any of them tickle your fancy. (more…)
I love colorblocking. I love the way the seemingly simple trend took over the fashion world quickly and had everyone feeling like some novel idea was introduced in a ground-breaking manner. Yet the trend works so well on everyone, showcasing solid colors paired together to give a sleek yet bold look. The handbag world has taken to the trend as well, with many designers releasing versions of the trend that they believe will get people buzzing. But as always, some do it in a way that draws us in, and others totally miss the mark.
Chloe missed the mark with its Gabby Bucket Bag and its sister bag, the Chloe Gabby Mixed-Snakeskin Duffel is just as bad, if not worse. (more…)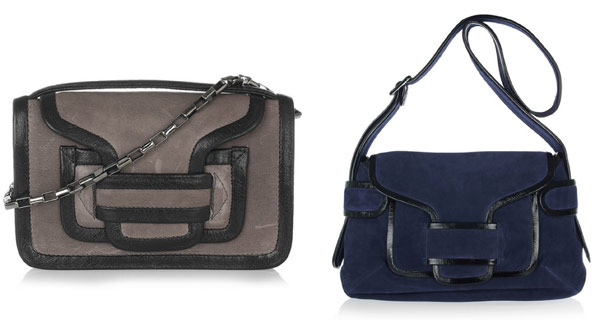 Pierre Hardy Leather Clutch, $700. Pierre Hardy Suede and Patent Shoulder Bag, $1350. Both via Net-a-Porter.
For most of you, Pierre Hardy isn't a new name by a long shot. The French designer is largely famous for his footwear, and his gloriously modern wedges in particular are what garner most of the (well-deserved) attention that comes his way. But what about Hardy's handbags?
His bags have been a cult favorite for years, but more and more retailers seem to be amenable to the charms of Hardy's bold, graphic designs. Particularly in the face of colorblocking and New Minimalism, the collection's omnipresent thick, contrasting leather trim and limited hardware fit right in with what's going on in the industry now. Several Pierre Hardy bags just popped up on Net-a-Porter for fall; you can check out larger pictures of my favorites after the jump. (more…)
Meredith Wendell Bucket Leather and Canvas Shoulder Bag, $795 via NAP
Colorblocking. Every fashion magazine and fashion lover has been both talking about and sporting this trend for the last few months. Funny thing is, we have all done it with many of our outfits before, yet right now the focus is on extreme lines and colors paired together in an eye-catching way. Many designers in the handbag world have taken a stab and many have failed (remember the Chloe mess we shared earlier this week?). If you are looking for a handbag designer to turn to for the perfectly colorblocked bag, Meredith Wendell is your girl.
I've had this bag saved in my tabs list for over a month now meaning to share it with you. I adore the school boy coloring and design of the Meredith Wendell Bucket Leather and Canvas Shoulder Bag. (more…)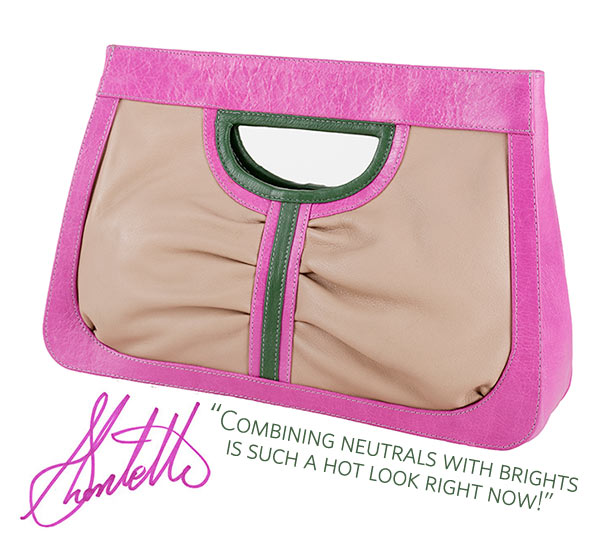 I have a little secret, today's bag in our Free Endearment + Shontelle giveaway is one of my favorites. Completely on-trend, a bit of bright pink and green colorblocking looks amazing against neutral leather.
Today we are giving away the Free Endearment Corinne-Bone/Green/Pink Clutch. Priced at $265, this clutch will amp up any outfit. Dimensions are rather spacious, 9″ x 14″ x 3″. Like other Free Endearment bags, usability is key as this bag offers flat and zipper pockets on the front and back interior wall of the bag. Colorblocking remains a huge trend and this clutch will fit right in. Click to find out how to enter!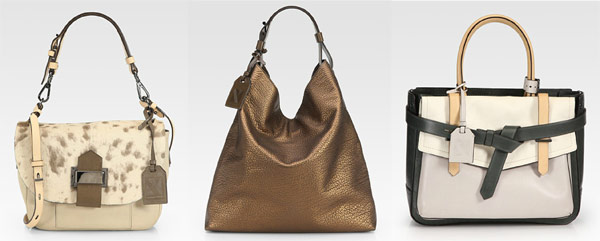 Reed Krakoff Kit Bag, $1390. Reed Krakoff RDK Hobo, $1290. Reed Krakoff Boxer Tote, $990. All via Saks.
Sometimes I feel the need to reiterate this point when I sit down to write yet another post about a brand that I love: Reed Krakoff has never given me a free bag, a discount on a bag or any kind of perk whatsoever in exchange for a post. That kind of thing is rampant in the fashion industry, but neither Megs nor I would ever accept any kind of swag if we were asked to give a brand positive coverage in return, because that's just not how we operate. We have more respect for our readers than that, and we'd never sell you out for a freebie. And it sort of sucks that I even have to say it, but unfortunately, it's not guaranteed in this business.
With that in mind, perhaps Reed Krakoff should be paying me for all the nice things I've said about his company. But alas, he's not. I just really like the bags. Almost all of them, except for a stray stinker here and there, which is a problem for every brand. Saks.com just got a new shipment, and I couldn't pick which one of the bags above to feature, so I thought I'd incude all three. (more…)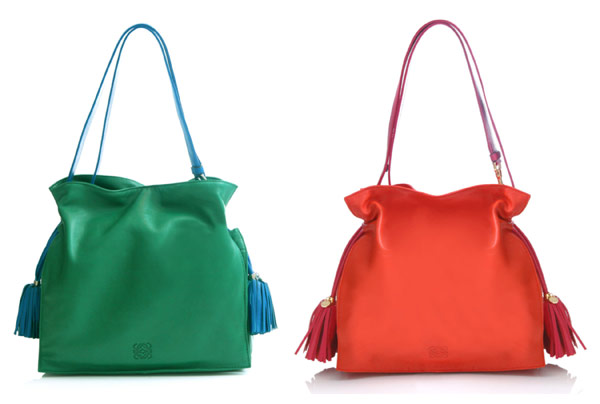 Loewe Flamenco Bag, $1726 via Matches in green and orange
If you've never seen a Loewe (pronounced Low-AY-vay) bag in person and they brand is available in your area, I'd encourage you to seek them out for a test drive around the department store or boutique of your choice. I still can't understand why so many starlets choose to carry the canvas version of the company's Amazona bag; leather is where the bags shine most brightly. And as with all brands that put an emphasis on materials, an in-person viewing is necessary to get the full effect.
Take the Loewe Flamenco Bag, for instance. It looks perfectly lovely in these photos, but a jaunt to Bergdorfs to visit one of its close cousins yesterday afternoon (and to buy the new Chanel Fall 2011 nail polishes) fully fleshed out my sense of the bag. You see that leather? It's amazing. The colors are vibrant. And this design, unlike the tote that I saw from the same line, can be used as either a shoulder bag or a crossbody. (more…)
Just when I was beginning to wonder if Coach president Reed Krakoff could continue to replicate the smashing success that he's had in the very short life of his eponymous label, Reed Krakoff Resort 2012 comes around to prove it to me. Ladies, this line isn't just a flash in the pan.
When I was flipping through the press photos, it was the Reed Krakoff Boxer Bag that you see at left that really proved to me that there's something major here. The design deftly takes the current trends of brights and colorblocking and translates them on the one of the brand's signature pieces without losing the integrity of the Krakoff aesthetic or the excitement of the of-the-moment look. Combining two disparate ideas isn't an easy thing to do, but that's exactly how all of these bags feel: Easy. In the best possible way. More photos after the jump. (more…)
Yves Saint Laurent Lucky Chyc Colorblock Tote, $1350 via Net-a-Porter
By now, we all know what spring's big trend are: Colorblocking, mixed brights, pink and orange, brights contrasted with neutrals. We've all been saying this since the collections made their fashion week debuts six months ago, and those looks have made their way to retail with a vengeance. And in the case of the Yves Saint Laurent Lucky Chyc Colorblock Tote, they've all showed up in one design. (more…)