53 results for
colorblocking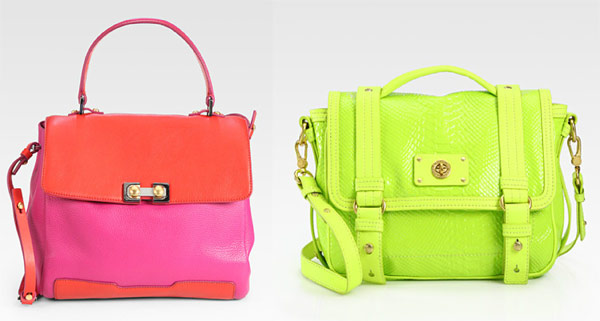 To me, the combination of Marc by Marc Jacobs and the brights trend always seemed like a complete no-brainer. In fact, I expected to see an MbMJ collection chock full of neon a full year ago, when the look was just getting started. It's the kind of thing that appeals so obviously to the Marc demographic that the marrying of the two was only a matter of time.
Surprisingly, though, it took a tad more time than I expected. MbMJ has dabbled in brights here and there in the past few seasons, but the Marc by Marc Jacobs Bob's Memphis Trip Colorblock Top Handle and the Marc by Marc Jacobs Totally Turnlock Python-Embossed Messenger are the two biggest, boldest examples of colorblocking and neon that I've seen from the brand. It's about time. (more…)
Yves Saint Laurent Lucky Chyc Colorblock Tote, $1350 via Net-a-Porter
By now, we all know what spring's big trend are: Colorblocking, mixed brights, pink and orange, brights contrasted with neutrals. We've all been saying this since the collections made their fashion week debuts six months ago, and those looks have made their way to retail with a vengeance. And in the case of the Yves Saint Laurent Lucky Chyc Colorblock Tote, they've all showed up in one design. (more…)
Just when I was beginning to wonder if Coach president Reed Krakoff could continue to replicate the smashing success that he's had in the very short life of his eponymous label, Reed Krakoff Resort 2012 comes around to prove it to me. Ladies, this line isn't just a flash in the pan.
When I was flipping through the press photos, it was the Reed Krakoff Boxer Bag that you see at left that really proved to me that there's something major here. The design deftly takes the current trends of brights and colorblocking and translates them on the one of the brand's signature pieces without losing the integrity of the Krakoff aesthetic or the excitement of the of-the-moment look. Combining two disparate ideas isn't an easy thing to do, but that's exactly how all of these bags feel: Easy. In the best possible way. More photos after the jump. (more…)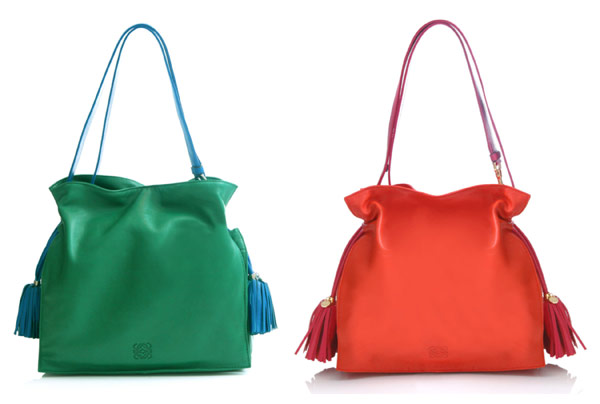 Loewe Flamenco Bag, $1726 via Matches in green and orange
If you've never seen a Loewe (pronounced Low-AY-vay) bag in person and they brand is available in your area, I'd encourage you to seek them out for a test drive around the department store or boutique of your choice. I still can't understand why so many starlets choose to carry the canvas version of the company's Amazona bag; leather is where the bags shine most brightly. And as with all brands that put an emphasis on materials, an in-person viewing is necessary to get the full effect.
Take the Loewe Flamenco Bag, for instance. It looks perfectly lovely in these photos, but a jaunt to Bergdorfs to visit one of its close cousins yesterday afternoon (and to buy the new Chanel Fall 2011 nail polishes) fully fleshed out my sense of the bag. You see that leather? It's amazing. The colors are vibrant. And this design, unlike the tote that I saw from the same line, can be used as either a shoulder bag or a crossbody. (more…)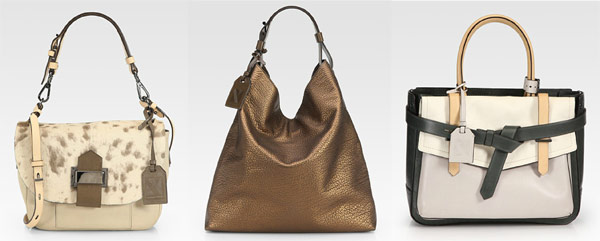 Reed Krakoff Kit Bag, $1390. Reed Krakoff RDK Hobo, $1290. Reed Krakoff Boxer Tote, $990. All via Saks.
Sometimes I feel the need to reiterate this point when I sit down to write yet another post about a brand that I love: Reed Krakoff has never given me a free bag, a discount on a bag or any kind of perk whatsoever in exchange for a post. That kind of thing is rampant in the fashion industry, but neither Megs nor I would ever accept any kind of swag if we were asked to give a brand positive coverage in return, because that's just not how we operate. We have more respect for our readers than that, and we'd never sell you out for a freebie. And it sort of sucks that I even have to say it, but unfortunately, it's not guaranteed in this business.
With that in mind, perhaps Reed Krakoff should be paying me for all the nice things I've said about his company. But alas, he's not. I just really like the bags. Almost all of them, except for a stray stinker here and there, which is a problem for every brand. Saks.com just got a new shipment, and I couldn't pick which one of the bags above to feature, so I thought I'd incude all three. (more…)
Marc Jacobs Snake Clutch, $1095 via NAP
Without looking at the name of this clutch or a close-up image, you might miss that a snake design is separating the raspberry suede and orange leather colorblocking. What makes the snake design stand out even more is the fact that it has a face and is created with actual python, which keeps the design legit while also making me feel a wee bit slimy.
However I must admit that Marc Jacobs is pulling together trends quite nicely here. The only thing I wish for is an optional chain shoulder strap so I could easily throw this bad boy over my shoulder and slither around for a night on the town. Buy via NAP for $1095
Fill in the blank: The Marc Jacobs Snake Clutch is ________________.
At PurseBlog, we understand that spring's trend toward bright colorblocking can be intimidating, particularly when you decide to do it in a minimal way a la Jil Sander Spring 2011. In those kinds of ensembles, there's nothing to hide behind – it's just you and your colorful pants, out there for the world to see. Depending on your personality, that thought might either be exhilarating or terrifying. If it's the latter, consider throwing a bag like the Veda Ursala Bucket Bag in black leather or camel suede into the bright, shining mix. (more…)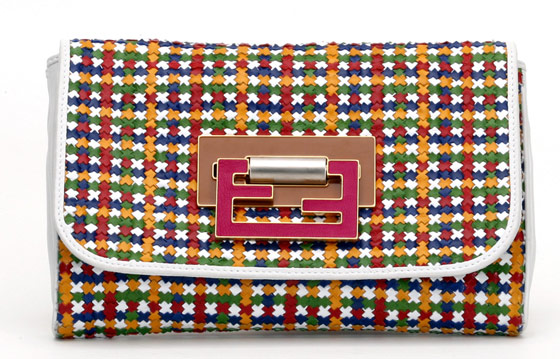 You may or may not have liked Fendi's Spring 2011 handbag collection, but you can't argue that it was what fashion industry people call "directional." Instead of merely designing safe, pretty accessories, Fendi's handbags gave us a new way to think about combining color, structure and texture.
Vogue.com chose this Fendi Multicolor Woven Clutch to illustrate spring's colorblocking trend in its Accessories Blackbook, but upon close examination, the design is interesting for more than just its use of color. (more…)
The luxury accessories market is crowded with seasoned competitors all vying for consumer attention (and consumer dollars), which can often make it well nigh impossible for a new handbag line to turn heads, particularly the heads of people whose job it is to look at handbags all day. (Ahem, yours truly.) Somehow, the Reed Krakoff Inside Out Leather and Snakeskin Tote managed to not only make me take a second look, but it made me do so by being inventive in a way that's not only quite unique, but still totally subtle and functional at the same time. When being different usually also means rendering a piece unwearable or unusable to most of the buying public, that's quite a design feat indeed. (more…)