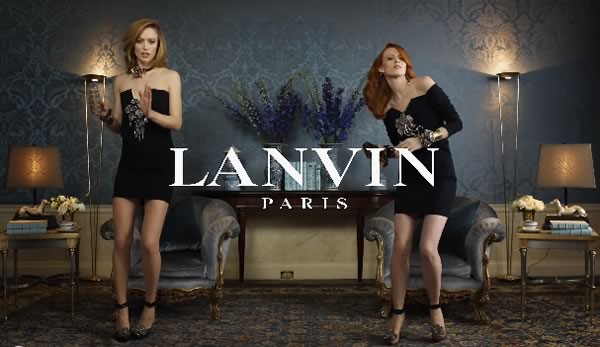 Watch the video now!
Friday, you are here!! That means fist pumps and party time, or in my case shopping, movies, and long walks. Either way, TGIF to all PurseBlog readers. I wanted to end this week on a light note, with the clever yet hilarious Lanvin Fall-Winter 2012 Ad Campaign video.
We've got Pitbull music in the background and beautiful models adorned in Lanvin attempting to dance. I think this video reminds me why most models bodies are better for runway walks and still photos versus awkward dance moves. We've got a dash of uncoordinated movements paired with flimsy head rolls and lots of arm swinging. All-in-all, this video is sure to brighten your day, and make you get up out of your seat and dance. Because, after all, you won't look much weirder than the ladies and gents in this video.
And don't miss Alber Elbaz dancing his way through two male models to end the video. Now go have an amazing weekend, dance like no one is watching, and we will be back Monday!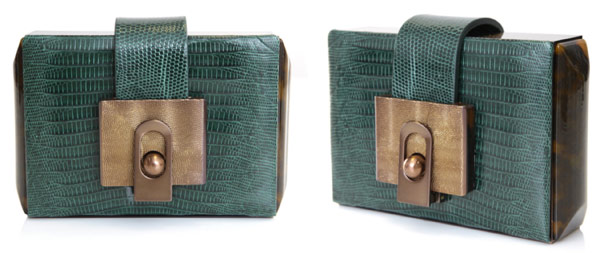 Lanvin Lizard Box Clutch, $2127 via Matches
Yesterday, I got to talking about my love for Lanvin in general and Alber Elbaz in particular over at TalkShoes, and now I'm prepared to do to do the same here. Bags like the Lanvin Lizard Box Clutch just inspire that in me. I could look at this little bag all day, mostly because it shirks the traditional conventions of evening bags in order to pursue a look that's a bit more unexpected; you won't find any gleaming hardware or intricate beading here. (more…)
Lanvin bags are typically synonymous with feminine and beautiful. When it comes to this feathered bag however, Lanvin is teetering on the edge of gorgeous and a total miss. Amanda previously covered this bag and it received mixed reviews. Question is, what do you think of it? Buy via Bergdorf Goodman for $1,185.
Fill in the blank in the comments below: The Lanvin Feathered Ouloulette Bag is _______. (more…)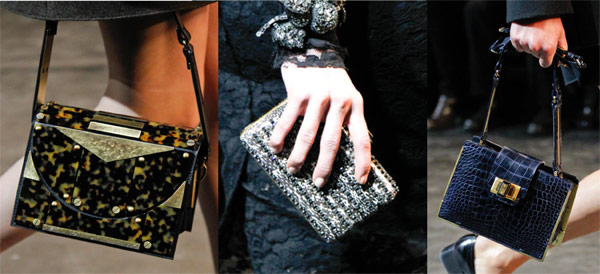 The footwear enthusiasts among you may remember that I was extremely enthusiastic about Lanvin's Spring 2011 shoes when they showed in Paris last October. The hard-edged (literally and) figuratively industrial futurism of the collection felt interesting and directional back then, and it still does now with the advent of Lanvin's Fall 2011 handbags. While the accessories of Spring 2011 were simple and traditional compared to the shoes, these bags take the edge that Alber Elbaz expertly constructed and run with it.
And really, upon seeing these designs, I can't help but wonder why someone didn't do this long ago. The static constraints of industrialism dovetail beautifully with the rigid, sharp-edged bags that we've seen grown popular over the past few seasons. In this context, the flat metal accents and jointed should straps seem logical and necessary, as do the bags made out of tortoise shell and screw heads. Elbaz's accessories department has given us New Minimalism with a darkly futuristic bent, and it couldn't feel more current. (more…)
I've been thinking about luggage ever since we talked about that Jimmy Choo shoe case earlier in the week, and that the Lanvin Amalia Voyage Leather Suitcase should show up on Net-a-Porter right now is nothing short of fortuitous. I maybe have been a bit of a party-pooper when it came to the aforementioned shoe luggage, but I can't help but swoon over all this luscious Lanvin lambskin.
Although the price is high – well over $3000 – when you compare it to other designer luggage, it seems much more palatable. Not that I wouldn't be filled with anxiety by the prospect of taking such beautiful leather through an airport, of course, but if I were the type to spend that much money on a suitcase, perhaps my nerves wouldn't be quite so raw. A fat savings account tends to have a calming effect on most people. (more…)
Admittedly, I have a very strong stomach when it comes to the thought of potentially ruining one of my handbags. Not only am I desensitized to their presence because of my job, but I wholeheartedly believe that they are functional objects and meant to be used as such, and even with proper care, most will wear out eventually and need to be retired. But even with my cavalier attitude toward handbag lifespans, I can't imagine feeling anything less than totally nervous carrying the Lanvin Plage Beach Straw Tote to the actual seashore.
Not only is the bag incredibly light in color, but it's also in the four-figure price range that you would expect for a Lanvin bag. I could carry this to the five-star spa at a very chichi resort on the beach, but as far as actual sand goes, I'll leave that to a much less expensive alternative. (more…)
We all make mistakes from time to time. Today I caught a handbag-world mistake from one of our favorite stores, Barneys, in labeling a handbag. The bag is marked as the Lanvin Large Leather Cabas, but this is no Lanvin bag. This bag is in fact a mix between the Proenza Schouler Keep All and Shopping Tote – meaning it is a Proenza Schouler Bag.
More info via Barneys (for $1,990). Just a little Friday Barneys Blooper for you all!

When Lanvin sent their Spring 2011 collection down the runway, the overall theme was about structured handbags. It was the finale bags, small, egg-shaped, and funky, that caught our attention.
The bag that kept my attention however is the Lanvin Leaf Box Clutch. We did not cover this in our runway review, but it deserves a prevalent spot among other Spring 2011 bags. (more…)
I know, I know, casual chic sounds so cliche. And it is. But I use it for this bag because it describes the Lanvin Relex Shopping Sac ideally. We have become accustomed to seeing Lanvin add flowers or bows, but this bag is entirely void of both. And while it may be void of these two accessories, the overall allure of the bag is its casual wearability.
Lanvin is a brand you are going to dish out more money for. But the product shows the attention to detail and luxury materials. I have felt the leather they use for many of their bags… divine. If this lambskin shopping tote is remotely as soft as it looks in pictures, it will be one of those bags you will not want to take your hands off. (more…)
December really is the perfect time for luxury-themed novelty items to hit stores. Have a vain friend who requires a gift but don't want to spend very much? The keychain and coin purse options abound, and many of them already come packaged in gift boxes for your present-swapping pleasure.
"What do you give a girl that has everything?" is a question a lot of fashion lovers (or friends of fashion lovers) ask themselves around this time of year, and if you want to get a little more creative than the requisite key pouch and still stay within budget, perhaps a set of Lanvin Faces Playing Cards (with two full decks!) is, err…in the cards? Boo, hiss, I know, bad joke. (more…)