57 results for
colorblocking
I spent the vast majority of my life as a competitive athlete. In fact, PurseBlog wouldn't exist if it weren't for me being an athlete; Vlad and I met on our college swim team. The day I was done swimming, I was done swimming. Actually I was done working out entirely. I was burned out and ready to veg out on the couch for years.
Recently, I started to get the urge to get back in shape and going to the gym involves picking out a gym bag, which was a great way to entice myself. Right when I spotted the Diane von Furstenberg Sporty Drew python-effect leather tote, it struck my fancy. Easy to use as your city-schlepping bag, this bag will look cute while being practical to carry workout essentials. (more…)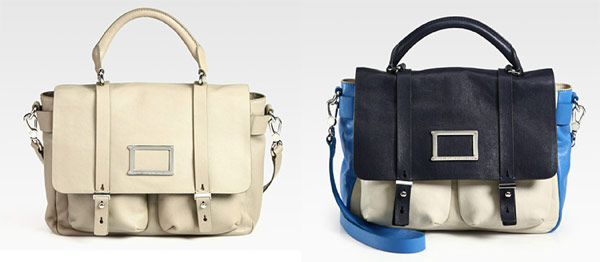 Almost every season, Marc by Marc Jacobs is a shining beacon in a sea of endlessly expensive handbags. I've owned several of the brand's bags and small accessories, and I've had consistently good luck with both the quality of materials and construction of the bags. With almost the entire line under $500, that's a pretty good endorsement.
For Spring 2012, I'd really, really like to have one of the Marc by Marc Jacobs Wedie Satchels – this is the kind of bag that feels both current and like it could be an everyday staple. Now I just have to decide – neutral or colorblocked? (more…)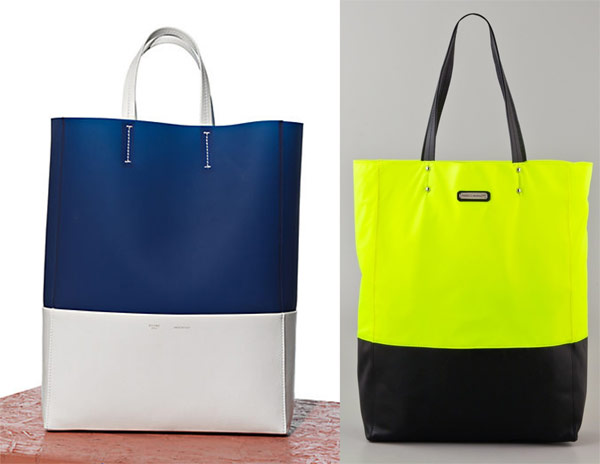 Everyone knows the Celine Luggage Tote and the Celine Classic Box, but the Celine Bi-Cabas Tote has cruised along just below most people's handbag radar for the last few seasons, largely the obsession of industry insiders and dedicated Celine fans. With its extremely minimal construction and huge colorblocking potential, the bag seems to be poised to make its biggest splash yet for Spring 2012.
But what if you don't want to pay over a grand for something relatively simple? Well, the Rebecca Minkoff Toki Tote offers the perfect alternative, but you're going to have to trade leather for nylon. You do win a healthy dose of neon in that trade, so it might be worth it. (more…)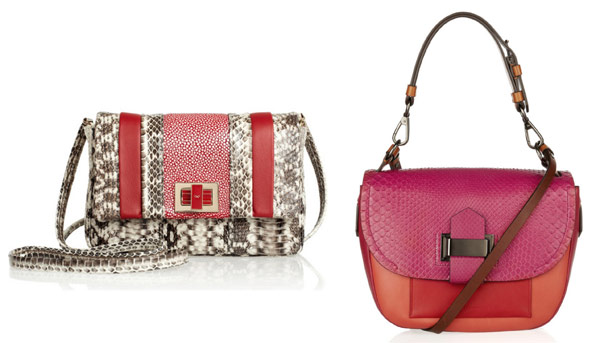 If I had a nickel for every post I've written about mixing colors and textures over the past year…well, I guess I actually do have a nickel, since I get paid for this. The point is, I'd have a lot of nickels. Not enough to retire, but enough to pay my rent, even though they give me a really hard time when I try to pay it in nickels. I'll admit, it's a heavy bag.
Anyway, the trends represented by the Anya Hindmarch Stripy Gracie Mini Shoulder Bag and the Reed Krakoff Kit Python and Leather Shoulder Bag are nothing new – exotics, brights, you guys are all old hat at this. But which do you like better, lots of natural snakeskin with a little bit of color, or lots of color with a little bit of texture? Check out the larger photos and vote in our poll, after the jump. (more…)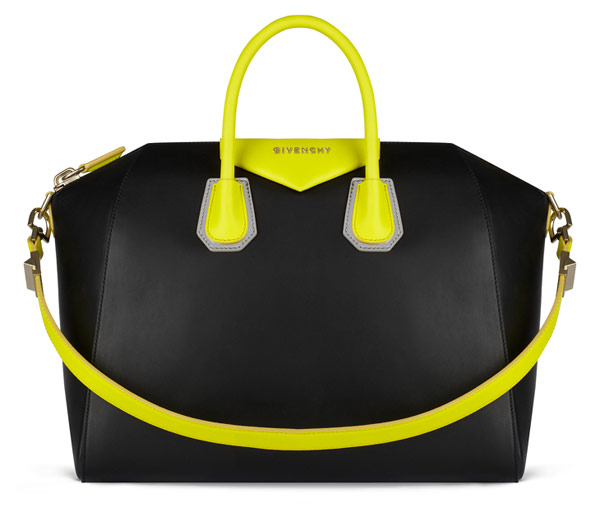 Images via Vogue.com
The Givenchy Antigona Satchel is such an under-appreciated handbag. The design is exceptionally crisp and minimal, it comes in a variety of sizes, materials and colors, it's Givenchy, fer chrissakes. It's far superior to the Givenchy Nightingale (says me), but yet, it's not quite as well known. With Givenchy's killer slate of Antigonas to come, Spring 2012 might change that.
With this lineup, there's a little something for everyone. Exotics, stitched details, brights-and-neutrals colorblocking, mirrored patent leather. The Antigona takes well to all of them because of its immaculate, well-edited structure; there's never a metaphorical hair out of place on this bag. Check out the versions to come after the jump or shop Givenchy via Barneys right now. (more…)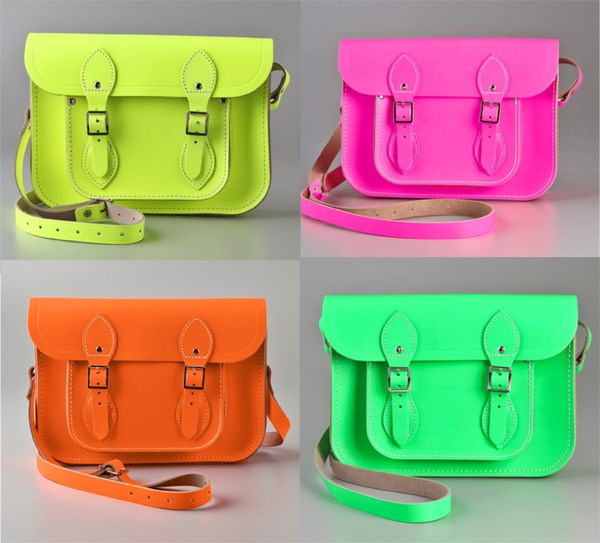 Cambridge Satchel Co. Fluoro Satchels, $155 via ShopBop
Both Megs and I have long been a fan of the timeless Cambridge Satchel Company, which started making its ultra-traditional school bags in 2008 as a way for the founders to pay school fees. Since then, the brand has become a cult favorite in the fashion industry, and its highly sought-after Fluoro Collection has been on my radar since its debut months ago.
It used to be that you had to order these bags online and wait for them to be delivered from overseason, but when you consider that it only cost $155 for an all-leather, British-made handbag, that was an inconvenience an incredible number of people were willing to handle. Now, thankfully, we don't have to – in addition to the four fluoro colors we all know and love coming to ShopBop.com, Bloomingdale's is going to be carrying the same brights in its New York City stores and on its website starting next week, plus an in-store exclusive: a neon blue satchel. Check out that bag after the jump! (more…)