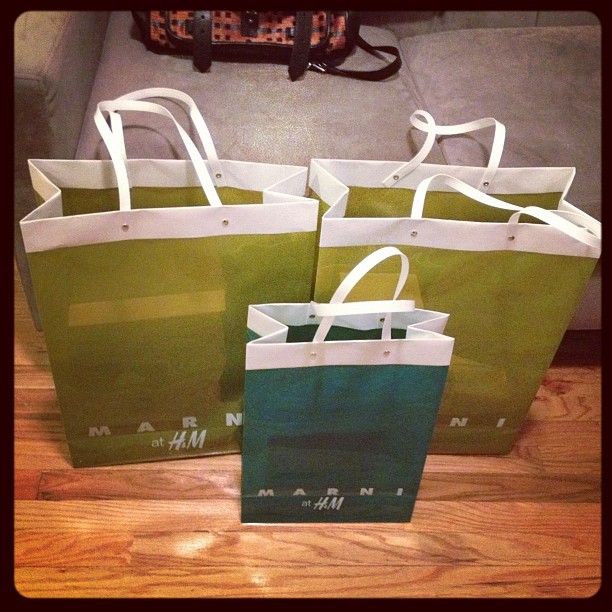 If someone who works in fashion tells you that her job doesn't have any perks, I personally give you permission to slap her, or at the very least, call her a liar (but also slap her, because how often do you get a chance to backhand someone in real life and then blame it on a fashion blogger?) Tonight, the perk wagon came around and dropped me off squarely at the Marni x H&M press preview. (Missed the lookbook? We've got it here, for reference.)
Now, in case you assumed that members of the fashion media would conduct themselves with grace and courtesy when presented with the opportunity to buy clothes, you were mistaken, and I'm not sure why you had such a high opinion of us in the first place. Particularly when an industry favorite like Marni is involved, fashion girls can throw bows with the best of them. I did come away with some shoes and accessories, though, and more importantly, I came away with your first inside info on what the collection is like in person. (more…)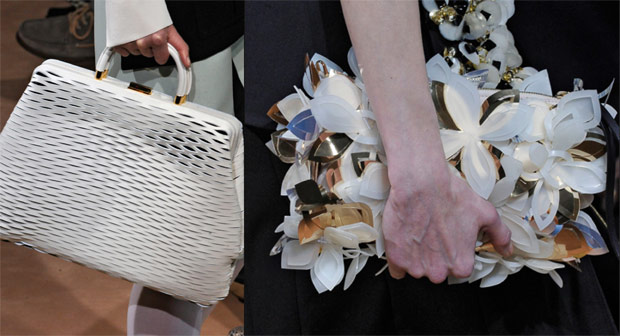 A few days ago, PurseBlog friend BryanBoy tweeted that Marni designer Consuelo Castiglioni would be the perfect replacement for Karl Lagerfeld once he's ready to move on from Fendi, and I can't help but completely agree. Marni's signature retro-minimal approach gets better and more fully realized by the season, and Consuelo's sense for accessories and embellishment keeps improving right along with it.
It probably won't surprise anyone that I think the handbags from Marni Fall 2012 are excellent. They have the signature quirky Marni look without being unappealing to the buying public at large, and the addition of a few flower-embellished pieces alongside the standard neutral leather is a welcome one. Fendi's aesthetic has been going in a similar direction in recent seasons, and just like Lanvin designer Alber Elbaz seems like Karl's heir apparent at Chanel, I hope that Castiglioni will be the woman for the job at Fendi. (more…)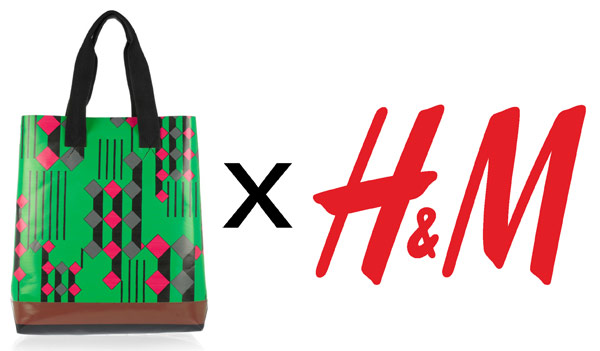 Marni Tote, $645 via Net-a-Porter
A couple of days ago, the fashion Internet exploded with news of H&M's next collaborative partner – quirky Italian label Marni. Forget Versace – this is something I might actually consider standing in line for, particularly because a full menagerie of accessories will also be available, right along with the retro-modern prints and oddball color combinations for which Marni is known.
Because of the nature of high-low collaborations (read: because of PVC ickiness), I never have much hope for the handbags and "leather" goods that will come out of these kinds of partnerships. Versace x H&M included some real leather, though, so who knows what the future (and Marni x H&M) might hold. It will hold some less-expensive takes on Marni's much-sought-after costume jewelry, and that's enough for me to be feeling the slight burn of excitement in the back of my brain. Sadly, We'll have to wait until March 2012 to see this stuff in person. Are you sick of designer collaborations yet? (more…)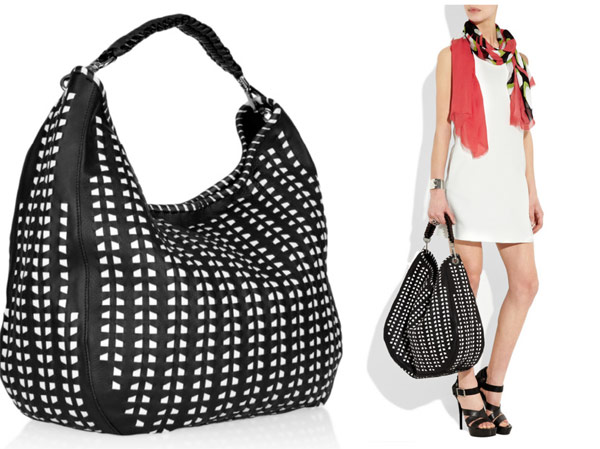 Marni Woven Leather Hobo, $2330 via Net-a-Porter.
I can't believe I haven't posted about the Marni Woven Leather Hobo Bag already, but somehow it seems to have gotten passed over in the spring shuffle. What I can't figure out, though, is how that managed to happen – I absolutely love it. I loved it as soon as I saw it on the runway back in September, and my love for the slouchy-yet-stark design has only grown since seeing how soft and wearable the bag would be in real life. This design is proof positive that neutrals don't have to be boring background pieces. (more…)
Texture is one of the big fashion words on everyone's lips this year, which means that finding a unique way to incorporate it into your wardrobe is going to be a big challenge in a few months. Most of you seemed a bit tepid toward the prevailing ideas about python and its many uses, and I can't say I blame you – I saw enough snakeskin during the Fall 2011 shows that I'd be perfectly happy if I didn't see it again until 2012.
Thank god, though, that we can always rely on Marni to give us an uncommon take on a common idea. The Marni Studded Leather Shoulder Bag makes a bold texture statement without being a slave to one trend or another, and it does that while being neutral and functional enough to use every day. This bag has enough personality to not appeal to absolutely everyone, but who wants to carry a bag that can be seen on the shoulder of every other woman walking down the street? Certainly not me. (Unless it's a Celine Luggage Tote, of course. Then GIMME GIMME GIMME. Ahem. But that's beside the point!) (more…)
Let me first preface this review by saying that I am an enormous fan of Marni's quirky-cool aesthetic and an ardent believer that the brand is too often overlooked by handbag fanatics as a result of some of the brand's more eccentric pieces. The Italian company is actually a great source for a variety of pieces in your accessories wardrobe, and the ladylike (but still quintessentially Marni) leather goods from Marni Fall 2011 are a perfect display of not only the brand's versatility, but perhaps more importantly, its functionality.
This collection includes everything from leather clutches with strong modernist hardware that would be well-suited for an evening out to larger, more utilitarian totes made out of the only perforated leather that I've ever seen that looks not only genuinely luxurious, but also design-appropriate. Marni does a great job of making smaller, more streamlined bags, which is a talent that dovetails well with the industry's prevailing accessories trends. The nice thing about these pieces, though, is that they don't look trendy – Marni keeps its bags just minimal enough to go the distance. (more…)
We don't cover Marni all that often, but many times when we do we praise the brand for their sleek, minimal, and geometric designs. But this bag is a giant purple-people-eater-flop. I'll give credit where credit is due and say the leather looks nice. Otherwise I am not keen on any design element and the overall appearance is really just silly. It is like a casual yoga bag meets high priced price tag with a weird out-of-place ribbon dangling on the front.
Marni, what were you thinking with your Ribbon-Trimmed Square Leather Tote? (more…)
As much as I might personally enjoy rhinestones and brights and multicolor bags and any other kind of handbag design chicanery of which you can think, I realize that not all people can or will use bags with such loud personalities. For those of you with real jobs who actually have to go to an office everyday (or those of you who simply prefer neutral bags in simple shapes), the Marni Quilted Leather Tote would like to speak with you for a moment.
Marni's handbags have been long-underrated among accessories enthusiasts, and their clean, functional shapes and mostly neutral colors deserve far more attention than they get. My favorite thing about Marni, of course, is that among all that neutral functionality, there's always a couple of off-kilter twists waiting for those who care to pay attention. (more…)
Nothing strikes fear into my heart like light-colored suede, and as a result, the Marni Large Suede Satchel has me wanting to hide in the closet. Or better yet, build it some sort of giant hamster wheel so that I can roll this beautiful bag around town with me without endangering the lovely dove grey suede. Beyond that, I don't think there's any way to protect this beauty from the ravages of everyday life.
I'm not exactly easy on my bags; I believe that they're functional objects that are meant to be used, and if you wear one out, that's nothing more than a great reason to get a new one. I sit my bags on the floor in restaurants when there's not an extra chair and don't have a second thought about it. But Marni? Marni is making me have second thoughts and wonder if I could change my ways. (more…)