If we're being totally honest with ourselves, when you pony up for a pair of Louboutins, we are saying a silent prayer that we will look one tenth as good as Jennifer Lopez does in any old designer shoe.
It may not be the holidays, but it's arguably still the most wonderful time of the year right now. Sale season is going strong, with additional discounts being taken left and right and bags from the biggest brands still readily available, if you're willing to dig for the best picks.
The first official day of summer is just a few days away, and with summer comes a tsunami of parties and events that fill our calendars. A lot of factors go into finding the perfect sandal to wear to all your summer festivities, and we have a breakdown on which shoes to wear, based on the event.
The Givenchy Horizon Bag is the biggest addition to Givenchy's Fall 2016 (or, in this case, Pre-Fall; the brand uses a Fall and Fall-Winter system to differentiate the collections instead of the standard industry jargon) lineup, but for some reason, it's conspicuously absent from the brand's seasonal lookbook, which just arrived on the Givenchy website.
So, you've got yourself some Chanel handbags, and you've also got some Chanel jewelry. Maybe now you're thinking, "How can I combine those two things, and also get some home decor into the mix?" Don't worry, Karl Lagerfeld has you covered in ways you didn't even realize you needed until this exact moment in time.
The Céline Luggage Tote might not quite inspire the six-month waiting lists it did circa 2011, but the bag still appeals to a ton of women and sells briskly. Since its debut, Céline has always played the details of the bag's available sizes and pricing close to the vest, and although we've been able to create and update a guide to getting the Luggage Tote you want, official word from Céline has remained very scant.
The gods have heard my cries and celebs have suddenly changed their lifestyle handbag-carrying habits accordingly. The endless sea of Chanel and Hermès bags has suddenly (almost) run dry (can't speak for next week, though), and celebs are finally choosing to dine somewhere other than the same two West Hollywood eateries!
We look at stock images of bags from our favorite retailers all day. These images are striking in their own way, but sometimes it's nice to see alternate views of how popular bags look, especially on the arms of their owners.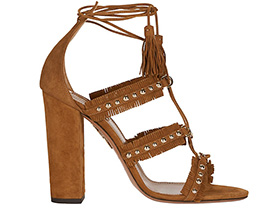 It's sale season all over the Internet, but this afternoon, we have a particularly impressive deal to tell you about: through tomorrow, June 15, you can get an extra 40% off a huge selection of super-stylish sale merchandise at Intermix. That includes super-popular stuff like shoes from Aquazzura, lace dresses from Self Portrait, denim from Rag + Bone and Frame, and much more. Act quickly, though, because the extra 40% only lasts until the end of June 15. (So, like, tomorrow!)
Valentino has an enviable thing: a bag line so beloved that it doesn't have to reinvent the wheel every season. For Resort 2017, though, the brand charts the most new bag territory we've seen from it in a while, clearly in search of a way forward from the Rockstud staples that have sustained it for years.