best traditional wedding day bags along with the best non-traditional wedding day bags. But there are so many more attendees that need to find a bag for the big day, including the flower girl. The idea of a super extravagant piece for the flower girl took a major push forward after Charlotte's daughter carried the Judith Leiber Cupcake Clutch in the Sex and the City movie.
Gals and guys, wedding season is upon us! Amanda and I broke down the
Since then, I've decided a novelty bag with an extravagant price tag is both ridiculous and cute. If your wedding budget is exceptional or someone in your family wants to splurge on a crystal clutch for the flower girl, Judith Leiber is still the brand to turn to. (more…)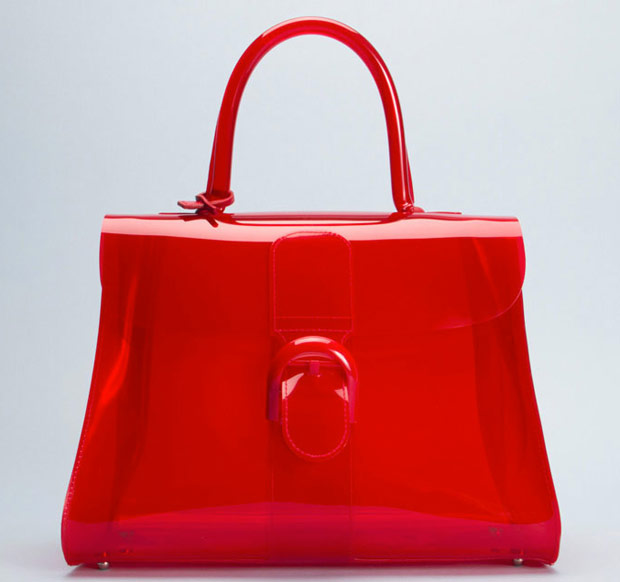 I frequently rant in this space about designers who overprice bags made from materials other than leather; it's one of my personal pet peeves in the accessories world and a trap that consumers fall into too often. And yet, against my better judgment (for several reasons), I find my interest piqued by the Delvaux Brillant MM. It's just so…red. And also, clear.
This bag first caught my attention at another brand's preview, where it was being carried by one of the attendees. (I think it was Natalie Joos, but because the bag was separated from its owner at the time I noticed it, I can't swear.) Something about the traditional, ladylike shape juxtaposed with the modern, kitschy material really intrigues me, as well as the fact that it's such a huge aesthetic departure for the historic Belgian leather goods brand. (more…)

There is always a heavy dose of absurdity in the world of designer luxury goods. We are talking about materialistic accessories, and what $1,000 is to one person, $1,000,000 is to the next. If you are one of the few people in this world who finds $11,000,000 to be a suitable price tag for the perfect laptop sleeve, then I have quite the treat for you.
Made of 8,800 diamonds, the sales pitch for this Diamond Laptop Sleeve sounds as serious as they come. CoverBee, the creator of this item, talks about the person who has everything deciding to cover their laptop with the most luxurious case ever. (more…)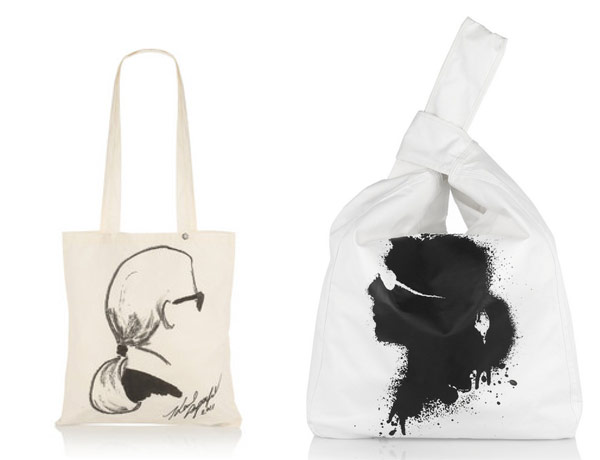 Karl Lagerfeld's aptly named Karl "masstige" (that's the portmanteau meant to denote almost-luxury items at a relatively-not-terrible price) line debuted at Net-a-Porter to much fanfare and hype on Wednesday, and I do have to admit that there were a few items I considered picked up: the faux leather pleated skirt, sequined collar, leather moto gloves, silver high-tops…okay, maybe there were more than a few. I like black, just like Kaiser Karl. But what of the handbags? And what of that slightly batty video of Karl interviewing himself, which we have provided for you after the jump? It's Friday, after all. (more…)
You can always rely on Margiela for a good dose of the unexpected – a magnifying glass made to look like a pair of broken glasses, peep toe shoes that peep in an entirely different way, a clutch covered with broken reflective plastic instead of sequins. Whatever your expectations are, Margiela delights in turning them on their ear.
Similarly, when you consider a grocery bag, you probably have one material very clearly in mind – thin plastic, usually white or beige. The Maison Martin Margiela Studded Leather Grocery Bag, on the other hand, takes the expected shape and turns it totally luxurious with black leather and studs. (more…)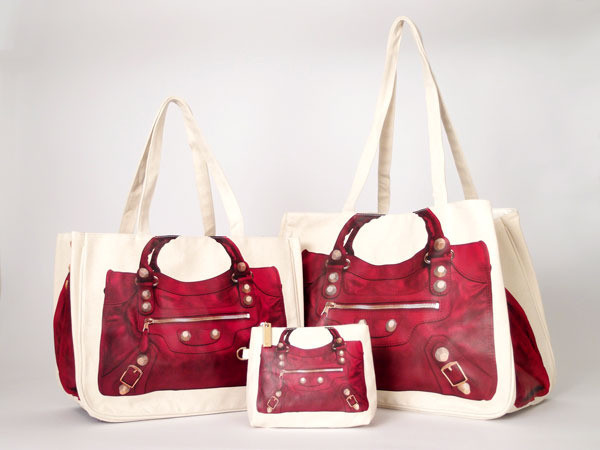 First Hermes (and then no more Hermes because they got sued), then Chanel and now Balenciaga – tote company Thursday Friday seems like it won't be satisfied until every iconic handbag under the sun (except any made by Hermes because, well, you know…) has been immortalized on its Thursday Friday Together Tote Bag. This one, naturally, is called the "Moto." Clever. (more…)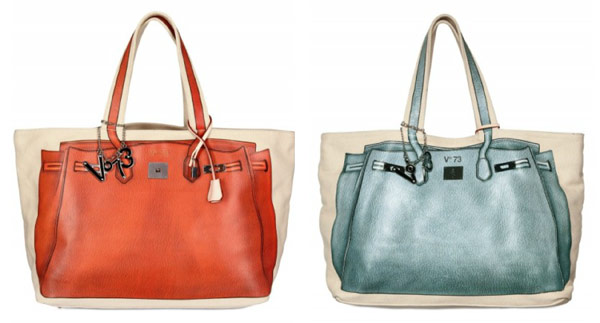 V73 Canvas Printed Tote, $265 via Luisa Via Roma
Today's start to feel a little bit like Groundhog Day, isn't it? A few hours ago, we brought to you a story about Louis Vuitton suing a media company for violating its trademarks, and now we have news of a company that thinks it's a good idea to print the visage of an Hermes Birkin on a canvas bag: the V73 Canvas Printed Tote. The day's handbag news is downright retro. (more…)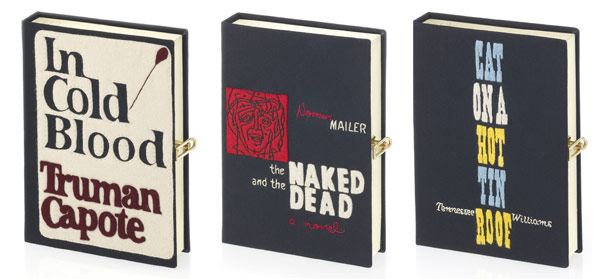 I will admit to not fully understanding how the Marc Jacobs website works (People kept saying that they were having a 70% off sale yesterday but everything looked like it was full priced to me? What?), and the fact that Jacobs is using it to sell Olympia Le-Tan Book Clutches is just another thing about it that confuses me. I can't think of another major high-end brand that sells things that aren't actually its own products on its website.
Which means that as soon as I saw the clutches, I was ready to write a post about how Jacobs was the latest designer to jump on the book clutch bandwagon, but instead, it looks like the brand is using its huge reach to support an independent designer. Kind of a refreshing move, right? (more…)
You guys know that we don't like to feature cell phone photos in our posts on the regular – the Internet is a visual medium, after all, and so is fashion – but we thought that you'd want to see this bag immediately. To our knowledge, this is the only photo circulating of The Row's Fur Backpack, and it comes straight from the Twitter account of Barneys Fashion Director Amanda Brooks.
Pre-Fall 2011 shows and presentations are going on right now, so odds are that this bag will be hitting stores with those collections in a few months. I have precious little other information – price and availability are still a mystery, but with the normally elevated prices for fur bags and the astronomical $34,000 price tag for The Row's Alligator Backpack, I'd suspect a price in excess of $20,000. Why, you ask? I'm just picking random numbers that seem excessively high, which seems to be The Row's chosen handbag pricing strategy, even for something that looks as ill-advised as this bag. (Say what you want about the prices of The Row's other bags, they were all immaculately designed. This one? Not so much.) Care to enter a guess? Check out the full-size picture, after the jump. (more…)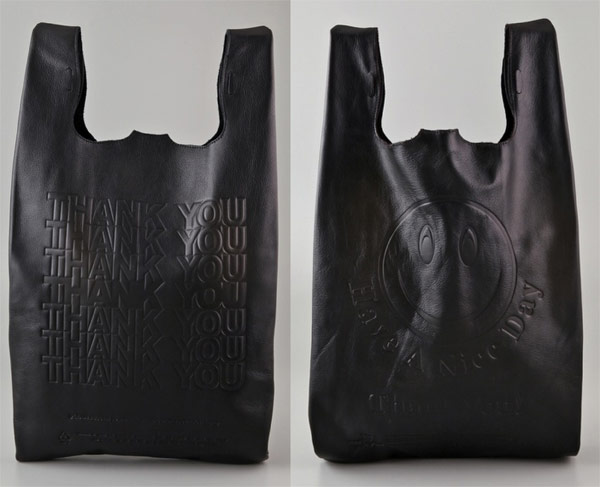 Cast of Vices Corner Store Leather Totes, $240 via ShopBop
Everyone is familiar with the plastic bags that the Cast of Vices Corner Store Leather Totes mimic, but as I've come to learn over my first six months in Manhattan, New Yorkers have have an even deeper connection to these little plastic totes. New York's healthy population of bodegas, delis and mom-and-pop takeout joints keeps a steady stream of these bags flowing into use in the city, and where suburbanites might find themselves using a Target or Kroger bag to line their bathroom waste baskets or carry their lunches to work, in New York, the odds are that it'll be one of these generic designs instead. (Or a Duane Reade bag, but I try to pretend Duane Reade doesn't exist.) (more…)