Nancy Gonzalez's bags are so successful. First, the brand keeps costs down by sourcing most materials from its own farms, which means that Gonzalez's crocodile and python bags are among the most well-priced exotics in the mass-market luxury business. Second, Gonzalez & Co. let the rare materials take center stage, as you can see so well in the Nancy Gonzalez Python Satchel.
When you get down to the details, it's no surprise that
Multicolored python can become cheap-looking very quickly if the designer doesn't take care to maintain the integrity of the skin's natural pattern, but the blue and cream combination that we see here only enhances the python's inherent beauty. (more…)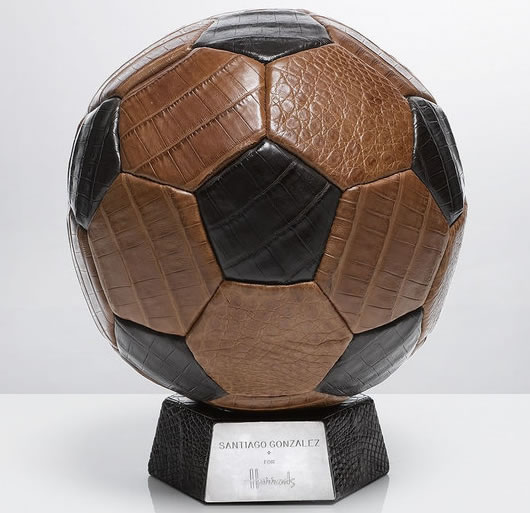 Have you noticed the lack of posts on PurseBlog in the past week or two? I am almost embarrassed to say it is because Vlad and I have become so enthralled following World Cup Soccer that our work productivity has been compromised. As much as I love sports, soccer has never been my favorite sport. But there is something about a World Event that sucks me in. I even jumped off the couch this morning during the USA win over Algeria. It is that bad.
I saw this the other day and I could not pass up sharing with you all. As I said, my mind is on soccer right now, but I was waiting to see which designer would create a soccer themed item. While not a handbag, Santiago Gonzalez of Nancy Gonzalez created a Crocodile Skin Soccer Ball designed for Harrods. The item is no longer is stock on the website (sold out?!). (more…)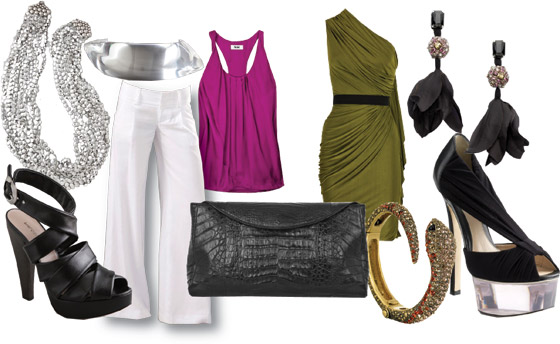 I can't think of a bag that's more versatile than a big black clutch. Add an exotic skin to the mix for a healthy dose of luxury and you've got a bag that can be worn day or night and year-round, no matter your age. Sometimes it's hard to imagine how you'd work even the most basic bag into your wardrobe, however, particularly if you're not prone toward considering a clutch (even an oversized one) to be a legitimate option for daytime use. With a little help from the Nancy Gonzalez Large Crocodile Clutch, I'm here to give you some food for thought. Or, maybe, I'm just here to make up pretty outfits. I'm comfortable with either of those options. (more…)
Hello Nancy Gonzalez, we have missed you in our lives. It is not for a lack of designs, I simply have not been drawn to you in a while. And I think I know why. One of the biggest upsides is also the biggest downside for designer Nancy Gonzalez, her designs are very seamless and very expected. There is no hardware being used and the designs are very 'Nancy Gonzalez', if you know what I mean. Not that there is anything wrong with that, but sometimes a design needs to catch my eye a bit more.
The Nancy Gonzalez Shiny Frame Crocodile Clutch does grab my attention with its brightly colored pink Caiman fuscus crocodile skin and simple yet sleek design. (more…)
As I mentioned over on PurseBlog Savvy recently, I've been struck by a vintage-shopping craze as of late. Midcentury design flourishes are the Next Big Thing in high fashion, and taking the time to search for the real items from the era always seems like a clever response to the revival of older trends in high fashion.
Sometimes, however, it's impossible to find exactly what you want in the condition and quality that luxury customers expect. In those situations, items like the Nancy Gonzalez Soft Croc Quilted Satchel are perfect – the bag has all the charm of a great vintage find, but you don't have to spend hours slogging through dusty bins of old handbags in hopes of finding something like it. (more…)
Now this? This is more like it.
Earlier this week, we documented a rare Nancy Gonzalez misstep with the Nancy Gonzalez Crocodile and Whipsnake Floral Tote. It lacked the easy simplicity of most of Gonzalez's designs, and it also went without a bit of the luxury for which she's known.
Luckily, I found the Nancy Gonzalez Pleated-Trim Croc Satchel to wipe that from our memories and remind us all why Ms. Gonzalez is the biggest croc designer in the business. (more…)
If ever there was an excellent example of why almost no one can pull off the intricacy and texture that has become a hallmark of the Valentino accessory aesthetic, it's the Nancy Gonzalez Crocodile and Whipsnake Floral Tote.
I'm not say that this bag is bad, because I really don't think it is. It's also not great or particularly inspiring, in the same way that Valentino bags usually are. A poor choice in coloring has sacrificed some of the bag's visual texture, and despite the fact that I respect where the designer was going with all of this, I don't think she ever got there. (more…)
It's been a while since I've had the pleasure of writing about a Nancy Gonzalez handbag, and I think I've figured out why: I can never tell when they're new. I don't mean to say that they all look alike, but…a lot of them look alike. Although I guess if a design isn't broken, you don't fix it.
The Nancy Gonzalez Navy Croc Tote surely isn't broken. In fact, it looks like a completely functional yet totally elegant answer to most women's need for an everyday bag. Plus, because it's Nancy Gonzalez, it's also and exotic at a relatively reasonable price. (more…)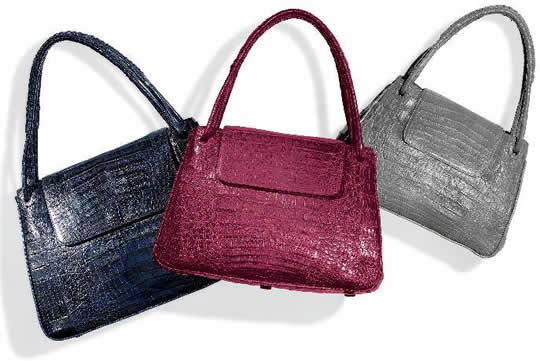 WHO: Nancy Gonzalez, designer of the renowned handbag collection, will make a personal appearance at Saks Fifth Avenue New York.
WHAT: Trunk Show and Personal Appearance by designer, Nancy Gonzalez. Just in time for Fall, she will be introducing a new handbag style exclusive to Saks Fifth Avenue. The handbag will come in three sizes and a variety of colors that are exclusive to Saks.
WHERE: Saks Fifth Avenue, New York. 611 5th Avenue
WHEN: Thursday, October 1, 2009 from 4:00 pm – 6:00 pm
If you are in NYC make sure to stop by Saks to check out the Fall 2009 handbag collection from Nancy Gonzalez. There will also be three styles designed exclusively for Saks Fifth Avenue New York.
Despite the beauty of the last Nancy Gonzalez bag that we reviewed, the combination of exotics and non-exotics didn't exactly inspire all of our commenters. Using multiple materials is difficult to pull off, for sure, but what about using two exotics? Is the whole more than the sum of its parts? I think it is for the Nancy Gonzalez Python/Crocodile Tote. And just look at the end result…
This may be one of my favorite Nancy Gonzalez bags of all time, which says a lot, given my penchant for exotics. This particular shade of blue-undertoned grey is fantastic for highlighting scale and texture differences on exotic skins and bringing out their natural patterns and variations, which is exactly what a well-designed exotic bag should do. Python is the main event here, making up the front and back of the bag, while the sturdier crocodile skin forms the bag's gussets. I'd be interested to see what the bag would look like if the material usage was flipped, but either way, it's still beyond gorgeous. The neat rows of studs that run on either side of the bag's front panel are the perfect finishing touch and something slightly out of character for the designer – I hope we see more of it in the future. Buy through Saks for $3100.
I both love and hate the Nancy Gonzalez Crocodile Striped Tote. I love it because it is, without a doubt, pretty much gorgeous. The color is listed as tan, which would normally be boring, but the subtle olive green undertones that run through it are enough to make the color something that you don't see everyday while still maintaining its neutrality. The pale, unobtrusive color does wonders to highlight what's really important about this bag – the structure. This is the second bag we've seen today that has juxtaposed exotic leathers and suede, and the effect here is simultaneously just as successful and totally different. The crocodile mixed with the softer, tactile suede gives the sewn-together strips a depth of visual interest and texture that is absolutely brilliant; I really can't say enough about it.
What bothers me, though, is that the beauty of the crocodile skin is somewhat lost in the strips of leather and suede. My feeling, as I have explained before, is always that a bag made out of an exotic leather should use that leather's natural texture to its greatest advantage. In tiny strips, it's basically impossibly to do that. Stamped croc would have probably been a more cost-effective and appropriate material to use here, even though I'm not generally a proponent of stamping anything on high-end handbags. The price is somewhat reasonable for a bag that does use a great deal of exotic leather, though, so when that's combined with the bag's sleek beauty, I can't hate it too much. Buy through Saks for $2750.