The Mulberry Bayswater deserves credit where credit is due, it is truly much more of an iconic piece than many give it credit for. The shape and style of the bag has been compared to the Hermes Birkin countless times, and while there are similar aspects they are still very different bags. When I saw my first Ostrich Bayswater bags I fell in love. Ostrich is not a material for everyone. Complaints often revolve around the texture of ostrich skin being a turn off. And that may be the case for you. But some love the added dimension the skin gives their bag.
And if you fall into the category of loving ostrich skin, the Mulberry Ostrich Bayswater may be a bag for you. (more…)
We're a couple days late on this story because we were hoping to have pictures for you, but no such luck. Instead, we'll have to use our imaginations to figure out what Mulberry's line for use discount retailer Target will look like.
The collection, slated for release October 10, makes the British brand the latest in a long line of designers that have collaborated with Target for capsule lines of clothes, bags and shoes. What makes this particular set of bags interesting, however, is that the bags will reportedly be made of materials like denim and velvet, avoiding the PVC-heavy purses that we've seen in the past.
I've always hated the waxy texture and chemical smell of PVC, so I'm hopeful that the use of something other than fake leather will elevate these bags above some of the previous handbag collections that we've seen at Target. Are you excited about this collection? We'll post pictures as soon as they come our way.
Leopard print never really goes out of style. But at times it comes back in style with power and right now is one of those times. Every designer is showing leopard print right now and I, for one, am loving it. I am a huge fan of leopard print accessories. Give me a bag or shoe with a great animal print and I am a happy fashionista. I may not be as daring as Rihanna in her Dolce & Gabbana get up, but I am all about the accessories (clearly).
Mulberry wants to get on our radar with the Mulberry Lily Leopard Print Shoulder Bag. This red suede shoulder bag showcases metallic red leopard print. The question is, does it pass the test? (more…)
In quintessential black leather, the Mulberry Alexa has arrived at Net-A-Porter today. The Alexa is a Mulberry favorite that has lead to a massive following, attracting fashionistas (and fashionistos) worldwide. Mulberry scored big when they designed and named this bag after Alexa Chung. And why does everyone love this bag? It can both be dressed up or dressed down, used for work or fun, and has an overall cool vibe. The oversized version in black buffalo-leather is available at Net-A-Porter now for $1,250. (more…)
This bag is red. I mean shockingly, bright, bold, in-your-face red. The kind of red that is a bit hard to wear. I am always seeing women that rock true red lipstick and make it look perfectly gorgeous. Let me be honest, I am not one of those women. Red lipstick looks scary on me. It just doesn't seem to flow. And I am not sure I could pull off a truly red bag. But once Net-A-Porter showed the red Mulberry Bayswater with a summery outfit, it worked perfectly and I thought just for a second, 'Hey, that could be me'. (more…)
Apple revolution? Vlad and I still have one PC in our home/office but otherwise we have Apple products taking over each room of the house. And while you may not have one of their computers, the iPod and iPhone truly did change the way we listen to music and use cellphones. But how do you protect your precious products?
Are you part of the
If you are like us, you buy a simple case at the Apple store (they truly do offer many options), and go on your way. Many design houses have come up with options (like Louis Vuitton for the iPad) for those of us who do not want to settle for simple and usable options rather we prefer fashionable and usable options. Mulberry created an entire line of products for Apple, from messenger bags to pouches to cases. (more…)
Heading to Coachella this weekend? No? Me neither. But maybe one or two of you are lucky enough to make the hipster pilgrimage out to Indio, California for the annual indie music festival that keeps getting less indie by the year. Or maybe you're saving your airline miles for a future summer festival – maybe Bonnaroo in Manchester, Tennessee or Lollapalooza in Chicago? (The latter would be my pick since Lady Gaga is headlining.)
No matter what kind of outdoor events you're attending this summer, from music festivals to baseball games, you're going to need to bring a handbag of some sort. Crossbody bags are undoubtedly your best bet because they're hands-free and convenient, but choosing one to use at an all-day event can be tricky. Too small, and you're trying to stuff way too many things in to it; too big, and it's a burden to carry around for an extended period of time, particularly in summer heat. Luckily, we've done all the legwork for you and found three perfect crossbodies that will satisfy any (ok, almost any) budget. (more…)
The Mulberry Alexa has taken the handbag loving fashion world by storm. The shape of this bag, similar to the PS1, is the new cool. Laid-back, school-bag look is all the rage and we are loving it. You know why? It is casual without being sloppy and chic without being trendy. And then there is Alexa Chung, whom the bag is named after. Let's face it, Alexa Chung is totally cool and stylish and has a really awesome bag named after her. Cue jealousy. (more…)
I want to like the Mulberry Cheetah Haircalf Bayswater Tote so badly. I love questionably tacky things, alternative-color animal print, and 80s revival. I love a statement bag that will make everyone look twice. I love being That Girl that will carry or wear stuff that some people don't understand.
Despite all of that, I just can't get on board with what's going on here. The idea of magenta cheetah print is not necessarily one to which I'm opposed (in fact, I rather like it), but the execution on this bag is just not what I would expect from the fine folks at Mulberry. (more…)
Mulberry put on their Fall 2010 show in both NYC and London. The color palette was not muted neutrals like many other shows we saw, rather bold jewel toned colors, which was a welcomed change to many other shows we saw. The Mulberry show was playful and youthful, while still retaining a fashionable upper hand.
I was checking all of the photos and came across my favorite look from the show. This look appeals to me in every way possible. (more…)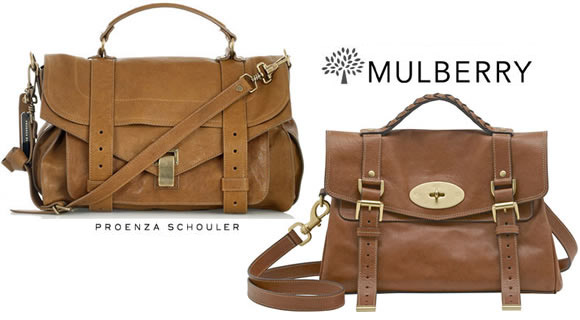 [poll id="57″]
Back in September when the first sighting of Alexa Chung with her namesake bag, the Mulberry Alexa, surfaced, Purse Forum members began discussing the similarity between it and the Proenza Schouler PS1. It makes sense that they did, because there are definite similarities in the design. In fact, once the Mulberry Alexa started to show up online, the main buzz surrounded the likeness between the two.
Let's take a closer look to see what the two bags have in common and what is different, shall we? (more…)