As I was checking my email this morning I came across an invite to my friend's bachelorette party this summer. I love celebrating the step into marriage because, well, I guess you could say I have a tendency to be a hopeless romantic. As I continued to look at the invitation, one more thing jumped out at me – the party is going to be in NYC! So, I get to be a part of a great celebration AND it is going to be in a fabulous city… awesome!
My guess is that you know where my thought process went next – I need a new handbag for this occasion. (more…)
You know what I really appreciate? The return of the oversized clutch. I've got lots of keys, a keyless-entry fob for my car and a Blackberry with a case on it, all of which have to leave the house with me no matter what. I've encountered a fair number of miniscule handbags that wouldn't have fit one of those items by itself, let alone all of them together – don't even think about adding in a lipgloss or card case.
The designers at Miu Miu know my struggle, obviously, which is why they've been so kind as to create the Miu Miu Oversized Sequin Clutch. Finally, I can carry a sparkly little bag that's not actually too little to be useful. (more…)
Can we talk for a moment about this whole denim thing? And I mean not talk about it like fashion people, but like people that like to buy pretty handbags, because ultimately, that's what almost all of us are. Even if we are fashion people in our spare time. Let's dispense with what might be "on-trend" and talk about what actually looks good. Hint: IT'S NOT DENIM.
In the interest of full disclosure, I probably haven't worn jeans in about a year. I just don't like them. I know a lot of people do, and they look great on a lot of women. They do not look great on me, however, and they do not look great on handbags. I'm ok with denim-colored leather, but bags like the Miu Miu Large Denim Tote are simply beyond the pale. (more…)
Miu Miu Croc Print Leather Bag, and I'm going to chalk it up to this (clearly traumatizing) childhood experience. I suppose that I've owned at least five of these small baguette shoulder bags- isn't that enough? (more…)
When I was in middle school, it was all about the shoulder bags. Leather or canvas, plain or printed, I conjecture that at least three-quarters of the girls in my grade owned some iteration of this style. So far, I'm not the biggest fan of this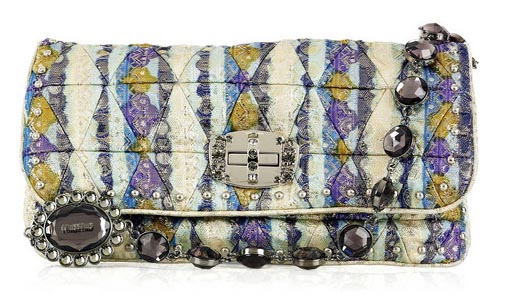 I have a hard time pinning down the Miu Miu handbag aesthetic. Their bags seem to roam freely between minimalist and intricate, taking a pit stop at every level in between. Since "brand cohesion" is probably only something that obtuse fashion people (like moi) ever think/care about, it doesn't necessarily seem to be a bad thing – it certainly brings them attention from a wide swath of stylish girls and women.
The Miu Miu Lurex Jeweled Shoulder Bag is the brand at its most intricate extreme. Based on how successful the bag is, maybe they should spend more time at that end of the spectrum. (more…)
We have a combo on our hands. A pairing together from the Miu Miu Black Lambskin Tote and the Miu Miu Studded Leather Clutch brings us the Miu Miu Studded Shoulder Bag. And what do we think of this shoulder bag? Too much going on.
There is this corset yet Western feel with the weaving detail with large rivets on the sides. I must admit I have never remembered myself liking a weaving through rivets on a bag, especially when it looks as if this weaving is holding every side together. Then there are studs, lots of them. And this amount of studs and the joining of silver and gold different shaped embellishments I really liked on the simple black Miu Miu clutch. But on the tan leather larger Miu Miu Studded Shoulder Bag I can not see the studs as anything other than too much. (more…)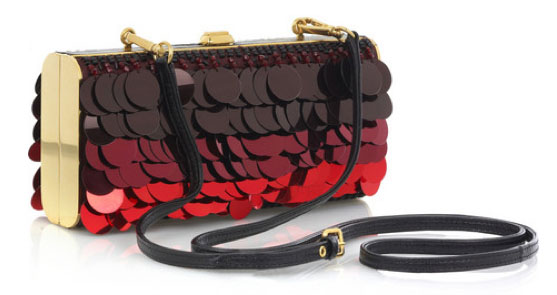 Ombré is, admittedly, a really difficult thing to pull off. It has to be the correct color transition, done in the correct shades, and with the correct depth of color. I'm not sure why the good people at Miu Miu thought that this would be a good thing to try and do with giant sequins on a tiny bag, then, but I can tell you that the Miu Miu Ombré Paillette-Embellished Clutch does not work out as well as they probably intended. (more…)
The leather on this handbag looks very similar to another bag we covered this week. Ah yes, the Bottega Veneta Boudoir Knot Clutch, with its chunky visible woven leather. Some of you did not like it on the BV clutch, but I am digging it on this Miu Miu bag. (more…)
Net A Porter brings us some of their favorite handbags of the season. This group of three is a fashionable trio showing Miu Miu, Fendi and Lanvin. Our personal favorite is the Lanvin bag, with perfect gold stamped-python metallic leather.
Miu Miu Vitello Vintage Leather Clutch | $750
Lanvin Happy Sac Partage Leather Bag | $1,965
Fendi Fly Leather Shoulder Bag | $1,460
I have always had a thing for Miu Miu. Call it a crush or maybe something stronger. To this day I do not own a Miu Miu bag, but I always seem to find one that I like. As much as I want to like the Miu Miu Large Woven Leather Tote, I simply find it to be more of an odd pairing of imitations of other bags. The woven leather channels Bottega Veneta and the buckle at the top to adjust models a horrid Hermes knockoff. I am not attempting to say that Miu Miu is knocking off Bottega Veneta or Hermes, I am simply pointing out the similarities. (more…)
I'm on the fence in the battle between gold and silver hardware on black bags. On the one hand, I really like industrial-inspired style (as I've said about 6,904 times in the past month) and silver hardware (and lots of it) is basically the only way to go to achieve that look. Also, I only wear silver jewelry. On the other hand, gold hardware gives a bag a glam sensibility and a bit of a retro edge that is perfect for some looks. Either way, sometimes something as simple as hardware color is enough to make or break a look.
Particularly in a bag with as much hardware as the Miu Miu Black Lambskin Tote. I love the style of it all – the laced-together eyelets remind me of corsetry, and that seems like such a cool reference to make since both corsets and bags use some of the same parts to do their jobs. The rivets and straps are big enough to not get lost in the bag's details, but something is slightly off for me. I really, really want this bag to have silver hardware. Somehow, it just seems more appropriate for both the reference and for this season's trends. Other than that, it's basically perfect. Buy through Net-a-Porter for $1350.