We've mentioned several times that lime green is a certified trend among trends for spring; brights in general are going to be huge, but lime green, along with orange and bright pink, is leading the pack with what seems to be no fewer than a dozen stylish handbag representatives and counting. Because Miu Miu is the type of brand that stays on top of these things, it has released its ever-popular Miu Miu Vitello Lux Bow Bag in a verdant citrus shade. (more…)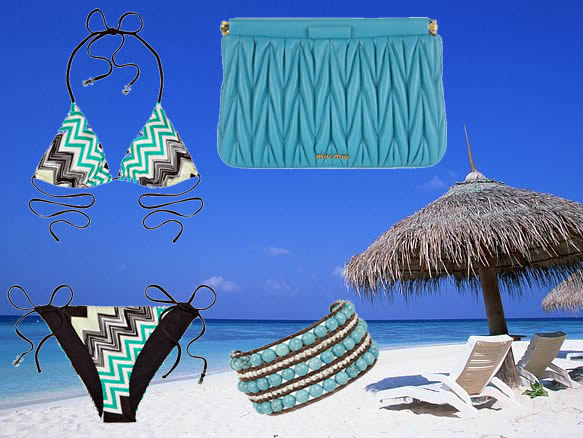 One of the most ridiculously large and intense winter storms is taking over the majority of the US as we speak. Vlad and I escaped it and are in Florida where the weather is gorgeous (sorry, had to state the truth!). So if you are one of millions that are trapped indoors or gearing up for this massive winter storm, think warm thoughts with these turquoise accessories.
I immediately think Caribbean beaches when I see the Miu Miu Matelassé leather clutch ($365 via NAP). Luckily the clutch is very reasonably priced and will truly be that eye-catching color you can infuse into your spring/summer wardrobe. (more…)
To all of my fellow NYC peeps, I am sorry you are literally stuck in feet of snow. I hear a bit of it has kind of melted though. I started to feel guilty when I was complaining of the mid-50-degree and sunny weather we are having in South Florida, while you all are trapped indoors. And then I saw resort bags are on their way out and I started to suffer from seasonal-confusion. But get ready for resort bags, whether you are stuck in your house from the blizzard or not. With resort bags come resort materials, like linen.
Miu Miu is one of the first brands to release a linen bag for the upcoming resort time, and I must admit upon first glance I found the Miu Miu Fringed Linen Tote to be sort of juvenile. I expect the heart tag dangling from a gold chain from a brand like Juicy Couture, but not Miu Miu. (more…)
Do you like leather applique? Bright colors? Cutout straps? Then step right up, because Miu Miu's carnival game of a Spring 2011 handbag collection is a little bit daffy, but maybe also a little bit inspired. Miuccia, after all, does not make missteps.
Perhaps most important, I can easily imagine the Miu Miu girl wearing these designs. They're irreverent, girlish and perhaps a little bit ironic, but they also have a very, very clear point of view and will stand out in a crowd. The appliques range from feminine to rock-influenced, so if you're under the age of 30, enjoy bright colors and have some extra income, you might find a great, if slightly odd, addition to your wardrobe in this collection. If you don't fit that slim category, I'm not sure you'll find anything relevant in these bags. (more…)
It's an odd feeling to look at a picture of the Miu Miu Patent Ruffle Bag and get a strong sense that you've seen the bag (or one like it) somewhere before. Surely a black patent satchel with girlish leather ruffles in pink and purple has to have its own unique place in the luxury handbag market, right? Well, not really.
It took me a while to figure out exactly what this Miu Miu reminded me of, but I finally found it: the Marc Jacobs Vortex Tote. The material is regular leather instead of patent, but the black body topped with pink and purple ruffles is similar enough for my feeble little brain to conflate the two. It's unlikely that the Miu Miu designers were inspired by the Marc Jacobs bag, but there are enough similarities to give us all a nice reminder that even a very quirky bag probably resembles something else out there on the mass market. There is nothing new under the sun, as they say. (more…)
Miu Miu's heralded Fall 2010 collection is best described as aggressively girly, which may or may not be a positive thing, depending on your personal style. I normally wouldn't describe myself in such terms, but nevertheless, the collection has captivated me anyway. There's an elegance and sharpness to it that is totally captivating.
Parameters for picking bags are different than those for picking clothes, however. A gamine blouse or printed skirt may be fun seasonal purchases, but most accessories customers want their bags to go the distance for more than a couple of months of wear. In trying to decide between the Miu Miu Runway Flower Detail Bag and the Miu Miu Vitello Turnlock Satchel, I can't help but ask myself if personality or functionality is more important in a bag purchase. The answer will vary by personal style, of course, but these two bags have me particularly torn. Do you go with something very unique that you'll probably only carry for a season, or a toned-town version with only a few special details that you could carry for a long time?
Handy-dandy poll after the jump, plus larger photos and purchasing information. I'm leaning toward the plain leather bag, although I'd love a pair of Miu Miu flats with similar flower details. (more…)
Suede, I have a serious love hate relationship with you. The soft texture always lures me in and completely reminds me of fall and winter. And I am a girl who truly loves fall and winter. But then there is the problem with upkeep and cleaning. Because of its texture and open pores, suede both gets dirty and absorbs liquids quickly and easily. A darker suede color like brown is a good choice, since it will not show wear or dirt as quickly as lighter suede colors. And because I have a thing for chocolate (the food and color), this Miu Miu bag is calling my name.
I rarely find myself drawn to chocolate brown bags, but the Miu Miu Horn-Strap Suede Tote is worth a gander. (more…)
Why must Miu Miu torture me so? Their Fall/Winter 2010 collection is one of the best that I've seen in quite a while, and that's in no small part because of the line's beautifully textured and detailed handbags. I've always loved the aesthetic of Prada's little sister brand, and a handbag like the Miu Miu Quilted Front Lock Satchel only makes me love it more.
This picture absolutely doesn't do any justice to the intricate chevron quilting that covers the majority of the satchel. It's rich, touchable and utterly unique in a world where almost every quilted handbag uses simple diamonds instead of something more daring. (more…)
As much as fringe handbags continue to come in style and then back in style, I am always sitting on the fence between strongly disliking them and having a slight bit of curiosity towards them. Sure, some designers are able to create a much more subdued fringe bag, while others are all about fringe coming from every orifice of the bag and dragging down to the floor. I prefer the first option: fringe within reason. And you know who may have created fringe within reason fairly well? Miu Miu.
After seeing the Miu Miu Leather Fringe Hobo Bag pop up on Monday at Net A Porter, a few of you expressed your love of the bag. To be honest it was not the first bag that caught my eye, but I took a second look and can understand the fascination with the bag. (more…)
I found the Miu Miu store that I not only want to visit but also feel like I would live a perfectly happy life if I could move into it. Miu Miu opened up their Forte dei Marmi Store which is in a sea town that is part of northern Tuscany. Famous residents of the town include Andrea Bocelli and Giorgio Armani along with Paola Ruffo di Calabria, Queen of the Belgians who was born there. (more…)
Sweet mother of the work force! I think I've died and gone to heaven. I absolutely must get my hands on this Miu Miu bag. Ok, I am getting ahead of myself, so excuse me while I calm down for a quick second.
There, I'm better now.
Before I was a blogger, I was a part of the corporate world (well sort of). I remember living in DC, riding the metro (DC's version of the subway) to work and noticing all of the bags both men and women carried to work. I didn't have anything too fancy and never really went out of my way to find something fancy. However, I literally came to a complete stop when I came across this Miu Miu Deerskin Leather Tote – it is beyond fabulous. (more…)