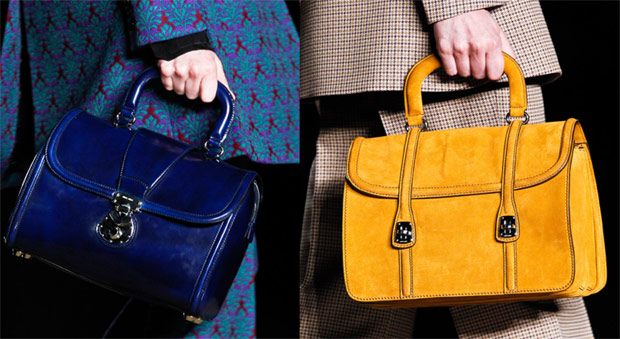 There are no two ways about it: last season's Miu Miu runway bags were a bit of a catastrophe, even for someone like me who generally thinks that Miuccia Prada does no wrong in either of her lines. Thankfully, Miu Miu Fall 2012 is much better. The line doesn't look like Miu Miu so much as it does Prada Lite, but the bags are bold, structured takes on traditional shapes – an accessories avenue that rarely leads a designer astray. After last season's tiny, quasi-western oddness, it's a welcome change.
The neutrals in the collection bored me a bit, particularly as part of a ready-to-wear collection that was so exuberant with print and color, but when the blues and yellows started to come out, things got exponentially better. The bicolor jade and red bag? Such an odd combination shouldn't work, but it does. The highlights, though, were several options in inky azure; blue isn't even in my normal color palette, but for Miu Miu, I can make an exception. (more…)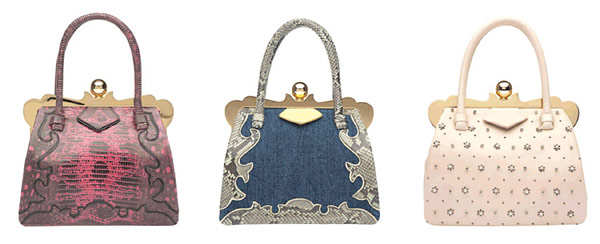 Well, this is strange. Or at least I think it is; you guys can be the final judge. To celebrate the global Fashion Weeks (which kick off today – everyone say a little prayer for me and my sanity) this season, Miu Miu is launching a grand total of 46 one-of-a-kind bags starting with 16 at the brand's Prince Street boutique in New York. The bags went on sale this morning, with the remaining 30 showing up in London, Milan and Paris over the next few weeks.
All of the designs are a variation on the same theme – a small, ladylike satchel with an oversized frame that made its debut on the Spring 2012 runway. The materials vary from printed wovens to studded crocodile and the prices go from $1495 on up, but I'm not sure that there's a single bag in this group on which I'd spend the money, not even for something one-of-a-kind from one of my all-time favorite designers. Check out the New York bags after the jump. (more…)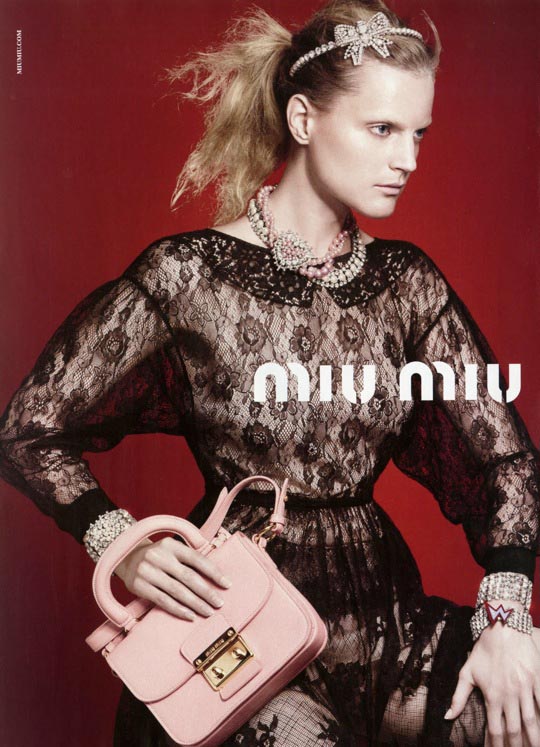 Image via The Cut
If you remember my post about Miu Miu's Spring 2012 runway bags, then you probably remember feeling the same disappointment that I did about the collection. Despite a hit here and there over the past five years with the Bow Satchel and the many versions of the Coffer, the brand's bags never bowl me over the way that the rest of its products often do.
The sight of this Miu Miu Resort 2012 ad, via NYMag.com's Cut Blog, gives me the hope that I need to continue on as a Miu Miu handbag fan, though. Do you see this bag as an improvement? (more…)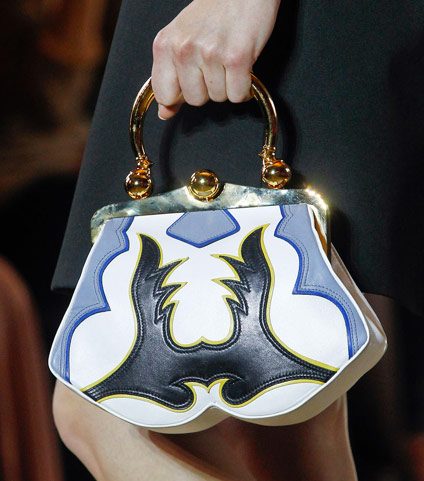 Images via Vogue.com
Excuse me for this moment of bluntness: Miu Miu should consider "refreshing" its handbag team.
I'm not saying that the Miu Miu Spring 2012 handbags are bad; they're not. They're fine for the very narrow look of this runway show, but they're not particularly relevant to anything beyond it, and most of them certainly don't look like what the Miu Miu customer carries in her day-to-day life. I'd carry one because I'm a huge, unapologetic Miu Miu fangirl, but beyond that, I can't see these bags having a wider appeal.
Every season, I fervently hope that the brand's runway bags will be fabulous enough to inspire the sort of devotion and panicked credit card-swiping that its shoes do, and my dreams are so rarely answered. Second-guessing Miuccia Prada is a rare thing for me to do, but in this case, a couple new members to her team might serve the overall brand (and handbag lovers everywhere) well. In the past few seasons, purses seem to be something of a lost business opportunity for the brand, and a well-positioned label like Miu Miu should be turning out It Bags hand over fist. (more…)
Miu Miu Lady Pushlock Bag, $1350 via Bergdorf Goodman
Right in the wallet.
For some reason, Miu Miu's bags often don't tempt me quite as much as everything (and I do mean everything) else that the brand makes, particularly its shoes. Still, if Miuccia were to personally deduct money from my bank account every month and send me a random Miu Miu piece of her choosing, I bet I'd be thrilled at least 11 months out of the year.
If it were the Miu Miu Pushlock Lady Bag that showed up on my doorstep, I know I would be. As a satchel or a shoulder bag (maybe even a crossbody – Bergdorfs doesn't list the strap drop), this just-big-enough retro throwback is everything I want in a fall handbag. (more…)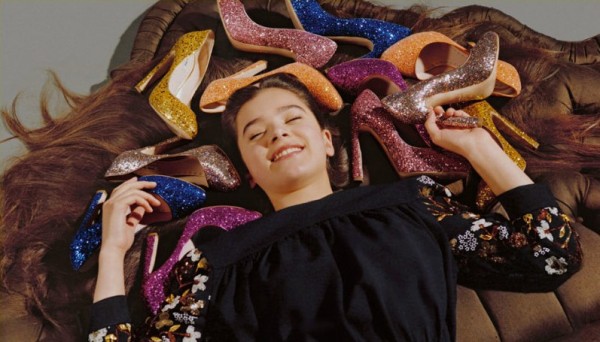 If you didn't see True Grit when it came out last year, it may be difficult to understand why the world is suddenly so taken with 14-year-old Hailee Steinfeld, but trust me on this one: Go see the movie, because not only is it great, but she will blow you away. And if the Miu Miu Fall 2011 ad campaign is any indication, she'll be continuing to impress us all for the foreseeable future.
I like these ads for a variety of reasons: Unlike the similarly young models that are often used in fashion, Hailee looks her age in these photos and it seems as though the Miu Miu team took great care to ensure that they didn't tart her up too much. The clothes, shoes and accessories are fantastic. Bruce Weber shot the images, and you can't really go wrong with him. The ads don't feel too precious or serious, which makes them all the more enjoyable. Mostly, they just make me want to don some Miu Miu and go buy the True Grit dvd, which is likely the effect that both Miu Miu and Steinfeld hoped they would have. More images after the jump. (more…)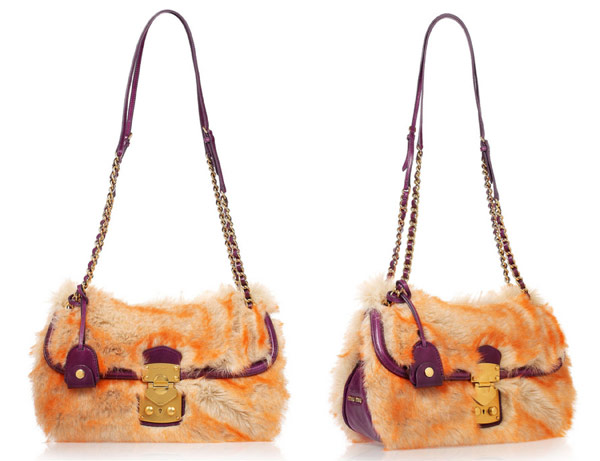 Miu Miu Pelouch Faux Fur Shoulder Bag, $1250 via Net-a-Porter.
We all know how I feel about fur bags, but sometimes a fur design is so deranged that it loops back around to awesome, and those bags need to be embraced and celebrated in all of their insane glory. With purple leather trim and fake fur dyed so unevenly that it looks like it was aggressively rubbed against a brand new pair of orange jeans, the Miu Miu Pelouche Faux Fur Shoulder Bag is perhaps the reigning poster child for this phenomenon. (more…)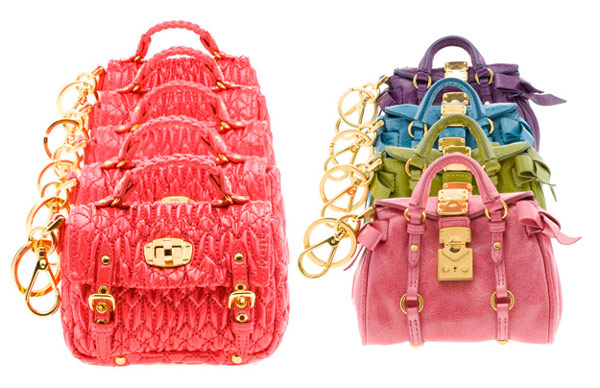 I coveted the tiny bag keychains that Balenciaga released in limited numbers last fall to celebrate the ten anniversary of its iconic motorcycle bags, but alas, I wasn't able to get my hot little hands on one in time. If you were similarly late to the bag-as-bag-accessory party, fret not; the Miu Miu Mini Bag Charms are here to give you a second chance at a very cute accessory.
These little charms look like someone too a sci-fi shrink ray to Miu Miu's regular handbags, complete with all the flaps and buckles that you'd expect from the full-size versions. The charms are priced from $115 to $380, and they're available now at Miu Miu boutiques worldwide. When you consider the prices of the real bags, perhaps the brand is on to something here. At the very least, I can't think of a more fashionable fob to hold your keys. Pictures of more styles, after the jump. (more…)