Misc Accessories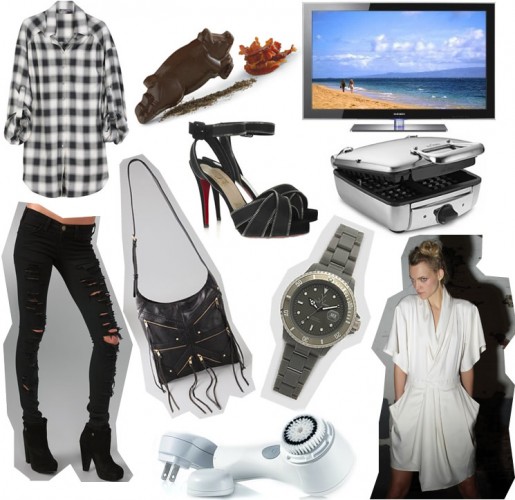 I cannot believe it. Christmas is at the end of this week, as in 4 days from now. As in, when did that happen and what am I going to buy people?? Nevertheless it is nearly here and I have yet to make a true wishlist. So here it is. Take note Vlad, family, and friends. And yes, I realize my wishlist is almost entirely black, grey, and white. The weather must be affecting me. (more…)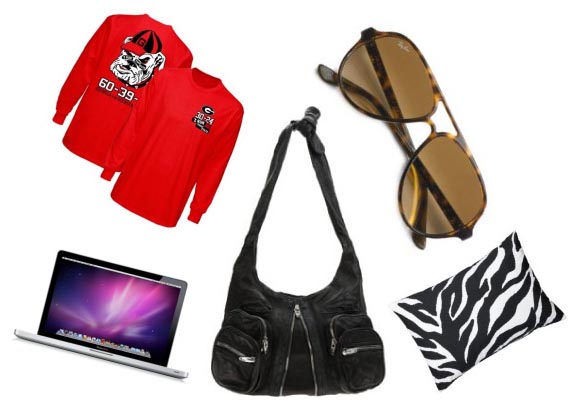 Y'all, I'm really hard to shop for. I have poor impulse control when I decide that I really must have something, and that leaves precious few gifts to buy at the end of the year. As if that wasn't enough, my birthday is Christmas Eve, which only doubles the burden on anyone trying to buy anything for me, ever.
The safe money is usually on just taking me out to dinner and calling it a gift, but if anyone were to be confident or generous enough to try and buy me material goods for the holidays, here's a sampler of what I might want. Unless, you know, I manage to buy all these things by the time this post runs. (more…)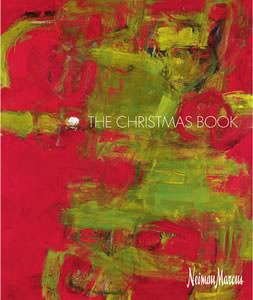 Just this weekend, I was sitting at home, going through some mail from earlier in the week and came across the Neiman Marcus Christmas Book. As I flipped through the pages, I couldn't help but ask myself how certain designers are selected for a holiday book like this. I mean, clearly, there is no way each line available at the store can be featured, so, how is one designer chosen over the next? When I looked at the handbags, they all had one thing in common, they are gorgeous. Sure, some I could pull off better than others, but that's always the case. Either way, whoever selected the handbags, did a stellar job. Yes, I found that most of the handbags featured were high end designers like Salvatore Ferragamo, Chanel, Prada and Valentino. But then I flipped over the next few pages and saw some of our Savvy brands like Cole Hann and Kooba. Help me out here, as a designer, how would do you think you could be chosen to grace the pages of something like the Neiman Marcus Christmas Book?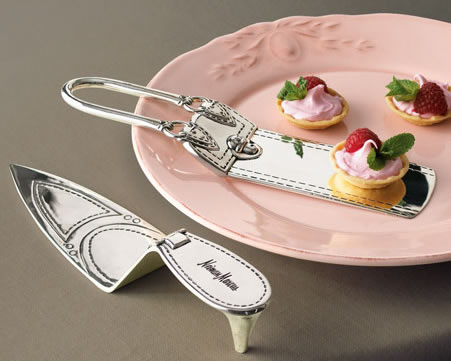 Sometimes I think that our bag obsession may go a little too far. For example, Megs and I are getting the kick out of Neiman Marcus' 2 piece Shoe & Handbag Servers. Most definitely a pair of kitchen accessories that can't be missing in a bag loving wife's and purse hating husband's home. Grab'em at NM for 45 bucks.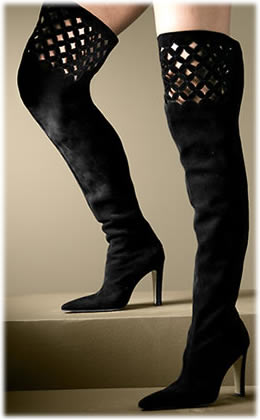 Many days I forget what we ladies must do to impress men. It is a vicious circle that takes hours of prep and in the hot and humid summer my attempts usually just fail. My hair is disheveled, I begin to sweat, my skirt sticks to my legs, my heels kill my feet, but I am sure trying to make an impression for my man and in general. There are certain accessories we can wear that simply make any man turn his head and many women be quite envious and stare too. I have found the perfect pair of boots to get the job done ;-) The Manolo Blahnik Over-The-Knee Suede Boots are eye-catching sexy and sultry black suede boots. Can you imagine pairing these with little white shorts, a tight tank, and a hot necklace? The men would flock to you. These boots feature diamond cutouts on the cuff, zip up the back, and sport a 4 1/5″ heel. Ok so these boots would make me taller than Vlad, but they are sexy nonetheless. Tell us what you think- sexy or trashy. I'd love to go try these on babies on- I'm sure Vlad would appreciate it. Available exclusively via Neiman Marcus online for $1450.

After a hectic but amazing trip to NYC, I am back and ready to talk about… pets! It seems that we all love our animals so much. Nitro, my beloved Lab, has been getting quite the spotlight on the main page of the site lately. He is experiencing his 15 minutes of fame and enjoying it very much ;-) Since I am sick and feeling my animal loving side coming out today we have some exciting things for you all. First, some bags and accessories for your amazing animal. But the best part is we do have a contest that involves fashion and your animal coming up later today. Vlad will be posting what it is all about. Sit patiently and let the games begin!
To kick off today, how about a completely unnecessary designer water bowl. Ah, yes! The Goyard Pet Travelling Bowl is exactly what any posh pet needs on the family vacation. Goyard decided that your pet needs to travel and continue to experience an extravagant lifestyle, so there is a foldable easy to carry bowl. The bowl features the Goyard signature print on the outside and two metal bowls on the inside. Inquire more for your pet's posh traveling through Goyard.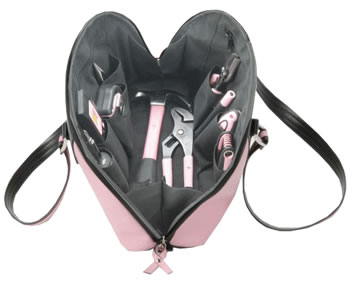 Roughly three weeks ago, when I left Megs in Columbus to what I like to call the lonely bitterness of a masters degree at the other end of the world, I had my layover in Charlotte, NC. For the past year and a half, since Megs and I started the whole long distance thing, I must have travelled through Charlotte a good 15 times. That particular airport became my favorite layover because US Airways, my airline of choice, flies Airbus 330s for the long 9 1/2 hour trip, which have individual TV units with remotes for each seat. Score! Also, because Megs and I are still going strong, despite the ridiculous distance, CLT has become a symbol of something wonderful and I like it. Ok, enough of the sentimental shnazz.
As I walked from one terminal to the other, I noticed a screamingly bright pink booth that caught my attention. Being the resident bag blogger, a pink bag attracted my attention. More specifically, it was the Little Pink Tool Kit, a 10 piece tool set in pink, nicely organized in a pink carry case. From what I read, a portion of each sale are donated to breast cancer organizations. Not sure how much of the $80 tool bag actually go towards a good cause, including that information would be probably helpful. I should have mentioned this bag for weeks now, as the brochure had been sitting on my desk, but I guess I was just too lazy. The Little Pink Tool Kit is available through their website.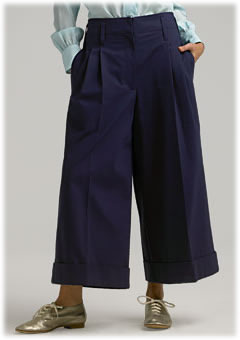 Sunday is one of my favorite days of the week. For some reason, Sunday feels about 182 times lazier than Saturday. It always has to me. It is more of a lazy unproductive day for me than any other. Typically I don't get out of my PJ's until about 2 pm (that is if I do ;-) ). So while I understand wanting to wear comfortable clothes, I also find some 'comfortable' clothes unappealing. Having nothing to do with bags at all, I'd like to introduce you to a pair of pants that I don't quite understand. I stumbled upon the Marc Jacobs Collection Cropped Flare Pants and immediately became perplexed. Usually the models on the sites/in the magazines can pull off the craziness of clothes, but I don't think these pants look flattering at all. Yet, these pants are a distinctly look straight from the Spring 2006 runway show, which means I may be way out of style this spring since I don't like these pants. Made from 100% cotton, the cropped flare pant 'sits low on the hips and then flares out with brio to create a voluminous leg that stops just short of the ankle- pair with a more fitted top for striking style'. If you were to wear these pants and did not pair them with a fitted top, it would look even more wrong in my opinion. The pants also have two pleats on each side, side trouser pockets, a back flap pocket on the left, and a back besom pocket on the right. I'm quite tall and I can imagine myself looking like an oompa-loopma in these. To me, it would take an extraordinary person to pull these pants off. Am I wrong? Buy these cotton pants for a hefty $875 via eLuxury.
Kat2 posted this one on our Forums and it was just too brilliantly simply to pass it up. The Momo Safe Chair, straight Museum of Modern Art, has to be credited to the Design Against Crime Research Centre based at Central Saint Martins.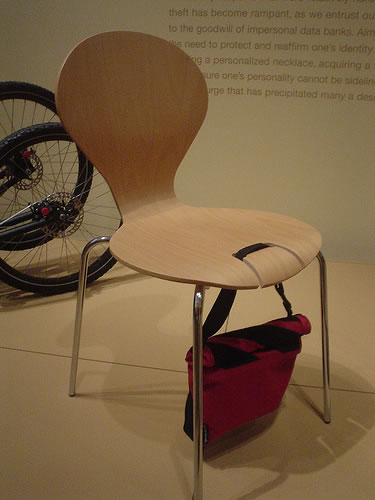 I don't think anyone will be trying to sack your bag from between your legs anytime soon. Although I see it being not thought out into the last detail, because especially ladies of shorter stature will be more likely to fold their legs behind and under the chair, rubbing against their bag.
More on the DAC project in a little.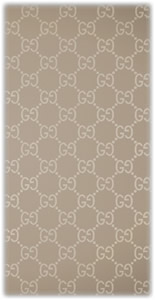 Any of you thinking of remodeling your house? If you are I am sure you have to go through the never-ending process of choosing paint color, wallpaper design, cabinets, fixture selections, etc, etc. So when you are looking for that perfect wallpaper to add to let's say your family room or your bedroom, would you ever consider this Gucci Wallpaper? I mean seriously… would you?
This unsightly Gucci Wallpaper I came across is designed with the small GG print in a beige pearlized color. If you would honestly consider it I will go on with the specs: it's made of cellulose and vinyl with a polyurethane resin finish. There is 1 roll per pack (72 sq. ft., 28 inches wide) and the height of each GG is 0.7 inches. Gucci says that this wallpaper is not recommended for humid areas. Hum wonder why this expensive unpractical paper would not be able to go in any room of the house? So I suppose this leaves out your bathrooms. This wallpaper sells for $85 a roll on Gucci.
Personally I'd love to hear your opinions on this matter: I don't even always like prints on bags let alone hanging all over my house. Would you use this to show people, 'hey, I really can afford Gucci and I'll even slab it on my walls to show you I have made it in this world!' Yikes, I think not.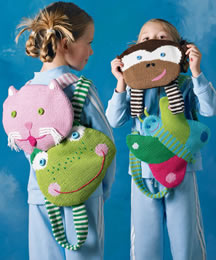 Yesterday after a day trip to Cologne (in the northeast part of Germany), I realized that I have been leaving out a huge part of our population: the kids! Shame on me. This was never intentional, trust me! I saw so many little munchkins running around yesterday and I decided they needed to have their own handbag category! I know many of you remember or have children now that make you remember that little kids love to have bags. I always needed to have some sort of little compartment to hold all of my 'things'. I have told you all once before that I am an avid collector of 'things', but that did not come with age. That started wayyy back when. I had little purses, pouches, backpacks, Barbie travel cases, wallets, etc. You name it, I had it. I carried the dumbest things around. If I could have had it my way all the time, I would have left the house carrying My Buddy in one arm, Kid Sister in the other, and playing Skip-It while I walked. Let's all do a way back when recall: Silly Putty (in the egg shell), Polly Pocket, sticky-hands from the 25 cent machine, California Raisins, travel size Etch-A-Sketch, Barbie dolls, Gak, miniature Pound-Puppies, My Little Pony, My Littlest Pet Shop, Gumby, Linkin Logs, Snap Bracelets, fuzzy stickers, and much more (not to mention my Easy Bake Oven at home! Oh yea, I was a chef in the making). But a kid has to have somewhere to carry all of this stuff right? I traveled with all of my goods just like my mommy carried her purse with her goods. Just as important as it is for all of us grown-up fashionistas to carry a purse, it is just as important for kids to feel like they can relate and carry their special things around too.
This is why I am in love with this Children's Animal Backpacks & Pouches. The adorable matching set choices are cat, monkey, butterfly, or frog. Knowing how I was, I would have picked the money for sure. The backpacks measure 8 1/2-12 1/2″H x 10 1/2″-12″W while the matching pouches that coordinate with the backpacks are 4 1/4″-5 1/2″H x 4 1/2″-5″W. The set is made of cotton and polyester which makes the bags easy for washing. This is a major perk for anyone caring for a kid! Kids are messy! With the assortment of animals kids have a choice to be individual and pick the animal that they relate with/like the most. The adorable backpack is $48 and the matching pouch is only $18 through Neiman Marcus.
*The way I see it, buying any kid a bag like this would be a hit! You'd be the best grown-up on the block ;-) *