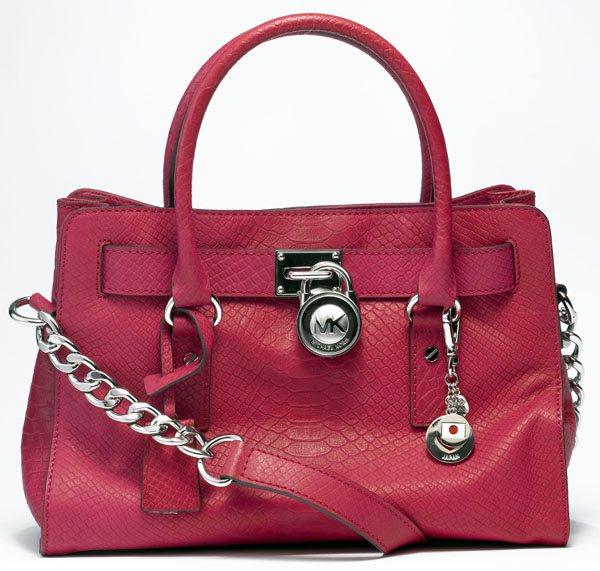 I'm continually surprised by the huge number of Michael Kors bags that I see women carrying in every city that I visit. One of the most recognizable bags from the line is the Michael Kors Hamilton, which has been issued in nearly countless colors, sized and materials. The version above may be the most exciting, though; like other designers, MK is always giving back and after the tragic earthquake in Japan, Michael decided to help.
MK debuted a limited edition Hamilton handbag in support of the Great East Japan Earthquake relief effort during Fashion's Night out in Tokyo and to follow its success, the U.S. will launch this bag for a 24 hour period starting tomorrow, Monday January 22nd. The bag will be available only through a link from the Michael Kors facebook page and in select Michael Kors retail stores. (more…)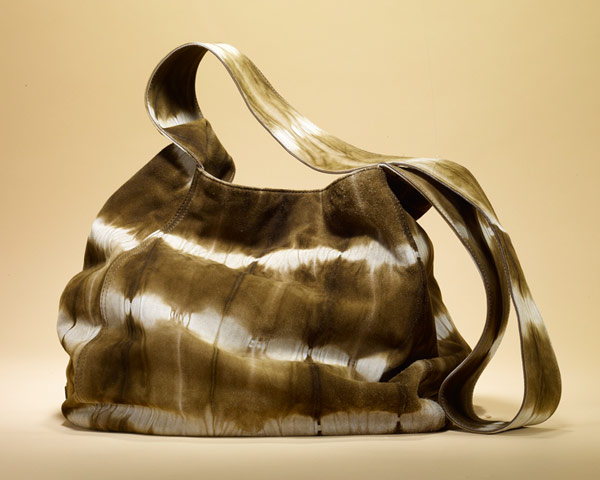 Images via Vogue.com
Anyone who read our covering of Michael Kors' Spring 2012 show should be surprised at how the accessories are shaping up – earthy, simple and inspired by seemingly every nature-loving culture in the world. As with any bold aesthetic, some looks (any of the python) are better than the others (furry mohawk bag, anyone?), but they all paint a very vivid picture of how Kors is feeling for spring.
Surprisingly (to me as much as to anyone), I think I like the tie-dyed bag the most. I could see it looking just as chic with a ratty old pair of shorts and a slouchy tank is it would with a white linen sun dress, and that kind of versatility isn't something you often find in a patterned bag. Check out the rest of the bags and let us know which is your favorite, after the jump. (more…)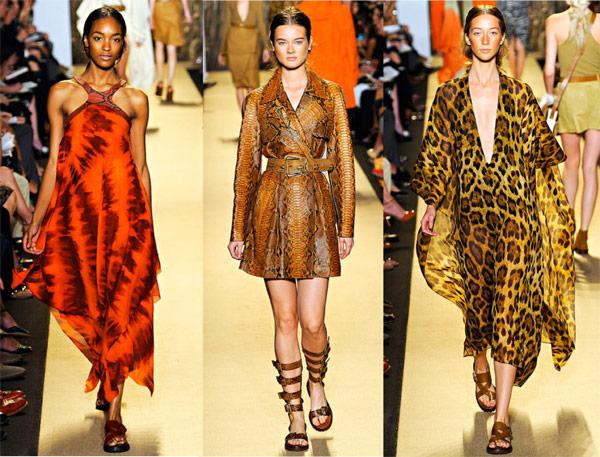 Images via Vogue.com
You guys, this is clearly not Michael Kors' first time at the rodeo, even if it was his first time on safari. Kors used a recent trip to a luxurious South African resort in the middle of a nature reserve to power the Michael Kors Spring 2012 show at Mercedes-Benz Fashion Week New York, and if you're having a hard time seeing the theme in these photos, then you might want to get your eyes checked. From the prints to the proportions to the accessories, Kors' clothes were steadfastly "Afriluxe," as he called it in his show notes.
The tie-dye prints were the easy standout of the collection, and they were wearable and casual in a way that's rarely elevated to luxuriousness on the runway. Kors pulled it off, though, and things got even better when those pieces were accented with tonal python. The best look? A full tan-orange python trench coat, which I dare you not to stare at for at least a solid 30 seconds. (more…)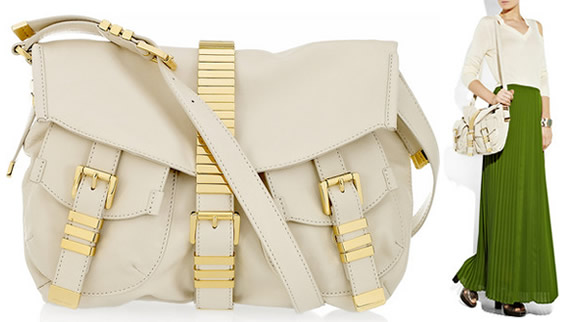 Did you wear a little green for St. Paddy's day today? This is one of the holidays that I think everyone likes to partake in. I mean really, who doesn't like to drink a lot of green beer and tell random strangers to kiss them since they are "Irish"?
Instead of the green sweater I wore today, I would have liked to wear this gorgeous Michael Kors Pleated Crepe Maxi Skirt and with it I would have paired the Michael Kors Buckled Leather Shoulder Bag. (more…)
We're only a few days and a few dozen shows in to Fashion Month, but the first clear color trend has already emerged in quite an obvious way: Come fall, you're going to be seeing red. Michael Kors Fall 2011 followed that theme in a beautiful and uniquely American way, shooting a neutral collection through with a bursts of bright, combustible vermillion.
The collection was admirable beyond just the red, though. Kors' outerwear in particular shone brightly, with everything from calf-grazing fur vests to floor-length wool overcoats to a stunning carmel crocodile short trench punctuating monochromatic neutral looks in shades from charcoal to chocolate. The feeling of the separates was comfortable and easy but still totally put-together and incredibly chic, which means that Kors likely accomplished exactly that he set out to do. We're the real winners here, though, for being the future owners of his beautiful clothing. (more…)
This weekend, something truly strange happened – Atlanta had its first white Christmas since 1882, and thusly, I had my first white Christmas ever. When you're born and raised in a warm climate, snow of any kind still has the ability to attract you, wonder-struck, to a window like a kindergartener, and snow on Christmas? I felt like a kid all over again. I even had a snowball fight with my little brother. (I lost.)
In the Northeast, though, things are a little less spectacular and a little more inconvenient. For those of you stuck in your houses, I recommend ordering the Michael Kors Gia Shoulder Bag. Just take it outside and wave it at the snow; this little bag is so sunny and bright that you'll have that stuff melting in no time. (more…)