Marc Jacobs, you're going to have to do something more interesting to get me to sit up and pay attention than what you did with the Marc Jacobs Studded Satin Bag.
Sorry,
Yes, yes. Quilting, tonal studs, chain handle, we get it. And it's on-trend, but for some reason it's just not exciting. Or maybe it would be more exciting if this bag, which is made of absolutely zero leather, were priced in a more appropriate way for a non-leather bag. So exactly how much is it? (more…)
Want a little part of the Marc Jacobs Fall 2009 runway collection to yourself, but not ready to sink your teeth into $2000 worth of neon pink and green patterned python?
Then maybe the Marc Jacobs Cartoon Paisley Rage Bag is exactly what you need: a bit of the collection in wearable colors, at a palatable price. (more…)
Now this is a surprise. A fall bag utterly devoid of studs? But it's true. The only hint of rocker on this Marc Jacobs Iggy Shoulder Bag is the fairly sedate chain-link strap. But that's not the reason I was attracted to this bag, which, I admit, is an all-or-nothing bag, a love-it or hate-it bag.
No, I like it for the unique purple and teal color, which is heightened by the quilted python design. I mostly like the purple color because I am a massive fan of purple handbags. I also really like when I see brightly-colored bags, because so often bags are in darker colors- brights simply draw your eye to the bag. Plus, isn't that tiny lock on the front just adorable?
The only complaint I have (about the bag, not the lock) is the length of the chain strap. It's so short that it seems out of proportion considering the size of the bag. If only it had a little more length, then one would be able to sling it comfortably over the shoulder. It seems to me that it's a little to short of a strap to do that; unless if the bag slouches sufficiently. One can hope! Buy through Saks for $1,295.
It seems like all I had to do is complain that I was feeling a little blah about the Stam, and Marc Jacobs rose to the occasion. First we got the studded-yet-understated Marc Jacobs Stardust Stam, and now he's brought us the not-at-all-understated Marc Jacobs New York Rocker Stam. Although I'm not sure that this sequined-n-shiny satchel is best suited to New York – in fact, I think it might be more at home in Las Vegas.
And I mean that in the nicest way possible – I love this bag so much that I could just drool all over it. The name of the last Stam I reviewed reminded me of Sin City, and now this; does anyone else think that maybe Marc should consider doing a glizty, glamorous Las Vegas-inspired collection? Sequins would be the perfect place to start, and I love the ones on this bag because they're not as expected as sequin-covered bags usually are. They're small enough that at a distance, they blend together to form a shimmery, shiny whole instead of a bag covered in sewn-on crap, and the silver, off-center, abstract pattern at the bottom gives the bag a modern edge that helps it avoid the grandma-bag pitfall of multitudinous sequins. Viva Las Vegas! Er, uh, New York! Buy through Saks for $1995.
Sometimes, there's nothing I love more than a really terrible idea. Another huge slice of pizza? Great! Another shot before last call? Bring it on! I want to be a redhead today – so what if I have a ton of black dye in my hair already? It's a miracle of massive proportions that I've somehow yet to end up with a tremendously ill-advised tattoo at this juncture in my life. There's something beautiful about having the willingness and opportunity to occasionally act in defiance of all logic and good sense.
And that's exactly what the Marc Jacobs Misfit Top Handle is – a bad decision that ultimately proves how sublime it can be to occasionally make them. Nothing about this bag should work – the dueling neon colors, the pattern that they don't match at all, the quilting on top of said pattern. And a lot of people will probably disagree with me, but I think the combination of so many ridiculous ideas into one bag is actually sort of fantastic. I wouldn't necessarily wear it (ok, maybe I totally would, but I don't think I could bring myself to buy it), but the fact that a major designer has the chutzpah to make something so terrifically weird and in defiance of traditional aesthetic standards makes me love this bag in despite of itself. Buy through Luisa Via Roma for $1728.
I continue to love the Marc by Marc Jacobs line. The bags are beating out the overly gaudy and overly heavy Marc Jacobs bags and adding a look that is so much more appealing. Even these boots in the ad, amazing! I can say one thing: I am all for having the Marc by Marc Jacobs line not only look better than the Marc Jacobs line but also cost less.
Shop the new arrivals of Marc by Marc Jacobs at Saks!
I said not too long ago that I was experiencing some ennui in regards to the Marc Jacobs Stam, but as it turns out, I was wrong. That's right, I'm a big, fat liar. Because I'm in love with the Stam again, and this time it's because of the Marc Jacobs Stardust Stam. If this is an It-Bag gone wrong, then I don't want to be right.
Not only do I love the name (it reminds me of Las Vegas, a city which I am newly obsessed with thanks to The Hangover), but the updates are subtle enough to retain the charm of the original Stam while still being interesting enough to catch the eye of any handbag fan that's familiar with the line. Studs are a somewhat trendy bag accent, but the ones here are small enough to not overpower an already iconic design. Plus, there's the color – a beautiful, bright teal that will add a pop of color to any drab winter outfit. I'm usually not much for gold hardware, but I still think that it's the only way to go with the Stam, and the combination here is beautiful. Buy through Nordstrom for $1450.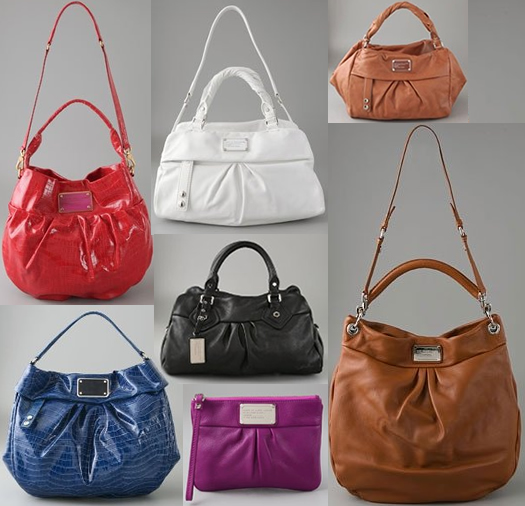 When we first covered the Marc by Marc Jacobs Dr Bag, everyone went crazy bananas over it and we actually had the store sell out in a matter of hours. Since then, Marc Jacobs has expanded this line to included clutches, patent leather, hobos, totes, satchels, you name it, it is there. And this is why our weekend obsession this week is the Marc by Marc Jacobs Q line of handbags. They are versatile, fun, usable, chic, and most important affordable. I don't think I can even remember the last Marc Jacobs bag that I loved over a Marc by Marc Jacobs bag. And why this is good for all of us? The Marc by Marc line is more affordable. I don't own a piece from the Q line, but it is truly an ideal line for many reasons. Rock on Marc!
Shop the Marc by Marc Jacobs Q line at ShopBop!
Must. Share. This. Bag. That's right, here is a great example of a handbag that I had to stop and write about. We all know that Marc Jacobs is known for exquisite and must-have bags. I admit, there are times when I wonder why some of the bags are sooo sought after but of course there are other times when I know EXACTLY why an MJ bag sells out close to instantly. But, this bag my friends, I can't tell if is a knock out or a rip off.
The Marc Jacobs Safari Pouchette Bag is a ferocious bag with an unbelievable price tag. Thank goodness for the several different image options Net-a-Porter provides, because when I first saw this bag, it looked like a pile of material with some sort of rope-thingy.
Yet, when I saw the bag being held, I thought, "hmmm, not too bad". This bag is definitely not one you see everywhere you look so I have to acknowledge the individuality it possesses. Zebra-print ponyskin has a draw string closure, adorned with tassels, leather flower charms (which I adore) and lined with blue leather. However, the price, yowza! Buy through Net-a-Porter for $1895.
Sometimes, if the material that a designer uses is face-smackingly beautiful, the design doesn't have to be anything more than basic and functional. Do one thing really right, and it's ok if the other elements of the design aren't as attention-getting. That seems to be the guiding principle behind the Marc Jacobs Outsider Tote, which uses a stunning color and gorgeously glazed leather to make up for the fact the bag itself is fairly simple.
I don't even like glazed leather, but for some reason, I can't take my eyes off of it here. Purple is, unabashedly, my all-time favorite bag color and more versatile than you'd think when used as a neutral, and the folks at Marc Jacobs have used it to capture my imagination and lure me in. This is one of the first fall offerings to surface, and wouldn't it look great with a charcoal grey wool coat and dark denim stuffed into vintage-looking leather boots? A bag with such a vibrant but winter-appropriate color is essential when the weather gets cold and clothing colors get dark, and although the color will remain warm for some time, it's never too soon to start planning for fall. Buy through Nordstrom for $925.
We've been covering quite a few Marc Jacobs bags lately. And while I like to keep things spicy by switching up the designers we cover, I couldn't help myself. The Marc Jacobs Fresh Heather Clutch caught me eye and I couldn't NOT write about it. Usually, clutches are my go-to for evening events. It is very rare that I carry a clutch during the day. But this clutch got me thinking – hey, why not?
The blue coated cotton clutch has bold and noticeable goldtone hardware. When I say bold and noticeable I mean that in a good way, not a bad way. Open the front flap and you will find several pockets for any storage needs you may have. The thing I like the most (other than the color)? It would have to be the casual look of the bag. It isn't over the top but it isn't really that boring either. While I would definitely use it during the day, there are plenty of situations where carrying it at night would be perfect. Buy through Bloomingdale's for $495.