Marc Jacobs. In fact, Marc Jacobs is usually at his best when he's at his weirdest, even if not everyone gets it.
I can abide a lot of weird stuff from
Sadly, though, when I saw the Marc Jacobs Beaded Daisy Shoulder Bag at Saks last week, I found myself feeling like one of those haters that I usually dismiss: I just didn't get it. Not even close. (more…)
Ladies and gentlemen, we are just days away from 2010. Can you believe it? I remember being younger and never quite understanding adults saying "Where has this year gone?", yet now that I am, I guess an adult, I get it. It's as if you blink and half the year is gone. But that's really neither here nor there. With New Year's Eve right around the corner, I try to mentally plan what I am going to wear and carry. When it comes to New Year's Eve, I want a shiny, noticeable and gorgeous handbag in my hand. (more…)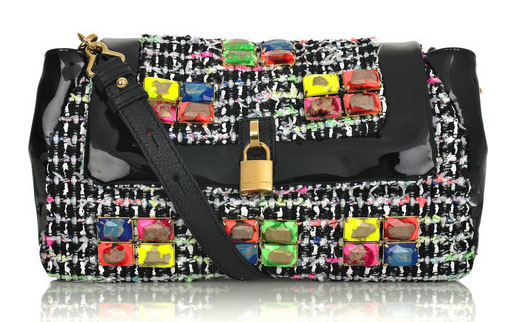 I kind of love the Marc Jacobs Fluorescent Tweed Bag, although I kind of wish I didn't.
What exactly do I find so charming about it? What is there to find charming about a tweed bag with some random, oddly colored gemstones stuck to it? I'm not sure, but as usual, I'm buying whatever it is that Marc Jacobs is selling. (more…)
Marc Jacobs Jennifer Bird Cage Shoulder Bag I couldn't decide if I loved it or completely hated it. I appreciate how unique it is, however, I have some news for you, there is something else I think of more. For all of you Seinfeld fans out there, you are certainly familiar with the retirement community Jerry's parents live in Florida, Del Boca Vista. (more…)
Now this is a bag that reminds me of so much. When I first came across the
Marc Jacobs and all of the fantastically odd handbag-shaped items that come out of his weird, wonderful head.
God bless
I wouldn't carry the Marc Jacobs Vortex Small Tote even if it was free, but I think it's great that someone designed and made it. I've said it before and I'll say it again: sometimes crazy stuff has to be made before a designer hits just the right now. This is not the right note – it's the crazy stuff before it. (more…)
The PurseBlog team will be taking tomorrow off to spend Thanksgiving with our families, so barring any purse-related breaking news, y'all are on your own Turkey Day. It seems to me, though, that our separate celebrations shouldn't mean that we can't share with each other about the things that make us thankful.
I'm talking, of course, about handbag things. Most of us probably have to come up with a serious list before we're rationed our part of the turkey, but since I don't have any giant roasted poultry to give out, feel free to give me a slightly more fashionable version of that list. For instance, mine starts with Marc Jacobs. (more…)
Marc Jacobs has combined two of the season's top trends into one compact clutch. The Marc Jacobs Python Thrash Clutch ($1895 at Barneys) touts a python quilted and embellished with studs. The quilting AND studs seem to be a bit of texture overdose on this very petite bag. But somehow the angular shape of the diamond shaped studs combined in a criss cross pattern of quilted stitching seems to unify the design. Although, I am a bit confused about the metal padlock which seems to be dangling without a purpose in the middle of the bag. (more…)
Ever see a handbag you like, and then realize it has one thing so egregiously, terribly wrong with it that it almost makes you palpably upset? Like you were so close to finding a handbag oasis in the desert, and then it turns out that, by a single cruel twist of fate, that it was all just a mirage?
Yeah, I kind of feel like that about the Marc Jacobs Frame Wallet Sequined Purse. (more…)
The ridiculous bags are always my favorite, be they good or bad in the long run. I've always thought it a greater sin to be boring than to be over-the-top, and sometimes great style is what happens when you get right on the line between just enough and too much.
The Marc Jacobs Wrath Studded Bag is somewhere circa that line, although I'm not sure what side it's on. But I am sure that I love it, in spite (or maybe because) of its wealth of personality. (more…)
No review of Marc Jacobs' Spring 2010 fashion show would be complete without taking a good look at the accessories that were also featured – after all, they'll be what we're picking apart mercilessly in a few months.
Consistent with the softer color palette of much of MJ's collection, we saw a lot of champagnes, light and medium blues, creams, and whites in the accessories collection. Many of the bags were made of multicolored lattice leather, sometimes in what looked to be several different textures – I definitely spy some python, at the very least.
There was also Jacobs' signature quilting, with many of the quilts bearing forth rivets and tassels. I liked the addition of texture, but these were not my favorite bags of the show – the tassels and their cords looked like tentacles to me. Not a good look.
And last put not least, apparently fringe is not over yet, at least not in Marc's mind. Many of the latticed bags had nearly a foot of fringe swinging from them in the same colors that made up the bag's body. I have a feeling that this will be shortened somewhat before the products are shipped to stores, but I didn't hate it. In fact, quite the opposite – I thought that it was quite appropriate, considering the construction of many of the pieces Leave it to someone like him to make us all take a second look at fringe. (more…)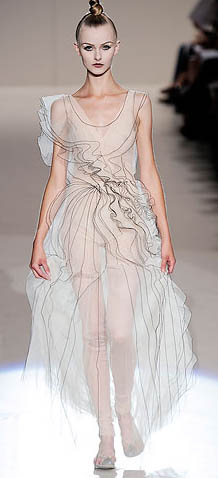 When you're Marc Jacobs, and your show basically is New York Fashion Week, and everyone expects The Next Big Thing from you, and the world is watching, what do you make? Why, you make harlequin kabuki clown ballerina clothes, of course!
Throughout the sculptural-yet-feminine presentation, there were nods to Japanese culture, Comme des Garçons and Jacobs' own seminal grunge collection at Perry Ellis, among a slew of other things. We had ruffles galore, lots of layering (as is to be expected with Jacobs), underwear-as-outwear (also not the first time we've seen that from Jacobs, and it reminded me a bit of this year's Christian Dior couture presentation), and more pastels than I can remember seeing at Fashion Week since…well, ever. I hate pastels, but if MJ can make that gorgeous steel blue into a trend, I might let the peach and lavender go.
Overall, the more I look through the show's looks, the more I like them, but not as much as I did his grimy, glam lover letter to 80s New York from Fall 2009 (or his brilliant show from a year ago, for that matter). Perhaps it's the colors that are turning me off, or maybe the organza genie pants. I appreciate that his models all more shoes that were either completely or almost flat, the bags looked like they'd be intricate and fantastic on closer view, and the clothes are growing on me and looking more brilliant by the minute. There was one obvious masterpiece, though: the show's final look. It was an ephemeral, effervescent confection of a gown that defied gravity and looked like it had been made out of spun air. It wasn't overdone or underdone, but done just enough to show the skill with which it was tailored and the eye with which it was edited. Perfection.
Like the collection or not, that dress should be enough to convince anyone that Jacobs is still the king. It's taking a while for the ideas behind these clothes to settle with me, but the journey through this master's mind is nothing if not enjoyable. (more…)