There are a lot of reasons that Marc Jacobs' shows are fun – the front-row celebrities, the unexpected set designs, the crazy tales that emerge from the after-parties – but from a style point of view, they're fascinating because we never know where Marc will turn next, but wherever he goes, the majority of the fashion world will go with him in a few months' time. Particularly for accessories enthusiasts, Jacobs' handbag vision will play out far and wide across the industry, culminating in his Louis Vuitton show in Paris and starting last night with Marc Jacobs Fall 2011.
Not only did the tailored, constricted feel of the clothes represent a full 180 from the loose, flowing colors of Jacobs' Spring 2011 presentation, but the two types of bags within the collection were almost diametrically opposed to each other. On one end, we had fluffy, shapeless, polka-dotted bags that looked like they had been made out of someone's bathrobe, and on the other, uber-structured, ladylike handbags that felt both current and wearable. For such a strong, severe collection, the bathrobe bags seemed like something of a joke. Let's hope that they were and we'll only see the others in stores come fall. (more…)
When you're a major bag fan, you start to pic up on the subtle idiosyncrasies of major designers – the way that they attach handles, the types and colors of hardware that they tend to use, the shape of their corners and finish of their leathers. All of those things form subtle trademarks for a brand over time, and the more bags you look at, the more you instinctually search for those markers in every design.
And that's what strikes me as strange about the Marc Jacobs Luisa Shoulder Bag. When I saw it without any name attached, I thought that perhaps it was Oscar de la Renta or maybe even one of Lanvin's more streamlined pieces, but it's not. Instead, the bag is from Marc Jacobs, the reality of which still surprises me. But that's not necessarily a bad thing. (more…)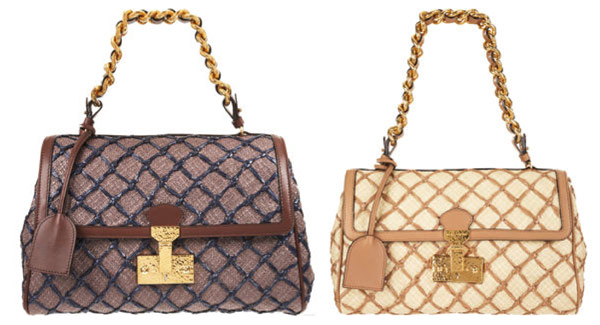 One of the biggest developments in handbag trends over the past few seasons has been the return of the reasonably sized handbag, called the "lady-scale" bag by some, in reference to the refined women who once carries purses of a similar size. Marc Jacobs was a major producer of giant, shoulder-aching handbags back when they were having their moment in the sun, but now that the entire spectrum of possible sizes is available retail, he's downsized a bit with the Marc Jacobs Baroque Ingrid and the slightly more petite Marc Jacobs Baroque Faye. The big question, of course, is do you like them? (more…)
In general, I think that phrase "too much is never enough" is useful when trying to explain certain sectors of fashion, particularly to those who aren't interested in the industry or in understanding the genius of fabulous fashion eccentrics like Anna Dello Russo or Daphne Guinness. Rococo is always alive and well somewhere within the style world, even during harsh economic times, and its exuberant resilience is to the industry's credit.
Sometimes rococo runs headlong into a wall, though, as with the Marc Jacobs Large Sequined Stam. I like the Stam bags (I even have one from way back in the second season that they were around), I like sequins, I like the blush-nude color that we have going on here. But unfortunately, the end result is less than the sum of its parts. (more…)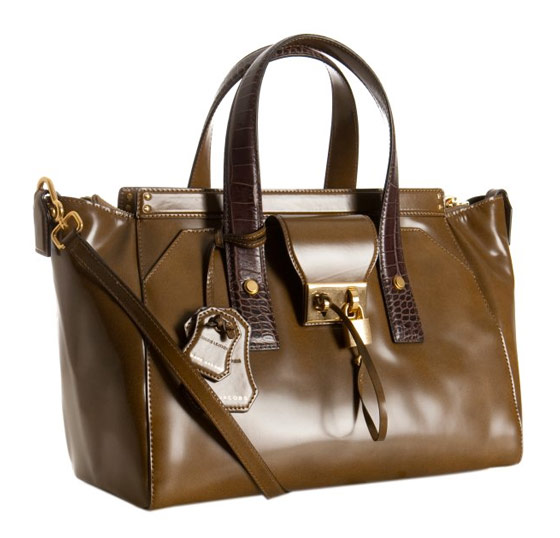 By now, most of you have probably seen some version of the Marc Jacobs Coated Leather MJ Satchel in person, and if you have, you know exactly what I mean when I say that it doesn't remind me of any designer back I've seen in the last few years, and maybe ever. I'm not sure if that's a good or bad thing, but I always appreciate innovation.
The most striking thing about this bag when you see it in person is how perfectly smooth the leather is; in fact, I didn't really believe it was leather when I first picked up one of these. But it is, just super slick and without any sign of grain or natural imperfection. Whether or not you'll like that depends on your personal style, I suppose. Personally, I find this bag and the materials used to make it absolutely fascinating; I merely wish it came in a black and grey version. (more…)
When I first saw Marc Jacobs named a bag after my ultimate favorite mall, Bal Harbour shops, I was instantly excited. But then I looked at the bag, and it fell short of my expectations. Where is the glitz and glam and tinge of gaudy that Miami is known for?
The Marc Jacobs Bal Harbor Julie is reluctant in its design which appears to be safe and subdued. Bal Harbour may hold exquisite shops in its highly gorgeous and jungle-like atmosphere, but the people in Miami love to infuse color and spunk into their outfits. (more…)
I can hardly even bring myself to give you a proper review of this bag. I mean, look at the name: the Marc by Marc Jacobs Jacobs He's Not Dead, He's Just Breakdancing Winnie Bag. That is the full name, what a mouthful! Who at MbMJ even thought of this ridiculously long name? Maybe the thought came because the design is a bit lackluster and the absurdly gold/neon chain is distracting.
Then again, maybe the obscenely long name makes perfect sense for the confusion this bag brings. (more…)
It took us a few days (my guess would be that lighting issues delayed the release of the show photographs), but we rustled up a few pictures of the handbags from Marc Jacobs Spring 2011 for your viewing pleasure. And a pleasure they are – those who prefer seriousness to fun in their accessories need not apply.
These bags only make up part of what is always an enormous accessories collection, but it seems as though Jacobs is right on board with the multicolor trend that has emerged quickly in Europe, as well as the continuing trend for smaller, more streamlined and structured bags. This is perhaps the most wearable collection of runway bags Jacobs has presented in a few seasons, and they'll almost certainly do well at retail. (more…)
Marc Jacobs is almost inarguably the king of New York Fashion Week, and his Marc Jacobs Collection show is always the most sought-after invitation of them all (at least stateside). This year, the show livestreamed online to thousands of fans while the editors and buyers looked on in Manhattan, and what a splendid show Marc created to kick off the digital age at his company – if you like a good 70s reference in your spring wardrobe, that is.
Jacobs will also join us in the 21st century by launching online retail at MarcJacobs.com today, but you'll have to wait until next year if you want to scoop up the collection's fabulously wearable printed dresses and (slightly less fabulous) shiny pantsuits in a palette of plum, pumpkin and raspberry. While you wait patiently, we have photos of the best looks to entice you, after the jump. Oh, and the bags! How could I forget the bags? Jacobs took a refreshing turn back to normalcy this season, and the richly hued day clutch seems to be his bag of choice for spring.
From his runway to God's ears, as they say.
(more…)
It could be. And while it's a cute bag, I have a tiny problem with it. The Marc Jacobs Parachute Cammie Crossbody Bag looks, to me, like it was made out of greenish golden tin foil. Someone just bunched that stuff up and stuck it under the zipper.
But there's a general problem with this. First of all, it's called the Parachute, so the designer must know that it looks like it was made out of flimsy parachute material (which pretty much looks like tin foil to my inexperienced eye – when it comes to adventurous air travel). The other problem is that I'm disappointed with the stock photo. (more…)
Marc Jacobs's bag line is so big that it's hard to ensure that you get a glimpse of all the different styles every season. His designs generally range from whimsical to tailored in a single collection, but as logic would dictate, the furry, sequined and tassel'd offerings sometimes overshadow those on the other end of the spectrum.
The Marc Jacobs Camille Satchel, in all of its chocolate-brown glory, is here to remind us that Jacobs hasn't forgotten the women who actually buy his clothes – urbane, sophisticated and desirous of high-end, high-style objets for use in everyday life. And that's exactly what this bag is: a beautiful piece for a woman whose bag needs to function in the real world. (more…)