After one week in NYC I have learned one major thing when it comes to my handbags: cross-body straps are majorly helpful. As much as it is easy to order everything to arrive at your apartment door, I am walking to and fro and picking up things to bring home. That means my two hands are important assets when carrying bags from Home Depot and Bed Bath and Beyond back to our place. Cross-body straps is where it is at. And on top of loving a cross-body strap, it is important that the bag I am carrying is not overly cumbersome and heavy. That is precisely why I love the Mulberry Lily. It is both compact and has a cross-body strap. It is also super cute.
If you love the look of the Mulberry Lily but don't like the price tag, I found a look for less. In fact, this is very very very close to the Mulberry bag (as are many of the design aesthetics I have seen from the brand Ash). The Ash Camy Cross Body Bag and the Mulberry Lily are twins, more identical than fraternal at that. (more…)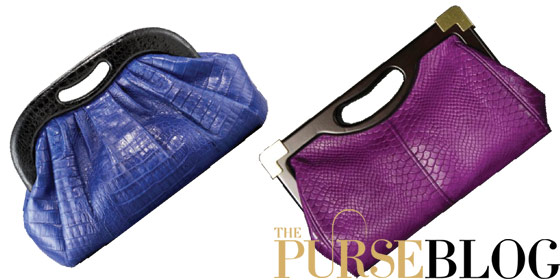 In our never-ending periodic quest to find stylish options at a variety of price points, today we have a reasonably priced alternative to the Nancy Gonzalez Hand-Held Croc Clutch that I wrote about last month. I liked it so much that I went on a search for a budget-friendly alternative to add to my wardrobe, and the best contender I've found is the Rebecca Minkoff Lovers Clutch. (more…)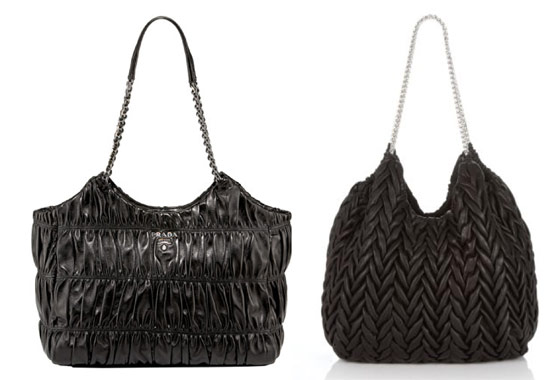 Now that Prada is bringing back its ruched leather Gaufré bags for fall, I'm sure that plenty of women will be looking for a way to get the look without paying nearly two grand for a bag like the Prada Napa Gaufré Tote.
Luckily, fashion has conspired to provide us with an exceedingly attractive, relatively inexpensive alternative. The Elie Tahari Beverly Tote is made of attention-grabbing soft braid-effect leather, and it'll set you back over a thousand dollars less than its Prada counterpart. (more…)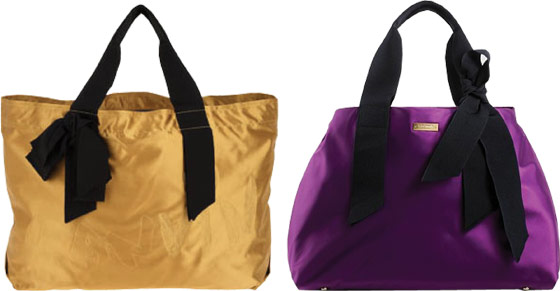 As far as I can tell, Lanvin no longer produces the Lanvin Cabas Satin Logo Tote. For some of you that's not exactly a problem, but if you wanted one and now find yourself without the opportunity to buy one, Kate Spade is here to help. And by "here to help," I mean "here to make a very similar bag."
The Kate Spade Seraphine Nylon Bow Tote is made of a different material and doesn't have the slouchy charm of the Lanvin version, but for a much lower price and a brand with a very structured aesthetic, that's to be expected. The main points of the bags remain the same – they're both brightly colored, leather-free totes with black, bow-adorned handles. Lanvin has been a very popular source of "inspiration" for less expensive brands over the past year or two, so it should come as no surprise that such a close approximation of its satin totes is readily available.
The Lanvin tote, which retailed for $795, is sold out. You can buy the Kate Spade version for $295 via Saks.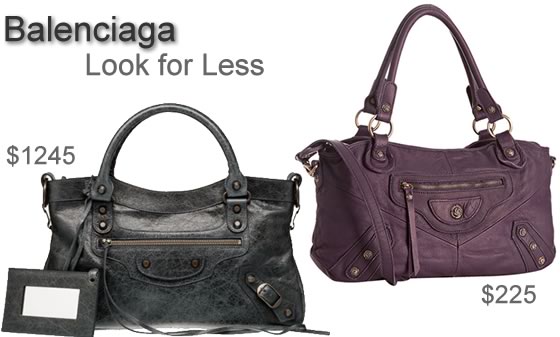 While the comparison is not spot on, there is still a resemblance between the Balenciaga First Bag and the Rough Roses Riley Bag. The good news is there are also differences; so we don't have to get into the debate of it copying too closely to Balenciaga and maybe some might like the different leather of the Rough Roses bag.
Let's take a look at the details of the two, shall we? (more…)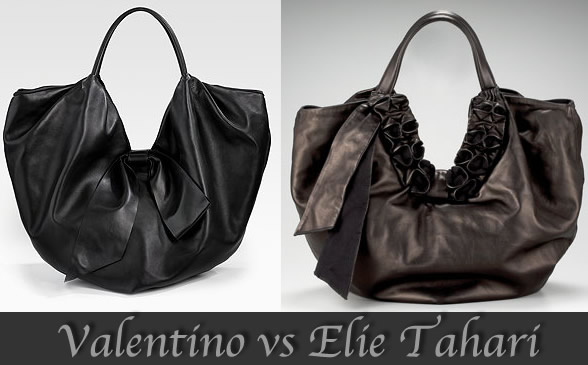 You know why I love finding handbag looks for less? Sometimes it is the less expensive bag that catches my attention and that is a double wow. I can't say that with today's Look for Less though. Valentino is a handbag favorite on the PurseBlog team. If you see their bags in person, it is easy to see why. The designs are feminine, sexy, and luxurious.
One of my favorite designs from Valentino lately is their 360 Handbag, which features feminine touches on a large slouchy body. But at $1,400, it is not the most affordable bag. And that is why I have found a look for less with the Elie Tahari Pebbled Melrose Tote. (more…)
My love and admiration for the Proenza Schouler PS1 has not ceased. In fact, it is going strong. So strong that there is a thread with over 1,000 responses on the PS1 on the PurseForum. But really, how could you not adore this laid-back chic school-style bag? It strays from the structure that so many bags bring and gives an everyday wearable vibe that is at the height of the want-it list. (more…)
Usually with these Look for Less posts, one of the looks very clearly begat the other. The ultra-luxury brands come up with an idea, and then all of the mid-range brands rush to do their spin on the burgeoning trend to capture customers that might not have the cash on hand to splurge on the bag that technically came first. Surprisingly, that's not at all the case with the Christian Louboutin Maelita Bowler Bag (left) and the Marc by Marc Jacobs Tavi Piercing Shoulder Bag (right). In fact, the two bags showed up on the New Arrivals page at Saks on the exact same day. (more…)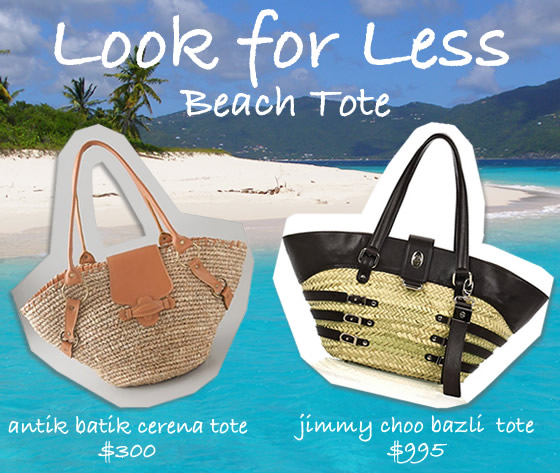 This past weekend Vlad and I attended a wedding on the west coast of Florida. While we had beautifully sunny skies, the thermometer was reaching over 90 degrees at 6:00 pm. That means two things: we were sweating profusely and summer has arrived. Living in Florida, which is known as the sunshine state, means we have an easy time getting to the beach no matter where in the state we are. Truth be told, Vlad and I are not huge beach goers, but we will use the beach and resort pools from time to time.
I have never had it in me to buy a strictly beach tote. The reason is because of what I said above, not being a huge beach fan. But I feel like it may be time to spruce up my beach bag department, which is lacking right now. Raffia and straw are perfect materials for beach bags. Designers from Balenciaga, to Jimmy Choo, to more contemporary designers like Antik Batik are making perfect beach totes.
But how much are you willing to spend on a beach bag? (more…)
After Kate Moss was seen carrying it, it didn't take long for the Derek Lam Elsa Leather Clutch to become trendy piece for models, starlets and those that aspire to be like them. And why shouldn't it be trendy? I was skeptical at first, but in regular leather this little clutch is modern and fun. Don't want to shell out almost $800 for it? We've got an option you might like for almost $600 less: the L.A.M.B. Camberley Surrey Clutch. (more…)