This past weekend I headed up to Rhode Island with my family for a little weekend getaway. My new favorite place in the world (which changes frequently) is Newport, Rhode Island. Nestled along the water on Aquidneck Island is this little slice of heaven; with quaint shops, good eats, the ocean, and a long road filled with the jaw-dropping mansions. I want to move to Newport, live in a cottage, and sit on the beach watching the waves break on the rocks every night.
While we were there, we saw 4 wedding parties. One wedding party had stopped their trolley by the side of the ocean to take photos with a backdrop that I am entirely envious of. I want to get married again (to the same man), I suppose I call it renewing our vows? And when I do this, I want to do it in Newport. That means I need a new white handbag. And the Lanvin Silk-Satin Drawstring Pochette is the ideal bride's bag for her wedding day. (more…)
Unlike the shoes from Lanvin Spring 2011, the handbags can't necessarily be called a revelation. But that's fine; Alber Elbaz has created an aesthetic so good at Lanvin that it doesn't need any fixing, just a little tweak here and here to set us on a new course for a new season. Spring 2011's bags have a little more structure than what we've seen from the brand in the past, but there's still no mistaking them for anything but signature Lanvin.
The newly stiff lines in some of the collection's small shoulder bags are very much in keeping with the ladylike, smaller-scale trends that have reinvigorated accessories recently. The creamy neutrals and weathered brass hardware leave no question about from whence these bags, came, however, and Lanvin has carved out a nice spot for itself within the trend. For those who prefer a bit of a softer silhouette, larger and less sturdy bags were also seen. The standouts, though, were the egg-shaped clutches that closed the collection, adorned with yards of mismatched chain that served as the ultimate neo-vintage handle. As with many of Lanvin's best evening bags, they were jewelry and clutch, all in one. (more…)
What's a man with a sense of style supposed to do for a carry-on? Often, men's designer bags either skew too Ed Hardy or too feminine, and the task of finding one that's luxurious, stylish and still a bit masculine is a bit more difficult than you think. Leather bags in particular seem too often to lean toward the womenswear side of the aisle, but not all men want to spend their luxury luggage dollars on nylon or canvas.
Enter the Lanvin Military Duffle Bag. This design strikes the perfect balance between macho and high-end, and the details are just "Lanvin" enough to be distinctive without looking like a woman should be carrying it. (more…)
…I just didn't manage to get there with them.
Feathers and satin and chain sound like a recipe for a whimsical evening bag, but the actual end product of the Lanvin Pouchette Oulouette Clutch isn't as fantastical as it may sound. When carried on the shoulder, the feathers hang down the front of the body in sort of a sad, limp way, and the promise that they can be removed to make a necklace or belt doesn't make me feel much better about how this bag was executed. (more…)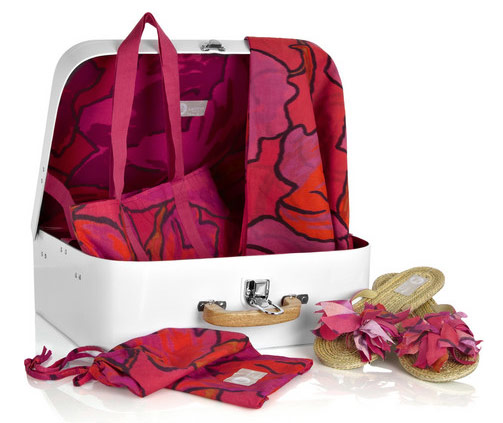 Megs and Vlad got back yesterday from a trip to the Bahamas, and I couldn't be more jealous of them if I tried. I just got done moving, and there's nothing I would love more than to spend a couple of days staring at the ocean in a rum punch stupor. Someone has to hold down the handbag fort, though, so here I am.
Instead of going on vacation, I'm just going to fantasize about toting the Lanvin Suitcase Honeymoon Set to an exotic locale with a hot man in tow. That's a suitable alternative to actually taking a trip, right? (more…)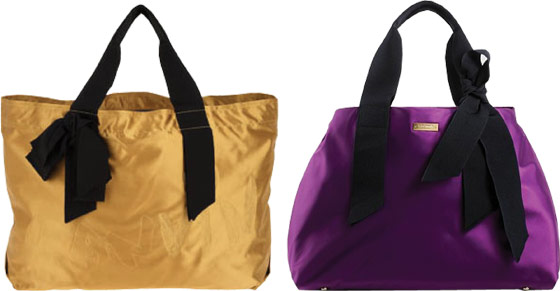 As far as I can tell, Lanvin no longer produces the Lanvin Cabas Satin Logo Tote. For some of you that's not exactly a problem, but if you wanted one and now find yourself without the opportunity to buy one, Kate Spade is here to help. And by "here to help," I mean "here to make a very similar bag."
The Kate Spade Seraphine Nylon Bow Tote is made of a different material and doesn't have the slouchy charm of the Lanvin version, but for a much lower price and a brand with a very structured aesthetic, that's to be expected. The main points of the bags remain the same – they're both brightly colored, leather-free totes with black, bow-adorned handles. Lanvin has been a very popular source of "inspiration" for less expensive brands over the past year or two, so it should come as no surprise that such a close approximation of its satin totes is readily available.
The Lanvin tote, which retailed for $795, is sold out. You can buy the Kate Spade version for $295 via Saks.

I can't think of many brands with more disparate accessory aesthetics than Louis Vuitton and Lanvin, but that doesn't mean that the two luxury giants won't intersect from time to time. While flipping through looks from the recent Resort 2011 presentations in Paris, I was surprised to see that the two brands seem to be on the same page in at least one noticeable way. Larger pictures after the jump. (more…)
Now that we've seen one example today of metallic gone egregiously wrong, I though it might be nice to give some props to a brand that has managed to get it oh so right – Lanvin.
I don't love all of the brand's handbags, but given an opportunity to see them in person, the quality of materials and attention to detail really shine. I haven't seen the Lanvin Amalia Cabas Metallic Tote yet, but I have seen the matte leather version, and the subtle glimmer effect of this leather only makes me love it more. (more…)
There are a number of things that never cease to spark a hint of curiosity within me. PurseBlog posts fall into this category. As I sipped on my coffee this morning and read Amanda's post on the Prada Saffiano Print Tote, something she said really resonated with me. She mentioned how some bags don't seem to make sense until you see them in person. I couldn't agree with her more. So, I drifted off a bit and began thinking of so many bags that I wouldn't give a second look to online but can barely keep my hands off in person.
And then, in the very next thought, I began thinking about the bags I look at online and wish I could reach through my computer, grab and run. Lanvin bags fall in this category. (more…)
I am undoubtedly a Lanvin fan. However, the thing about that is that while I do love Lanvin handbags, I don't necessarily always go out looking for a new Lanvin bag. The great thing is, they always seem to come to me. When I least expect it, a fabulous bag pops up and takes my breath away.
This is essentially what happened when I came across the Lanvin Pouchette Python Small Shoulder Bag. Admittedly, the first thing that caught my eye was the multicolored pompom. In fact, the pompom brought a smile and induced a bit of a giggle. I haven't seen a pompom in so long and I actually loved the fun and flirty take on the otherwise high school-esque item. But, that is just one element; this bag is so much more. (more…)
I have a confession to make. Last fall, Amanda wrote about her love for the Lanvin Amalia Python Shoulder Bag. And when she did, I have to say, I completely disagreed with her. I appreciated the bag, but I hated, and I mean *hated* the color. The army green was just too drab for my liking. Sorry Amanda, it is the truth.
So, I almost completely passed this bag today because I saw the name of it and instantly said "NEXT". Yet, I am oh so glad I didn't. (more…)