Hey, Jimmy Choo, the 80s called, they want their Jimmy Choo Candy Acrylic Clutches back. Except I don't think I can stand to let them go… (more…)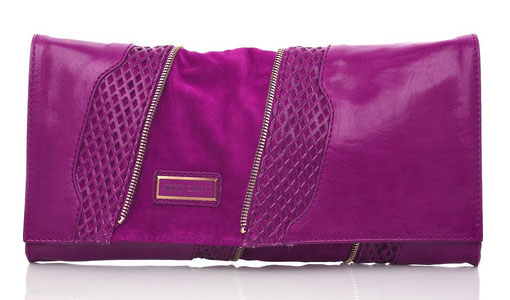 Prada, take note: if you insist on producing bags comprised mainly of perforated leather, then you might want to take some notes from Jimmy Choo on how you do it correctly.
We witnessed one of Prada's perforated failings last week, so now I think that it's only fair that we feature something like the Jimmy Choo Martha Perforated Clutch, which uses perforation tastefully. Well…maybe "tastefully" isn't the word. Maybe it would best be described as "stylishly." (more…)
Back in June, we found out that Jimmy Choo was going to be releasing a line this fall in conjunction with Elton John's AIDS charity, and now the first vestiges of that limited edition line are making their way to market for pre-order. Everything from flip-flops to clutches will be available, but the centerpiece of the effort is the Jimmy Choo Project PEP Glazed Canvas Tote. (more…)
We had a fairly lively debate a few months ago when the Jimmy Choo for H&M collaboration was announced, and now we've finally got a comprehensive look at what the partnership will yield when it hits store shelves November 14.
The collection includes shoes, boots, handbags, jewelry, and a few items of clothing, all done in the slightly 80s glam-punk look that Jimmy Choo has been fond of lately. There are only a few bags, but they're certainly worth a look. Most of the bags and shoes are real leather, so this is not nearly as bargain basement as a lot of low-end collaborations are. I wouldn't call myself overly impressed, but rather pleasantly surprised. Most of the collection is genuinely attractive, although the bags are not the high point.
More photos after the jump. (more…)
Giddy up, cowgirl. The Jimmy Choo Isola Shopper is ready for a rootin' tootin' good time. And I hope you don't expect me to continue writing like that for the rest of the post, because I think it would make my head explode. (more…)
Oh, I just love this color of silver. Dark enough to not look cheap and to go with basically everything you own, no matter what. Seriously – try and think of a color that this wouldn't go with. I defy you! Another thing that I love about the Jimmy Choo Chandra Metallic Clutch is that the leather still looks obviously soft, and so many metallic bags screw that up entirely. In an effort to make things shiny, they make them stiff, and suddenly the bag doesn't look expensive anymore. This bag still looks pliable and luxurious while having a great gleam to its finish, and that's a tone that so many designers try to strike and fail miserably.
The main event on this clutch is obviously the banded metal closure, though, and I absolutely love it. The off-center placement is perfect, as is the decision to use two different colors of silver in order to set it apart from the finish of the clutch. In fact, I love it so much that I kind of wish I could slide it off and use it as a bracelet…or that it could be bought separately as a bracelet…are the Choo people listening? Have they considered a jewelry line? Buy through Net-a-Porter for $1495.
Is the Jimmy Choo Diego Straw Tote new, as it's "pre-order" status on Saks.com would seemingly indicate? I've certainly yet to encounter it, and I check online retailers for new bags every day. And if it is brand new, then why is it just showing up now? August, really? People are surely still taking vacations to the beach now, but hasn't the time for buying straw bags sort of passed?
Particularly for buying a straw bag that will cost, after tax, over $1000. That seems like a beginning-of-the-summer purchase, if you're inclined to spend so much money on a straw bag at all, and most people contemplating big bag purchases seem to be looking forward to the next season and thinking about black leather, studs, and industrial details, not cutesy straw. The timing of this bag seems incredibly ill-advised, and since the design isn't particularly strong, I'd bet that it's destined for a long life on the sale rack. Buy through Saks for $975.
Studs continue to make their mark for fall/winter 2009 handbags. Some of you may not love a large studded bag and that is precisely why a clutch or accessory is the perfect way to add a little stud in your life. We are huge fans of Jimmy Choo and are happy to bring you a fabulous giveaway from Jimmy Choo!
New for autumn/winter 2009, the Jimmy Choo Filipa Wallet features luscious black Nappa leather with gold triangle studs. The price is $795. This wallet is so hot that it is already out of stock at Jimmy Choo. But we got our hands on one for one of you!
TO ENTER: Visit JimmyChoo.com and tell us your favorite item! Post your answers in the comments section of this post and you will be entered to win the Filipa Wallet. Contest runs from July 20th through August 3rd at 4:00 PM EST. Open for both US and international users.
Good luck and thank you to JimmyChoo.com!
We have been covering Jimmy Choo quite a bit lately on Purse Blog. Jimmy Choo was once only known for their shoes, but over time the brand has transitioned beautifully into the handbag world. They have had some ugly misses, but when they hit it, they do so beautifully with bags that continue to get attention season after season. I am on the Jimmy Choo bandwagon but I am just not sure that the Jimmy Choo Odetta is part of my train.
Amanda covered the Jimmy Choo Odetta previously and quite liked it. I looked at that bag then and now and I am still totally undecided. I am decided on the fact that I would never buy this bag for myself, but I am undecided if I am liking it. Something about the strap detailing rubs me wrong. It looks like a Y, making some previously think it was a YSL bag. When I see it on the mannequin I begin to like it more, as I can see how the bag looks being carried. It is larger than the photo alludes and looks much better with a slouch as it is held, so that takes it up a few points. I suppose I just do not entirely get it. Care to help me hop on the train with this one or should we leave it at the station? Buy the black pebbled leather version through Net A Porter for $2095 or the ponyskin version for $3295 via Net A Porter.
Jimmy Choo may have just accomplished the impossible – they may have designed a beige bag that doesn't make me feel totally blah. I guess the secret to doing that is not actually making the bag beige.
For some reason, they want us to believe that this bag is gold. Maybe the lighting is bad, but Nordstrom's pictures are usually among the most accurate on the Internet, and on their website, the bag looks beige. Metallic beige, maybe, but beige nonetheless. In my household, the color is much reviled and derided, but on the Jimmy Choo Metallic Mandah Hobo, it works pretty well. The shimmery finish goes a long way towards banishing my boredom, and I could see this working really well as a metallic winter white. How cute would it be next to a fuzzy grey sweater? Buy through Nordstrom for $1595.
Hot pink AND Leopard print. And glitter flecks throughout. Sound tacky right? It most certainly can be an awfully over-the-top combination, but somehow Jimmy Choo pulls it off in this clutch. Not meant to everyday use, not meant to be anything other than a statement piece, the Jimmy Choo Tube Clutch pulls in eyes with its outlandish pink, leopard, and glitter combination. This is one of those take-out-for-girls-night clutches. Everything about it seems too colorful, too printed, too sparkly, but it just kind of works. Don't get me wrong, I am not about to buy it. But in my world of no price tag on anything, I would so rock this clutch with a pair of skinny jeans, heels, and a party top. Buy through Net A Porter for $1095.